Different growers do things differently.
Some know the exact number of plants they want to grow (often due to legal restrictions) and they adapt their grow space to that.
Others have a specific grow area to work with and they want to fill it with the appropriate number of plants.
If you know the size of your grow tent and you are trying to figure out how many plants to put in it, our article on how many plants can fit in various sized grow tents will be of more help.
This article is ideal if you have a specific number of plants in mind and your are trying to figure out which size grow tent is best.
We'll begin by covering good grow tent sizes for common numbers of plants. Obviously that depends primarily on how big you let your plants get, so we'll also touch on the advantages and disadvantages of letting your plants reach various sizes.
What Size Grow Tent Do I Need For 1 Plant?
You can grow a single plant to a good size in a 2×2 tent. You'll want to do some stress training, topping and trimming to ensure it fills out the space nicely with the maximum number of bud sites (more on that below).
Of course, many growers use a 3×3, 4×4 or even 5×5 tent for a single plant. They simply allow it to grow so large that it fills such a large tent completely.
The key is to force the plant to grow wide and not super tall. As mentioned, we'll cover the pros and cons of growing such large plants versus more smaller ones below. But obviously, a larger plant produces more weed.
What Size Grow Tent For 2 Plants?
You'll see many recommendations online that say to keep 2 plants in a 2×2 tent. We would generally recommend a rectangular tent over a square tent for 2 plants. Here's why.
In a square tent, you'd keep each plant in a corner, diagonal from each other. That leaves the other two corners empty. You can use them for other equipment like a humidifier or dehumidifier, but you generally won't need either of those for just two small plants.
And if you're using a 2×2 for 2 plants, they will have to be small. We'd rather bump it up to a 3×3 and let them grow a bit larger (and perhaps even fill one of the corners with a 3rd plant, if you're not dead set on only two).
But the best shape for two plants is rectangular. That way each plant gets its own square grow space. If your plants will be medium sized, so that one fits nicely into a 2×2 tent, then a 2×4 tent is perfect for two of them.
If your plants will be much larger, you could go with a 4×8, or even a 5×10 (which is not a common size, though). With two plants in a large tent like this, you will be able to grow them to a fairly massive size.
What Size Grow Tent Is Best For 4 Plants?
For 4 plants, a rectangular tent shape is best and the most common size is a 4×4. That gives each plant about 4 square feet of growing space (a 2×2 area). It is actually a bit less than that, because you want to keep some space free between the plants. But this still allows for good sized plants.
It is also fairly common to grow 4 plants in a 3×3 tent, but you'll obviously have to keep them a bit smaller. Even a 2×2 tent can work, but in this case, the plants will be so small that they only have on bud site each (not necessarily a bad thing, which we will talk about below).
What Size Grow Tent Do I Need For 6 Plants?
If you plan on growing six plants, a rectangular space would again be best. A 4×6 tent would be perfect for medium sized cannabis plants, but that is not a common tent size.
We would go with a 4 by 8 foot tent, which would allow you to let the plants get a bit larger. Alternatively, a 5 by 5 grow tent would work well too, though it's not as neat in terms of how you could arrange the plants.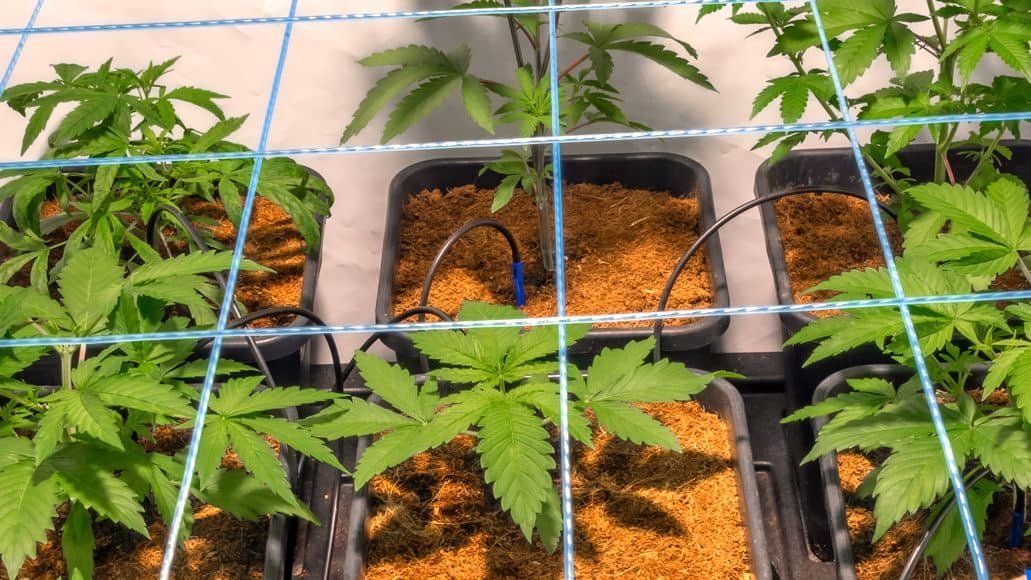 If you're going a Sea Of Green (SOG) grow, you could fit six plants into a 2×3, or even a 2×2 tent. Of course, you can also go the other way with a Screen of Green (ScrOG) grow and fill a larger 10 x 5 or even 10 by 10 foot tent with 6 humongous weed plants. For more on these two techniques, see our comparison of Screen of Green vs Sea of Green.
What Size Grow Tent Do I Need For 10 Plants?
If you let the 10 plants grow to the fairly standard 4 square foot size, you'd need 40 square feet for the plants, but you'd want some extra space for equipment and to allow you easy access to each plant.
That means a 5×10 foot tent would work well. Another option would be an 8×6 tent. However, neither of these sizes are overly common. You could also use an 8×8 or a large 10×10 grow tent, both of which would allow you to grow the plants quite large.
If you go the other way and do a SOG grow, a 3×3 tent would be sufficient for 10 plants.
What Size Grow Tent Do I Need For 12 Plants?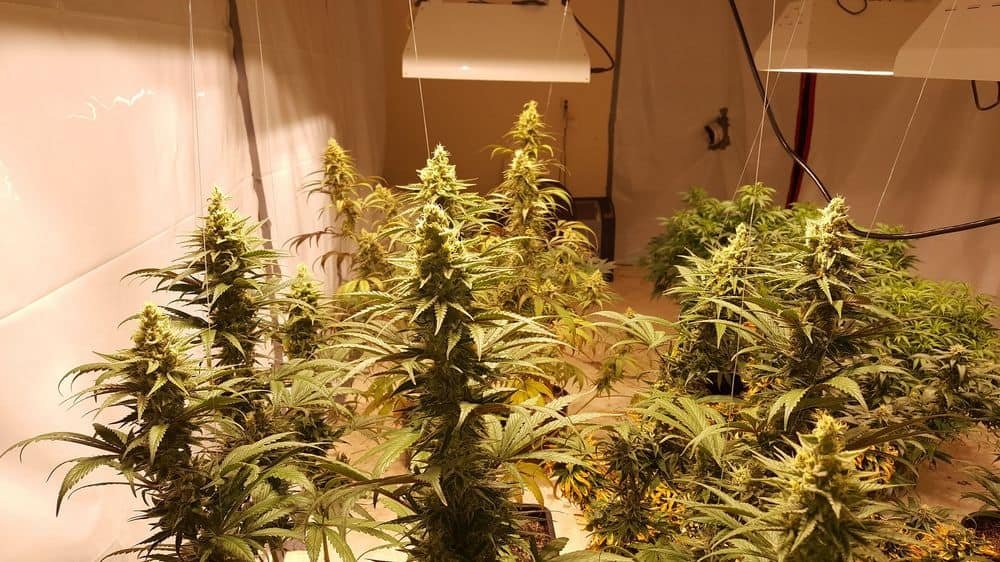 For 12 marijuana plants, you'd want the same tent sizes we recommend for 10 plants: a 5×10 or 8×6 would work, but the 8×8 or 10×10 grow tents would give you more room to play with. For a SOG grow, a 4×4 would give you a little more space than the 3×3.
What Size Tent For Any Other Number Of Plants?
As you've probably realized by now, marijuana plants can be a lot of different sizes. And that is something you control. We'll cover that in a minute. First we wanted to give you standard guidelines to go by, if you've got a specific number of plants that was not already covered above.
In general, if you are growing using the Sea Of Green technique, each plant will take up about 1 square foot of space. That means a 5×5 tent (25 square feet) can hold 25 plants. Naturally, the plants could be smaller or larger than this, if you prefer, but 1 square foot is a good benchmark to use.
If you are growing a medium sized plant, you can figure on 4 square feet per plant. This means one will fill a 2×2 tent and a 4×4 tent (16 square feet) can hold 4 of these cannabis plants. A huge plant can take 16 square feet and thus fit perfectly into a 4×4 grow tent on its own.
To figure out the tent size you need, simply multiply the number of plants by the square footage of each plant. For example, 4 medium sized plants take up 4 square feet each, for a total of 16 square feet. So you need a tent that has 16 square feet of space, which is a 4 by 4 tent.
Obviously, you won't always find the perfect tent size, so you just want to get one that will have sufficient space. It could have less square footage, too. That just means you'd have to keep the plants a bit smaller.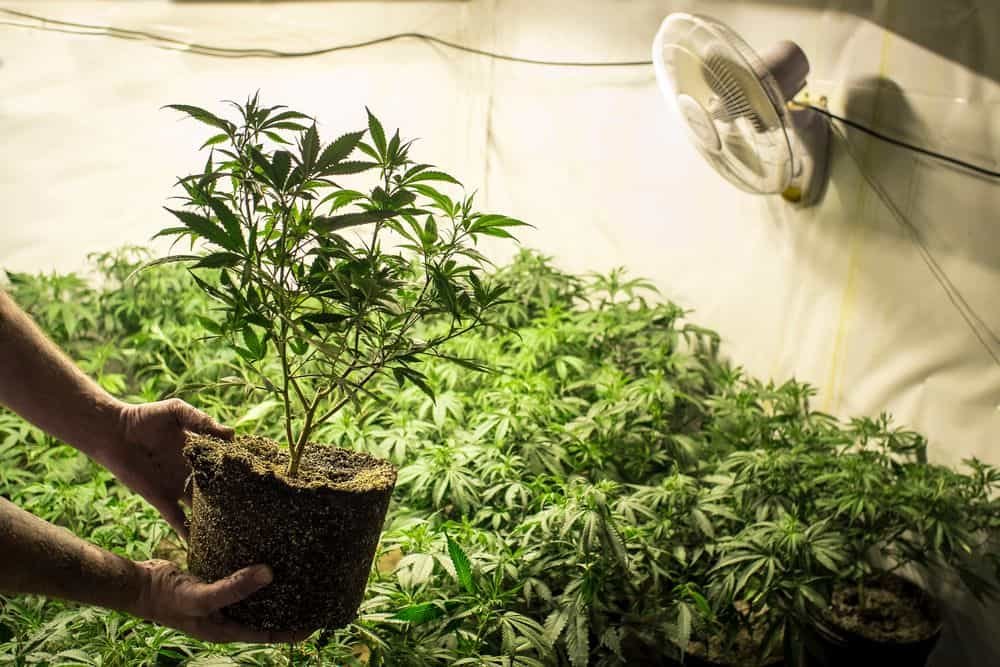 For example, if you have 5 medium sized plants, they would need 20 square feet of space (5 times 4). You won't generally find a 5×4 tent and you certainly won't find a 2×10. But you can find a 5×5, which has more space than you need, but would work well for 5 plants.
Growing A Few Large Plants Vs. More Small Ones
Since you completely control how large you let your plants get, by using a smaller or larger pot size and lollipopping, trimming, pruning and stress training your plant, one of the most important decisions you will have to make is how large you want your plants to be.
Both smaller and larger plants have their advantages. We'll briefly list them out here.
Advantages Of Fewer Large Plants
Maximize yields if the number of plants is limited by law
Much less effort to water and feed a single plant
Larger buds, and usually more potent
Cannabis seeds are expensive and fewer plants means fewer seeds
Advantages Of More Smaller Plants
Short grow cycle allows for more harvests per year
Less (or no) pruning or trimming required
Less vertical space required
Less soil (or other medium) required
Other Things to Consider When Choosing A Grow Tent Size
If you have a certain number of plants you want to grow, that will obviously be the primary factor in determining how large a grow tent you buy. But it won't necessarily be the only one. Here are a few other factors you might need to consider.
Space
You can't get a 5 by 5 foot grow tent if you only have a 3 x 4 foot space in which to keep it. The size tent you can get is obviously limited by the size of the space you have in which to keep the tent.
And if you plan on venting the grow tent into the same room, you want that room to be considerably larger than the tent.
How you deal with heat also plays a factor in relation to size. A smaller difference between the room and the tent means the room heasts up faster if you vent into it, and the entire house heats up faster if you vent into another area.
This could be an issue if you are worried about the possibility of a helicopter detecting heat from your grow room.
Vertical space plays a role as well. You can't get a tent that is taller than the room in which you plan on keeping it. The shorter the tent, the shorter you need to keep the plants, to keep them from suffering light burn and turning yellow.
Budget
The larger the grow tent, the more it costs. Of course, there are large budget tents, but they still cost more than small budget grow tents. And low cost tents are always going to be lower quality, too.
If you can't afford a larger tent, that obviously limits the size of tent you can get. And it's not just the cost of the tent itself. You will also need more oscillating and inline fans in a larger grow area.
Our favorite brand overall is Secret Jardin. They have tents in all price ranges and quality levels. We reviewed Secret Jardin grow tents here, so check that out for more.
The only budget level they don't hit is the deep discount level. Only Chinese brands cover that one. Check out Vivosun grow tents for the best of those brands.
What Grow Tent Size: Final Thoughts
Hopefully, this article has given you a good idea what size grow tent you need, in order to house the specific number of plants you are hoping to grow. And now that you know the exact size of your grow space, it is time to figure out what size grow light you need to light that area in order to maximize yields.