Are you growing marijuana indoors?
Then you're almost certainly going to want to top your plant or plants.
In fact, you're probably going to want to do it more than one.
But how many times can you top a marijuana plant? And what happens if you do it too many times?
We'll answer those questions and also get into what topping is exactly, how it differs from fimming, and how and when to top your weed plants for the best results.
How Many Times Can You Top A Marijuana Plant?
You can top plants as many times as you want, but every time you do so, it takes 1 to 2 weeks to recover from the topping. This means your time to harvest is extended for every topping.
Topping increases the number of bud sites, but it also reduces the sizes of the buds and increases the grow time. You'll need to find the right balance for your particular grow.
For that reason, we can't simply give you an exact number of times you should be topping. But we can help you figure it out. Keep reading.
What Is Topping Exactly?
Before anything else, we should take a few sentences to explain what topping actually is. Basically, topping refers to the act off removing the main shoot of the cannabis plant.
Prior to topping, the plant uses all of its energy to growing the main shoot. Once the shoot is removed, no new one will ever grow from that spot, and the energy is diverted to the smaller side shoots.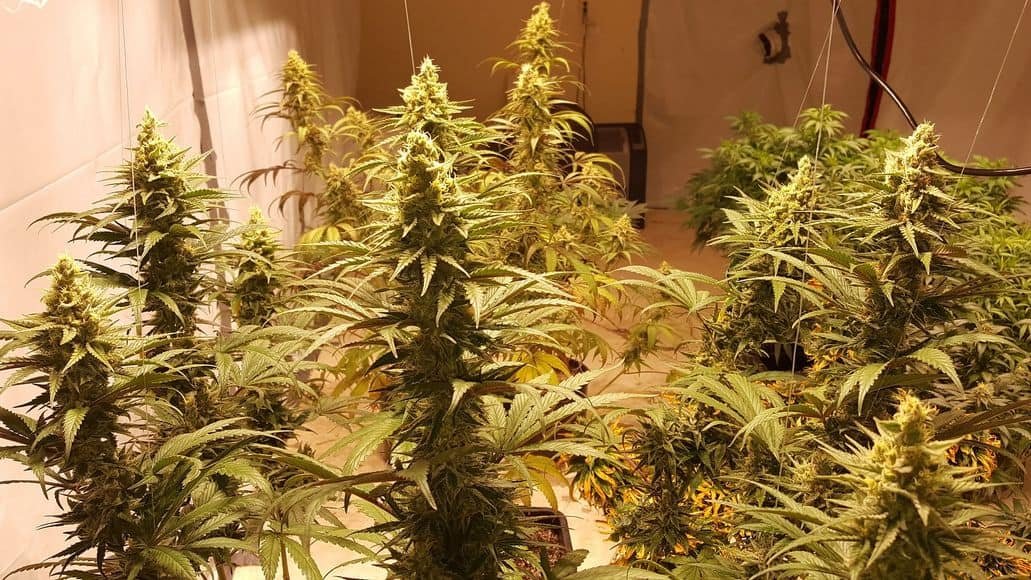 As a result, the plant does not grow into a triangular shape like a Christmas tree, with just the single large shoot in the middle.
Instead it grows into an inverted triangular shape, with more bud sites at the top of the plant where they get exposed to more of the grow lights. Topping also results in the development of two new colas at the top where the plant was topped.
What Is The Difference Between Topping And Fimming?
Fimming is very similar to topping, but slightly different. When topping, you cut the shoot between the nodes. When fimming, you cut any new growth off at the top of the plant, not further down between the nodes.
The word 'FIM' is actually an acronym for 'Fuck I Missed". This stems from the fact that a fimmed plant looks like someone tried to top it, but did so incorrectly.
Fimming does not reduce vertical growth as much as topping, but it also does not take as long for the plant to recover. After fimming, the plant grows four colas at the cut site, instead of two with topping.
Overall, topping usually gives better results, since fimming is a bit of a hit or miss proposition. Sometimes it works well and sometimes it does not.
Advantages And Disadvantages Of Topping Weed Plants
The biggest advantage of topping was already mentioned above: instead of growing into a triangular shape, the plant grows into an inverted triangular shape.
This means a wide, flat top with many colas that are all exposed to the light. This provides a huge boost to yields when growing indoors, where the light source is stationary above the plants.
Another advantage is that the plant does not grow as tall. When growing indoors, you don't generally have the vertical space for plants to grow to their natural height. Topping keeps their height in check.
The biggest disadvantage is that weed plants need time to recover from topping. This means a longer vegetative growth stage. The more often you top, the longer this stage takes.
Expect a 4-6 week minimum vegetative growth phase if you plan on applying these techniques. If you don't give the plant plenty of additional time, you could end up with spindly growth and smaller buds.
Another problem is that having more colas (i.e. the inverted triangle shape) means the plant is top heavy. You'll probably want some kind of support, either in the form of a screen, or stakes.
You could also have additional issues if you plan to switch flowering clones back to veg.
When To Top Your Cannabis Plants
Always top during vegging. Topping seedlings risks killing them or, at the very least, stunting their growth. Doing it during flowering will also damage your plants.
It is best to top your weed plants after they have grown 3 to 5 nodes. Once they have reached this size, they are strong enough to recover from the shock of being cut. If you want to top the new growth again, you should wait at least a week, perhaps 2, to give you plant time to recover from the previous topping.
How To Top
Any time you trim your plant in any way, including topping it, it is vital to use a sharp, sterile blade. Avoid using a regular pair of scissors, since they tend to crush the stem, instead if cutting it clean off.
Ideally, use a pair of weed trimming scissors like these. They are inexpensive, but they get the job done.
You could also simply use a razor blade, but trimming shears should be on any list of things you need to grow weed anyway. Whatever you use, make sure to sterilize it before cutting, either by using UV light or rubbing alcohol.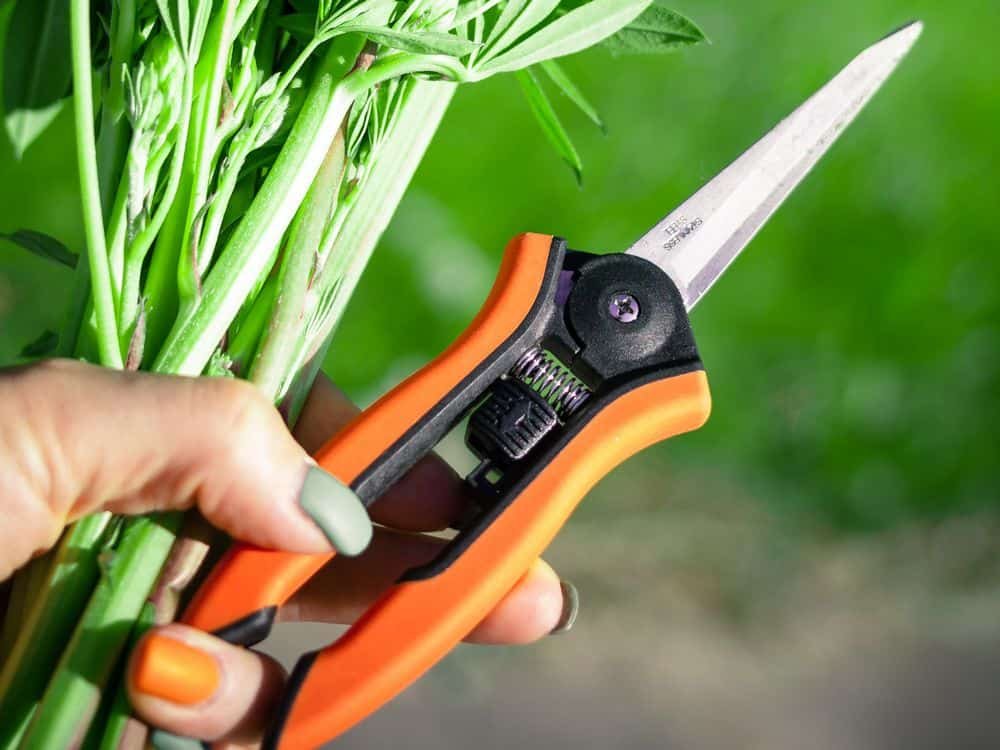 To top your plant, make a clean cut through the stem, just above the lateral branches. After being trimmed off, the main stem will no longer grow. Instead, the two side nodes will take over as colas.
After a week or two, the two new branches will have grown enough, that you can top each of them. Follow the same procedure. Now each of these branches will turn into two more colas. In this way, you can keep topping and keep increasing the number of colas, until you have the canopy where you want it.
Combine Lollipopping With Topping For Increased Yields
In addition to topping your plants, you should also trim off growth beneath the canopy. These areas will not get much, if any, light, if you have built a dense canopy full of colas.
Leaving growth just means the plant is wasting energy on areas that will never produce substantial buds.
We recommend lollipopping your weed plants. This means trimming off ALL growth on the bottom portions, where it doesn't get enough light to produce buds anyway.
This allows the plant to divert all of its energy to the canopy to produce the largest buds possible. This type of pruning is a great way to boost yields.
How Many Times To Top Marijuana Plants: Final Thoughts
You can top your cannabis plants as often as you like, but it will increase the time they need to spend vegging. We recommend topping to keep height in check and also to produce a flat canopy with more colas. Ideally, you want to fill the entire grow area with as many colas as possible. That way, your plants will produce the largest amount of weed possible.