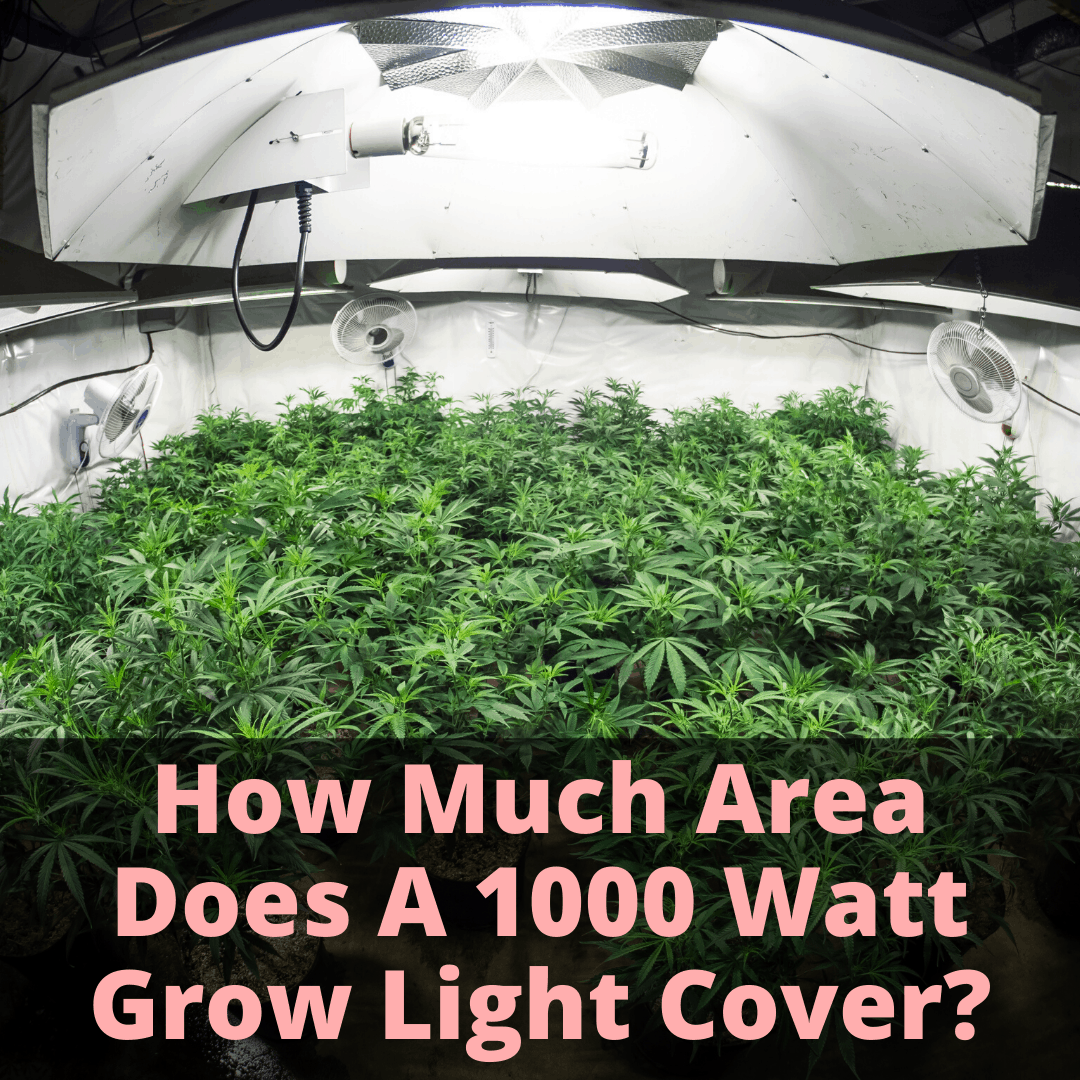 Generally speaking, a 1000 watt grow light will cover about a 5 by 5 foot area.
But it's not quite that simple.
The actual coverage area of a 1000 watt grow light depends on a number of factors like the type of light, the quality of the light, the light requirements of the plants, the grow space, and more.
We'll dive into all of those factors below, but we'll begin with the type of light. There are basically two types of thousand watt grow lights: LED and HID.
LED grow lights are more popular and better (assuming a good quality LED, of course), so let's begin there.
How Much Area Does A 1000 Watt LED Grow Light Cover?
Generally speaking, the answer is still the same: a 1000w LED grow light covers an area of about 5 by 5 feet, or 25 square feet.
You may see people insist that it can only cover 4 by 4 feet. What they are talking about is a 4 by 4 foot tray. If you fill the tray with plants, those plants will grow outward past the boundary of the tray and extend into a 5 x 5 area.
Of course, all of this assumes a quality LED grow light. It also makes certain assumptions about what a 1000w LED actually is, so let's define that first.
What Do We Mean By A "1000w LED"?
What is generally referred to as 1000w LED grow light is basically equivalent to a 1000w HID light. But it does not actually consume 1000 watts. LED lights are more efficient, so a 1000w equivalent LED actually consumes around 600 to 700 watts.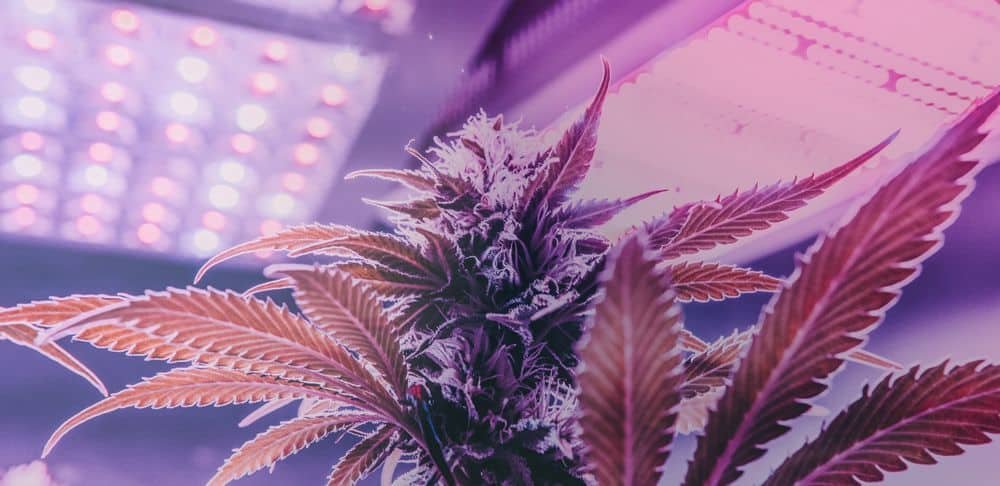 But there's a problem. Manufacturers use vastly different naming conventions. Black Dog, for example, calls their Phytomax-2 1000 that, because it actually consumes 1000 watts.
This type of honesty is unique among LED brands and is the reason many consumers think Black Dog lights are far more expensive. The 1000 costs more than 1000w equivalent lights, but is also quite a bit more powerful and has a correspondingly larger coverage area of 6 by 6 feet.
Most of the best LED grow light brands call their 1000w equivalent lights 1000w lights, even though they consume only 600 to 700 watts, as mentioned.
And then we have the Chinese budget brands. Some follow the same convention, but the vast majority flat out lie when it comes to naming their lights. They will call a light that uses 100 watts (and is about equivalent to a 150 watt HID) a 1000 watt light.
Always look at the actual wattage of a light. If it consumes 600 to 700 watts, it is more or less equivalent to a 1000 watt HID light and it will have a coverage area of around 5 x 5 feet.
A good example is the HLG 650R from Horticulture Lighting Group. It is one of the best 1000w equivalent lights on the market and consumes 630 watts. You can find all the info on this light in our review of all HLG fixtures.
Of course, saying that a 1000w LED covers 5 by 5 is simplifying things a bit.
Some lights are less efficient than others, so you also want to look at the output, if possible. The light spread is important too. Good lights spread the output more evenly throughout the coverage area, while less effective lights concentrate all of the power directly in the middle.
1000 Watt LED Grow Light Output And Spread
Almost all manufacturers provide output data in the form of PPFD (which some still mistakenly refer to as PAR, but that's a matter for a different article).
The problem is that many only provide a single number that indicates output directly beneath the light, but not in other parts of the coverage area.
Good manufacturers provide a PPFD footprint, that shows light output at various points throughout the coverage area. This allows you to see how the light performs everywhere.
We recommend staying away from any manufacturer that does not provide complete output data.
If they are only giving you a single value, or nothing at all, you can be sure they are doing so for a reason. Most likely, their fixture has a horrible light spread that concentrates all of the output in a small area directly beneath the light.
If you are only growing a single plant, this may appeal to you. Otherwise, stay away.
Now let's say you are considering a certain fixture and you have the PPFD footprint data. What do you want to see?
What Does A Good PPFD Chart Look Like?
Ideally, you want there to be a more even light spread, i.e. the numbers around the outside and in the center of the coverage area are closer to each other. Those in the center will always be higher, but on bad fixtures, the center values are huge and those around the outside tiny. You do not want that.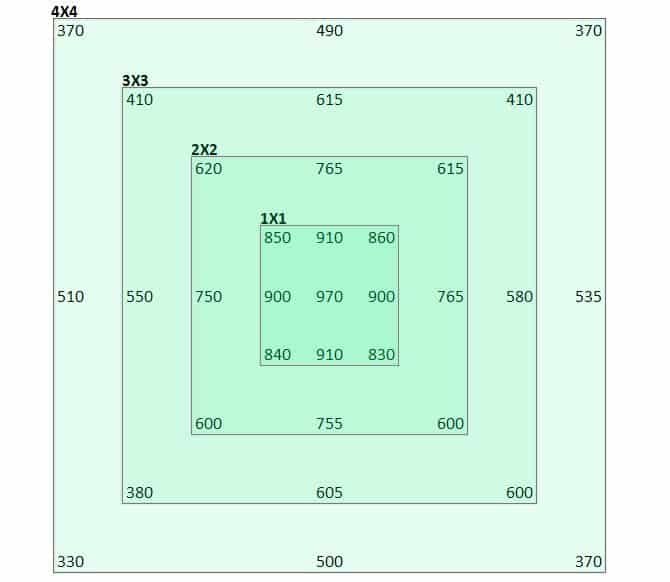 What kind of values are you looking for specifically?
Obviously, this depends on the plants and the stage of growth. We'll go into that below.
For now, let's assume you are growing cannabis or some other plant with a high light requirement and you are looking to provide enough light to flower your plants.
In that case, the ideal output is from 600 to 1000 umol/m²/s. But plants can flower with far less than that and almost no one actually gives their plants that much light across the entire coverage area. That would be very expensive.
Plants will do fine with less than that, but those are the numbers to shoot for if you want to optimize yields.
At a minimum, you want 100 umol/m²/s.
If a light claims it covers a 5 by 5 foot area, but the PPFD in the corners is below 100 umol/m²/s, it does not adequately cover 25 square feet. Look for a PPFD footprint that has at least 100 umol/m²/s in every location.
We have an article on helping you find the right size grow light that goes into more detail on all of this.
1000 Watt HID Grow Light Coverage Area
When it comes to HID lighting, there is not nearly as much variation as there is with LED. All 1000 watt lights provide more or less the same coverage area. But the type of HID reflector you use does make somewhat of a difference.
Generally, umbrella reflectors give you the largest light spread, meaning a larger coverage area, but less intensity throughout that area. More focused reflectors, like a hood, give you more intense light across a smaller area.
But the difference in area is not that huge: at the most, you're going from 4 by 4 to 5 by 5 feet. Plus you can hang an umbrella reflector closer and increase the intensity while decreasing the area, making it essentially the same as a reflector with a smaller spread.
The other thing that affects the coverage area is the type of HID bulb you use. Let's take a look at the three main types and the kind of spread you can expect from each.
HPS: a 1000 watt high-pressure sodium bulb covers a 5 by 5 foot area for flowering
MH: a 1000 watt MH bulb covers a 7 by 7 area for vegging (and 5 x 5 for flowering, but you would not want to use metal halide bulbs for flowering, if you can avoid it)
CMH: 1000 watt CMH bulbs are very rare (the standard power is 315 watts), but the ones that are out there cover a 5 x 5 area for flowering
Light Requirement Of Plants
The light requirement of the plants you grow plays a huge role in how much area your 1000 watt grow light will cover. The stage of growth does as well.
As mentioned, to flower a plant with a high light requirement like cannabis, you want to see at least 100 umol/m²/s. This results in a coverage area of around 5 by 5 feet.
But if you are growing a plant that does not flower like lettuce, 30 umol/m²/s is plenty. That means you can raise the light up higher and increase the coverage area dramatically. You can grow a 7 x 7 foot area or larger.
Grow Space
The grow space can also play a role. If you are growing in a space that already gets some natural light, then the output from the grow light does not have to be as strong. This means you can hang the light higher and increase the coverage area.
You can also give the coverage a slight boost by putting up reflective material on the walls (like Mylar). Most grow tents have Mylar interiors for this reason. The reflected light helps boost the output around the outsides of the coverage area.
1000W Grow Light Coverage: Final Thoughts
If you get a good quality 1000 watt grow light, it will cover an area of about 25 square feet for flowering a plant like marijuana.
This is true whether you get an LED grow light or an HID grow light. If you are growing a plant with a lower light requirement, or you are using the light only for vegging, then the coverage area increases. Other types of grow lights for indoor plants do not have as large a coverage area.