Setting up a cannabis grow is not cheap.
You will have a good-sized list of equipment to buy.
And the most expensive equipment you need are the grow lights.
Naturally, you would like to buy as few of them as possible.
But you also want to ensure your plants get the light they need.
The obvious question is: how many grow lights do I need?
Keep reading to find out. How many grow lights you need depends on a number of factors. We will guide you through the process of figuring out your plants' lighting requirements and how best to meet them.
How Many Grow Lights Do I Need?
Obviously, there is no one-size-fits-all answer here. How many lights you need depends on a number of factors.
You will need to consider the number of plants you have, their size, the growth stages, the light intensity, and the coverage area, in order to ensure that your plants receive the optimal amount of light they need to thrive.
But before anything else, you need to understand the light requirement of your plants. We are going to assume you are growing cannabis, since that is what most visitors to this site grow.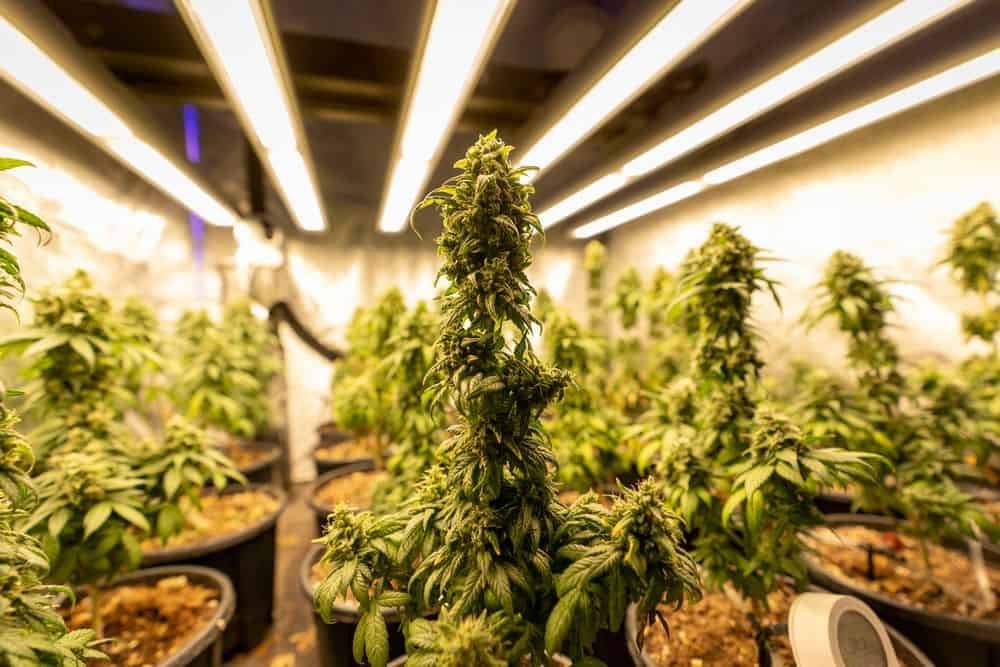 Cannabis is a plant with a high light requirement. This means that everything below also goes for other plants with high light requirements. This includes any fruiting, and most flowering, plants.
Cannabis Lighting Requirements
Your cannabis plants have specific lighting requirements that change throughout the different growth stages. Understanding these requirements is essential for providing the right amount and type of light for optimal growth.
Giving too much or too little light can have a negative effect on your plants' health. Here are the key factors to consider.
Light Intensity And Spectrum Requirements
The first factor you need to consider is just how much light your plants need. The ideal spectrum for your plants is important as well.
Light Intensity
As mentioned, cannabis plants have a high light requirement. But marijuana plants can get too much light, too. They thrive best under a certain range of light intensity.
Generally, weed plants want a light intensity of 600 to 1000 µmol/m²/s during the vegetative stage, and a slightly higher intensity of 800 to 1200 µmol/m²/s during the flowering stage.
Light Spectrum
Your plants will also respond differently to various light spectra. During the vegetative stage, a spectrum with higher proportions of blue light promotes leafy growth. In contrast, during the flowering stage, a spectrum with increased red light stimulates flower production.
Different Growth Stages And Their Lighting Needs
Plants go through different stages of growth and have different lighting needs during the various stages. We already touched on the two primary stages (vegging and flowering) above. Here is a more complete breakdown.
Seedling Stage
During this early phase, cannabis plants require gentle lighting to avoid burning the delicate seedlings. They need an intensity of 100 to 180 µmol/m²/s. T5 fluorescent lights or low-intensity LEDs are among the suitable options.
Vegetative Stage
In this stage, plants need more intense light to promote healthy leaf growth. Aim for 600 to 1000 µmol/m²/s. High-output fluorescent lights or full-spectrum LED grow lights are the more commonly used options.
Flowering Stage
As plants transition to the flowering stage, they need even more light. As mentioned above, the ideal range for intensity is between 800 and 1200 µmol/m²/s.
Weed plants require a different light spectrum to encourage bud development. High-pressure sodium (HPS) or specific targeted-spectrum LED grow lights with a higher ratio of red light are typically used.
Calculating The Number Of Grow Lights Needed
To determine the number of grow lights you need for your cannabis crop, you need to take several factors into consideration. Here is a step-by-step guide to help you calculate the optimal number of grow lights for your grow space.
1) Determine The Total Square Footage Of The Grow Area
Measure the length and width of your grow space.
Multiply the length by the width to obtain the total area in square feet.
2) Determine The Number Of Lights Needed To Cover The Grow Area
Check the coverage area of each of your grow lights. You can usually find this information listed in the model's specification literature, which should be proved by the manufacturer or is available online.
Divide the total square footage of your grow area (as calculated earlier) by the total coverage area of each grow light, which will give you the number of grow lights needed to cover the entire area.
You will also want to take into account the light drop-off around the outside of the coverage area. The light will be less intense, so you may want to overlap coverage areas. You want the total to add up to a number inside the ideal intensity range for your plants.
Example
We will give you a simple example to help illustrate this process. Let's say you have four plant in a grow tent measuring 4 by 4 feet (or 16 square feet). Each plant takes up a 2 by 2 foot area (4 square feet).
If you have lights that cover a 2 by 2 area (4 square feet), you will need four of them. However, if those light only have the desired intensity in the center, say in a 2 by 1 foot area) and the intensity drops by half in the additional 6 inch space on each side (along the longer side of the light), then the parts of your plants in that area will receive less light.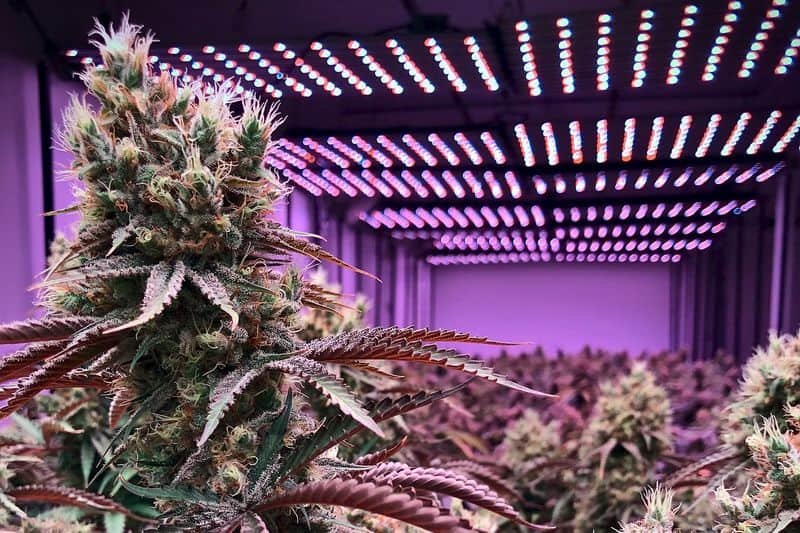 The solution is to overlap the outer 6 inches of the coverage area with the same outer 6 inches of the neighboring light. This means you will still have two light next to each other, but you will now have three rows of lights, instead of two. This ensures a more even coverage area.
How Many Grow Lights You Need: Final Thoughts
Determining exactly how many grow lights you need depends on a number of factors, like the type of plants you are growing, the growth stages, the grow lights in question, and more.
It seems complicated, but once you know what you are doing, it is actually fairly simple. You just need to figure out the lighting needs of your plants (cannabis was provided above) and the output of your lights (the manufacturer should provide this, but our article on the best LED grow lights also includes this info).
Once you have that, you can figure out how many of the lights it will take to fill your grow area with sufficient light for your plants. Aim for as even a coverage area as you can get. In some cases, it may make sense to buy some smaller, cheaper LED or fluorescent bulbs to fill in areas with less intense coverage.