If you can grow it outdoors, you can also grow it indoors.
Of course, some things are much easier to grow than others.
Indoors you have the big advantage of controlling the climate.
But you are limited by space.
And you will need to provide everything nature provides outdoors.
As a result, it is usually smaller plants that are more suited to growing indoors.
But that is not always the case.
Keep reading for a list of the best vegetables to grow indoors, along with some quick tips for growing them successfully.
Best Vegetables To Grow Indoors Under Lights
As mentioned, you can grow anything indoors that also grows outdoors. But the following vegetables are your best bests for an indoor garden. Hopefully this list will help you find the perfect plants for your new indoor vegetable garden.
Carrots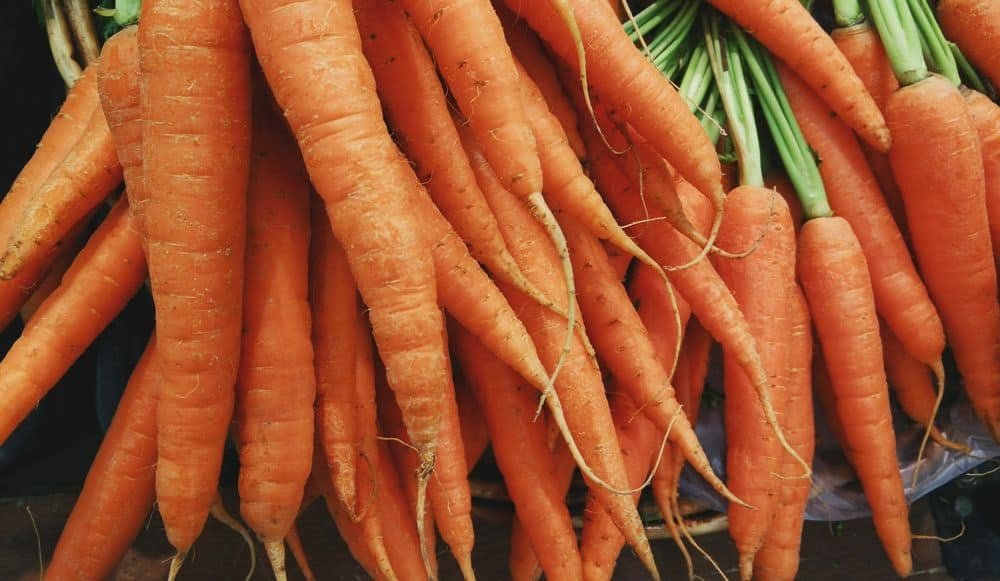 Carrots are one of my favorite foods. They are crunchy, sweet, and very healthy for the human body. Carrots are technically called Daucus carota and they are one of several healthy root vegetables that you can grow indoors.
They are a great source of some of the most important nutrients your body needs, such as:
Antioxidants
Fiber
Vitamin K1
Beta carotene
In addition to containing important nutrients, carrots are also known to be beneficial for eye health. Carrots are typically orange, but did you know they can also be red, white, or purple?
Growing them inside is not too difficult, if you have good grow lights and the proper-sized containers. Carrots need some space, so if you get a standard 8 by 8 container, don't try to fit more than 8 carrots in there. They need to be properly drained like most veggies, to avoid root rot.
Bell Peppers
Bell peppers are another one of my personal favorite foods. They are jam-packed with vitamin C and come in several colors, each with its own unique and subtle flavor difference. You can find them in green, orange, red, and yellow. The red ones do sometimes have a bit of a kick though.
Technically, bell peppers are a fruit, not a vegetable. They are part of the nightshade family, like tomatoes are. They are relatives of breadfruit, chili peppers, and of course tomatoes.
They are quite beneficial to your body since they contain:
Vitamin A
Vitamin E
Folate
Vitamin C
K1
B6
Bell peppers contain so much vitamin C that eating just one bell pepper gives you over 150% of the daily recommended amount.
Growing peppers indoors with grow lights is fairly easy, as long as you have the right setup. You will need some clay pots, seedling trays, and of course some good grow lights.
Each plant can produce between 5 and 10 full-sized peppers. So you don't need to plant too many to enjoy a plentiful harvest.
Onions
Onions are in so many recipes. They are good for your body as well, but too many can cause some stomach issues if you are sensitive.
I love onions, especially red onions. They may be difficult to eat by themselves fresh, but once cooked or sauteed, they bring a great flavor to any dish.
They do have some nutritional benefits as well as obvious flavor benefits. Onions contain:
Potassium
Fiber
Folate
B6
They are mostly water with some fiber and small amounts of fat. They are known to have blood pressure lowering effects due to the high folate content.
Growing onions indoors requires some tall pots. Each one needs at least six to ten inches of depth to properly grow. In addition to the depth requirement, each plant needs at least 3 inches of horizontal space between the next plant.
Not all onions are the same, and certain varieties are easier to grow inside than others. For onions, the smaller the onion, the easier it is to grow indoors. Mostly this is due to the space requirement and water consumption of bigger plants.
Lettuce
Lettuce is more than just that green stuff you plop on your BLT. It is a leafy green vegetable that is best known for being the main ingredient in most salads.
All varieties of lettuce are good for you, but they contain slightly different minerals and vitamins. Some of the most common types of lettuce are:
Celtuce lettuce
Romaine
Head Lettuce (the most common)
Leaf lettuce
All of these varieties are tasty and work well in almost any dish. Like many other vegetables, lettuce is packed with nutrients such as:
Iron
Folate
Fiber
Vitamin C
Leaf lettuce and Romaine are the most nutrient-dense types of lettuce, with iceberg lettuce lagging with the least amount of nutritional value of them all.
Lettuce is easy to grow inside because they have shallow roots, which eliminates the need for big, tall pots and all the additional space those require. You can grow lettuce in a shallow box or shallow pots near a window with minimal effort.
Arugula
Arugula is one of the most nutrient-packed vegetables that you can grow indoors. It contains some important vitamins and minerals such as:
Vitamin A
Folate
Vitamin C
Calcium
Potassium
This is a somewhat spicy or bitter-tasting leafy green vegetable that is also called Italian cress, rucola, or even salad rocket. It is in the same family as brussels sprouts, kale, broccoli, and cauliflower.
Arugula is very flavorful and not to be confused with other leafy greens like lettuce. It has a peppery and somewhat spicy flavor that is unmistakable. Some chefs even use it instead of basil in certain dishes.
In addition to being uniquely flavored and extremely healthy, it is also naturally resistant to pests.
Quick Tips For Growing Arugula Indoors
You can use normal standard potting soil. You will need some plant food; the best is the balanced blend with equal parts phosphorus nitrogen and potassium.
A strong grow light is recommended for arugula due to the high levels of light needed to help it grow. It needs much more light than lettuce, for example.
Mushrooms
I am a mushroom-a-holic. I eat them on anything I can get away with adding them to. Portobellos are my favorite, but all mushrooms can enhance a dish. They might be just a fungus, but they are surprisingly good for you. Mushrooms contain:
Choline
Vitamin C
Selenium
Fiber
Choline is not something you see in many other vegetables. It is an essential nutrient that our bodies need for liver function muscles, brain health, metabolism, and your nervous system as well. Our body does make it in small amounts.
Selenium is also present in mushrooms more than in many other sources. It is an essential part of many enzymes and proteins. It helps protect your cells from infections and damage.
Quick Tips For Growing Mushrooms Indoors
The early growth stages need the air to be colder than many other vegetables you would be growing indoors. Mushrooms like to be between 55 and 60 degrees in the early growth period.
Since mushrooms are a fungus, they take a bit of a different approach. Make sure you try to keep the growing medium as sterile as possible when you get started with mushrooms.
Spinach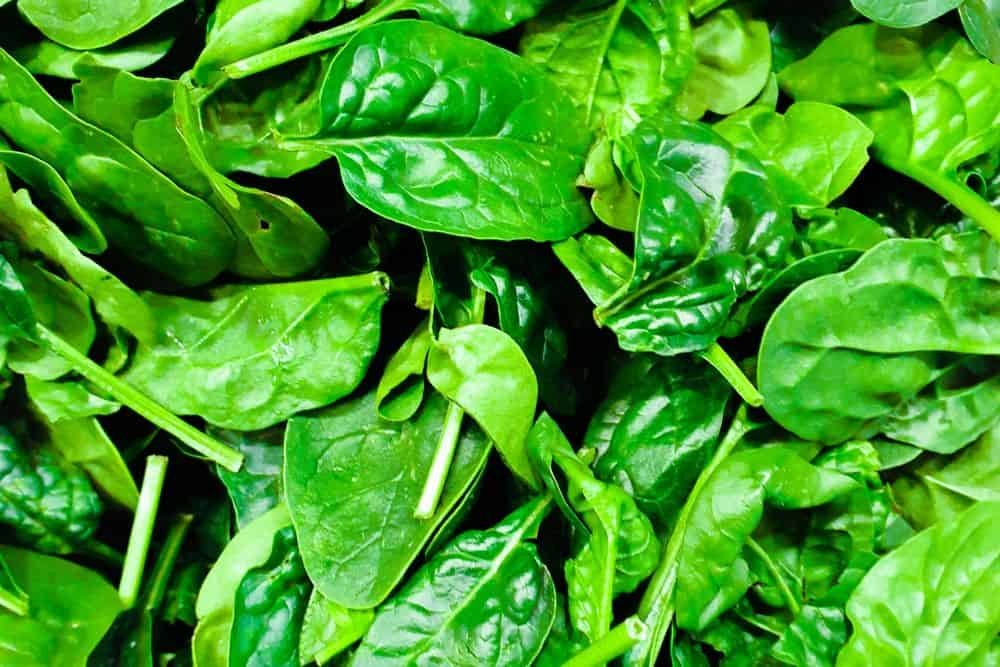 There is a reason that Popeye always sprouted muscles and became stronger when he consumed spinach. Spinach is packed with nutrients your body needs to become strong and healthy.
It is part of the amaranth group of vegetables and is cousins with quinoa and beets. Spinach contains:
Calcium
Folic Acid
Vitamin A
K1
Vitamin C
Iron
Fiber
It is especially nutrient-rich. Think of spinach as concentrated vitamins. In other words, you get much more from spinach by eating much less than other vegetables, for example regular head lettuce.
It also contains some other necessary compounds like:
Quercetin
Lutein
Zeaxanthin
Nitrates
Growing Spinach Indoors
Spinach grows indoors quite well and is one of the easiest vegetables to raise inside. It will need to be fertilized and watered regularly like any other plant.
The only downside to growing it inside is that one of the best fertilizers for spinach is rotted manure. Rotted manure can sure spoil the mood at a party when the smell hits the air!
Green Beans
Green beans are one of the most popular vegetables around the world. They have a tasty flavor that almost everyone likes (except fussy kids). They are not difficult to grow, and they contain a wide variety of important vitamins and nutrients such as:
Zinc
Magnesium
Potassium
Vitamin A
Vitamin C
Folate
Niacin
Iron
Phosphorus
Interesting fact: Did you know there are over 130 different varieties of green beans on earth? The most common type that we eat here in North America is Phaseolus vulgaris.
Tips For Growing Green Beans Indoors
Green beans need at least six hours of full light daily to reach their full potential. When planting your seeds be sure to put them about one inch deep in the soil.
They do great with standard potting soil as well. They do not handle transplanting as well as some other veggies, so it is best to plant them and leave them alone until they are harvested.
Ginger
Ginger has long been associated with folk remedies, especially ones from Southeast Asia. People in that region of the world have used ginger since ancient times, in their cooking as spices and for healing stomach ailments and other remedies.
Ginger is a spicy, pungent root of the plant Zingiber officinale. You may be familiar with it as the side dish for sushi along with the hot wasabi paste. Ginger is used in this regard to calm the taste buds after they encounter the scorching hot wasabi paste.
Ginger is good for your body, because it contains many helpful nutrients such as:
Niacin
Magnesium
Riboflavin
Iron
B3 and B6
Vitamin C
Zinc
Phosphorus
It is known to help relieve nausea, and some say it even helps ease muscle pain after workouts. It has also been found to help regulate blood pressure and even lower blood sugar levels in individuals with type 2 diabetes.
Growing Ginger Inside Under Lights
Ginger is quite forgiving indoors under lights. All you need is some moist rich soil, and a 12 inch pot. The trick is finding a good root to begin your plant. Look for one with lots of protruding eyes or nodes. Those have the best chance of sprouting a healthy plant.
Beets
Beets are a root vegetable like carrots, sweet potatoes, turnips, or radishes. They have a distinctive bright red color and a sweet, bitter taste that many people love and just as many hate! Personally, I have always enjoyed beets and beet juice. I like the texture and the flavor.
Fun fact: Some natural foods that are sugar-free use concentrated beetroot juice for sweeteners.
Beets are quite healthy for you, as has been made clear recently, with more and more studies showing how good they can be for lowering blood pressure (like this one.) They are a great source of manganese as well as folate and potassium.
In addition to the minerals mentioned earlier, beets also contain other compounds which are beneficial to the body such as:
Betanin: this is what causes the bright red color in beets and is thought to have many health benefits.
Inorganic nitrate: this is found in many other vegetables as well. It is transformed into nitric oxide when it is processed in the body. Nitric oxide helps dilate and constrict blood vessels, which improves your blood pressure and muscles.
Growing Beets Inside
Beets need about six hours of light every day. It is good to set them near a window or use full spectrum LED lights for beets. They need a standard 12 Inch pot and plenty of water and drainage. It takes beets five to ten days to fully germinate and should not take longer than that.
Basil
Basil is an herb, which is still a vegetable, but a subset of vegetables in the same family as mint. Basil is a fragrant, strong tasting leafy herb used in many recipes, especially sauces and kinds of pasta.
Not only is basil used in Italian cooking, but it is quite popular in Southeast Asia as well. People in Vietnam and Thailand have also been using basil in their food for hundreds of years.
Basil is great as a spice, or medicine, as well as an essential oil. It has been used to help nasal inflammation, colds, and even snakebites.
Basil contains a large amount of eugenol, which can be used in the treatment of skin infections or inflammatory conditions. Basil is also packed with vitamins and minerals like:
Vitamin K
Calcium
Iron
Vitamin A
Manganese
Growing Basil Inside Tips
Of all the veggies covered here, basil may be the easiest one to grow indoors under lights (or even on a sunny windowsill).
Like many other plants, basil needs at least six hours of sunlight every day. If sunlight is not available, you can use T5 LED lights or fluorescent lights. Just be aware that if you are using artificial lights, you will need to increase the light exposure time from six hours to about ten per day.
You can use a standard 10 inch Pot and standard gardening soil to grow basil. It will definitely need to be fertilized. You can use a standard houseplant fertilizer; it does not have to be anything fancy. If you can get organic fertilizer, that is recommended.
Best Vegetables For Indoor Growing: Final Thoughts
You can grow anything you want indoors, provided you have enough space and resources. But if those are limited and you are looking for plants that are on the easier side to cultivate inside the house, the list above has you covered.
All of the vegetables listed above are relatively easy to grow indoors. None of them have any difficult requirements and none need an inordinate amount of space or other resources.
Even a beginning gardener should be able to successfully grow any of these vegetables in their first indoor garden.