There is one huge similarity.
Both fluorescent and LED grow lights are designed to grow plants.
But how they do that is different.
And when you compare LED vs fluorescent grow lights, those differences are key.
They are what will determine which type of lighting is right for you.
And it's not a simple "this or that" answer.
Which light is right can differ, depending on your situation and your needs. So let's figure out whether fluorescent grow lights or LEDs are right for you.
LED Vs Fluorescent Grow Lights
We will begin our comparison of fluorescent vs LED grow lights by looking at each lighting type individually, before comparing them directly. We'  go over the advantages of each and list the reasons either type could make more sense, to help you figure out which one is best for you.
LED Grow Lights
LED grow lights are considered the fourth generation of the ever-evolving grow light technology. The acronym LED stands for light-emitting diodes, and that is the way the light is produced in this type of grow light.
LED grow lights usually contain multiple individual light-emitting diodes in a single housing with a heat sink and often also some built-in fans. Individual LEDs usually provide only a narrow range of colors. LEDs with different colors are used in grow lights to provide different ranges of light for different growing needs.
Full-spectrum LED grow lights provide a full range of light. These grow lights are similar to natural sunlight, providing plants with light in every color. In many cases, you can also adjust the wavelengths of light emitted to suit the stage of growth your plants are currently at.
LED grow lights can give your plants the full range of light they need and their efficiency means that they usually last for 50,000 to 100,000 hours before needing replacing.
Fluorescent Grow Lights
Fluorescent grow lights were the second generation of grow lighting technology, following after after incandescent bulbs, which were the first generation of grow lights. Fluorescent lighting comes in all shapes and sizes, including tube-style and compact fluorescent lights, so it can fit in a variety of grow spaces.
While any type of fluorescent light will help any type of plant grow, if your plants have different needs at different stages of growth, you may need to change bulbs during the growth cycle. Plants that produce flowers have different needs from those that do not.
During the vegetative stage, your plants will benefit from a cooler, bluer light, whereas when they enter the flowering stage, they will crave a redder, warmer light.
Fluorescent lights typically emit light in the color temperature range from 2700 K to 10,000 K, with different bulbs offering different outputs. They have an average usable life span of between 10,000 and 20,000 hours.
Similarities Between Fluorescent Grow Lights Vs LED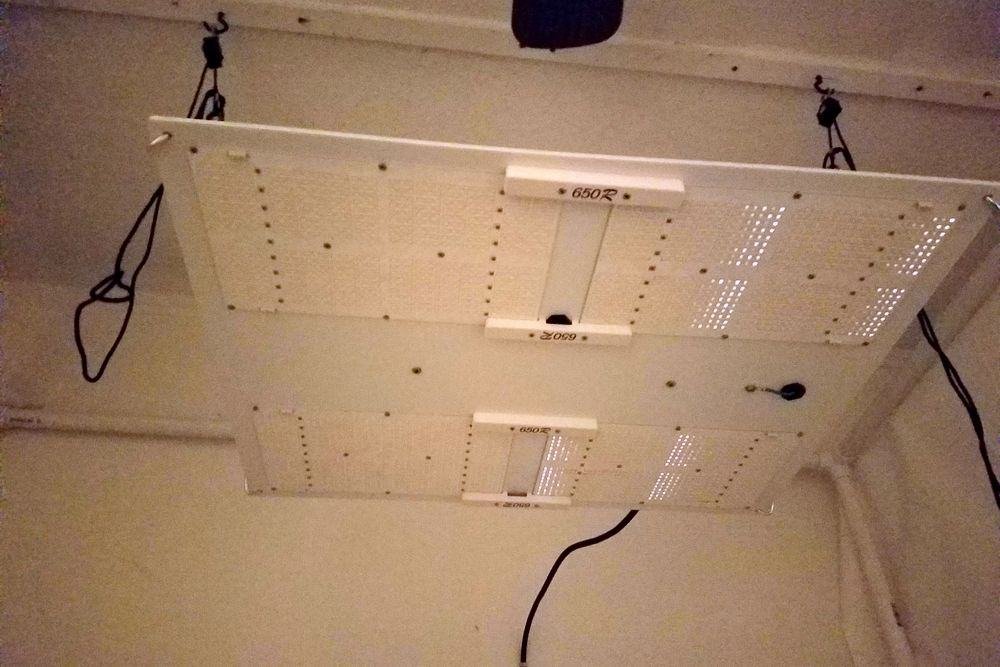 As essentially two different designs of the same piece of gardening equipment, these two different types of grow lights have much in common with each other. They are both light-emitting electrical devices that you can use to encourage your plants to grow healthier and more quickly.
Generally speaking, they are similar in that they are both designed and used for the same purpose. But when you dive into the specifics, you will see a few more differences jump out at you.
Differences Between Fluorescent And LED Grow Lights
When you start looking more closely at the specifications of each type of grow light, you will see how these two grow lights differ. The first difference you will probably notice is the cost.
The initial cost of purchasing LED grow lights is much higher than purchasing a fluorescent grow light. But that doesn't tell the whole pricing story.
LEDs are more energy-efficient than fluorescent grow lights. Over time, they will become cheaper than fluorescent grow lights as your energy bills will be consistently lower.
In addition to the cheaper monthly energy bills, LED grow lights also have a longer lifespan than their fluorescent counterparts. You will need to replace them far less often. This also helps keep the overall costs involved with your grow lower.
Another difference lies in their adjustability and versatility, with LED grow lights being better in this regard than their older siblings. Switching from a blue light to a redder one with fluorescent grow lights involves the need to change bulbs. LED grow lights are much more adjustable to your plants specific needs during the different growth stages.
Advantages Of LED Grow Lights
LED grow lights have a number of advantages versus fluorescent grow lights.
More Energy-Efficient
While there may be a higher initial outlay needed to buy LED grow lights, over time they can save you money due to their superior energy efficiency. Each month you use LED grow lights rather than fluorescent ones, your energy bills will be a little lower. You should also keep in mind that while the initial cost is higher, you get more features and more control over your lighting for that price.
Longer Lifespan
The technology involved in LEDs has a longer lifespan than fluorescent grow lights. You will need to replace your LEDs far less often than fluorescent bulbs. Over time, this will also help you save money.
Lower Operating Temperatures
As a whole unit, your LED grow light will give off less heat than a fluorescent one of the same strength would. This is also an important factor when assessing the overall costs involved with running your grow lights.
Other types of grow lights give off more heat. If you're growing your crop in a confined space, you will need to manage this excess heat with extra cooling equipment. Extra cooling equipment costs more money to run.
Adjustability
With more room to maneuver than other types of grow lights, LEDs are the king of versatility. Dimmer switches allow you to control the light's intensity, and full-spectrum LED grow lights are capable of emitting more blue light during the vegetative stage and more red light during the flowering stage.
Advantages Of Fluorescent Grow Lights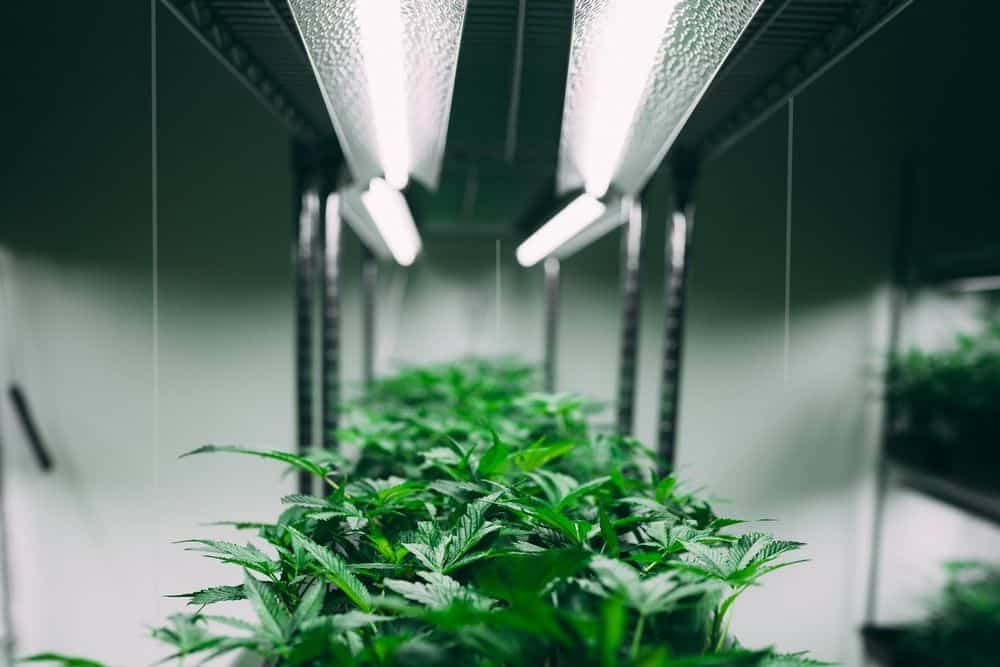 Of course, fluorescent grow lights also have a few distinct advantages over their LED counterparts.
Low Cost
If you're limited by budgetary concerns, the lower initial cost of fluorescent grow lights may be a big benefit. Having to make a smaller outlay to get started can be a big plus for some.
But also bear in mind that over time, high quality LED grow lights will more than make up for that larger initial outlay. So even though fluorescent lights make for the cheapest grow light setup initially, if you are growing more than a plant or two and you plan to run several grows, LEDs will save you more in the long run.
Range Of Sizes
Fluorescent grow lights come in a range of sizes, including low-profile setups that can work well in tight spaces. If you're limited by your grow space, you may have a better chance of finding a fluorescent grow light to suit than an LED one.
Opting for compact fluorescent grow lights can also help you make the most of your grow space. The bulbs have a low heat output and can be placed a little closer to your plants than other types. This makes them ideal as supplemental lighting, too. Even if you use LEDs for your main lights, you can use CFL bulbs to fill in the shadows.
Simplicity
Simplicity of use and convenience are additional advantages of the fluorescent grow light. There's no need for special fittings, sockets, or to be an electrician. Changing bulbs is very easy, and the set-up and any troubleshooting is generally much easier than with an LED grow light.
Reasons To Use LED Grow Lights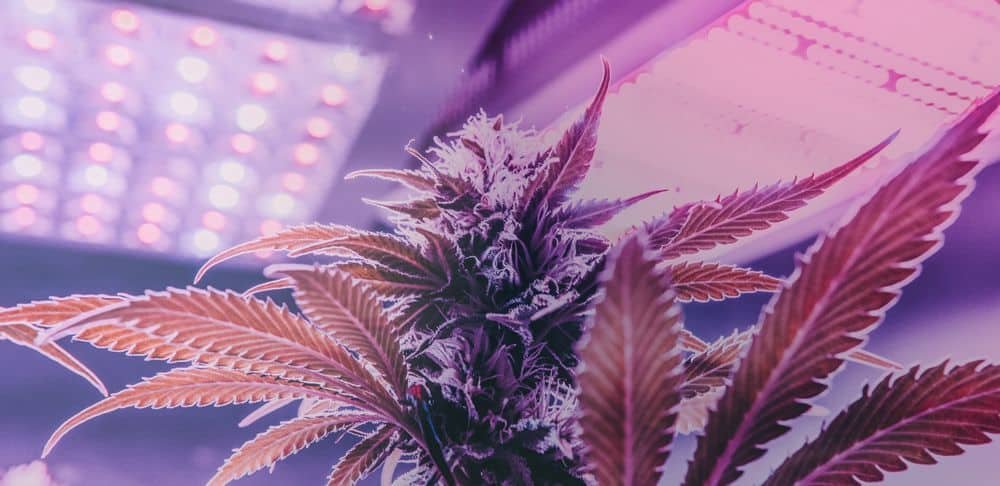 If you are lucky enough to be in a position where budget is of little concern, you should definitely go with the more efficient and more adjustable LED grow lights. While you will need to make a bigger initial investment, over time you will start to see that money come back in the form of lower energy bills and not needing to change bulbs.
Reasons To Use Fluorescent Grow Lights
If you are looking to get started in the world of grow lights and need to keep a closer grip on your purse strings, then the lower outlay needed for a fluorescent grow light setup may be your best bet.
Fluorescent grow lights are still very popular among hobbyists and those looking to grow on a small scale (one or two plants). But it's also worth keeping an eye on the prices of LED grow lights, because they keep dropping more and more.
CFL Vs LED Grow Lights
The comparison between LED and CFL grow lights is the same as with fluorescent lights in general. CFL (compact fluorescent lighting) are simply the compact fluorescent bulbs we use in the home, instead of the fluorescent tubes you are more likely to see in commercial buildings.
The light they emit is the same in terms of spectrum, but CFLs tend to be less powerful. The fair comparison is thus between a CFL bulb and an LED grow bulb, instead of a larger fixture. And this results in the same conclusions we already reached above.
This means that the LED grow light will cost more, but it will be more efficient and last longer. IF you are only doing a single grow (olr maybe two) and you only have one plant, CFLs may make more sense. Otherwise, LED grow lights are the better option.
LED Grow Lights Vs Fluorescent: Final Thoughts
When you compare LED vs fluorescent grow lights, the first thing that jumps out at you is the higher cost of LEDs. However, that only tells a part of the story.
If you compare lights delivering a similar output (which usually requires many fluorescent bulbs), the cost is suddenly much closer. Then you also have to add in the higher efficiency of LEDs, which results in a lower operating cost.
The result is that LED grow lights make the most sense for most growers. That said, there are certain situations where fluorescent lights make more sense, primarily for small grows and limited initial budgets.
Another option are HID grow lights. These were once the industry standard, but these days, they make little sense for most home growers. Learn more in our comparison of HID and LED grow lights.