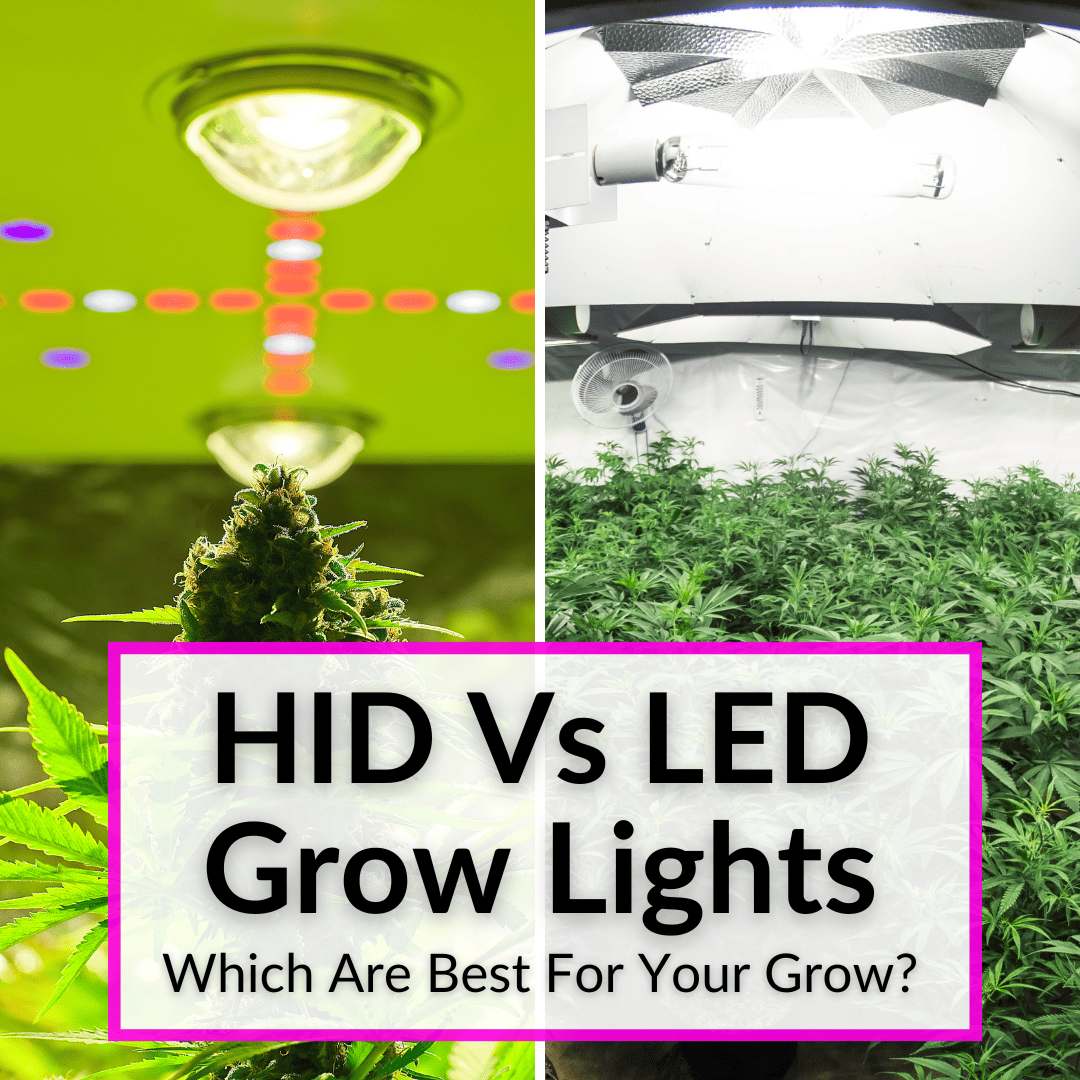 In the past there was a clear winner.
Just about every large grow operation used HID lights.
They were the industry standard.
Then came LED grow lights and things started to change.
It took a while, but today LED grow lights rule the industry.
But how about for small home growers? How does the HID vs LED grow lights debate break down for us?
Keep reading to find out. We will compare both types of plant lighting and help you figure out which one is right for you and your grow.
HID Vs LED Grow Lights
We will begin our comparison of LED grow lights vs HID lights by looking at each type of grow light for indoor growing individually, before comparing them directly. We'll discuss the advantages of each and help you figure out which type of grow light is right for you.
HID Grow Lights
HID (high-intensity discharge) grow lights have been the go-to grow lights for many cannabis growers over the years, especially those cultivating larger crops.
HID lights fall into three categories: MH (metal halide), HPS (high-pressure sodium), or CMH (ceramic metal halide) lights.
The difference between the first two is that MH bulbs produce a cooler, (i.e. more bluish) light that is more suitable for the vegetative phase, whereas HPS bulbs emit a warmer (more reddish) light, which is better for the flowering stage. See our article on HPS and MH bulbs for more.
To get the most from HID grow lights, most experienced growers begin their grow using MH bulbs, then switch to HPS bulbs for the duration of the flowering stage. At least that's what they used to do.
These days, HPS and MH no longer make much sense, unless you've already got a grow set up with them. When it comes to HID grow lights, CMH is a vast improvement over MH or HPS.
It is more efficient and it provides a better color spectrum that is much closer to natural sunlight. You can learn more about ceramic metal halides lights in our article explaining what CMH light is.
LED Grow Lights
The improvements in the technology behind LED (light-emitting diode) grow lights and the fact that their price continues to drop have made them the most popular choice in recent years.
LED grow lights rely on digital drivers and diodes to emit light, rather than old-school combustion methods. As a result, they are more energy efficient than other options on the market.
LED grow lights also have a long lifespan and can deliver a full and precise spectrum of light to match your plants' needs perfectly.
LED grow lights are available with full-spectrum diodes, which emit a white light, and also with a combination of red and blue diodes, which give off light specifically for the vegetative or flowering stages of growth. Higher-end LED grow lights will let you control the color temperature using a smartphone app or control panel.
Similarities Between HID And LED Grow Lights
As two devices used for the same task, there are understandably some similarities between HID and LED grow lights. They both provide light that can be beneficial to horticulturists and cannabis growers who grow indoors.
They are also both capable of emitting broad and full spectra of light. Providing light is the main function of a grow light, so it should come as no surprise that they can both do this well.
However, when you dive further into the details of how they can help illuminate your plants, you will start to notice more of the differences between these two pieces of equipment. And once you have an understanding of the differences, you will be better able to make the best decision for your grow needs.
Differences Between HID And LED Grow Lights
While they both perform the same function, the manner in which HID and LED grow lights perform their task and the technologies behind them throw up a few key differences.
The differences will not necessarily mean that one is better than the other overall, but they do tend to mean that, in specific situations at least, there will be a clear winner for your grow space and your circumstances.
Initial Cost
As with most things in life, the costs involved will probably play a role in your decision-making. If you start shopping around and checking out prices, you will notice that there is quite a difference in the initial outlays needed to purchase the two different styles of grow lights.
HID grow light set-ups are a little cheaper to buy initially, and while that may tempt you, it doesn't tell the whole story. You'll also notice that CMH lights cost more than the other two types. That doesn't tell the whole story either.
Power Consumption
While it's true that HID grow lights are cheaper to purchase, over time you will notice that they are more expensive to run. LED grow lights consume less energy, and your monthly electricity bills will be lower than those received by HID grow light users.
You will find LED grow lights to be a more affordable option in the long term. And the larger your grow and the more grows you run, the bigger this difference gets. Again, CMH lies in the middle here. CMH lights cost less to run than HPS or MH, but more than LEDs.
Heat Output
Too much heat, especially in a confined space, is not great for the health of your plants. While the production of light goes hand-in-hand with the production of heat, LED and HID grow lights are not equal in this respect
LED grow lights emit less heat, which can also help you keep overall costs down. Higher temperatures require more cooling efforts, which will add to your electricity bill and mount up over time. Once again, CMH sits in the middle.
Maintenance And Ongoing Expenses
While it's more of a concern for large-scale growers with several lights covering a big area, the costs associated with the upkeep and maintenance of your grow lights is also a factor in making the right choice for your needs.
LED grow lights are more durable than HID lamps, and will need less maintenance. HID grow lights need bulb changes every few grows, or perhaps even every grow, depending on the quality of bulbs you buy.
Environmental Impact
LED grow lights are also better for the environment than HID lights. HID lights can contain harmful gases and substances like mercury, which will have a negative impact on the environment when you discard them. LED grow lights are free from such damaging materials.
If you have a grow light in a regular room of your house, not in a grow tent or a dedicated grow room, HID lights will also have a higher impact. They can harm pets and us humans. Do grow lights fade furniture? Yes, they can, if they emit UV radiation. Again, HID lights are the more dangerous here.
Advantages Of HID Grow Lights
When it comes down to it, there is really only one advantage remaining for HID grow lights: their lower upfront cost. CMH lights can compete with LEDs, though good LEDs hold every advantage over CMH lights. HPS and MH are no longer worth it.
If you live in a very cold climate, there is one other small advantage to HID lights. Since they run hotter, you would not have to spend as much to heat your grow room. That said, most people live in areas where they will face the opposite problem far more often: too much heat.
Advantages Of LED Grow Lights
As mentioned, LED grow lights hold every advantage, apart from the initial cost of the light fixtures.
More efficient: meaning less electricity used to generate the same output
Customizable light spectrum: LED fixtures can have diodes in any color, plus the ability to turn certain diodes on or off
Lower heat output: helps keep your grow room cool and saves money on cooling
Better for the environment: HID bulbs contain harmful chemicals
Safer: HID lights run hotter and are more of a fire hazard
Reasons To Get HID Grow Lights
If you are looking to set up a grow on a tighter budget, the lower initial outlay needed to get hold of HID grow lights may be a big help in getting you up and running.
Reasons To Get LED Grow Lights
As mentioned, LED grow lights make sense for most grows that are larger than a plant or two. And for those smaller grows, HID lights make even less sense than LED. That means, there is no good reason to get HPS or MH lights at all anymore.
CMH lights do make sense for some, but most will be better served with LED. These are the main reasons to go with LED grow lights over CMH (and definitely over other forms of HIDS lighting).
Lower Running Costs
If you plan to grow large quantities of plants over a long period of time, the improved energy-efficiency of LED grow lights can help keep costs down over time.
You Can Afford A Higher Initial Investment
If you are free from budgetary constraints, you will be less limited in the initial set-up and can choose an LED set-up from the get-go. If budget is tight, you may have to go with a cheap HID fixture to start with.
You Want Customizable Light Spectrums
While some people still swear by the "MH for vegging and HPS for flowering" mantra, most growers prefer an all-white light these days. But if you want to give your plants a bluer light during the vegetative stage and a redder light during the flowering stage, you can do so much easier and with less hassle with an LED grow light that has veg and bloom switches to alter the spectrum for each stage of growth.
LED Vs HID Grow Lights: Final Thoughts
In the past HID was king. Even a few years ago, when LED grow lights began to become more affordable, most professional grow operations were still solidly on the HID side of the HID vs LED grow lights debate.
But in recent times, things have changed. LED grow lights have moved away from the ugly "blurple" spectrum, they have become more efficient, and their cost has come down. They are now clearly the favored technology for newe grow ops.
When it comes to home growers, most prefer LED as well. Not only is it cheaper to run, LEDs are also much easier to set up and use. Just not having to deal with the heat is worth it on it's own, for many.
But that is not to say HID lights are useless. They were popular for a long time because they work. While HPS and MH do not make much sense anymore, CMH does.
It is the only other type of lighting that can hold a candle to LED, and there are plenty of growers who prefer CMH lights. If that is you, this article reviews the best CMH fixtures.
In the end, the choice is yours. If you are not sure, I would just go with LED. Just for the simplicity alone. Plug the light in and it's ready to go. Read about the best LED grow lights here.