If you spend time on grow forums or FB groups, you will come across the acronym CMH.
And you'll see growers rave about these lights, saying nothing else comes close.
Naturally, you will also see the exact opposite.
That's how it always is on those forums. Or on forums about any topic you can imagine.
People love to disagree with other people.
The truth is, CMH lights are great. They are our second favorite type of grow light.
Keep reading to learn all about CMH grow lights. We'll also tell you why they are just our second favorite, and which type is our favorite.
What Is CMH Light?
CMH light stands for ceramic metal halide light. These types of lights are also called light-emitting ceramic grow lights. This is often shortened to LEC as an acronym.
These lights started showing up at lighting shows and industry functions in the mid-nineties. Now they are becoming more common in the cannabis growing space.
CMH lamps are part of the HID (High Intensity Discharge) light family, along with MH and HPS lamps. They are technically a type of metal halide lamp, since they use the same technology, with the key difference being that the arc tube is made of ceramic.
How Do CMH Lights Work?
Ceramic metal halide bulbs have an arc tube inside the lamp made of ceramic which gets excited by electricity and produces light. They function much like any other metal halide lamp.
The arc tube is housed inside a chassis of steel or aluminum which is lined with a pitted reflective silver coating. The light from the arc tube is reflected on the surface of the silver coating and shines out into the space the fixture is in.
Benefits Of CMH Lights
CMH lamps have a number of benefits, especially when compared to other forms of HID lighting, like MH or HPS. CMH bulbs are better than those two in almost every way, except for a higher price.
Full Spectrum
These lights provide an impressive full spectrum of light. It is much closer to natural sunlight than HPS or MH light. This is important for growers of all plants, not just cannabis.
UV Lighting
Because CMH lights provide such a full spectrum of light, they also provide more UV light than many other types of fixtures. This is a big benefit for cannabis growers, because UV light is so important for healthy plants, especially toward the end of the flowering stage.
Keep in mind though, with this much UV light you need to be careful and take precautions. Read more about the dangers of UV light for your skin here.
Efficiency
When you compare them to other metal halide bulbs or to high pressure sodium bulbs, CMH bulbs are much more efficient: up to 20% more. They produce a much better yield per watt than other HID fixtures.
When compared to LED lights, it depends on the light in question. The best modern LED grow lights give you a similar spectrum to CMH and they give you a better output per watt of power consumed.
They also last longer, with the average LED lamps lasting roughly 50k hours, while CMH typically lasts 20k hours which is a win for LED. And they run cooler. On the other hand, CMH is slightly cheaper, though the difference is very small these days.
In other words, LED grow lights are now the best option for most growers. But if you don't want to use LEDs and prefer to go with traditional forms of lighting, CMH is far better than HPS pr MH.
CRI
CRI stands for color rendering index. This is exactly what it sounds like. The CRI of a light measures how well and how accurately the light source renders color. In sunlight without anything in the way, the human eye sees visible objects with a CRI of 100.
CMH lamps emit a light that is very similar to natural sunlight. That means it has the highest CRI out of any type of grow light. That said, you could make an LED fixture with the same spectrum.
Some manufacturers come close. Why don't they make it exactly the same? They have found that you can actually do better than sunlight, by adding more red and deep red.
Lower Heat Output
CMH lamps run hot and will burn your fingers if you touch them while they are on full power. However, they are not as hot as other high-output fixtures like MH or HPS, or others. In this context, they are relatively cool burning. But when compared to LED or fluorescent they are still much hotter.
Electromagnetic Issues
This is a minor point, but still valid if you are trying to keep your grow room under the radar. Fluorescent lights produce a lot of detectable EMI or electromagnetic interference. This can show up on scans and detectors, and even produce audible noise on cell phones or radios.
CMH lights also produce EMF. It is the electronic ballast that produces such interference. But they produce less of it and they run more quietly, which means they cause less audible noise detectable by human ears or electronic sniffer devices.
Disadvantages Of LEC Lights
Naturally, ceramic metal halide lights also have some disadvantages. Top of the list is their higher cost.
Cost
The initial investment in a CMH light fixture is substantially more than MH or HPS. It is also more than fluorescent or cheap LEDs, but not more than the best LEDs. These days, all grow lights are much cheaper than they used to be, so the differences between the different types are no longer huge.
Heat
As I said earlier, CMH lamps do not run as hot as other HID lamps like MH or HPS lights, but they are still much hotter than fluorescent or LED fixtures.
The heat is a big disadvantage in small grow tents or medium-sized rooms that do not have much vertical space to work with. You need to hang these lamps much higher due to the heat, than you do with fluorescent or LED fixtures.
Flowering
For the flowering stage, many professional growers believe that HPS is best, because HPS bulbs produce much more red light than CMH lights do. And red light helps flowering plants produce larger buds. There are also many LED grow lights with additional red diodes for flowering.
CMH Vs Fluorescent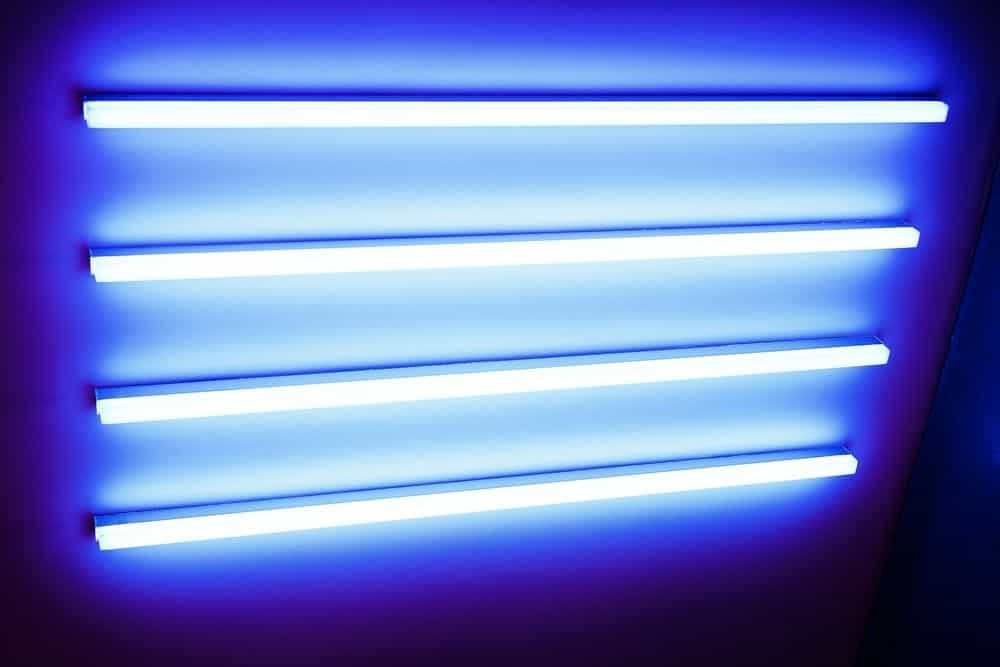 Fluorescent lights are cheap and have been around for many years. They do the job well and can be used in small spaces easily. They produce a natural all-white light spectrum (you can choose from among various color temperatures) and you can hang them very close to the plants.
CMH lamps run much hotter than fluorescent ones. But they also produce more light per fixture and give you a fuller color spectrum.
If you are on a budget and have a smaller operation, fluorescent would be the way to go. For a more seasoned grower with more space and budget, CMH fixtures are better, due to the higher yield potential and more light per square foot. But they are not your best option. That is LED.
CMH Vs LED
You will find many great comparisons between these two types of lighting on this topic, going both ways. You could argue that LEDs are more efficient and cost less to operate over time and you would be right.
However, some CMH fixtures are cheaper than some LEDs. And CMH has a great spectrum. They produce wonderful buds that most LED fixtures can't touch. But the best LEDs can.
Both arguments make sense. Ultimately, it is going to be up to you to decide which one you like better for your situation. We prefer LED grow lights, but only if you get good LEDs. These are the ones we recommend.
If you think you'd like to go with ceramic metal halide lights, read this article. It covers the best CMH grow lights available today, along with excellent budget alternatives. It also has a ton of info on CMH lights, but most of that will be a repeat for you, if you've already read this article.
What Is A CMH Grow Light: Final Thoughts
You should now have a good idea exactly what CMH light is and why so many people swear by this type of grow light for their cannabis grow. You should also understand the drawbacks of CMH and the reasons we prefer LED grow lights over CMH grow lights for most people.
If you have any additional questions about ceramic metal halide grow lights, or about grow lighting in general, please do not hesitate to leave a comment below.