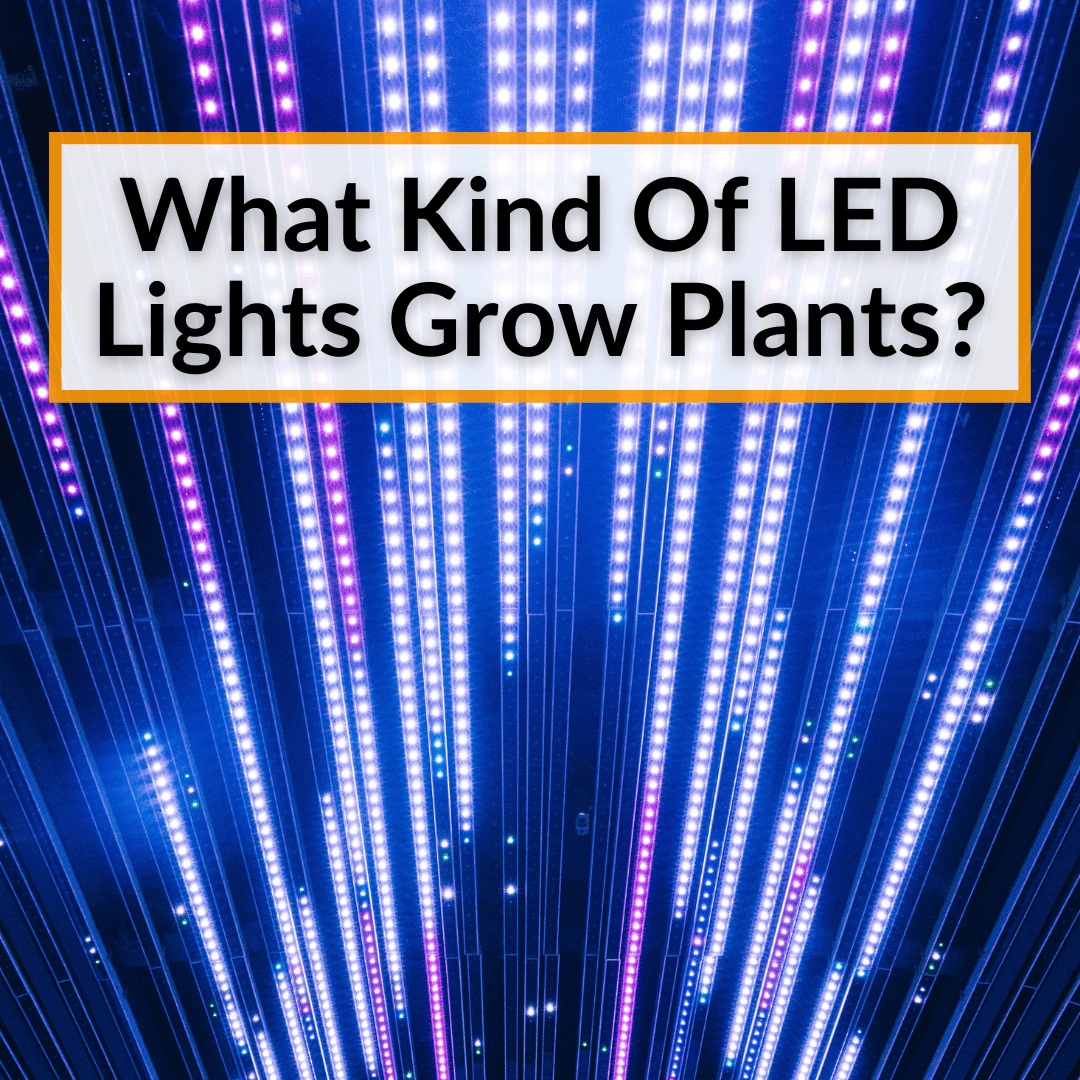 There are so many LED lights available these days.
Of course, there are the many different types of LED grow lights.
These are specifically designed to grow plants.
But there are also all of the standard LED lights. They are made for any type of lighting need you can think of.
They emit light, which means they can also grow plants.
But can they do so efficiently? Does it make sense to get one of those instead of a true LED grow light?
Keep reading to learn all about the different kinds of LED lights that can grow plants, including which ones are best for the task.
What Kind Of LED Lights Grow Plants?
You can use any kind of LED light to grow plants. It depends on the size of your grow operation. If you have many plants or are planning on growing plants that require a lot of light to grow, you will need bigger, higher-output LED fixtures.
The reason there are specialized LED grow lights is that the output and spectrum of regular LED lights are not optimized for growing plants. They will work just fine, but they will not work as well as an LED grow light designed specifically to grow plants.
For a small grow, any standard LED light can work just fine, though dedicated LED grow lights vs normal LED would be better. For a larger grow, it does not make sense to get a bunch of standard lights. You're better of getting grow lights.
So what are all the different kinds of LED lights available for growing plants? Let's look at the different types of general LED lights first, before taking a closer look at LED plant lights.
Types Of Regular LED Fixtures
LED lights come in just as many shapes and sizes as incandescent, fluorescent, or HID lights. You can make LED technology fit in almost any size or shape of light fixture.
There are so many types of LED fixtures, it would not make sense to list them all. Here are some of the popular types.
Ceiling-mounted LED lights: These are LED lights mounted on the ceiling just like a normal light fixture. In fact, you can buy LED light bulbs that look just like a traditional incandescent bulbs that will fit into a normal screw bulb-type fixture. I use these myself, because they save a lot of money.
LED wall pack lights (sconces): These are used in offices, workspaces, art galleries, and anywhere else light is needed on the wall, or shooting up at the ceiling.
LED Panel lights (common for growing): These come in many shapes and sizes. Some of the most common ones look like standard fluorescent troffer fixtures you see with tube lamps inside. The panel light format allows LEDs to be mounted in an array and is a very versatile format.
Stadium lights: Yes, LED lights can be used as stadium lights. They are bright enough to be used to light up an entire stadium. There need to be more fixtures than if you were using HID lamps, but they last longer and cost less to operate.
Area LED lights: Area LED lights can be used much like lamps. The idea is to light up a specific area of space with a single light fixture, instead of lighting up an entire room or outside area.
Under cabinet lights: Under cabinet lights are popular in kitchens and workshops where you need light but don't have a lot of space to mount big fixtures. This is a style of light fixture that has been around for many years and is one of my favorites.
Task lights: These types of LED lights are used for specific task purposes. One popular task light is a desk lamp used for working at a desk. LED lights are great for this purpose, because they produce clear white light that is perfect to see what is in front of you.
This is a wide spectrum of LED light types, but in the context of growing plants, there are types designed specifically for that purpose. We'll take a look at those next and also get a bit into the difference between grow lights and regular lights.
Types Of LED Lights For Growing Plants
Because LED light is made with electronic circuit boards and diodes, the light can be any color you choose. This makes it easy to find exactly the color and strength of light you need for your purpose.
In fact, LED lights are the most versatile kind of light available to growers today. Unlike other kinds of lights, LED lights allow you to have any color or combination of colors in a single fixture.
LED lights are also good for growing plants because they do not use as much electricity to operate and they emit less heat.
All that said, the large number of different options also makes it more confusing for beginners when trying to choose what type of LED light you should get for your growing operation.
The best spectrum for growing plants is an all-white light that is on the warmer side, meaning it contains more red light. The top LED plant lights on the market today include additional red and deep red diodes for an extra flowering boost.
Some LED manufacturers also include AV diodes in their fixtures. However, they are almost always UVA diodes, because UVB diodes are very expensive. But it is UVB that is more beneficial for cannabis plants.
For that reason, some manufacturers have resorted to adding a UVB fluorescent tube to their LED grow light fixtures. It's a good solution, but you usually pay a surcharge for that.
If you want to save a bit, you can just get a regular fixture without the additional UVB bulb and then just buy a UVB reptile light separately. That's also more flexible. There is a good reason most reptile owners do not use LED grow lights.
Let's take a look at the most popular styles of LED grow lights. They have evolved quite a bit over the years. Luckily for us, they have also come down a lot in price.
Traditional LED Light Panel Fixture
Traditional LED grow lights are those "blurple" lights with a mix of red and blue (or more recently white) diodes that we are all used to seeing. They tend to have smaller to medium-sized diodes.
These fixtures are usually compact and deeper than spread-style fixtures, meaning they emit a more powerful and focused beam with a lot of output in the middle of the coverage area, but much less around the outside.
The use red and blue diodes, because those are the two colors of light plants need the most. The red light helps initial growth and flower and bud production, while the blue light helps plant growth.
These types of lights work well for growing plants like cannabis, but the next two types below work better, which is why they have been taking over. However, these traditional style lights are still very popular, in large part because they now sell for very little money compared to other types.
The best brand for these types of lights is BestVA. Our write-up on BestVA lights has more.
COB LED Light Fixture
COB means 'chip on board''. It refers to LED bulbs that are enclosures containing many smaller diodes. This makes each bulb very bright, because it contains quite a few tiny diodes inside each one.
COB grow light fixtures usually contain several of these COB bulbs and can be extremely bright. They are also incredibly powerful and get better canopy penetration than any other tpe. But their power is also focused in the middle and drops off considerably around the outside.
Many COB fixtures have multiple different colored 'bulbs' in them. The most common style contain has different types of white light. Usually some give you a warmer white light (3000K or 3500K) and other a cooler white light (5000K or 6000K).
Many manufacturers add in additional smaller diodes in between the powerful COBs to add some other colors to the spectrum. Usually they add a ot of red, some blue and white, and often some UV and IR light as well.
The best brand in terms of value for COBs is Phlizon. You can find our write up on Phlizon COB lights here.
Spread Style LED Fixture
Spread-style fixtures typically have a large surface area with many small diodes spread evenly over the area. They don't have as high an output as COBs, but they have a much more even light spread and they are more energy efficient.
These types of fixtures have gained lots of popularity in recent years and are currently among the most popular types of LED grow lights, along with the next type below.
The industry leader for these types of fixtures is HLG. You can see our write up on HLG here.
Spider Farmer is the budget option when it comes to these lights. We prefer paying a bit more for HLG, but Spider Farmer may be a better value. We reviewed Spider Farmer lights here.
Spider Style LED
These are still spread-style fixtures, but they differ from normal spread style in that they have several 'legs' that stick out over the length of the central structure.
These legs are used to stretch out and light up different sections of your grow area for an even light spread. They also deal with heat better than other types.
These are a bit pricier, but they are the newest thing and currently the most popular style of lights on the market, though the standard spread style lights also still enjoy huge popularity.
The best option for these types of lights is also Spider Farmer. Check out the same review we linked to above.
Work Light Style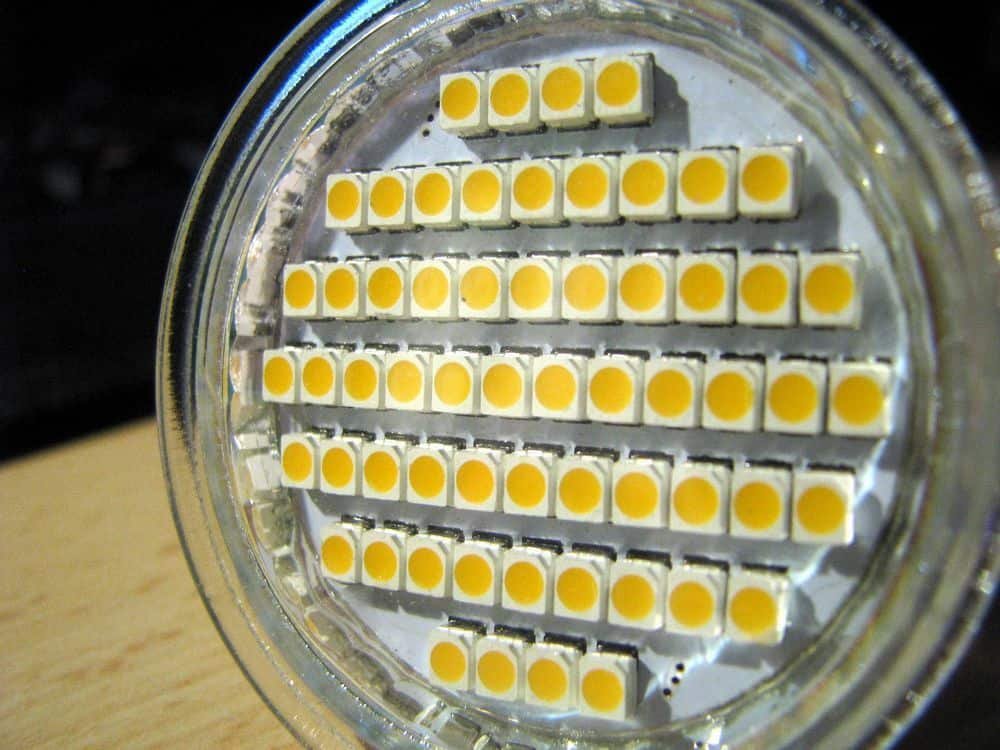 These are only mentioned here because they are common among brand-new growers. These are simply the clamp-on work light fixtures you see at the local home improvement store. You can now buy light bulbs that are actually LEDs inside the plastic bulb enclosure.
Any LED light can be used to grow plants, but a specialized LED grow light is always best. That said, some of these shop LED lights can be quite bright, and if you have a few of them they can be quite effective in a small space.
For example, if you have a small bedroom closet and you are growing a couple or a few plants, you could get away with a few simple clamp-on work light fixtures outfitted with LED bulbs.
Types Of LED Grow Lights: Final Thoughts
You can use any type of LED light to grow plants. But dedicated LED grow lights are best. If you are growing a single plant and have a limited budget, a regular LED light is your best bet. Get one with a warmer white light (2700K to 4000K color temperature).
But for a more serious grow operation, even if it is just a small grow tent with a single plant, we strongly recommend a real LED grow light. The costs have come down so much over the past few years, that it makes no sense to go with a standard type of light.