LED strip lights are cheap.
They are also small and, in many cases, flexible.
This makes them especially great options for smaller grow rooms.
Except for one thing.
They are not very powerful.
Are they powerful enough to grow plants?
That depends, but generally, they are not.
Keep reading to learn when you can use LED strip lights to grow plants, and in which capacity they are most useful to indoor growers.
Can You Use LED Strip Lights To Grow Plants?
Yes and no. Yes, you can use them to assist your plants in their growth, along with other lights. No, because they are not really powerful enough by themselves to help your plants go from seedling to harvest.
In other words, the best LED grow light strips make great supplemental lights, but they are not powerful enough to grow much on their own. If you get enough of them, you can grow small, non-flowering plants, but that is about it.
Strip LED Lights VS Larger LED Lights
LED strip lights are small, long and thin light fixtures typically used to mount under cabinets or other furniture. They can be rigid or flexible.
They are affordable, small, readily available, and convenient. For these reasons, they have become a hot topic of discussion among amateur growers.
It would be great if they were all you needed to grow cannabis. Just think of how much money you would save if all you needed was a handful of cheap LED strip lights!
Unfortunately, these small, cheap LED strip lights are only good as a supplemental light source in a grow room or a task light in the office or kitchen.
They are an excellent supplement, but as I said earlier, they just do not have the output to support a grow setup on their own. This kind of LED light can't grow plants on its own.
However, that does not mean all LED lights are too weak to use.
There are much larger, more commercially designed LED light fixtures that put out quite a bit of light and can easily support a grow room without any other light sources.
There are valid arguments to be made stating that HID or CFL lights are better, but for every opinion against using LED there is another one that LED alone can do the job.
The truth is, these days LED grow lights are better. They are the most efficient lights on the market and they offer the best light spectrum. The only other type of light that comes close is ceramic metal halide.
What Is The Best Kind Of LED Light For Growing Cannabis?
Because you can make LED lights emit any color, you can customize the light spectrum based on the needs of the plants. The most popular spectrum these days is full spectrum white light, usually with some added deep red and infrared.
Full spectrum white light contains all the necessary colors of light to support your plants in every growth stage. It is basically the same light the sun gives us, at least in the visible spectrum.
In the past, adjustable LED grow lights were more popular. These have a mix of different colored diodes with most being either a red or a blue shade.
They are adjustable, because they allow you to change the wavelength as needed, with a flick of a switch. Usually this meant choosing from a vegging setting with more blue light and a flowering setting with more red light.
In other words, you change the spectrum of the light as the plants go from vegging to flowering, while full spectrum LED fixtures emit a full spectrum of light at all times.
Depending on the number of plants you are growing and the space you have, you might need several LED fixtures to adequately service your plants.
The technology used in LED lights allows them to remain relatively inexpensive to buy and very inexpensive to operate.
They are highly efficient (the good ones, anyway) and more effective at helping plants grow than any other type of grow light. It is all in the design and how it works.
What Is An LED Light And How Does It Work?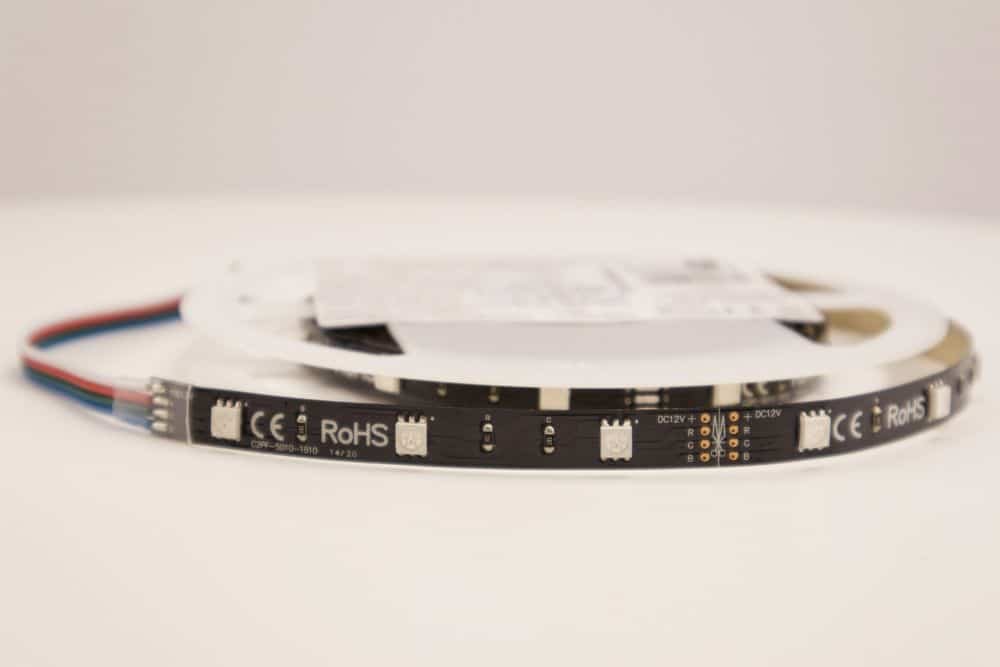 The key to making an LED work is the diode (the 'D' in LED). LED stands for the light-emitting diode. It works by passing an electrical current over a conductive material called a diode and the result is that the diode produces light.
The diode makes light whenever enough power is sent over it, and that light is what can be used to illuminate your cannabis plants.
To put this in context, imagine a traditional lightbulb. The filament is excited and burns hot when electricity is passed through it. Most filaments are made of tungsten or similar material, which means they have a finite lifespan.
LED Light Lifespan Vs Other Light Types
One of the big selling points of LED lights for growers (beyond being affordable) is that they last 100 times longer than incandescent bulbs.
For example, a normal light bulb can last about 1000 hours before the filament buns out and breaks. LED lights can go on working for 100,000 hours.
This is a significant difference considering how much an incandescent bulb costs.
By the time your LED fixture burns out, you will have paid for 100 replacement light bulbs. The difference is not quite as high with fluorescents and HID, but LEDs still last many times longer.
If you start doing that math, you will see why so many growers are making the move to LED lights for their setups.
If you are concerned only with budget, there is no doubt that you will be more interested in LED lighting setups. But that is not the only advantage.
LED Heat Vs Other Types
LED lights burn cool, rarely getting hot at all. Incandescent bulbs become hot to the touch only minutes after turning them on.
HID bulbs also get extremely hot. Fluorescent bulbs run cooler, but still not as cool as LEDs. However, you have to understand that LED fixtures do still emit heat. All light sources do.
Fixtures are made up of many LED diodes. While each diode stays quite cool, having so many on at once does still produce a considerable amount of heat. That said, they produce far less than other forms of light.
If you are concerned about the ambient temperature getting too high in your grow room, you will definitely want to go with LED grow lights over other types of lights.
Of course, having hot lights around is not always a bad thing. The temperature in your grow room should ideally be between 65° and 85° Fahrenheit, depending on the stage of the growth cycle.
Of course, the veg stage should be a bit warmer and the flowering a bit cooler. If you are in a colder climate and it is winter, then having hot grow lights can actually save you money on heating your grow area. Of course, things are opposite in hot weather.
Where To Use LED Strip Lights
LED strip lights do have a lot of uses, even if their use for growing plants is limited to supplemental lighting.
Germination
If you have a grow room setup, LED strip lights can be used in some key areas to help minimize the cost of illumination and keep you and your plants safe.
You could definitely use them in the germination area, either on their own, or alongside some CFL or T5 fluorescent lamps, to help give a wider spectrum of light.
If using them with fluorescent light, which is all white, you can get colored strip lights to supplement the wavelengths plants need most. During germination, you would probably want to supplement some blue light, unless you have especially cool fluorescent bulbs already.
But for germination, strip lights can provide sufficient lighting to get the job done on their own.
They actually come in quite handy for the early stages of the growth cycle, when plants need less light, because they are so small and fit easily into a micro grow tent.
Of course, lighting your plants is not the only type of light you need. And LED strips can come in especially handy for other lighting tasks, that are not directly providing light to grow plants.
Task Lighting
All around the grow room there are areas where you need some light to illuminate the tools and objects you interact with. For example, a great spot for a strip light is near the sink or hose. This is an inexpensive and effective way to light up this area.
Equipment Rooms
Larger grow rooms might have an equipment room where gadgets and lighting system panels, power supplies, alarm system head ends, etc.. are all housed. This area is the perfect spot for a few well-placed LED strip lights. As mentioned earlier, they don't get hot and can be quite bright. They are also easy to install.
Walkways
There are times when you don't want the grow lights on, but you still need to see where you are walking. LED strip lights can be mounted down low near stairs or walkways so you can illuminate the walking path, while not having to turn on the main lights.
They are quite effective for this job. You can also get them in a color that plants don't use as much, to avoid disrupting the plants with light. That means using green light, ideally.
Using LED Strip Lights To Grow Plants: Final Thoughts
LED grow light strips are not powerful enough to flower plants, and they are not able to veg anything but the smallest plants either. But they do come in handy for germination or as supplemental lighting.
In addition to those uses for the actual growing of plants, LED strip lights can also find other uses in a grow room. Uses that have nothing to do with the actual growing.
In other words, their flexibility and low price make LED strip lights quite useful for a number of applications, even if actually growing plants is not one of them.