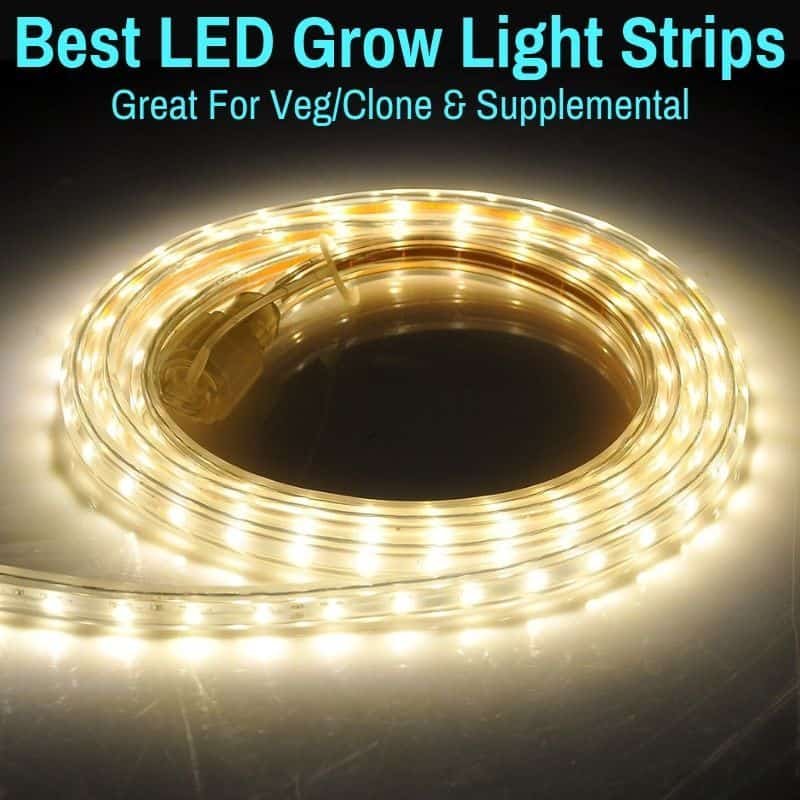 Want to light your plants from an unusual angle, but can't figure out how?
Or do you have a limited space for lighting?
LED grow light strips solve both problems with ease.
Whether they are the flexible kind with adhesive on the back, or the rigid strip kind, LED strips offer the ultimate flexibility.
You can put them virtually anywhere and in any position.
The one big problem?
There are tons of brands making them, but most are pretty worthless.
So how do you know the difference?
Research. Hours and hours of research.
But who has time for that?
That's why I did the research for you. I sifted through all the worthless LED strips on the market and found the best in each category.
Now all you have to do is figure out which type of strip lighting is best for you and check out my recommendation for that type.
LED Grow Light Strips Compared
Here's a quick summary of my findings. If you're curious why I recommend these lights, you'll find brief reviews for each below.
Model
Verdict
Size
Spectrum
Rating
Cost
AveyLum LED Tape
Check Price
Best Flexible Strip
16.4 feet
660 nm red,
445 nm blue
9.6 / 10
$$
Jun Wen LED Tape
Check Price
Best Full-Spectrum Strip
16.4 feet
3000K or 6000K white
9.3 / 10
$
Litever 45w Kit
Check Price
Best 16-Inch Strip
16 inches (x4)
420-470 nm blue,
610-680 nm red,
700-800 nm IR
8.8 / 10
$$$
Monios-L T8 Bar
Check Price
Best 2-Foot Strip
2 feet (x6)
3700K white
9.7 / 10
$$$$
Kihung T8 42W Bar
Check Price
Best 4-Foot Strip
4 feet (x8)
3000K white
9.7 / 10
$$$$
Why Use LED Grow Strips?
In short: flexibility. You can install these lights anywhere and in any position.
That makes them perfect as supplemental lighting or as the primary lighting for small veg or clone rooms.
Used as supplemental lighting, you can easily place them on the walls of your room to light your plants from the sides or on the floor to get light on them from the bottom.
One great use is to line the sides of the tent where the walls meet the floor and/or the ceiling with strip lights.
In a veg/clone/seedling room, you can use several strips of cool white light above the plants. They give off very little heat, so you can hang them very close, allowing you to grow in tiny spaces.
You can easily stack several shelves of seedlings or clones on top of each other and simply tape LED strips on the bottom side of each shelf to light the plants below.
Why Are LED Strips Better Than Fluorescent Bulbs?
LED strip have four big advantages over fluorescent tubes:
They take up less space, so you can put them anywhere and they won't get in the way
They use half the power, saving you money
They last longer, saving you money and the hassle of having to change bulbs more often
They emit less heat, meaning they can hang closer
That said, these strips are generally a bit less powerful (especially the flexible tape-style ones), so you'd mainly want to use them as supplemental light. If you need more power, I recommend a T5 LED.
Best LED Grow Light Strips: Reviews
These are the best LED grow light strips on the market. I'll start with the best flexible tape style strips (first red/blue mix, then all-white) and then review three bar-style lights of varying lengths.
Best Flexible LED Grow Light Strip: AveyLum Adhesive LED Plant Light Ribbon
Adhesive light strips are one of the coolest uses of LED technology and this AveyLum LED tape is easily the best grow light of this kind on the market.
You get a large roll that holds 16.4 ft (5 meters) worth of strip light. It has a ratio of 4:1 red to blue diodes, which is perfect for plants. The red ones have a wavelength of 660 nm and the blue ones have a wavelength of 445 nm.
The mix of red and blue makes these ribbons the perfect supplemental light during any stage of growth. Use them to supplement a larger grow light or natural daylight.
The AveyLum strip lights are not as well suited as a primary light for cloning however, since they only have red and blue diodes and no light in any other colors. As a primary light (for cloning or any other stage), you want a full-spectrum light, like the next light below.
The entire strip consumes 72 watts. You can cut the strip up and use separately. If you run them from the same adapter, you would need to then connect them with pin connectors. It is IP65 waterproof, which means they can withstand sprays and splashes.
In addition to the 3 lights, this package includes a power adapter. It unfortunately does not include the pin connectors you need to connect multiple strips, if you choose to cut them up.
AveyLum gives you a 1 year warranty with these lights and a 60 day full money back guarantee, making your purchase risk-free. Due to their flexibility, the AveyLum Adhesive Grow Light Strips get a Grow Light Info rating of 9.6 out of 10.
Pros
Flexibility means you can install them virtually anywhere
Adhesive back allows you to stick them to any flat surface
Red and blue diodes make for great supplemental lighting
72 watts total power usage means very low electric bill
IP65 waterproof
Cons
Spectrum not suitable to be used as the primary lighting
No connectors included (if you want to cut up the strip, but run off the single adapter, you need to buy connectors separately)
Best Full-Spectrum LED Light Strips: Jun Wen White LED Tape
Finding a quality full-spectrum LED grow light strip proved impossible, but there are tons of regular light strips (i.e. not specifically made to grow plants) available. Among them, the Jun Wen white LED strips are the best.
Since they are not made specifically for growing, they are not as bright and they do not have a protective sheath over the diodes like the previous light reviewed above, but they still work quite well. Just know that they are not waterproof like the ones above.
The Jun Wen light tape is available in two different spectra: a 3000K warm white light and a 6000K cool white light.
If you are using them as supplemental light, you'll probably want the 3000K one, but it really depends on your needs.
If using as a primary light, you'll definitely want the 6000K version, since it is better for veg/clone. While the 3000K one would theoretically work for flowering, it simply isn't powerful enough to give good results, at only 16 watts per 16.4 foot strip.
Even for vegging or cloning, you'll want to get a lot of these above the plants. I'd run the strip back and forth with very little space between each row, to completely cover the area above the plants, if I were vegging with them. That said, I would only use them for clones or seedlings, not veg. Get a stronger T5 LED bar for that.
The strips can be cut every three LEDs. There are marks on them showing where you can cut them. This allows you to separate them into multiple smaller strips, if needed.
A great feature that the lights above do not have is the ability to dim the lights. These light rolls come with a dimmer, so you can turn down the brightness whenever you don't need as much light.
Jun Wen gives you a 2 year warranty on these lights and they will also replace your light for free or give you a full refund, if you are not satisfied. The warranty is longer than most lights in this price range.
Pros
Ultimate flexibility means you can install them virtually anywhere
Dimmable, so you can adjust brightness as needed
Full-spectrum white light works for any stage of growth
Warm white (3000K) and cool white (6000K) available
Adhesive back allows you to stick them to any flat surface
16 watts total power usage means very low electric bill
50,000 minimum lifespan means no bulb changes for years
2 Year warranty
Cons
Not specifically designed for plants
No protective cover over diodes
Output is fairly weak compared to a true grow light, but works as a supplemental light
Best 16-Inch Plant Light Strip: Litever 45w LED Strip Kit
The Litever 45 watt LED strip kit is different from the previous two lights above, in that the diodes are affixed on a rigid aluminum strip, instead of a flexible ribbon.
These lights are more powerful as a result, delivering 100 umol/m²/s at a height of about 7.5 inches above the canopy. That is sufficient to flower cannabis! The coverage area at that height is around 2 by 1.25 feet.
That said, I would not recommend these lights as a primary light for flowering. While they have enough power, it is just enough. Ideally you would want more. Of course you could always use more of these lights, but the real issue is the spectrum.
The Litever bars contain blue, red and IR diodes. That gives plants what they need for every stage of growth, but it lacks green and yellow light. Plants do a lot better when they get light in every color, though they do want mostly blue and red.
In short: the spectrum of these strips works fine, but it is not ideal.
That makes them perfect for use as supplemental lighting, in addition to a main light that contains at least some white light (which is made up of every color), or in addition to natural daylight.
They also work well as a light for the early stages of growth: seeding, cloning and even vegging.
When you buy this kit, you actually get 4 light strips. Each one is 16 inches in length. This gives you the flexibility to either use them as one long light, or to use them in parallel and create a more powerful "panel" of light.
In addition to the 4 lights, you also get a power adapter, 3 extension cables to connect the fixtures to each other (each is approximately 5 feet in length), an end cap to cap off the cable on the final light in your series, plus screws, zip ties and adhesive pads, so you have several options for installing the strips.
Pros
3 installation options (cable ties, adhesive pads, screws) give you ultimate flexibility
Low power usage of 45 watts for all 4 bars combined
High output of 100 umol/m²/s at around 7.5 inches
Includes IR light
Cons
Spectrum contains only red and blue light, so not ideal as a standalone light (but it will work)
Aluminum the LEDs sit in can get quite hot to the touch
No warranty
Best 2-Foot Horticultural LED Strip: Monios-L T8 High-Output Integrated Bar Fixture
The Monios-L High Output T8 LED Strips cost quite a bit more than the other lights reviewed here, but you also get a lot more for your money.
You get 6 high-output light strips that use 24w each and are 2 feet long (or 42w and 4 feet long). You also get 48 inch connecting cords to connect the lights to each other (5 cords total) and three 5 foot power cords.
To install the lights, you get screw-in clips, zip ties and 3M adhesive pads. That gives you the option of attaching the lights 3 different ways, meaning you can put them just about anywhere.
Despite using only 24 watts (or 42 watts for the 4 foot version), these lights double the output of a high-output T5 fluorescent tube of the same length. They also emit less heat and last twice as long (at least).
These lights make wonderful supplemental lighting and are also well-suited for vegging, cloning or seeding. They can flower as well, but they won't be powerful enough to maximize flowering yields.
They emit a warmish white light with a color temperature of 3700K. This mean you get light in every wavelength for a great full spectrum light.
As supplemental lighting, they work well to illuminate your plants from the sides or from below. If they are being used as a veg clone light, you'll probably want to install several in parallel, to give a more powerful light and an even coverage.
Monios-L provides a 2 year warranty with the purchase of this set of horticultural LED strip lights. They also give you a 100% money back guarantee.
Pros
Includes 6 LED bars that you can use separately, or connect together using provided cords
3 different installation options let you put these just about anywhere
High output while using only 24 watts (or 42w for the 4′ bars)
Included reflectors help focus the light
2 year warranty
Cons
Higher price than the other lights reviewed, but a great value for 6 lights
Quite a bit larger than the LED ribbons reviewed first and second
Best 4-Foot LED Grow Bar: Kihung 42W T8 Grow Light Bar 8-Pack
When you compare the Kihung LED bar to the 4 foot version of the Monios-L bar reviewed above, this one looks more expensive at first glance. But you're getting eight bars here, instead of 6.
And this light is more powerful, with an output of 200 umol/m²/s at a 12-inch height. If you don't have much space and can't install several bars, then this bar comes in really handy, since it gives you more output from a single bar than any other light on this page.
The other main reason to use this LED strip is the full spectrum white light. With a 3000K color temperature, it is a warm light that works great for flowering, but also contains plenty of blue wavelength light to make it good for vegging, too. It does not contain IR or UV light.
These bars also come with a removable reflector. The reflector makes the light larger, so it takes up more space, but it also adds up to 20% the the intensity of the light.
The box contains 8 light bars, four 59″ power cords, eight 48″ connecting cord and multiple hanging options: screws, zip ties or ring buckles. Having 3 options for attaching the lights gives you a ton of flexibility in how to use them.
The Kihung bar fixtures have a rated lifespan of 50,000 hours. They come with a 2 year warranty.
Pros
Can daisy chain up to 6 bars
Great full spectrum white light (3000K) for all stages of plant growth
Consume 42 watts
3 different installation options let you put these just about anywhere
Included reflectors help focus the light
50,000 hour rated lifespan
Cons
Larger and less versatile than other lights above
Higher price than the other lights reviewed, but a great value for 8 lights