It's finally here!
The day you've been waiting for: harvest time.
After months of watching your babies grow and produce monster buds, you finally get to collect those buds.
And that brings you one step close to enjoying the fruits of your labor, whether that's by smoking it or turning it into cash.
But you don't want to screw things up so close to the finish line!
Does it matter what time of day you harvest your weed? And if so, when is best? Keep reading to find that out, plus everything else you need to know about the best harvest time for marijuana.
Is It better To Harvest In The Morning Or At Night?
The best time of day to harvest cannabis is in the morning, just before the sun is up in the sky. That is when the terpene levels are at their peak. But there are many other reasons to harvest at dawn.
Reasons To Harvest Cannabis In The Morning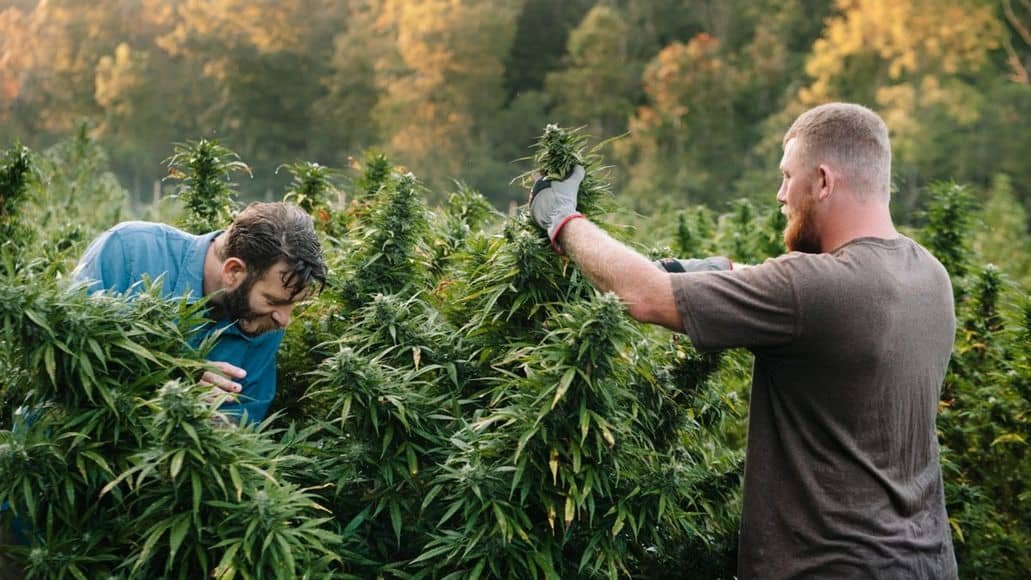 Terpene levels are the highest just before the sun comes out. Ideally you want as many terpenes present in your plants as possible when you harvest.
Cannabis plants soak up sun in the day and produce resin and other goodies at night; the production cycle is at its peak in the morning before light.
Harvesting before first light is just more efficient overall, because you have a full day ahead of you to get your harvest chores done. It just makes sense time-wise.
The weather is nicer before the sun comes out; even indoors before the hot lights come on, you can harvest while remaining in a comfortable temperature.
The Importance Of Terpenes
Terpenes are important in cannabis, much like they are in other plants we consume, like tea.
One of the most important things they do is determine the scent of the buds. For example, certain strains may smell like strawberry, or banana.
This trait is caused by the combination of terpenes. They are meant to scare away predators or entice pollinators to interact with the buds.
Fun Fact: In the cannabis plant there are over 100 known terpenes!
Terpenes Determine How A Plant Makes You Feel When Ingested
Each terpene has its own effect profile, and combinations of terpenes together is a large part of what makes each strain's effect unique to that strain. For example, one strain may make you very tired and relaxed while another may make you laugh more easily.
Terpenes Vs THC
All cannabis contains THC but not all strains have the same effect on you when smoked or eaten. This is partially due to the difference between indica and sativa, but terpenes play a major behind-the-scenes role in what smoking a strain makes you feel.
What It All Means To You
By harvesting your plants when the terpene levels are at their highest, you get the most out of your strain.
If you are a commercial grower, this can affect the desirability of your strain, and ultimately your ROI. If you are a casual consumer and marijuana grower, this just means better weed, to be blunt (sorry I had to).
Dawn Harvesting For Juicier Plants
Besides the terpenes we have covered already, there is much more going on at night inside your plants. When there is an absence of light in the photosynthetic process, the plant uses the energy it has gained to produce.
It is not unlike our own bodies. We soak up information and eat food during the day. At night we sleep.
When we sleep, our body heals itself and our brains dream. We produce new tissue and our muscles produce more cells. We also create more brain cells.
What A Plant Produces At Night
At night, marijuana plants producing more resins, oils, buds, THC, and of course terpenes. Providing you plan your harvest correctly season-wise, cutting the girls down in the early dawn ensures they are at their fullest point, containing the most 'juice' at any point in the photosynthesis cycle.
Harvesting Efficiency For Humans
Getting up before the sun is known to have health benefits, and it just makes logical sense. If you have a large grow room with many plants, it is not a good idea to start harvesting at 3pm.
Whether you have a small team or you are solo harvester, get in there before the sun and you will have a much more productive day.
Your body works better when you go with your circadian clock, which wants you to wake up just before the sun and get to work. There is a reason my farmer grandfather was always up super early doing his chores, while everyone was still asleep. It is a major reason he lived to be 97.
Get to work before the sun and finish up when the sun sets, and you will produce better cannabis (or anything else you are working on). It is simply good for you!
Temperature Matters At Harvest
When the sun comes out and starts blasting you with its radioactive rays, you get hot and your energy will wane over time as you are in the sun.
Harvesting when the temperature is nicest (before the sun is up) makes good sense. You work better and get more done, if you do not have to worry about being overheated and thirsty all the time.
Early morning is the best time of day temperature-wise in almost every climate known to produce good cannabis. Harvesting many plants is a lot of work to begin with and trying to complete such a big job while fighting the clock is not a good idea.
There does not seem to be a significant reason as far as the plants are concerned to harvest before it gets hot, but it makes a big difference to the people doing the harvesting!
What Is Bad About Harvesting In The Afternoon?
Besides being hot the entire time, your plants are going to be in the soaking up light state, and not pushing out the moisture to their buds.
This means you will get drier, less juicy buds on your plants, which is not ideal. This is in addition to the lower terpene count. And if you stop watering before harvest, as many growers do, the buds will already be less moist.
Putting it Into Perspective
A well grown, healthy plant is still a great plant, even if you harvest at an inopportune time of day. But the harvest time can make a difference in the quality of your harvest.
Like many other of the so-called best practices, the difference might not be huge. In some cases, it can even seem insignificant. Others can make a big difference, like spraying your buds before harvest (don't do this unless you have a powdery mildew problem and you use the right spray, i.e. no chemicals).
Either way, following all of the best practices, those small differences add up to a much larger and more potent harvest. Along the same vein, make sure you let your buds dry and cure for sufficient time. Many growers get impatient and end up with weed that smells like hay.
Best Time Of Day To Harvest Cannabis: Final Thoughts
You should always harvest in the morning, if it is feasible. There simply is no good reason to do it later in the day.
That said, if you rely on workers who are only available in the afternoon, go ahead and do it then. The difference is not so huge that you'll end up with far less potent weed. It could be a noticeable difference, but that's about it.