LED lights are taking over.
LED grow lights are now the best type of lights for an indoor garden.
But are they the best for any type of plant?
Can LED lights grow aquarium plants better than other types of light, too?
Can they effectively grow aquatic plants and coral?
And what effect do they have on algae growth?
Keep reading to find out. We are going to cover everything you need to know about using LED lights to grow aquarium plants, coral and even algae.
Can Aquarium Plants Grow With LED Lights?
Yes, aquarium plants can grow with LED lights. For general aquatic plant lighting systems, the best bet would be a full-spectrum LED light that emits white light that contains both red and blue wavelengths.
For most aquarium plants cooler white light is better than warmer white light, since they do not generally flower.
Plus, aquatic plants thrive in reduced light, where less red light is apparent. But different aquatic plants have different lighting needs.
As plants, they need to photosynthesize, but different species have different preferences as to how much and what type of light they need.
If you have a particular species of aquarium plant in mind, you should research its particular needs and foibles when it comes to the light it craves.
Is It OK To Put LED Lights In A Fish Tank?
LED lights are a good choice for aquariums. They cost less to run, use up to 80% less power than fluorescent lights, last much longer, and emit less heat.
Can LED lights Grow Coral?
Yes, LED lights can grow coral. But the type of light is important. Even more than aquatic plants, coral needs light that is heavy in blue wavelengths.
As organisms that grow underwater, corals have adapted to use the reduced light available to them in their aquatic environment.
Perhaps the first thing to understand about corals is that they are not plants. Corals are actually colonies of animals that do not photosynthesize.
However, they contain algae, which is essential to their survival. And the algae does photosynthesize.
Another important consideration when growing corals is the fact that they grow underwater, in the ocean. Light doesn't penetrate water as well as it does air, and the deeper you go underwater, the less light is present.
The first wavelengths of light to disappear underwater are the red wavelength. The blue wavelengths penetrate the deepest.
This is important to know. Your coral will not crave red light but will want plenty of blue light instead. When looking at LED lights for your aquarium, check to see what spectrum of light they emit. A cool white light is ideal, but an all blue light would work well too.
How Many Lumens Of Light Do Corals Need?
Studies have shown that the minimum light intensity should be 3,000 lumens at the deepest part of your aquarium.
What Temperature Is Best For Coral?
Between 73° and 84° Fahrenheit is generally considered ideal. Reef-building corals do not like water temperatures below 64° Fahrenheit (18° Celsius).
And if the water is too hot, it may induce coral bleaching. Ensure that your LED lights are not too close. You do not want them to heat up the water too much.
Do LED Lights Cause Algae Growth?
Nobody wants an aquarium whose glass is constantly covered in neon green slime. But unfortunately, algae is part and parcel of owning an aquarium.
However, there are a few things to know that can help you reduce the amount of time you spend scrubbing your glass.
The term algae refers to a large and extraordinarily diverse group of photosynthetic organisms. And different species have different needs when it comes to light.
The algae that you have to scrape from the sides of your aquarium will have different needs from the algae living inside your corals.
Algae inside the coral photosynthesizes and produces sugar and oxygen, which are used by the coral to grow. If you have a saltwater aquarium with coral and marine plants, you will need to make sure they both receive enough light to flourish.
The downside of this is that it will also feed the more unwanted algae, which can lead to algae blooms. The best bet is to consult a marine biologist regarding balancing out the light requirements of your desired organisms with those of the less desirable organisms.
If you keep a freshwater tank with no coral, you may find it easier to avoid promoting algal growth, altogether. But how hard this is will depend on what species of freshwater plants you are growing, and what their specific light requirements are.
Best LED Aquarium Lighting For Plants
When shopping for a new set of aquarium lights, you will need to know the size of your aquarium, including its depth and water volume. Because water is much denser than air, it absorbs light.
That means that less light will reach the bottom of your tank than will reach its uppermost areas. Also, you will need an idea of what you plan to keep in your aquarium, because different plants, corals, and fish have different preferences.
When it comes to having adequate light for the size of your tank, the general rule is that you will need a light that emits between one and five lumens per gallon. Make sure you have enough output to light your entire tank evenly. Otherwise, you will end up with some plants that thrive and others that fare less well.
When using LEDs to light your aquarium, you should also look for ones that have a water-resistant rating. While you're not positioning them in the water, there is always the chance of a mishap, and water-resistant lights are much better when that happens. Most of the best LED plant lights on the market are water resistant.
How To Set Up Your LED Aquarium Lights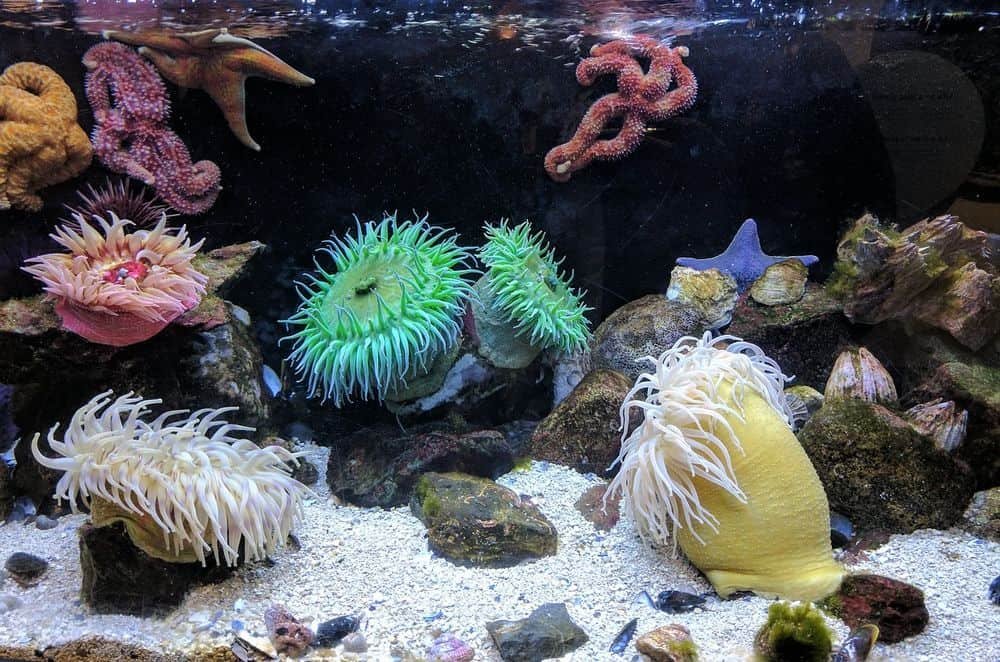 Unfortunately, there is no magic formula for setting up LED lights in an aquarium. Each aquarium is a different mini-ecosystem and will have different needs. Proper planning is the key to proper lighting.
Consult an aquarium expert regarding what types of corals, plants, and fish you intend to keep, and try to find a grouping that has similar lighting needs.
Can LED Lights Grow Aquarium Plants: Final Thoughts
LED lights can grow aquarium plants and coral. They also foster algae growth, which is what you need to grow coral. Of course that also means your lights will encourage the type of algae you don't want.
Basically, LED lights will grow any type of aquatic plant. Generally, you'll want a light with a heavy dose of blue wavelengths for aquarium plants and coral.
You'll want to choose plants that have a similar light requirement and try to find the balance between giving the plants you want the light they need and not giving unwanted algae all the light it needs.