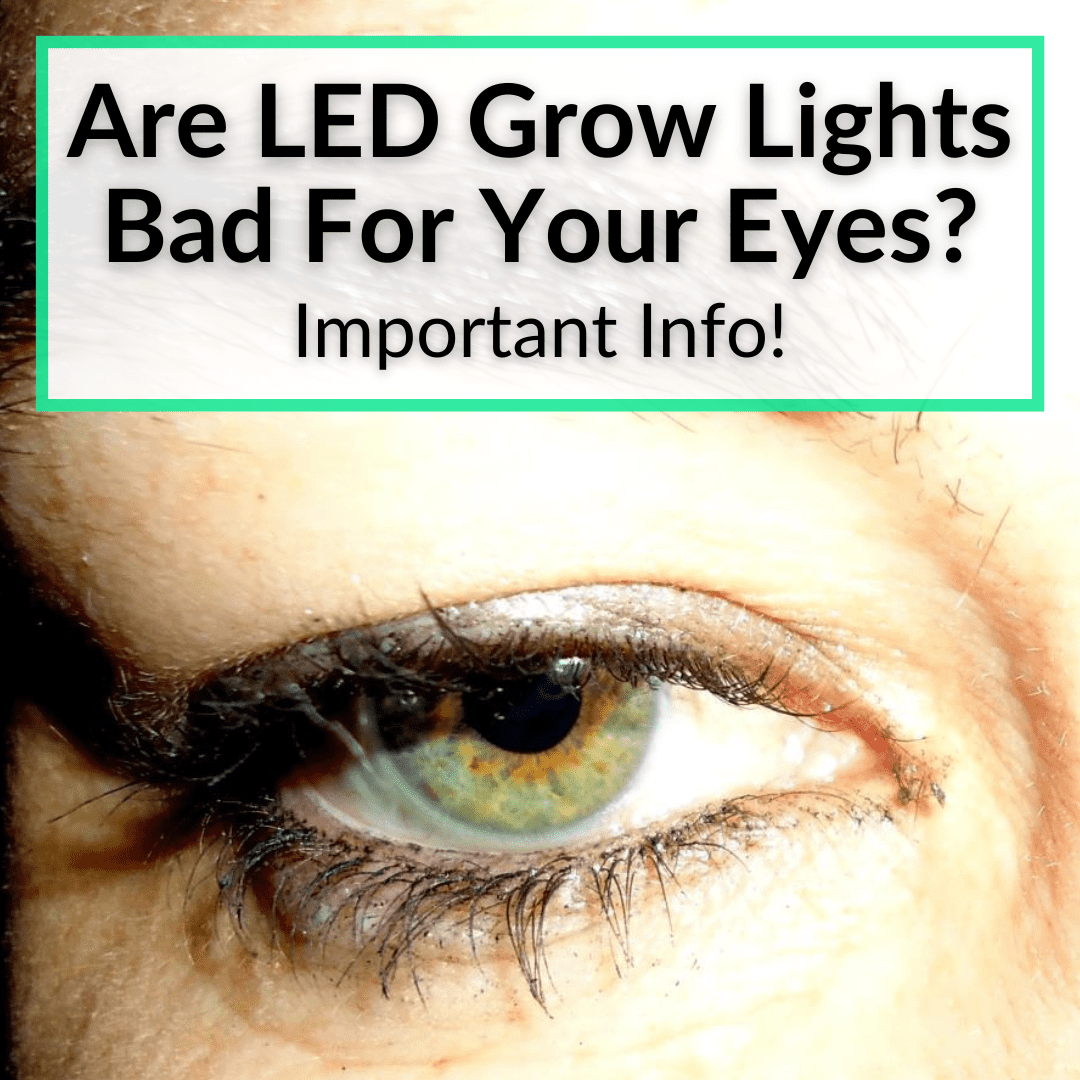 Modern LED grow lights are extremely powerful.
They also feature a color spectrum that is similar to the sun.
We all know that the sun can damage your eyes, even after just a few seconds of looking directly into it.
It stands to reason the same might be true of LED grow lights. Especially considering how much closer they are than the sun.
Is it true? Are LED grow lights bad for your eyes?
Keep reading to find out. We will cover everything you need to know.
But the most important takeaway is to always wear eye protection under grow lights and to avoid staring directly into them. Just like the sun.
Are LED Grow Lights Bad For Your Eyes?
Yes, LED grow lights can be bad for your eyes, if you get too much exposure at close range. However, the answer is quite a bit more complicated than a simple yes or no.
We'll get into everything you need to know below. For now, suffice it to say you should never look directly at your grow lights, unless you are wearing eye protection.
In fact, it is best to wear eye protection whenever you enter your grow room. And even with eye protection, it is not a good idea to stare into the lights.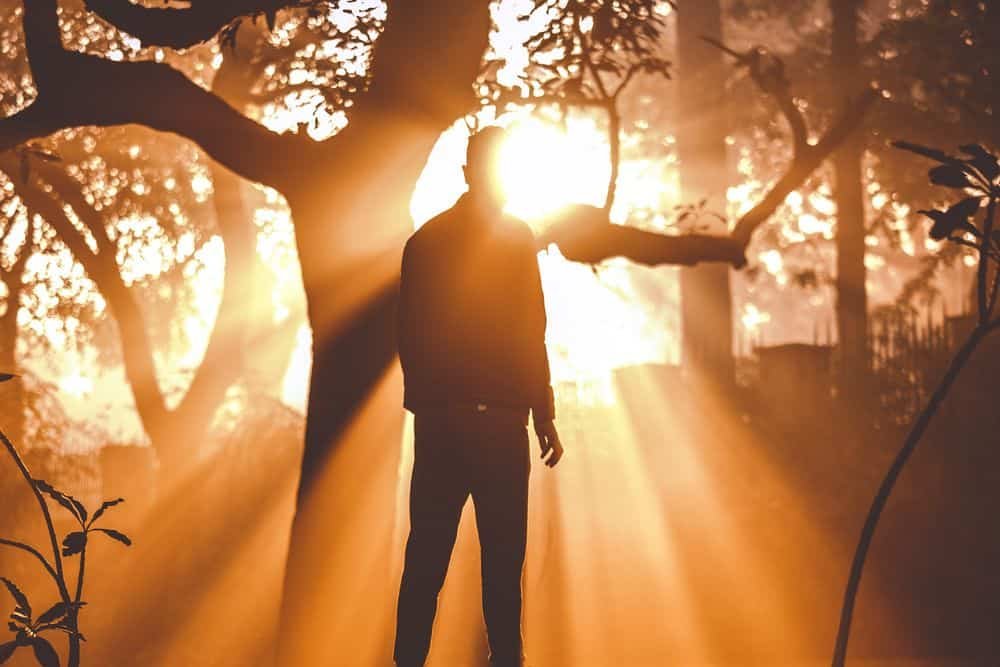 Let's look at how LED grow lights can damage your eyes
How Do LED Grow Lights Damage Your Eyes?
Any bright light source, no matter what it is, can damage your eyes if you stare at it for more than a few seconds.
The human eye is sensitive, and when it is flooded with  bright light, the rods and cones inside can be damaged by the overpowering light flooding in. Of course, for short intervals, bright light is fairly safe.
This is the same thing that can pose a danger to household pets as well, though pets generally have the sense not to look into bright lights. In general, grow lights are safe for pets, as long as they don't stare into them.
LED lights specifically are no more dangerous than any other light source. The only reason they get more attention is that they can be much brighter than many other lights, while emitting far less heat.
They are also more popular now, due to the efficiency and cost-effectiveness of the fixtures when compared to any other light sources. They have a far lower power consumption to generate the same output.
LED grow lights are extremely bright, because the diode is illuminated it is an extremely small and very bright point of light.
Do not stare directly at an LED just because it does not feel hot or seem overly dangerous. It can harm your eyes!
How Does The LED Light Spectrum Work?
The visible electromagnetic spectrum ranges from 400 to 700 micrometers (μm). The further left you go on the diagram toward 400, the closer you get to UV or ultraviolet light.
Ultraviolet light has shorter wavelengths which are more dangerous to the human skin and eyes. Our sun produces lots of UV light, but the atmosphere filters out most of the really bad stuff.
Conversely, the further right you go, the closer you get to infrared light which has a longer wavelength and is less harmful. Infrared light is generally less harmful to human eyes and skin than UV or blue light is.
However, any bright light source, no matter how little or how much UV radiation it has, is dangerous to the human eye, if there is too much exposure.
Types Of UV Light
There are 3 types of UV light: UVA, UVB, and UVC. UV-A is the light that reaches our planet's surface, while B and C are mostly filtered out. Some small amounts of UVB do get to us, though.
LED Grow Lights Are Not All the Same
Because LED lights are not inherently any color, they can be either bluer or redder. The diodes used to produce the light can emit any color of the spectrum, or a combination of several different colors.
For this reason, it is impossible to say that 'all LED grow lights are harmful to humans' or that 'no LED lights are harmful.'
It truly depends on how much blue and UV light the LED fixture is producing. The bluer the light, the more potentially dangerous it can be.
Some LED fixtures are created to have more blue light to help with certain parts of the growth cycle. Cannabis benefits from blue light the most during the vegetative stage, when the plant is growing bigger and taller and producing more leaves and chutes.
Non-UV Light Can Also Damage Your Eyes
As mentioned above, UV light is bad for your eyes. However, UV is not the only type of light that can damage your eyes. Any bright light source, no matter the type of lamp, can harm your eyes, if you look directly at it for too long.
You can damage your eyes just by looking at a bright reflection on the water for too long. Put it this way: bright light, no matter where it is from, can and will damage your sensitive eyes, if you look at it for too long. It is that simple.
Are LED Lights More Dangerous For Your Eyes Than Other Lights?
Sort of, but not really. I know this answer lacks clarity but let me explain.
The way that LEDs produce light makes it so a very small object on a circuit board known as a diode is activated by electricity and gets extremely bright for its size. Staring directly at an LED while it is active is a very bad idea.
It burns extremely brightly right away when it is activated. Think of it as a concentrated source of light that packs a powerful punch in an extremely small package.
This is especially true of the high-power LEDs used in many grow lights. Those can be eye-burners, for sure.
An incandescent bulb needs a little while to warm up and still burns bright, but if you compare them side by side, the LED is brighter when you take size and duration into consideration.
What Is The Most Dangerous Type Of Light Fixture For Your Eyes?
Any light fixture that is active and emitting bright light is extremely dangerous to your eyes. The sun is the perfect example. It is extremely far away and yet if you look at it for a second or two, it will burn your eyes immediately.
That said, lights with UV and blue wavelengths are more dangerous. This puts mercury vapor lights, metal halide lights, ceramic metal halide lights and halogen lights at the top of the list.
But again, all lights can cause damage. Think of the lowly computer screen. It is not super bright when compared to any type of grow light, or even the lights you have in your ceiling at home.
Yet, computer screens are notorious for their ability to damage peoples' eyes and harm long-term vision. Most computer screens these days are technically LED screens, just more complex than most grow lights are.
The reason computer screens are not as damaging as LED grow lights is that screens are not nearly as bright and are not focused on producing high-powered direct light.
Even a candle's flame can be dangerous, if you stare at it for too long. Of course, it is much less dangerous than an HPS light fixture or an array of LED grow lights at full power.
You may have had the experience of a campfire burning its image in your eyes as you go to sleep, if you looked at it for hours while sitting around it to keep warm and cook hot dogs or s'mores.
Are Grow Lights Safe For Humans?
I hope I did not scare you. Yes, grow lights can damage your eyes and potentially also your skin. But they are perfectly safe, as long as you take the proper precautions.
The most important precaution is to wear eye protection when working under grow lights. It is also a good idea to avoid looking directly at them and to take steps to protect your skin, like wearing long-sleeved shirts and applying sun screen to exposed areas of skin. Don't try to use grow lights for vitamin D or to get a tan.
Are Grow Lights Bad For Your Eyes: Final Thoughts
It is important to understand that any light can damage your eyes if you look directly at it for too long. Of course, the brighter the light, the faster it will cause damage and the more severe the damage will be.
LED grow lights can cause serious eye damage if you look directly at them for too long. This is true of any type of powerful grow light.
Grow lights with UV light can do even more damage. These types of grow lights can damage your skin as well, and even have the potential to cause cancer.