Autoflowers are famous for producing lower yields.
They have many advantages, but yield has always been their one big drawback.
That is no longer true.
There are now a number of high-yielding autoflower strains.
If you start with a high-yielding strain and provide your plants the ideal conditions, you can get bigger yields from autoflowers.
Yields that come close to matching top photoperiod strains.
Keep reading to learn exactly how to get bigger yields from autoflowers. We will cover everything you need to know to maximize those yields.
How To Get Bigger Yields From Autoflowers
They three keys to bigger yields from autoflowers are to choose the right strain, to provide the ideal environmental conditions, and to train and trim your plants correctly.
Providing the right environmental conditions includes the lighting, ventilation, temperature, humidity, soil, water, and nutrients.
If you want your plants to yield nice, fat buds, the first step is to carefully selecting your autoflowering strain. Some strains simply won't yield as much as others.
Then you need to pay attention to the growing conditions. Your autoflowering cannabis plants need ideal environmental conditions, such as correct lighting schedules, good air circulation, and the ideal temperature and humidity levels.
It's also very important to ensure your plants are receiving the perfect nutrient levels and that you use a decent growing medium. Finally, you can train and prune your plants to maximize cola production. Let's take a closer look at the factors that will impact your yields the most.
Choose The Right Autoflowering Strain
The first step in achieving huge yields from your autoflowering plants is selecting an appropriate strain. When selecting the strain, you should pay attention to the genetics and its unique characteristics.
You should consider factors such as the potential size of the plant, the yield potential, the expected potency of the buds, and the overall growing difficulty.
This article lists the highest-yielding autoflower strains. The first strain listed in that article, Gorilla Cookies, is a hugely popular strain among autoflower growers.
The seeds produce compact and relatively short plants that don't take up as much space as other strains, yet the yield tends to be good.
On average, they yield up to 600 g/m² (2 oz/ft²) indoors and up to 800 g (1.75 lb) per plant outdoors. The aromatic, fist-sized buds can contain up to 25% THC.
To attain these yields, you will also need to pay attention to the environmental conditions during growth and ensure your plants receive the correct amount of water and nutrients.
Provide Ideal Environmental Conditions
The biggest advantage to growing indoors is that you can make sure your plants get the exact environment they need to flourish. Here is what you need to give them.
Lighting
All plants require adequate lighting to grow strong and healthy, and cannabis plants are no different. This article discusses the light requirement of weed plants.
Of course, there is a big difference in lighting between autoflowering strains and photoperiod strains.
When growing photoperiod strains, the flowering stage is triggered by the ratio of light to dark that the plant receives, with a 12-hour period of darkness being the trigger.
However, autoflowering strains behave differently. Their flowering stage is triggered by the plants' maturity.
Because you don't need to reduce the amount of light you give your plants down to 12 hours with autoflowering strains, you can carry on giving your plants more light, which will stimulate them to grow bigger, healthier buds.
Typically, autoflower growers keep their plants on a 18/6 light-to-dark cycle. This extra light should help you get the desired results. Of course, it does mean higher electric bills.
Temperature And Humidity
Maintaining the proper temperature and humidity levels is also crucial to maximizing the yields of your autoflowering marijuana plants. You should aim to keep the temperature between 68° and 77° F during the day and between 62° and 68° F at night.
The ideal humidity level to aim for during the vegetative stage is between 50% and 70%, while during the flowering stage, you should aim for 40 to 50% humidity.
You should also pay attention to the genetics of your selected strain. If the grower's notes list different requirements, adjust accordingly.
Air Circulation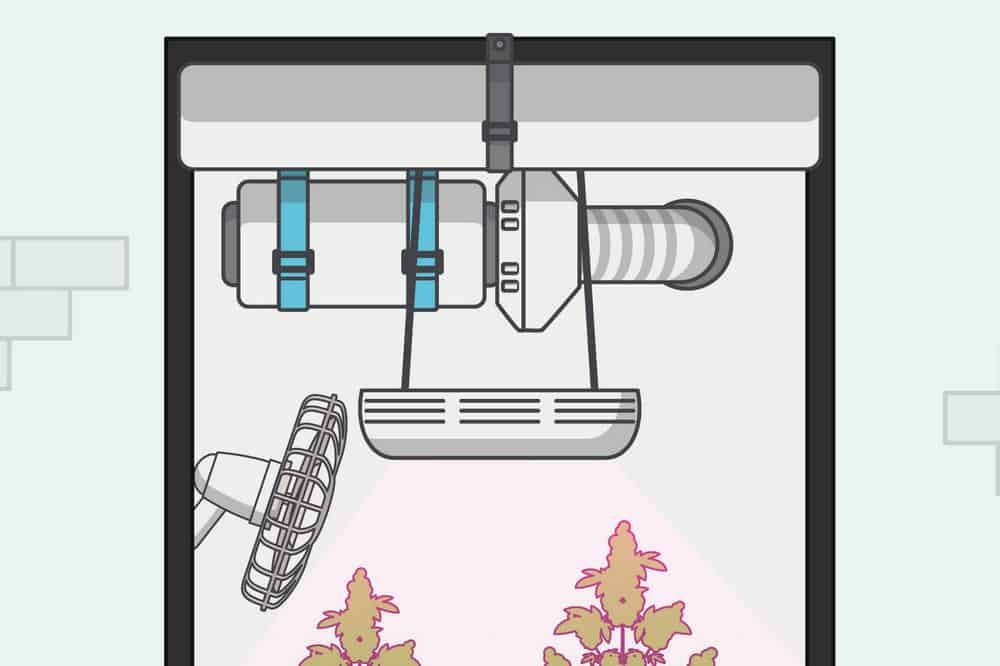 You should also ensure that your cannabis plants have proper air circulation while growing. Good air circulation helps prevent mold and mildew from developing on the buds, which can affect the quality of your yield. Many growers use fans or they set up an air circulation system in their grow tent for this purpose.
Soil Quality
Another way to maximize your plants' potential is to make sure you choose a viable growing medium. Autoflower strains prefer a pH range between 6.0 and 6.5 (in soil), so make sure to test and adjust accordingly.
Having the correct pH level in the soil ensures your plants can take up the nutrients they require. If the pH level is off, the plants will not be able to absorb certain nutrients, leading to a deficiency.
Nutrition
Whether you are growing photoperiod or autoflowering weed plants, providing them with the correct nutrients throughout the growing cycle is crucial for their growth and overall health.
An important difference between autoflowering and photoperiod strains is that autoflowering strains tend to produce smaller plants with a smaller root mass. This means that they require a little less nutrition.
Too many nutrients can be harmful to your plants, even causing plant death in some cases. Pay attention to the recommended NPK levels for the strain that you are growing, and do not exceed these amounts.
When you have a good-quality growing medium with the correct pH levels, feeding your plants the correct levels of nutrients will help you achieve bigger yields.
Growth Training
There are different training techniques you can use when growing cannabis plants, but the two most common ones are low-stress training (LST) and high-stress training (HST).
LST involves gently bending and tying down the branches of your plants, encouraging them to grow horizontally rather than vertically. This technique helps to create an even canopy and maximize light exposure, resulting in bigger and better yields. It also keeps plants from growing too tall.
To train your plants using the LST method, use soft plant ties to bend the branches down and away from the main stem, making sure not to break or damage them. Our low-stress training step-by-step guide has more.
HST, on the other hand, involves more aggressive methods like topping or pruning to create multiple colas and stimulate lateral growth.
This technique is riskier and can cause stress to your plants, so it's only recommended for experienced growers. If done correctly, though, HST can result in bigger yields and more compact plants.
Harvesting
Knowing when to harvest your autoflower weed plants is crucial for achieving the desired potency and flavor of your buds.
Harvesting too early can result in buds that are underdeveloped and lack the desired THC levels, while harvesting too late can lead to buds that are overripe and have begun to degrade.
To determine the right time to harvest, you should observe the trichomes on your buds. Trichomes are the small, crystal-like structures that contain the cannabinoids and terpenes that give cannabis its sought-after effects and flavor.
When the trichomes turn from clear to cloudy or amber, it's a sign that the buds are reaching their peak potency and flavor, and it's time to harvest and start the drying and curing stages.
How To Get Bigger Buds On Autoflowers: Final Thoughts
The keys to maximizing autoflower yields are to begin with a high-yielding strain, to provide the ideal growing conditions, and to shape your plants to maximize cola production.
If you do these three things correctly, you will get huge yields from your autoflowering marijuana seeds. Yields that come close to those you can get from photoperiod weed strains.