Why switch to T5 LED grow lights?
Especially when T5 fluorescent lights are so great for seeding, cloning and vegging.
Because the LED equivalents are even better.
They do everything the fluorescents do: same output and spectra (often even better) and flexibility.
But they do it while using half the power or less, emitting less heat and lasting much longer.
Not having to change bulbs as often and paying for half as much electricity saves you a ton of money.
Yes, the LED T5 lights do cost a bit more, but you quickly make that money back in cost savings.
So what's the catch?
Same as always with LED grow lights. The market is flooded with low quality brands that don't deliver. Or they do deliver for a short time, then they break.
That's why I decided to write this article.
I did all the research and found the best T5 LED grow light tubes and bars on the market, so that you don't have to.
Looking for:
a LED tube to replace a fluorescent tube in an existing fixture?
a standalone T5 tube?
a complete kit with fixture and bulbs?
Whichever you need, I've listed the best options for each below.
And that doesn't mean the most expensive. These are the ones that give you the most value for money.
T5 LED Grow Lights Compared
Here's a quick summary of my findings. If you're curious why I chose these lights, you'll find brief reviews for each below.
Model
Verdict
Sizes
Spectrum
Rating
Cost
Active Grow T5 LED Tubes
Check Price
Best 54w T5 Replacement
2 or 4 foot
5 options
10 / 10
$$$
Green Creative HO Tubes
Check Price
Best Budget Pack
4 foot
4000K
9.1 / 10
$$
Barrina Integrated Fixture
Check Price
Best Standalone Bar
4 foot
6500K white
8.6 / 10
$
Active Grow Fixture
Check Price
Best Bulbs + Fixture
2 or 4 foot
5 options
10 / 10
$$$$
What Are T5 LED Grow Lights?
There are two types:
T5 equivalent LED lights
T5 LED direct replacement tubes
The first are LED grow lights that perfectly replace a T5 fluorescent light. They come with a fixture and are thus standalone lights.
The second are light tubes. They require a fixture to work, but they can use any standard T5 fluorescent fixture you may have. There is no need to buy a new fixture, if you already have one.
The big advantage of these tubes is that you can use any T5 fixture, but make it much more efficient (see next section), simply by using LED tubes instead of fluorescent tubes.
Note: If you want to use these tubes, but do not already have a light fixture, the Active Grow bundle reviewed below is the best choice. But it only works with T5 LEDs. If you also plan to use regular T5 fluorescent tubes, then the Agrobrite fixtures are the best value on the market. You can read all about them here.
Why Are T5 LED Lights Better Than Fluorescent Bulbs?
LED tubes have three big advantages over their fluorescent counterparts:
They use half the power, saving you money
They last longer, saving you money and the hassle of having to change bulbs more often
They emit less heat (only an issue if you have a lot of them)
They do have a big disadvantage, too. They cost much more than the equivalent T5 tubes.
That said, you will quickly make back that cost difference thanks to the lower power costs and the longer lifetime. You won't have to get new bulbs for many years.
Best T5 LED Grow Bulbs: Brief Reviews
These are the best T5 LED grow lights on the market. I'll start with the best direct replacement tubes (the ones you can use in and standard T5 fixture) and then move on to the standalone lights (fixture included).
Best T5 LED Direct Replacement Tube: Active Grow T5 High Output 4FT LED Tubes
There are a few brands on the market that make good LED tubes, but the Active Grow High Output tubes are our favorite, because they work with the ballast in most fixtures.
What this means is that you can simply replace the fluorescent bulbs with these bulbs and you're good to go. With most competing lights, you need to rewire the fixture to disconnect the ballast. It's not overly difficult, but not having to do it at all is even easier.
The downside as that these bulbs are not compatible with every possible ballast. Most notably, they do not work with any single-bulb fixtures. Apart from that, they will work with most big brands.
That includes the Hydrofarm Agrobrite line, which is our favorite. Active grow also sells their own fixtures, which are excellent, too. See below for our brief review of the fixture (comes with bulbs).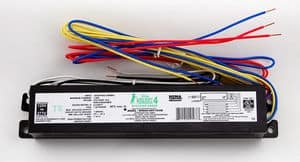 You can check this list to see if your ballast is compatible. If you're not sure what ballast is in your fixture, check the instruction manual, the manufacturer's website, or open the fixture and take a look at the ballast itself. The ballast is the relatively large, rectangular thing. They all look fairly similar. There is an example to the right.
The Active Grow High Output T5 LED bulbs only use 24 watts each, which means a minimum 45% reduction in energy costs over fluorescent bulbs. Despite using only half the electricity, the output is virtually the same. But because they are specifically designed for horticultural use, the Active Grow bulbs have a higher PPF of 55 μmol/sec.
Active grow offers 5 different color spectra. They range from a daylight white that is close to, but much better and fuller than, fluorescent light to a bloom specialist bulb with heavy amounts of red and deep red. This allows you to choose the exact spectrum you need.
If you want a light to use for all stages of growth, go with the sun white spectrum. It contains a good amount of blue light and a ton of red, which plants need during any stage. It also has a lot of light in every other color, which is also important for plant growth. The autumn sun spectrum would work well for any stage too, but it features much more red for a huge bloom boost.
The tubes are rated for 30,000 hours of use (far more than any fluorescent tube) and they come with a 1-year warranty. 30,000 is the minimum, so they will likely last longer. Active Grow is located in Seattle Washington, so on the off-chance that something does go wrong, you won't have to deal with a Chinese brand (and all the hassle that entails). I give them a Grow Light Info rating of 10 out of 10.
The following video compares these LED tubes to standard fluorescent tubes:
Pros
Replaces a standard 4ft T5 fluorescent tube
High output of 55 μmol/sec
Great spectrum options allow you to give your plants exactly what they need
24 watts means a 45% reduction in power costs
30,000 minimum lifespan means no bulb changes for years
Cons
Not compatible with all ballasts (see list)
Best Budget T5 LED Grow Bulb Pack: Green Creative 4ft 20W T5 High Output LED Tube
These 4 Foot T5 High Outbut LED Light Tubes from Green Creative cost far less than the previous ones above, but there is also a drop in quality. And you can't buy individual bulbs. They are only available in a 24 pack. But the price is incredibly for 24 T5 LED bulbs.
The spectrum is that of a regular fluorescent bulb, which can work just fine for growing plants. The more tailored spectrum of the bulbs reviewed above is better, however. You will see faster growth with those. Specifically, the spectrum here is 4000k, which is a fairly neutral white light. It will work for any stage of growth.
As with the previous bulbs, you'll want to check the ballast compatibility for these. They should be compatible with most 4000k ballasts.
These bulbs use only 20 watts (as opposed to 54w for the fluorescent equivalent), so you'll immediately see a 60% reduction in your power bill after switching. But naturally, that also makes them less powerful. The output is 3500 lumen.
The listed life expectancy of these bulbs is 50,000 hours, though they will deteriorate and become less bright, so you'll probably want to switch them out before that. I'd count on 30,000 to 40,000 hours of good use.
These bulbs have a CRI of 82. The Active Grow bulbs above have a CRI of 95. 100 is equal to sunlight, so you can see that those bulbs are much closer to natural sunlight, which is better for plants.
As mentioned, these bulbs have a color temperature of 4000K, which is a bit cooler than sunlight (contains more blue).
They are designed to replace a standard fluorescent bulb, not a grow bulb. They still work well, but not as well as a dedicated grow light. They are UL listed to meet residential, commercial, and industrial safety requirements.
Pros
Low cost
Work in any T5 fluorescent fixture
Low power usage of 20 watts
High output of 3500 lumen
Cons
Spectrum not designed specifically for plants (but works, just like a fluorescent tube)
Not compatible with all ballasts, so make sure to check beforehand
Best Standalone T5 LED Light Bar: Barrina LED T5 Integrated Single Fixture
The 4 Foot Barrina Integrated Light Bar includes both the bulb and the fixture. You don't need to get anything else, making these lights the easiest way to add T5 LED to your grow, if you do not already have a T5 fixture.
These bars are designed to replace a standard 6500K fluorescent tube. They are not specifically designed for horticultural use. The 6500K spectrum contains a lot of blue light and not much red, but it is still full spectrum light.
It works well for cloning and seeding, as well as vegetative growth. It will not be very effective for flowering. Another great use of this light is to supplement a red-heavy grow light, like an HPS light. Adding blue-heavy light like this to your grow, especially from below, will really boost plant growth and yields as well.
These bars use only 20 watts, so you'll see a large reduction in power costs over fluorescent bulbs (which use 54 watts). Despite using so much less power, they give you a similar output (2200 lumen, to be exact).
A great feature of these T5 LED bars is that you can connect up to 8 of them together. You can plug the fixtures directly into each other and connect them end-to-end, or you can use the included cords to plug them into each other that way.
The fixtures come with snap clips that make it easy to hang them anywhere. They are covered by a 3-year warranty, which is much longer than most competing fixtures, which generally have a maximum 1 year warranty.
Pros
Versatile: you can use them above, below, horizontally, vertically, etc.
Low power usage (22 watts)
Can connect up to 8 lights together
3-year warranty
Very low cost
Cons
Spectrum contains far more blue than red light, so won't work as well for flowering
No reflector, so light spreads out in 270 degree angle
Best T5 LED Fixture With Bulbs: Active Grow T5 LED Grow Light Fixture
If you want to use T5 LED lights, but don't already have a fixture, I highly recommend the Active Grow T5 LED Fixture. It is designed specifically for LED bulbs, so there is no need to worry about rewiring to bypass the ballast or about ballast compatibility.
It also includes 4 bulbs, which really cuts down on costs. You have your choice of Active Grow's amazing sun-white spectrum bulbs (reviewed above and my #1 choice for LED bulbs) or their red bloom spectrum bulbs.
The red bloom spectrum contains blue light and tons of red and far red. Virtually all green and yellow light is omitted. This spectrum boosts chlorophyll light absorption and is great for flowers, fruits, germination and cloning. The combination of red and far red wavelengths (660 nm and 730 nm) creates the Emerson Effect (i.e. a higher rate of photosynthesis), which speeds up plant growth by up to 20%.
The red bloom spectrum bulbs are great when used in combination with the regular white bulbs. Used on their own, they are not as effective as they are when supplementing the natural sunlight spectrum of Active Grow's all-white tubes.
This light fixture will cover a 2 by 4 foot area. It has dual power switches, so you can run two bulbs only, or all 4 at once. This allows you to save electricity (and thus money) when you don't need all 4 bulbs. You can connect up to 4 of these fixtures on one 120 V circuit. The fixture has a limited 3-year warranty.
Pros
Includes 4 LED bulbs (your choice of sun-white or red bloom spectrum)
Bulbs use half the power of fluorescent and last much longer
Can connect up to 4 fixtures on one circuit
Fixture is designed for LED bulbs, so no need to worry about ballast compatibility or rewiring anything
3 year warranty
Cons
Higher price than comparable fluorescent fixture (but will pay for itself in cost savings)
Photo Credit
Ballast photo by Dennis Brown – Own work, CC BY-SA 3.0, Link