We all want larger yields.
Whether you are growing weed for yourself or to sell, a larger harvest means more buds for you or more money in your pocket.
And we try all kinds of things to get our plants to yield more.
Some work great, but cost a lot of money, like buying ore powerful lights.
Others cost almost nothing and still give you a significant boost.
Obviously, you want to do those things first.
Well, pruning is one of those things, if done right.
Keep reading to learn exactly how to prune your marijuana plants to get better yields.
Pruning To Increase Yield
The concept of pruning is simple. You are removing unproductive growth from your plants to allow the plant to focus its energy and resources on the parts that you want, like big flowering buds.
The smaller, unimportant parts of the plant take water and light away from the main focus parts of the plant. When you remove them, there is less plant to use up resources.
The other important thing to understand about pruning cannabis is that it helps increase airflow and light collection.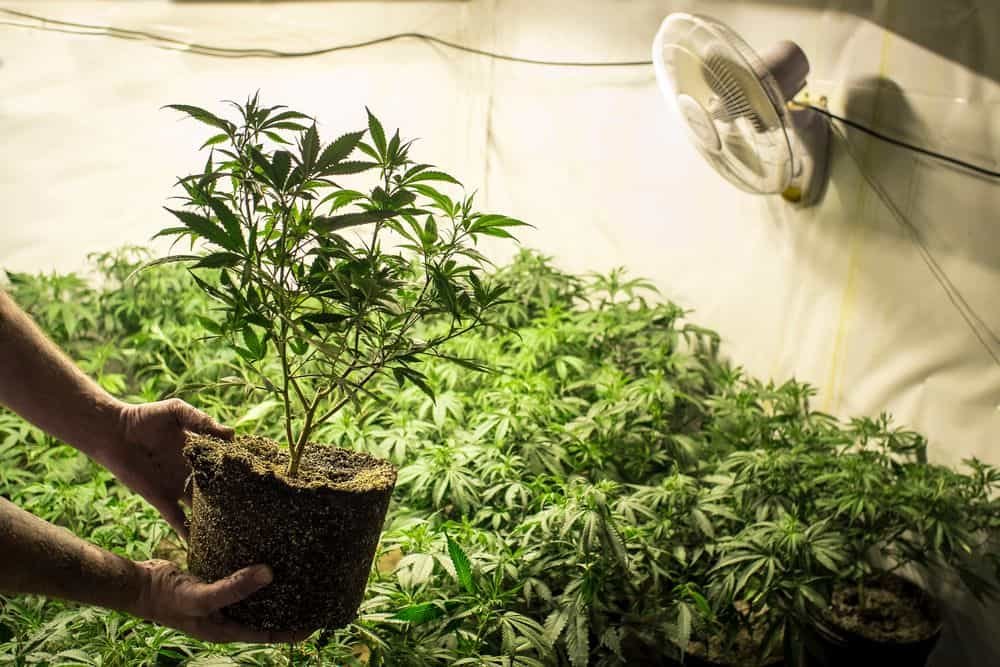 Airflow around important parts of the plant helps to thicken the branches, and it helps CO2 get in contact with the leaves.
Since plants need light to grow, removing unproductive plant parts that are blocking light from the fan leaves will help your plants take in more light energy, and therefore grow bigger and faster.
Materials Needed
Clean and sharp pruners for the thicker branches
Fine scissors or specially designed trimmers for smaller, thinner branches and stems
Alcohol wipes or a small bowl with isopropyl alcohol in it.
A soft cloth or rag (cotton is best)
Sharp Clean Pruners
It is a good idea to use pruners that have a coating on the blades. The blades will accumulate sticky resin and become jammed and more difficult to use.
Many growers prefer to use spring-loaded pruners, which minimize the amount of cramping in your hands. Alcohol is often used to clean pruner blades during pruning, but if you get pruners with a good coating, you could simply use a wet rag or scratchy sponge.
Fine Scissors
Trimming scissors tools are used for the finishing touches, cutting up buds, and trimming off small stems and other parts. These are not going to be used for cutting the main stalk or thick lower branches.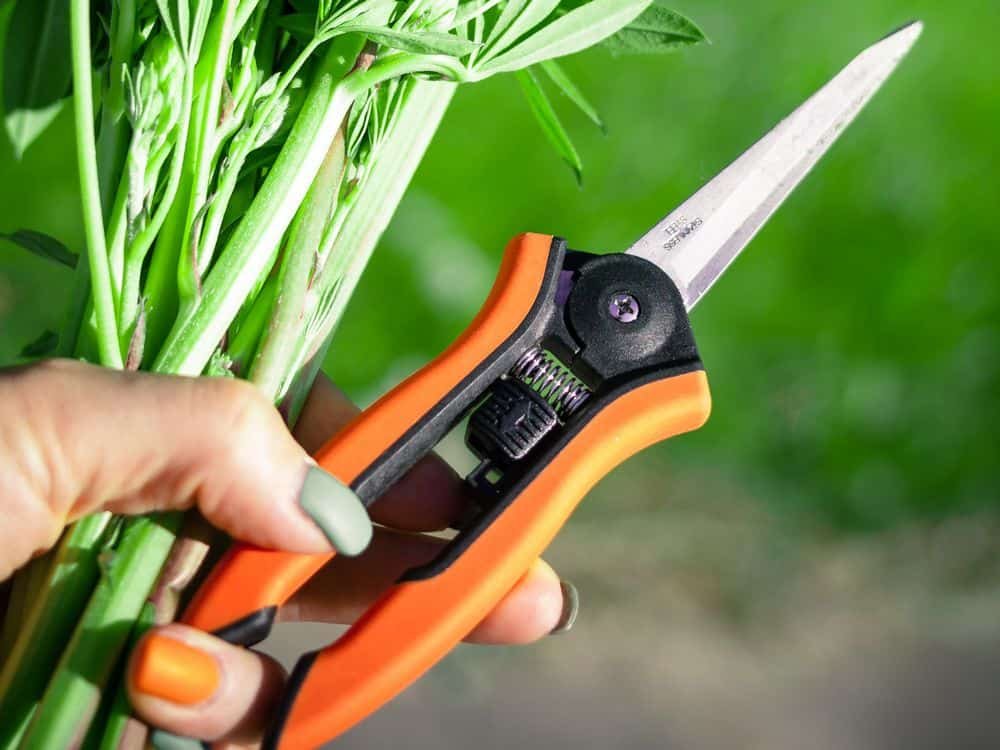 Their job is only to cut the buds and higher thinner branches. These scissors should also have a coating of some kind to help keep the resin from getting thick and jamming up the movement of the tool.
Alcohol Wipes
There are a handful of commercially available alcohol wipes you can use to wipe down your pruners as you go. The type that is made to clean lenses and reading glasses are great. The only downside to using these wipes is that the cost could add up if you are pruning many plants.
Rubbing Alcohol
The purer the alcohol, the better it will cut through the sticky resin. The most commonly available types are 70 and 90%. The 90% kind is preferable and usually does not cost much more.
Using rubbing alcohol and a rag is more economical than using premade individual wipes, but it is messier and not as convenient.
When To Prune
The vegetative phase is the phase of growth in which you can begin to prune your cannabis plants. During this phase, your plants will benefit from the removal of the unproductive parts.
Even though your plants may not be very large at this stage, you can start shaping them in the way you want them to grow later on during the flowering stage.
The early stage of veg is the best time to prune your plants.
Later on in the veg stage, when there are big fan leaves collecting lots of sunlight, is not the best time for pruning. Pruning at this point can cause too much stress and trauma to your plants when they are preparing to start growing buds.
How To Prune Your Cannabis Plants to Increase Yield
Before you start cutting into your plant, it is important to understand how to make proper cuts.
Make the cuts clean and do not leave jagged edges. Jagged edges will invite parasites and cause slower and uneven growth from the point where you cut.
Making clean cuts is not difficult, if you use strong, sharp tools and you keep them clean. If your pruners start to get dull, stop immediately and sharpen them until they are razor-sharp, or switch to another pair of pruners.
Do not prune your plant, even for a few cuts, with dull tools. Using dull tools will result in an unhappy plant with more probability of developing parasite issues or other problems.
Ideal cuts are at a slight angle and the cuts should be straight across the branch or leaf, so there is no deviation in the cut line. These perfect cuts will allow your plant to grow evenly and repair itself quickly.
Now that we know how to make the cuts, let's get into the actual steps of pruning your weed plants.
Step One: Survey Your Plant
This is just a fancy way of saying look at your plant and plan where you are going to trim and which parts you will leave alone. Before you make any cuts on your plant you should know where you are going first.
One good tip is to look for leaves that are emaciated or appear smaller than the rest, because they are not getting much light. You can also cut off any yellowing leaves or stems, since they are not helping the plant make buds.
Step Two: Make The Lower Cuts
Start down low and work toward the middle of your plant. The lower leaves and branches tend to be obscured by upper leaves and branches and usually are the least productive leaves on the plant.
Because the point of pruning is to increase yield, it would make no sense to cut off the leaves that are getting the most light first.
As you cut the low stems and leaves, remember to clean your pruners as you go. You can use alcohol to help cut through the sticky resin and keep the pruners clean and free from dirt or parasites you pick up from the plant.
Step Three: Work The Middle Section
This area will have bud sites that are down lower on the plant's main stalks. These mid-plant bud sites can be pruned or fimmed depending on your personal choice or preference.
What is Fimming?
Fimming is a process in which you cut a bit past the joint of a branch where the chute of the flower starts.
If you think of it as a dinner fork, fimming is cutting a little past where the fork tines start, so you still have four very short sections. This differs from pruning, which would mean cutting off all the tines completely, leaving just the fork handle.
Fimming is an acronym that stands for "f**k I missed." It started off as an accident, when people would trim past the joint by accident, but they soon learned that trimming it that way actually had its own benefits.
The goal for the middle section is to prepare the bud sites for the main flowering stage, by making space and allowing the plant to produce more growth at the main bud sites and the mid-plant bud sites as well.
Step Four: Work The Upper Section
Work on the upper section of the plant where you will find some fan leaves that are starting to yellow or get skinny, because of lack of light or other issues. You want to be careful at this point not to over prune.
The big fan leaves that are at the top of the plant are getting the most light and helping the plant to grow and stay healthy, which means more buds and bigger buds.
Why Pruning Can Increase Yield
Pruning increases yield because of the simple fact that when you remove unproductive or unhealthy parts of any plant, cannabis included, the healthy and more productive parts of the plant will receive the resources that the unhealthy and unproductive parts were previously consuming.
The concept of pruning for a better harvest is not unique to cannabis growers. In fact, all types of vegetable growers understand the importance of pruning.
In nature, plants have some less productive leaves and parts and some more productive leaves. Naturally, the unimportant parts will die and eventually fall off. By pruning you are helping the process along and giving the plant more resources to use when it needs them.
Pruning works to maximize the yields of autoflowering plants and photoperiod plants alike. It is probably the most cost-effective way to get a big boost in yields.
A Warning About Pruning
It takes practice to get efficient at pruning cannabis plants properly. You can harm your plants, or even kill them, if you prune them too aggressively. If you choose to prune your plants, please take the time to learn how to do it correctly and do not hurt your plants.
After Pruning
After you do your pruning, make sure you leave the plant alone for a few days and do not cut anymore or over water or over feed it during the time following pruning. The plant will be under some stress for a few days after pruning so it is critical to understand sometimes the best course of action is to leave it alone and let nature take its course.
Some growers opt to not feed the plant at all for a few days following pruning, though the topic is a source of debate in the community.
Is Pruning The Same As Trimming?
It depends. If you are talking about trimming off leaves, then yes. But usually, when it comes to trimming cannabis, people are referring to the trimming of buds.
This is something that happens when you have already harvested your plants. You are cut the leaves off the buds, to improve the look. This increases their resale value.
It is not related to pruning to increase yield, which happens in the veg and early flowering stage, but it is important to mention here, because the terms are often confused.
When it comes to trimming, there are two methods: wet trimming and dry trimming.
Wet Trimming VS Dry Trimming
Wet trimming is when you trim the buds when they are still fresh, and the stalks are still filled with moisture. Dry trimming is when you trim the buds after they have been dried out. Both methods have their pros and cons.
Benefits Of Wet Trimming
Makes buds puffier which makes them look more attractive to buyers
Helps the buds to dry faster since they dry faster with no leaves attached
Wet buds and branches are much easier to cut through
Less a chance of mold growth since the buds will dry faster; the less time the buds are moist, the less time mold can get a foothold
Benefits Of Dry Trimming
Dry trimmed buds taste smoother; the longer the buds take to dry, the less chlorophyll will be present when you use the buds
Dry trimming is less stressful because you are not on a time limit since the bud is already dry
It is not as messy of a job to trim dry cannabis, because there is not as much moisture and resin getting on your tools or hands
Dry trimming results in an overall higher quality product
Disadvantages Of Wet Trimming
Can reduce the quality of the buds you are producing
Buds will have more chlorophyll in the end
It is quite messy to wet trim cannabis
It is stressful because you must finish before the plant is dry
Disadvantages Of Dry Trimming
Dry stalks and buds are much harder to cut through, which increases the workload
It is a more time-consuming process because each cut is more difficult
Increased risk of mold accumulation
Takes up more space because you need to hang large sections of the plant to dry
Pruning Cannabis For Increased Yield: Final Thoughts
You don't need to prune your marijuana plants in order to have a successful harvest. But when done right, pruning will increase your yields.
For that reason, it is something we always recommend. It is a low-cost way (the only real costs being the pruning shears and time) to boost yields.
Before you go out and buy new LED grow lights that are larger and more powerful, do the easy and cost-effective things to increase your yields, like pruning or adding CO2 to your grow tent.
Then, when you do improve your lights later, the increase in yields from that will be even larger.