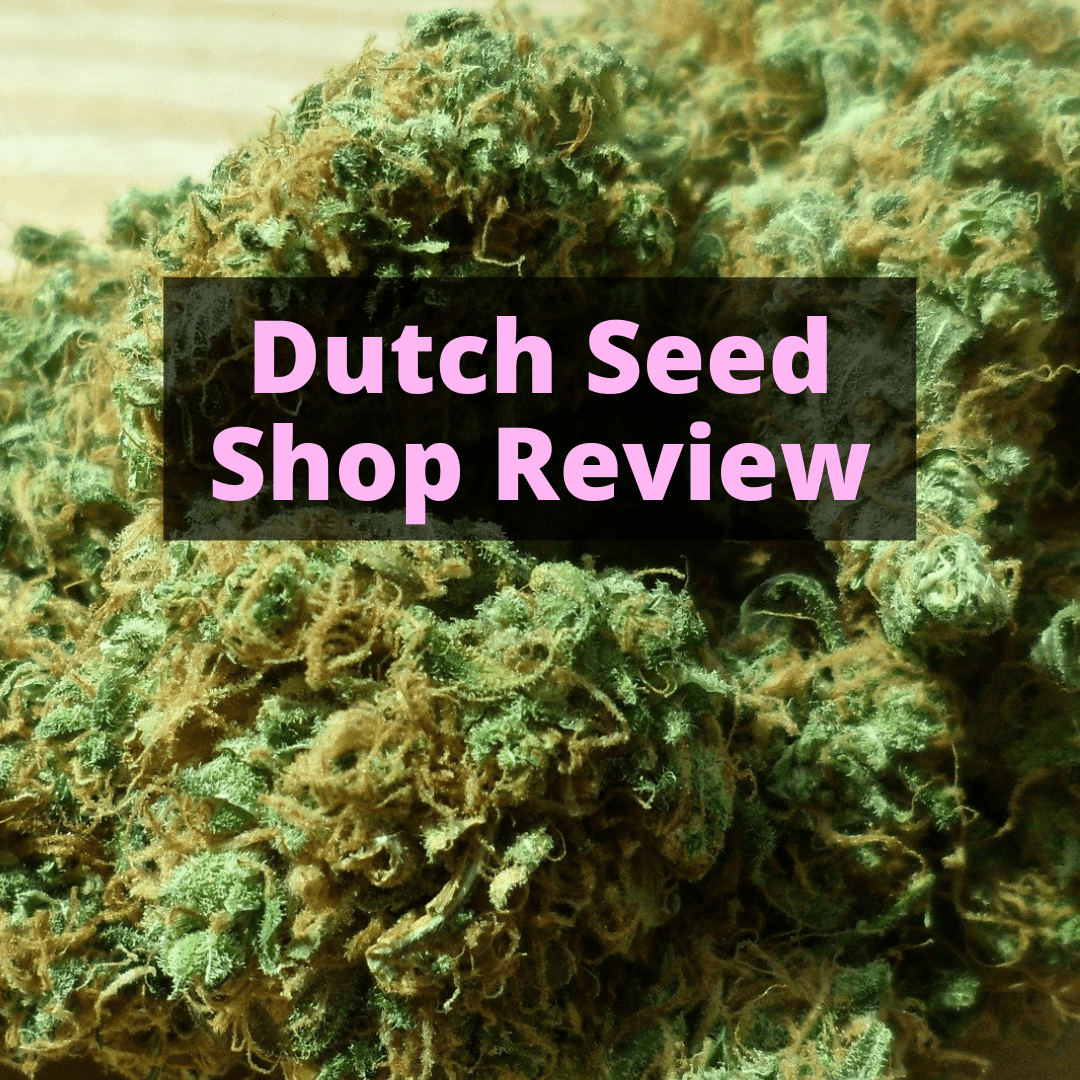 For some reason, we get tons of questions about the Dutch Seed Shop?
And we have no idea why.
They claim to have been around a long time. But there's no real evidence of that. And they don't have the best track record.
The issues start with the simplest of things: their name.
Why is it called the Dutch Seed Shop, when it is located in Bulgaria?
Perhaps it's that inconsistency, along with the less-than-stellar reviews floating around online, that has so many people asking about this store.
Whatever it is, we figured it would be a good idea to take a closer look, so that you know exactly what to expect if you decide to order cannabis seeds online from this vendor.
Dutch Seed Shop Review: Overview And Features
Let's get this out of the way immediately: we don't recommend this store. Overall, they're not terrible, but there are too many instances of people having issues with their orders. And there are simply better places to buy marijuana seeds out there.
Just the fact that they chose a name that makes it seem like they're located in Holland, when they are in fact in Bulgaria, should be enough to give you pause. Apart from that, they just aren't very reliable.
You'll see some customer reviews that call them a scam, but that is not the case. They are a legitimate company that does deliver the seeds you order. Probably. They seem disorganized or perhaps understaffed, so some orders seem to get overlooked and customer service is ignored altogether. Quality is also spotty.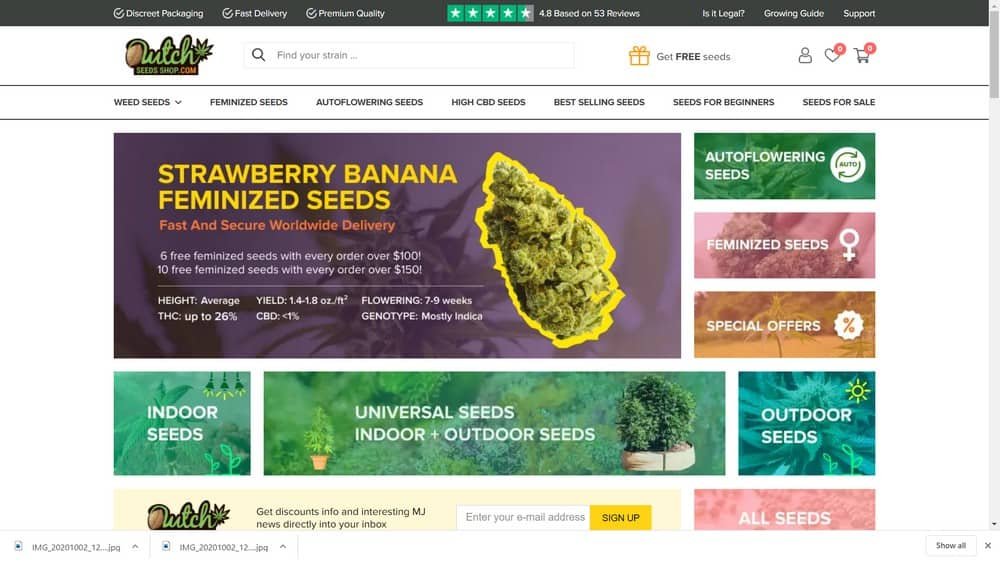 Pros
Low prices
Worldwide shipping
Free seeds with orders over $100
PayPal accepted
Credit cards accepted
Stealth shipping
15% discount if paying by Bitcoin
Fast shipping to UK and Europe
Cons
Low germination rate
Long shipping times to US (and most other locations)
Very poor customer service
Many reports of orders not arriving
Many reports of receiving incorrect strain or low quality seeds
Shipping is not free
No shipping guarantee
Features
Dutch Seed Bank claims to have been founded in 1998, but there is no real evidence of this. There is also nothing about their backstory on their site. And considering they are actually in Bulgaria and not Dutch at all, we have to assume they were not founded in 1998.
Inconsistent Quality
Some people get exactly what they order and the seeds they receive are good. Most germinate and the resulting plants produce great harvests.
Many other customers get seeds that are not the same strain they ordered. Or they get seeds that are low quality, with a poor germination rate or a high ratio of males to females or ones that simply do not stay good for long if stored for future use. You might as well use bagseed.
The best online seed banks delivery consistent quality. Dutch Seed Store is far too inconsistent for our liking. It tells us they are simply too lazy to do proper quality control.
Worldwide Stealth Shipping
This is an area where the Dutch Seed Shop does quite well. They ship worldwide and they ship all orders using stealth methods. This generally involves putting the seeds inside some other object, to disguise the true nature of the shipment, which is great if you live somewhere where it is not legal to receive seeds in the mail.
That said, there are reports from customer who simply received a padded envelope with the seeds tossed loosely inside. Again, they just don't seem to deliver a consistent experience.
Shipping is not free, but the fees are reasonable. Shipping times can be quite long, especially outside Europe. We definitely recommend ordering from I Love Growing Marijuana if you are in the US, or Crop King Seeds if in Canada, for better quality and much faster delivery.
PayPal Payments
This seed store is one of the very few remaining online seed banks that accept PayPal. If you absolutely want to pay using PayPal, they are probably your best option.
They also accept credit cards, Bitcoin, bank transfers and cash. Paying by Bitcoin gets you a 15% discount.
Good Deals
If you order more than $100 worth of product, you get 6 free seeds with your order. Anything over $200 gets you 10 free seeds.
In addition to that, prices are generally fairly low, which makes sense, since they save money on customer service, quality control and by having their headquarters in Bulgaria instead of Holland or the UK.
They usually have some seeds on sale, and you can save more by paying with Bitcoin (15%) or by writing a review (10%). Some would consider this bribery, but it doesn't seem to work well anyway, since there are so many negative reviews out there.
Good Website
The Dutch Seed Store website is easy to use and looks pretty good. This is definitely one of their strengths. They also have a fairly extensive growing guide, though their informational section pales in comparison to ILGM.
Each product page has good info on the strain in question. There are customer reviews for some of them, but many strains have no reviews.
Poor Customer Service
If you've spent any time researching this online cannabis seed vendor, you've undoubtedly read some reviews that mention the terrible customer service.
It's one thing to have occasional issues with orders, but this store has more than it should. Nevertheless, a good customer service team can make up for that to a large extent. Shoddy customer service makes it much worse.
That is why there are so many negative reviews. Customers end up having a horrible experience due to a poor customer service rep and get so angry they want everyone to know.
Dutch Seed Shop: Conclusion And Rating
Dutch Seed Shop is generally best avoided, unless you need to pay using PayPal. They are simply too inconsistent. Why risk it?
We have to give them a low rating of 1.8 out of 5, due to their unreliability and their customer service not seeming to have any interest in making up for any mistakes they make,
If you are in the US, we highly recommend you use ILGM instead. In other countries there are also far better options. Here are our preferred seed banks for the most common countries:
USA and Australia: ILGM
Canada: Crop King seeds
Europe: Seedsman