Care to wager a guess?
Most people aren't even close when guessing at the cost of marijuana seeds.
Plus there isn't a single number. Weed seeds actually have a fairly wide price range.
Some can be dirt cheap, while other cost far more than you would ever guess.
Naturally, higher quality seeds cost more. But that does not mean you need to pay the high end of the range.
The best places to buy weed seeds online offer high quality seeds at great prices.
So how much are weed seeds on average at a reputable seed bank?
Keep reading to find out. We'll also cover the primary factors that affect the price of cannabis seeds, because that information will come in handy when seed shopping and trying to find bargains.
How Much Are Weed Seeds?
Weed seeds can cost from a few dollars to $30 or more per seed. That is a large range, but asking how much weed seeds costs is a lot like asking how long a piece of string is.
That said, while piece of string can be any length, the price of weed seeds doesn't, thankfully, fluctuate that much. But there are many factors to consider that can affect the price of seeds.
First and foremost, there's the quality of the genetics to consider—high-quality seeds have a higher price tag, as you would expect. Other factors to consider are the economic principles of supply and demand, production costs, and the amount of THC in the strain.
The legality of buying seeds in your location will also have an impact on the cost. Let's take a closer look at the primary factors affecting the price of cannabis seeds.
Factors Affecting The Price Of Marijuana Seeds
The following are the major factors that affect the price of weed seeds.
Genetics
The genetics of the seeds you want to buy play an important role in the product's pricing. During the development stage of new strains, reputable seed banks and breeders spend a lot of time and effort ensuring their strains have strong and healthy genes by carefully selecting the parent plants before crossbreeding.
This process involves a lot of testing to ensure the resulting seeds grow into healthy plants and produce a high yield with a consistent and high THC level. This developmental stage takes time and effort, and therefore money. That is reflected in the retail prices.
Type Of Seed
The type of seed you purchase also plays a role in determining the price. Different types of seeds—regular seeds, feminized seeds, and autoflowering seeds—take different amounts of time and effort to produce, and they will have different success rates when growing.
Regular seeds have a 50% chance of producing either male or female plants. When growing cannabis, you are looking for female plants. Because buying regular seeds does not guarantee a female plant, the price of regular seeds is lower than other types of seed.
Feminized seeds will grow into female plants, ensuring a much higher overall yield than regular seeds. The process of obtaining feminized seeds is a little more complex than that of obtaining regular seeds. As a result, the price is higher.
Feminized seeds are made by crossing one female plant with another. Breeders achieve this by halting the production of ethylene levels in plant tissues, which forces female plants to produce pollen sacs.
The "female pollen" is then used to fertilize female flowers, which will then produce feminized seeds. Feminized seeds have a 99.9% chance of producing a female plant.
Then we have autoflowering seeds. Cannabis sativa and Cannabis indica plants rely on changes in light schedules to trigger the flowering stage. In nature, this is triggered by changes in the sun's relative position to the Earth.
When growing with artificial light, the grower will alter the amount of time the plants are under the lights to achieve the same effect. Autoflowering seeds, however, enter the flowering stage based on the age of the plant. There is no need to change the lighting schedule.
Breeders achieve this by crossing plants with Cannabis ruderalis strains, which are naturally autoflowering. This process of crossbreeding and testing takes time and effort to perfect. That is why good autoflowering seeds have a higher price.
Supply And Demand
"Supply and demand" is a fundamental economic concept. It's based on the economic relationship between the price of a product, its availability, and the buyers' demand for it.
A seed with a low rate of production that is in high demand from the customer will have a high price. Conversely, a seed that is produced in high numbers but has a relatively low demand from the buying market will have a lower price.
The supply and demand of cannabis seeds will vary from strain to strain and can fluctuate over time as the markets change. Currently, high-yielding autoflower strains are in high demand.
Number Of Seeds
As with many products that you regularly buy in life, buying in bulk can reduce the price of each individual item. Buying a six-pack of beer is cheaper than buying six individual cans—the principle is the same here too.
Cannabis seed banks often sell their products in different packages. You can usually opt to buy either a single seed or packs of three, five, ten, or more. The more seeds you buy, the higher the overall price, of course. But the price for each individual seed will be lower.
It's common to see individual seeds priced around $9, whereas a pack of ten of the same seeds could be priced at $65. The pack of ten seeds works out to be a cost of $6.50 per seed, which is quite a bit cheaper than the $9 for one individual seed.
Potential Legal Issues
Your location, and that of the supplier, will also have an effect on the pricing of seeds. If you live in a place that has relatively relaxed laws regarding marijuana, the prices will be lower than if you were trying to buy seeds on the black market.
Governments around the world have been changing their stances on marijuana in recent times. Some countries, such as the Netherlands and Thailand, have more relaxed laws than other countries. In the US, individual states have been changing their laws to allow legal medical, and in some cases, recreational, cannabis.
THC Content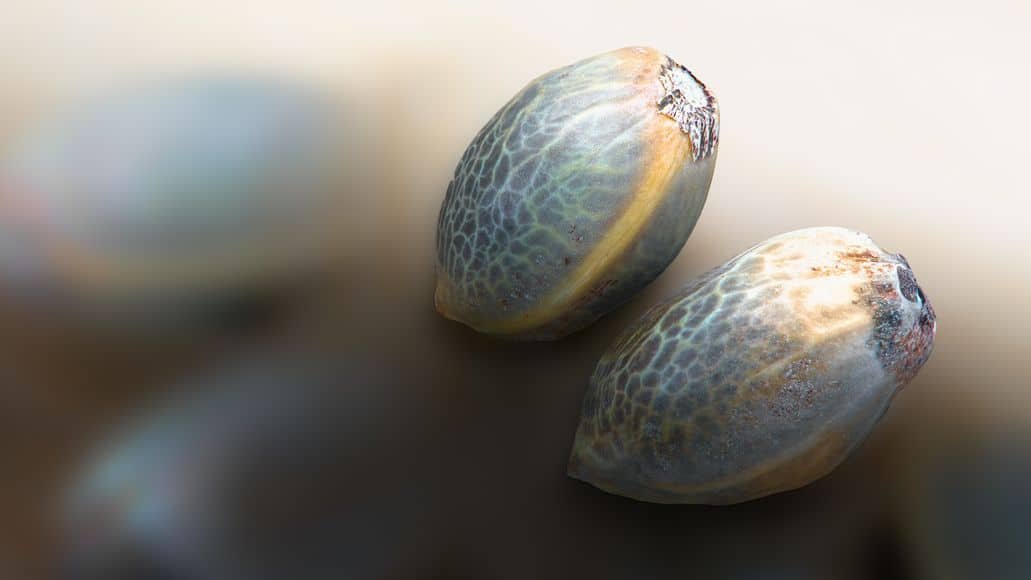 Perhaps the most obvious factor at play in the pricing of seeds is the THC content of the buds produced by the plants. Different strains have different THC levels, and a strain with a high THC content will cost more than a strain with a low THC content.
Often, the strains with the highest levels of THC are also in higher demand than low-level THC strains. And the high demand also elevates the pricing of the seeds, especially if the supply is lower than the demand.
For example, you can find feminized seeds with a THC content of around 17% that sell for around $6.50 for an individual seed, whereas seeds that will produce buds with a THC content closer to 25% percent are priced closer to $9 for an individual seed.
Cost Of Cannabis Seeds: Final Thoughts
The cost of marijuana seeds can vary quite a bit depending on the type of seed, the quality, the levels of supply and demand, the THC levels and more. In general, you can expect to pay more for higher quality seeds that are high in demand, low in supply, or both.
But not always. You can often find good deals at online seed banks, especially if you are buying seeds in bulk. Not only does that get you free shipping, but it also gets you a bulk discount and often free seeds to boot.