So much can go wrong.
When you grow marijuana, many things can happen to damage your plants.
Worse, you won't even know what is wrong, most of the time.
Cannabis leaves curling up is one such problem.
Many different issues can cause this symptom.
The result is that you are left guessing as to the problem.
That means you also won't know the correct solution.
So what do you do?
You need to systematically check for every possible issue and eliminate them one by one.
Keep reading for a rundown of all the possible causes of marijuana leaves curling up, and help in figuring out which one is the culprit with your plants. Then we'll help you fix it.
Cannabis Leaves Curling Up: Common Causes
As mentioned, there are a number of common problems that can cause weed leaves to curl up. We'll run through the most common ones and help you figure out which of these issues your plants are facing.
Overwatering
Overwatering is one of the most common problems facing hobby growers. It is from the best intentions that this issue takes hold.
The problem is that when you give your plants too much water, they can become waterlogged, which stops them from properly absorbing nutrients.
In addition to causing leaf curling, overwatering can also cause other symptoms you should be aware of as a grower.
Yellowing
Overwatering can cause some of your leaves to turn yellow, especially on the tips. Many people assume yellowing leaves come from too much light or heat. Typically, yellowing leaves are more of a symptom of overwatering.
Leaf Spots
Leaf spots can also appear as a result of your plants getting too much water. Leaf spots appear as brown dots and can show up anywhere on your leaves. They present sometimes as discolored gray or brown patches, not always spots.
Edge Browning
The leaves' edges may start to show a brown dried-out color. If you see this symptom there is a good chance your plant has been overwatered.
In addition to all the issues above, overwatering can also cause root rot, which is one of the leading causes of leaf curling.
Root Rot
Root rot presents with many of the same symptoms as overwatering, since these two issues are closely related. In essence, overwatering causes root rot which is its own serious problem that causes many issues besides curling leaves.
Leaves Falling Off
The leaves can get thin at the stem and fall off, if the roots are not healthy. This is one of the most obvious signs of root rot.
Weak Wilted-Looking Plant
As you can imagine, if the roots are rotting, the entire plant can take on a sickly appearance. If your plant is looking wilted and listless, there is a very good chance it is suffering from root rot.
Mildewy Odor
Rotting roots stink. They are rotting and mildewy, which causes them to stop absorbing vitamins and minerals from the soil.
Sadly, it is just about impossible to fix root rot, once it has taken hold. You mustn't overwater your plants because you can kill them.
Heat Stress
Heat stress can cause the leaves to curl up and look brittle. Along with the other issues above, heat stress is just another problem caused by growers who are not paying attention to how to properly care for their plants.
There are some things you can do to avoid putting your plants under heat stress. If they are already suffering, you can still do the things below to help your weed plants recover from heat stress.
Maintain Proper Humidity
When the humidity gets too low, your plants lose too much moisture, making them likely to experience heat stress. Moisture forms a protective barrier from heat stress, and when the moisture is gone, your plant gets too much heat.
Ensure Good Ventilation
Stale air tends to get hotter since there is no fresh air coming in. The stale air sits on your plants' leaves and causes them to overheat with no cool air coming in to replace the hot stale air.
Ensure Proper Lighting
This one is obvious but needs to be mentioned. If you have bright grow lights emitting heat and sitting too close to your plants, they will likely cause a considerable amount of stress to your plants.
Keep your lights at least six to twelve inches from your plants when they are young and the lights are less powerful, and 12 to 18 inches when the plants are flowering and the lights are bigger.
Pests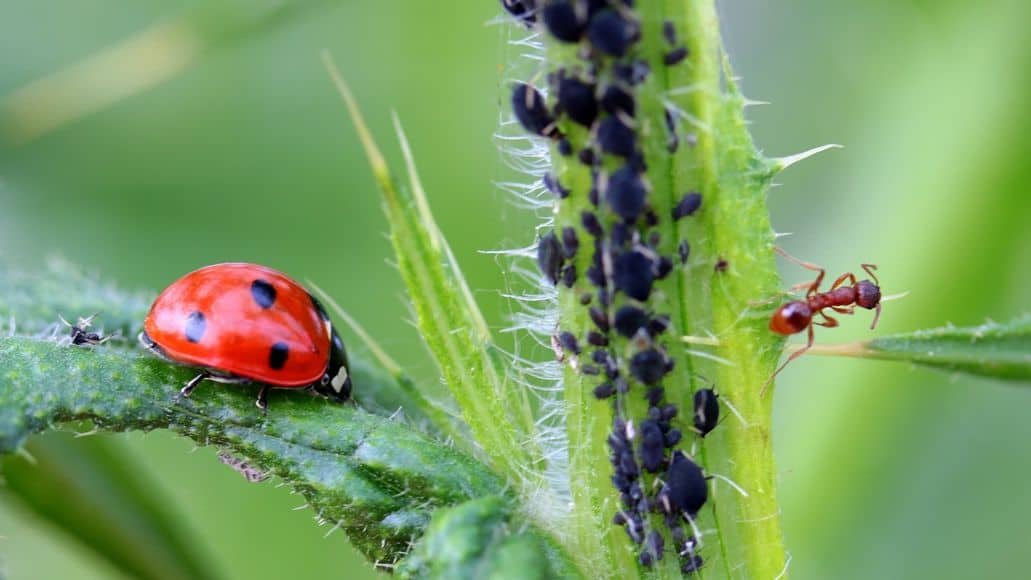 Pests can definitely cause the leaves on your plants to curl up. Like any other plant, cannabis is susceptible to many baddies that can wreak havoc on them, causing all kinds of problems, not just curling leaves. These are some of the most common pests you will encounter as a cannabis grower.
Spider Mites
These guys are very small and hard to see with the naked eye. They cause small holes and brown spots on your leaves and can sometimes leave webs behind. You can try to spray your plant with trifecta crop control to help get rid of the spider mites on your cannabis plants.
Fungus And Mold
I put these in the same section but they are different beasts. Both of them can cause severe issues for your cannabis plants. You can read more about fungus and mold on your cannabis plants here.
Gnats
Gnats are irritating tiny flying insects that like to feed on fungi and even root hairs. If you see small gnats flying around your plants, it is worth it to check your soil and roots for fungus and root rot. You'll also want to learn how to get rid of gnats in grow room.
Aphids
Aphids are terrible little monsters that can destroy your plants completely. Luckily, you can get rid of them and save your grow, if you know what to do. Learn how to get rid of aphids during flowering or earlier. Of course, the earlier in the grow you sport them and get rid of them, the better.
Shock From Cold
Cold shock can cause leaf curling, among other issues. It is critical to keep your plants warm and never let them freeze over, or even get cold for a prolonged period. In addition to curling leaves, cold shock can also cause the following issues.
Drooping Leaves
Your leaves can start looking wilted or droopy as a result of cold shock.
Discolored Leaves
A yellowing or orange color appearing on your leaves is another symptom of cold shock. However, several other issues can also cause this symptom. Before you decide your plant has cold shock, look for other symptoms beyond discolored leaves, since it is such a generic problem.
Mushy Or Black Parts
Certain parts of your plants may turn black and get mushy. This is your plant dying and decaying. Not a good thing to see at all. Please don't ever let your plant freeze. Black mushy plant parts are a sure sign your plant is in trouble.
Loosening Of The Root Ball
A tight cohesive root ball is a sign of a happy, healthy plant. On the other hand, a loose wiry root ball is a bad sign. This can happen when your plant is suffering from cold shock. when your plant gets cold shock the roots contract and then become stiff, letting go of the elasticity they previously had.
Nutrition Deficiency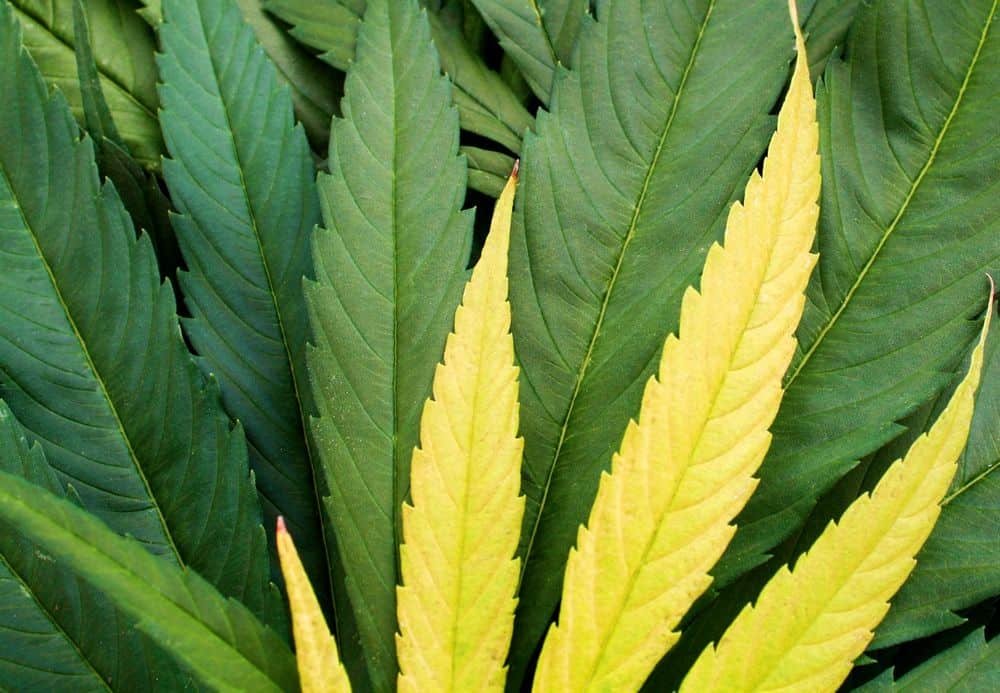 This is one of the most common reasons for leaf curling, and also one of the hardest to diagnose. That is because the symptoms resulting from nutrition deficiency also result from a host of other issues.
When your plant is not getting the right nutrition, everything can go haywire, just like in humans. The following are some of the symptoms that your plant is deficient in nutrients.
Dead Spots
Random spots on your plants dying and turning brown or black can be a sure sign your nutrition regimen is not correct.
You can differentiate dead spots from dry brown spots by observing the tissue around the spot. With dead spots, often the surrounding flesh will look darker green. With normal brown dry spots, the surrounding area looks normal.
Stunted Growth
If your plant seems to suddenly stop growing for no apparent reason, bad nutrition could likely be the cause.
Crinkled Areas
Certain areas of your leaves can begin to wrinkle and crinkle and look more textured than they should.
By far the most common nutrient deficiency in cannabis is nitrogen deficiency. Some other common ones are phosphorus, potassium, and calcium. If phosphorus is the problem, we have an article explaining how to fix phosphorus deficiency in plants.
Marijuana Strains Where Leaves Curl Up The Worst
Successfully growing a full crop of cannabis is hard, no matter which strain you are trying to grow. However, certain strains are more difficult to grow and can get leaf curling a lot more easily, if you are not on top of every aspect of the growing cycle.
Columbian Gold
Because this is all Sativa, and a native, naturally occurring species, it is temperamental and hard to grow properly. It is quite easy to get leaf curling with this species of weed. It helps if you are growing it at a high altitude, since it originated from the mountainous regions of Columbia.
Chocolate Thai
This is one of the most popular Thai strains, and also one of the most susceptible to leaf curling. There are not many of these pure strains around any more. Mostly you will find derivatives.
This strain is notorious for being hard to grow, which is probably why there are hardly any more plants being commercially grown.
ACDC
ACDC is a hybrid with exactly 50% of each type of plant present. Both Sativa and Indica are equally represented in ACDC, which is where it gets its name.
It is quite hard to grow this strain, and it is common for this type of plant to get curling leaves, along with a host of other problems. However, a well-produced ACDC is worth the trouble of growing it.
How To Prevent And Fix Cannabis Leaf Curling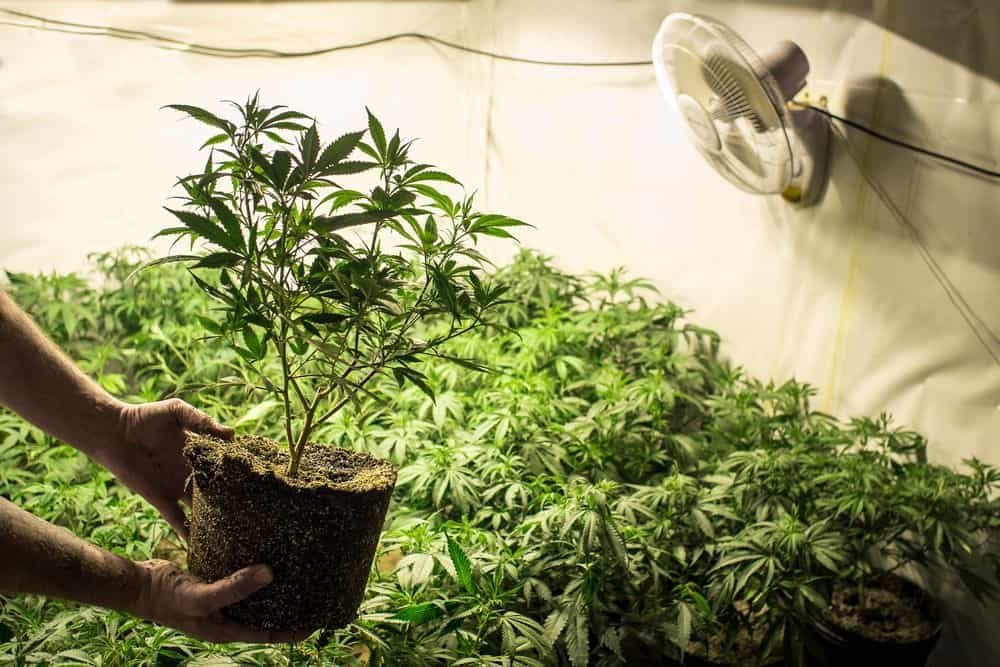 Leaf curling is caused by a host of reasons, as you know by now. The easiest way to avoid getting curling leaves on your plants is to take good care of them, by observing the basics of cannabis growing.
Water Correctly
Take care to not overwater or underwater your plants. It is best if you can afford a watering system that controls how much each plant gets and when. However, if you are manually watering, just make sure not to overwater.
Know Your Soil Content
Make sure you read the package on your soil so you know which nutrients are missing and which ones you need to add as supplements.
Be keenly aware of the nitrogen content of your soil, since this is the most common nutrient deficiency. You can purchase nitrogen test strips to keep an eye on your soil's nitrogen content.
Proper Humidity And Temperature
Make sure you have plenty of thermometers and hydrometers around your grow area. Don't let your plants get too hot, too cold, or too dry.
Proper Ventilation
Keep fresh air coming in and stale air growing out. Also, make sure there is always air circulating around the plants. Get good ventilation fans for your grow tent.
Marijuana Leaves Curling Up: Final Thoughts
Hopefully this article helped you figure out what is causing your cannabis leaves to curl up. More importantly, hopefully knowing the cause allowed you to address it and fix it.
And now that you know what caused the problem during this grow, you can take the proper steps to ensure it never again becomes an issue during future grows. In this way, we become better growers one grow cycle at a time.