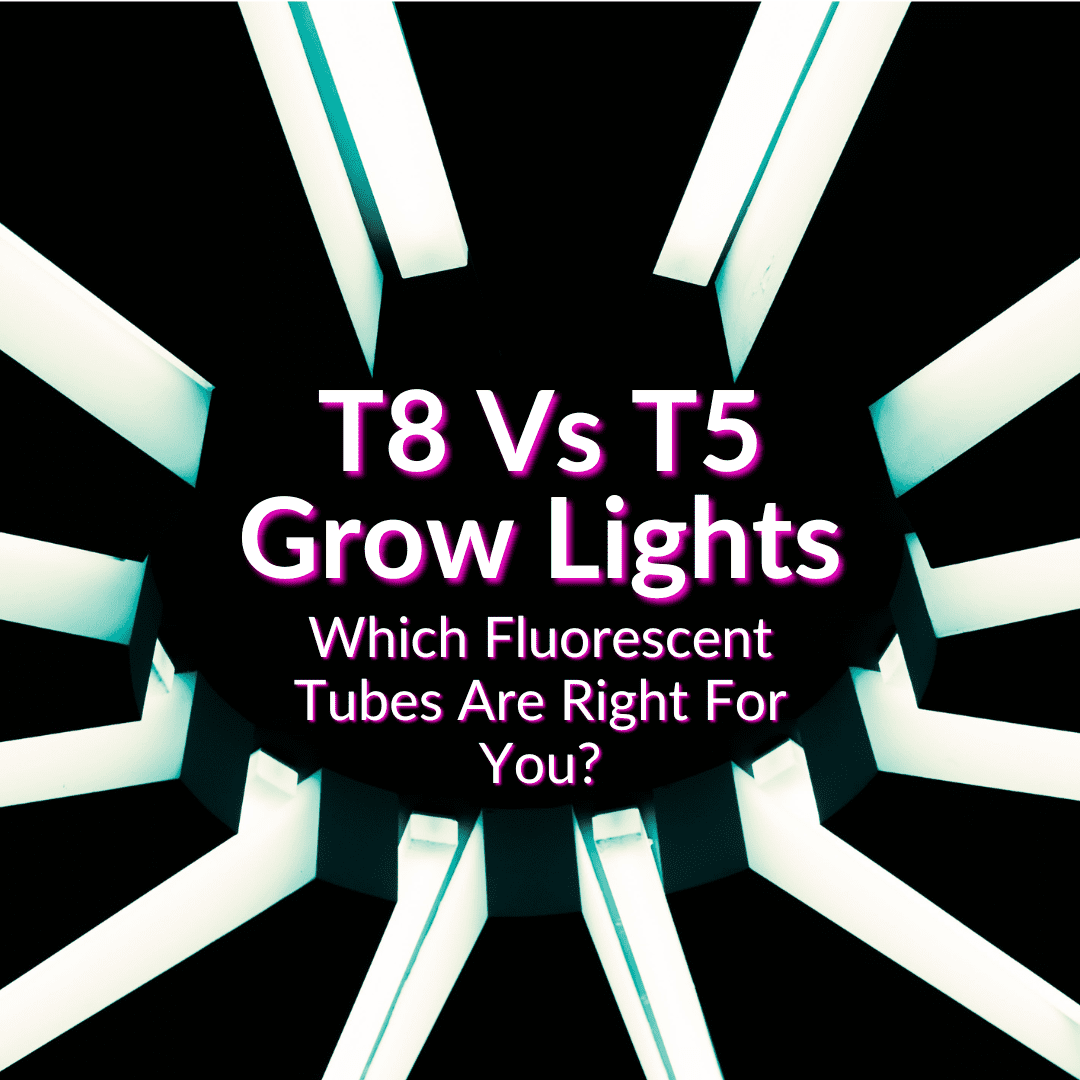 There are several different types of fluorescent tubes.
But when it comes to grow lights, two are by far the most popular.
T8 grow lights were long the staple in grow rooms.
But recently, the newer T5 fluorescent light technology has become more popular.
What advantages do T5 grow lights have over T8?
And are there still good reasons to use T8 grow lights instead of the newer T5s?
Keep reading for a full comparison of T8 vs T5 grow lights. We will help you figure out which of these two types of fluorescent grow lights are ideal for your indoor grow.
T8 Vs T5 Grow Lights
We will begin our comparison of T8 and T5 grow lights by looking at each type individually, before going into the differences and similarities of each. Then we will discuss each type's main advantages and the types of situations when each type of lighting would be ideal.
T8 Grow Lights
T8 grow lights are cylindrical lamps, or light bulbs, that are used in troffer type light fixtures which can be used as grow lights. The fixtures made to house T8 lamps are sometimes called 'T8 lights' but really, they are just troffers that are using T8 lamps.
T8 literally means Tubular Fluorescent lamp that measures 8 eighths of an inch (aka one inch) in diameter. The "T" in T8 means tubular and the 8 following the T is the diameter of the lamp, or light bulb.
The "T" style of fluorescent lamps is quite popular, because they are plentiful, and the fixtures are easy to manufacture and install.
Most of the grow lights using these kinds of lamps can be installed using only some ceiling hooks and lightweight chains to hang them. There is usually no retrofitting or cutting and drilling needed.
T8s are the second biggest in diameter of the popular T Style fluorescent lamps, second only to the T12. T12s are the biggest and beefiest tubular fluorescent lamp used for growing and retail lighting as well.
T5 Grow Lights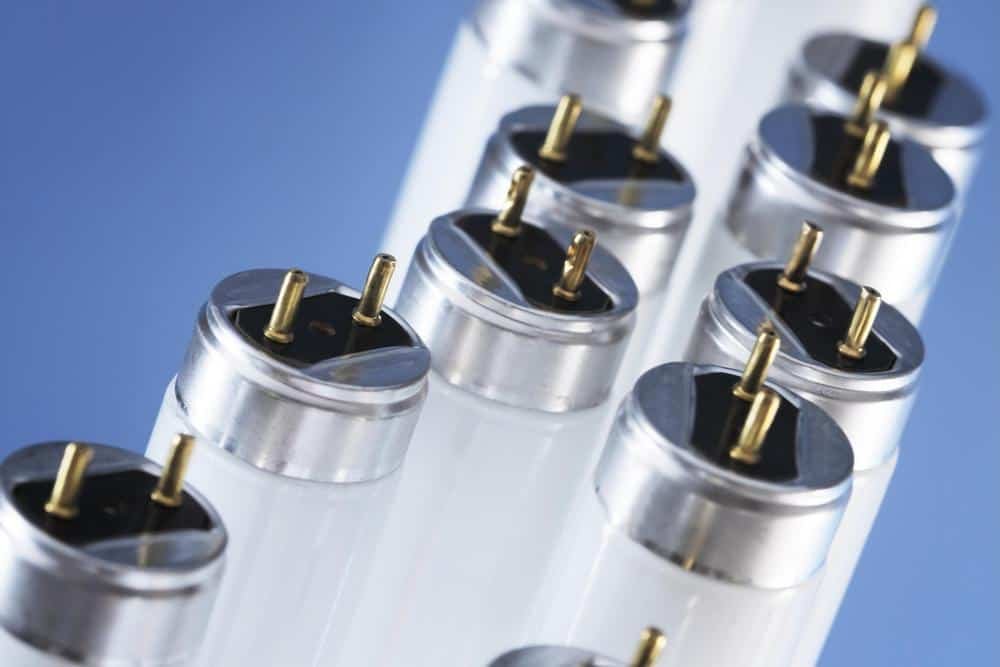 Much like the T8s described above, T5 grow lights are tubular fluorescent lamps used commercially in buildings for retail lighting, garages for task lighting, and of course in grow rooms for growing cannabis and other indoor crops.
Their name means Tubular lamp with 5 eighths of an inch diameter. The name does not describe the length of the lamp at all, only the shape and the diameter.
T5s are only 3 eights of an inch in diameter smaller than the T8s, but that small difference makes them quite a bit more popular with indoor growers.
T5 lamps are installed in long rectangular troffer fixtures and then hung on a ceiling with chains and hooks, or recessed into the surface, depending on the fixture. They can come in different lengths for different fixtures. The most popular lengths of T5s are:
34 inch
45 inch
57.6 inch
Differences Between T5 And T8 Grow Lights
Let's take a look at the major differences between T8 and T5 fluorescent grow light tubes. As already mentioned, the primary difference is in the diameter of the tube.
Size
As mentioned above, T5s are 3 eighths of an inch in diameter smaller than T8s. The T5s are 5/8 of an inch in diameter and the T8s are one inch (8/8 of an inch).
Both styles of bulbs come in many lengths. The most popular lengths for T5 bulbs are: 34, 45, or 57.6 inches. T8 bulbs tend to be longer. The most popular T8 bulb lengths are: 3 feet, 4 feet, 5 feet, and 6 feet.
Cost
T5s are more expensive to purchase and run throughout the lamp's lifetime. A four-foot T5 lamp can cost between $5.50 and $12 dollars. This article on the best T5 grow lights for vegging has some examples.
T8s are more affordable to buy and they do not cost quite as much to run either. They have been around longer and are more plentiful and not as expensive to manufacture. A 4-foot T8 lamp can cost between $3 and $5.
Output
T5 lamps have a higher ratio of lumen to watt, meaning the light output is brighter overall per watt of energy. The difference is not dramatic, but it is just enough to make T5s just a bit more powerful.
This does not seem to make sense since the T8 is larger. However, the T5 is a newer technology and can produce slightly more light in a smaller size than the older T8 technology can.
T5 Vs T8 Grow Lights: Similarities
Next, let's look at the main similarities between T8 and T5 grow light bulbs. The most obvious is the shape. At first glance, they look identical.
Shape
Both T5 and T8 lamps are tubular lamps that look like long cylinders. They are awkward to move around and very fragile. They appear to be identical in shape, although they differ in size as described earlier.
The shape of these lamps is convenient for many fixtures and allows for a large area of space to be lit with just a small fixture housing only 2 to 4 bulbs.
Technology
Both T5 and T8 lights use fluorescent technology. The plasma inside the vacuum-sealed tube lamps is excited by electricity, which is then accelerated and turned into UV radiation, which is turned into visible light. The tubes are coated internally with a chemical coating that accentuates the light.
Both T5 and T8 Fluorescent lights use a ballast, which is like the electricity cop for the fixture. It regulates the dynamic power coming from the building's power source and keeps it stable so the lights remain lit at the correct voltage. The ballast is also responsible for the ignition of the lamp, to begin with.
Use
T5 and T8 fixtures are used in almost identical situations. They are used for retail lighting, home lighting, garages, grow rooms, and any other situation where fluorescent lights are needed.
They do differ in niche situations, especially in the cannabis growing situation, with some growers preferring one over the other, for different reasons.
Fixtures
T8 and T5 tube lights are used in similar fixtures. They are long rectangular hanging troffers that usually hold 2 to 4 lamps per fixture. Both types of bulbs also go in fixtures that need ballasts, since they are both fluorescent tube lamps.
T8 Grow Light Advantages

T8 grow lights have a few advantages over the newer T5 technology. Let's take a look.
Cheaper
T8 technology is cheaper than T5. You can save a lot of money if you are buying many lamps and fixtures at the same time.
It is arguable whether T8 saves you significantly more money over time than T5 does, but there is no doubt that the initial investment is much less.
Bigger
T8 lamps tend to come in bigger sizes and bigger fixtures. If you want big fat lights, T8 is going to be more your speed. Did I mention they are quite a bit cheaper too?
T5 Grow Light Advantages
Next, let's take a look at the main advantages of T5 fluorescent grow lights over their larger T8 cousins.
Smaller
T5 lamps are only about as wide as a dime. As a result, the fixtures are also smaller. You can hang these smaller lights in places where T8s may be too large to fit.
Brighter
They may not initially look brighter at first glance, but T5 lights are more efficient in the way that they produce lumens per watt. In essence, they make slightly more light per watt used. This is good, if brightness is your main goal. Just keep in mind that the fixtures (specifically, the ballast) burn out faster too.
Why To Get T8 Fluorescent Grow Lights
Even though T8 is an older technology and not as efficient, there are still situations in which it makes more sense to go with T8.
For Home Growers
T8 lights are the old workhorses of industrial lighting. They have been around for a long time and are quite good at lighting up grow rooms without costing too much to buy or to operate over time.
The fixtures will last up to 30,000 hours before the ballast burns up, as opposed to a T5 of the same size, where the fixture dies after just 10,000 hours.
In addition to the lamps themselves being cheaper, the fixtures to house them are plentiful and also cheaper than the T5 fixtures. This cost differential is important to small growers, where every dime makes a big difference in your profits.
For Large Growers
T8 grow lights are a good choice for a cannabis grower who has a large space and wants to outfit their grow room with fluorescent lights on a reasonable budget. The fixtures are a little bigger to install, but they are no more difficult to outfit than T5s.
Most of the time all that is needed are 2 hooks and some lengths of chain. Of course, hooking them up to an automatic lighting controller is a smart move, if you have the resources.
Growth Phases
Because of the lower heat production when compared to T5 grow lights, T8 lamps are generally favorable for rooting, cloning, or seeding. That said, all fluorescent fixtures are best for those growth stages, and not as good for flowering.
Why To Get T5 Fluorescent Grow Lights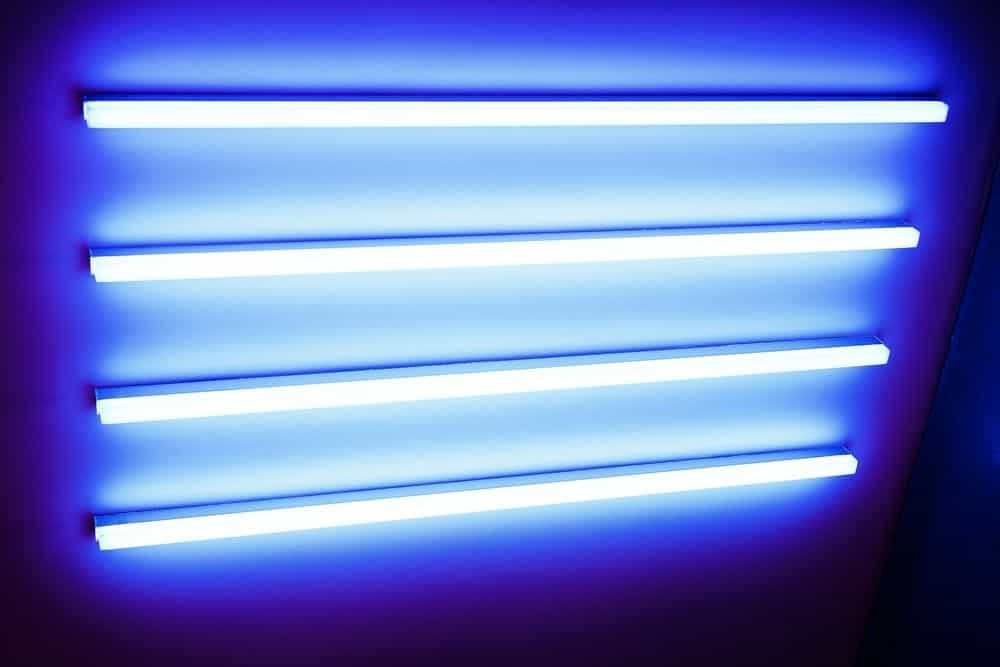 Due to their higher efficiency, T5 grow lights are the better choice for most situations. T5 lights are brighter and smaller and can save a little money on electric bills. They do produce a bit more heat, though.
The best reason to use T5 lights over T8 lights in the case of growing cannabis is for the flowering stage, when the lights may be on for 24 hours a day.
Because the lights are brighter and don't cost as much to use in the short term (they are more efficient), they are the clear better choice for the flowering stage. They are also better for other stages.
Of course, no fluorescent lights are ideal for flowering. We always recommend using them for seedlings and clones, and perhaps for vegging, if you have a smaller garden. LED grow lights are much more efficient for all stages, but especially for flowering.
T5 lights get a little bit warmer than the old T8s too, so If you have a particularly cold area, T5s could come in handy to help raise the ambient temperature just a few degrees. This is probably not going to come up in hotter climates, but in the winter in Nebraska, I am sure your plants would appreciate T5s.
A Case For Using Both
It may be worthwhile to purchase both T5 and T8 lamps for your grow room, using them side by side for different stages of your crop's growth.
A perfect example of this would be to mount some T8 and T5 side by side over a row of plants and hook them up to your lighting controller.
During the early growth phases, you could use the less bright, and cheaper to buy, T8 lamps. When your plants get to the flowering stage, you can switch to the T5 lamps for their cheaper operating cost and brighter light.
T5 Vs T8 Grow Lights: Final Thoughts
T5 grow lights are the better choice for most growers in most situations. They are better for all stages of the marijuana growth cycle, but their biggest advantage over T8 grow lights is in flowering.
That said, unless your grow area is very small, you are much better off using LED grow lights or CMH grow lights for flowering. Even for vegging, those two types are better. They are simply far more efficient than fluorescent grow lights.
The main area where fluorescent grow lights make sense is for seedlings and clones. They can also still work well for vegging, up to a point. Once your garden grow to more than a plant or two, fluorescents lose their advantages.
Another interesting option are T5 LED lights grow lights (comparison here). They are more efficient than fluorescent T5s and last far longer, too. But they do cost more initially (but far less to operate).