We've all been there.
We wanted to save some money, so we bought cheap Chinese made HPS bulbs.
Then when you get them, half of the bulbs don't even turn on.
The other half turn on, but are they actually any good?
Look, buying Chinese products is a good way to save money. But you have to know how to determine if a product is any good, since they tend to have high failure rates.
Telling if a high pressure sodium bulb is bad can be pretty simple. So check all of your bulbs as soon as you get them, so you can return any that don't work.
Keep reading to learn how to test a HPS bulb. It turns out the best way is also the most obvious.
How To Tell If A High Pressure Sodium Bulb Is Bad
When the bulb produces no light, you know it is bad. The less sarcastic answer is to look at the small tube inside the bulb.
If the tube has a dark or even a black color to it, that means it is dead and will not work. But actually, the sarcastic answer is also the best way to check. Test all of your bulbs in an actual fixture as soon as you get them.
Why Do HPS Bulbs Go Bad?
Like any light bulb, high pressure sodium bulbs eventually die. The bulbs are really called lamps, and they work when the arc tube inside is ignited.
The arc tube is the key to the lamp functioning. It is full of high pressure xenon gas. There is also mercury inside the bulb which helps it to have the slight blue color when it is working.
Inside the bulb is another element, sodium vapor, which gives the HPS lamps their name.
The sodium vapor is the last thing to be excited when a lamp is ignited. When the sodium burns it turns the blueish light to a more acceptable white light, albeit a very warm white light.
As you can see there are a lot of gasses and lots of science happening inside a high pressure sodium lamp. For the lamp to work there needs to be a tight vacuum seal maintained.
This seal is not easy to maintain. Over time, oxygen and other impurities will begin to seep in around the seal which causes the mixture of gasses inside to become contaminated and expire much faster.
When the tube inside the bulb becomes contaminated, its game over and the lamp will no longer function.
Other Reasons HPS Lamps Stop Working Or Work Improperly
Deterioration over time is the main reason HPS bulbs stop working, but it's not the only one. The following can also cause an HPS lamp to fail.
Voltage Irregularities
HPS lamps are sensitive and require a steady voltage to maintain their crazy output of clear bright light. The voltage inside the tube needs to be between 50 to 100 volts.
If this voltage spikes or goes too low for too long, it will strain the delicate balance inside the bulb, causing it to look dim, or discolored, or too bright.
If voltage is inconsistent for a prolonged period, the life of the lamp can be cut down. That is unfortunate, because they are not cheap.
Fixture Wiring Issues
Lamps do not function on their own, they need to be plugged into a fixture. There are times when a loose solder joint or frayed wire inside the fixture will cause some voltage irregularities or other issues which can affect the HPS lamp.
This is especially common with cheap fixtures, so spend a little more and get quality HID fixtures.
Other Fixture Issues
The capacitor is an important part of a fixture and when it gets old or is improperly wired, it can cause massive spikes and dips in voltage, which we already know is bad for the bulb.
You can check the input and output voltage of a capacitor easily with a meter. The same is true for the ballast. Just check the input and output voltage to figure out if one of these components is causing your bulb issue. You could also check if the ballast has been dimmed down.
The Bulb Itself
The porcelain base of the bulb can easily become cracked since porcelain is such a brittle and fragile material to begin with. A cracked base can let the outside air into the bulb which is not good.
Inside the porcelain base there are contact points as well. You can check those for signs of damage. If you notice any of these issues on your bulb, you should get a new one, because it is likely the bulb will go bad very soon.
How To Test A High Pressure Sodium Bulb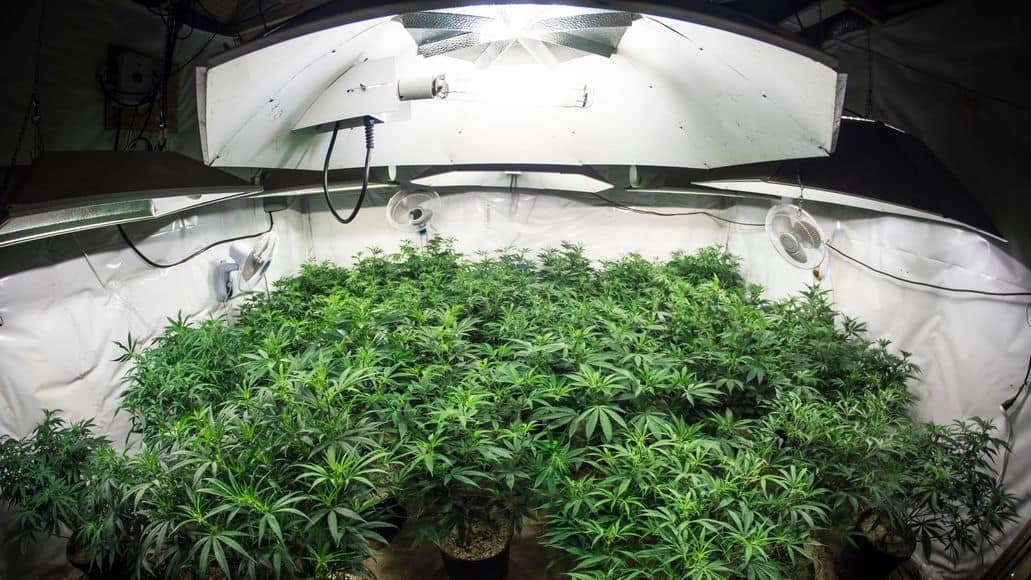 Honestly, the best way to test it is to put it in a fixture and turn it on. If you are trying to figure out whether the bulb or the fixture is bad, but it in another fixture that you know works.
Apart from that, you can use the various methods described in the previous section to test for any of those issues.
How Long Do HPS Bulbs Last?
This has a two part answer. The best high pressure sodium bulbs have a life of about 25,000 hours. If you do the math that comes out to just about 3 years give or take a few weeks or so.
This is good, and you can be sure your investment will be well worth it. However, like I mentioned earlier, this is a two part answer.
If you are growing plants indoors (like I am sure you probably are), the recommendation is to replace your lamps about every 18 months. This is a much shorter time window than normal use.
Why Do I Need To Replace It So Often As A Grower?
Consistency of light strength is an important factor in growing cannabis. The issue with HPS lamps is that over time the gasses get weaker as more of them slowly and inevitably leak out or deteriorate over time.
Cannabis is a natural plant that is technically supposed to get its light from the sun. The sun, while it is not perfectly consistent with its output, is much more consistent than the output of any light bulb, especially high pressure sodium.
What happens over time is that the bulb gets weaker. At first you will not notice any difference in the color or brightness, but your plants will.
As time goes on the bulb will be much weaker than when you first installed it, and if it gets weak during the flowering stage and you do not notice, you could be cutting the output of your harvest!
Optimum Usage Of HPS Bulbs For Cannabis Growers
Most experienced growers have their own timetable for switching out their bulbs. Some are obsessive with changing them every growth cycle, while others think this is too extreme.
The middle ground seems to be to switch out the lamps every 2 to 3 grows, with most serious growers erring on the side of 2 grows. Whether or not you follow this expensive guideline is up to you.
Considerations On HPS Lamp Replacement Frequency
The quality and strength of the light you give your plants is just as important as the nutrients and water you are feeding them. With that in mind, buying a new expensive high pressure sodium lamp every couple of grows seems well worth it when you consider the output of your harvest.
The brighter and more consistent you keep the lights in your growing setup, the happier your plants will be, and the bigger and heavier your buds are likely to be in the end.
If you are going to skimp on anything in your operation, do not skimp on the lights. They are one of the most impactful factors in how plentiful a harvest you get.
How To Tell If A HPS Bulb Is Burnt Out: Final Thoughts
My little joke at the beginning actually holds true: the easiest way to tell if an HPS bulb is burnt out is to put it in a fixture and see if it turns on.
Apart from that, you can usually see some burning inside the bulb, around the inner tube. But working bulbs often have some burning as well, so I wouldn't go by just this. It is always best to actually test the HPS lamp to see if it works.