Have started to notice your LED grow light flickering?
It's not an uncommon issue.
And it is something you definitely want to fix.
Not only is it annoying, but an inconsistent light source can negatively affect photosynthesis.
And that can affect your plants' overall health.
There are a number of possible causes for a flashing LED grow light.
Keep reading for a list of possible reasons your LED grow light is blinking, along with what you can do to fix the issue.
LED Grow Light Flickering
Some common issues that can lead to a flickering LED grow light include too low a voltage, loose wiring, having the grow lights on the same circuit as other appliances, a faulty LED light driver, or the simple fact that you have bought a lower-quality product.
Of course, if your light is still under warranty, the quickest solution may be to simply call the store or the manufacturer of the light and ask them to help you troubleshoot.
Either way, let's investigate each of the possible causes of a blinking LED grow light and see how you can fix them.
Low Voltage
If your LED grow lights are receiving less than the ideal amount of voltage, you may start to notice some flickering. But before you attempt any type of fix, you want to make sure that this is the root of your problems.
First, check the manufacturer's guidelines and specifications for your specific grow light model to see what the required voltage is for them to work correctly.
Once you have established the correct input your grow lights require, get a voltage multimeter and check the output from your sockets to see if they correlate.
Be careful when buying your LED grow lights from overseas, because different countries' power grids operate differently. If you live in a country with 110-volt outlets and you buy an LED grow light from overseas, it could be that that grow light is designed to run with power from a 220-volt outlet, in which case flickering could occur.
Loose Wiring
Loose connections or damaged wiring can also lead to flickering LED grow lights. If the wires are not securely attached to both your grow lights and the power outlet, it could lead to flickering or dimming of the grow light, because it may mean that not enough current is reaching your lights.
Check the connections at both ends of the wires to ensure no wires have worked their way loose or were not tightened enough to start with. If both sets of connections appear to be fine, you should then check the entire length of the wires for any inadvertent damage.
It could be that you accidentally placed an object, such as a chair or table leg, on the wire, and this led to the wires being damaged.
Addressed and fixed any bare wire you encounter when checking the length of your wiring. Not only will this help fix your flickering grow lights, but it could also save you from much bigger issues that could happen. For example, a fire could break out due to the damaged wiring.
Overloaded Circuit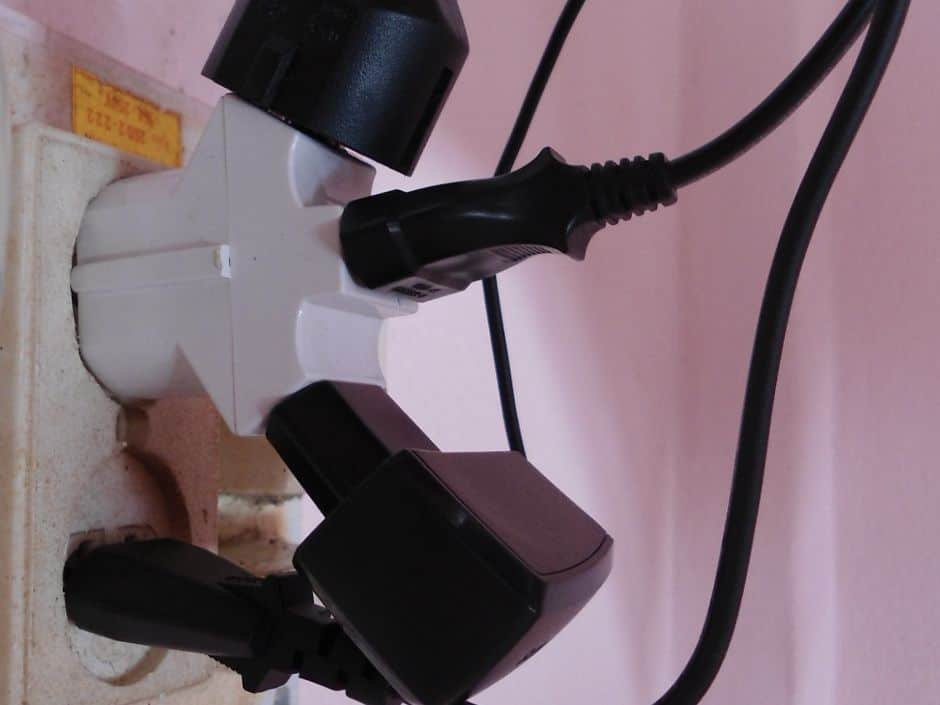 Having too many appliances running from the same wall outlet could also lead to you experiencing flashing grow lights. This happens because the current being drawn by all the other appliances is momentarily consuming more power than the outlet can supply. There isn't enough to maintain a steady flow through your LEDs too.
To ensure consistent power reaches your grow lights, make sure they are connected to their own dedicated circuits and that they aren't sharing a circuit with any other power-hungry appliances or devices.
Faulty LED Light Driver
LED drivers ensure sufficient current reaches the LED to illuminate it at the required brightness, but they must regulate the current to prevent damaging the LED with too much power.
If the driver fails or is working improperly, you may experience some blinking from your grow lights, due to the current not being properly regulated. It can also cause an LED grow light half stopped working type of situation.
If you have other devices on the same circuit, the problem can also be exasperated by the extra draw from the other appliances. If your LED grow lights have already served you well and are a little older, a failing driver could simply be due to natural wear and tear.
Older, well-used grow lights are more likely to experience this, which can lead to the failure of important components within the driver itself, worn-out capacitors or transistors, and/or loose connections between components.
The solution is to replace the driver, assuming the rest of the light is still functioning properly. The manufacturer will help with this, assuming it is a US-based brand, but in some cases it may make sense to just replace the entire light fixture.
Lower-Quality Product
If you purchased your new LED grow lights for an unbelievably low price that seemed too good to be true at the time, it may well be that the price was indeed too good to be true.
There are myriad cheap LED grow lights available on the internet these days. And while not all of them are poorly made, many are. Mass-produced grow lights that are intended for sale to overseas customers in particular should be approached very carefully.
When buying from overseas, you bear in mind that if there are any issues with your new lights, it's going to be a bit of a headache at best to return them or get them fixed.
Many manufacturers know this, and unfortunately, they take advantage of it and use lower-quality and cheaper components in their products.
When selecting your new grow lights, pay attention to where they will be shipped from, what the warranty situation is, and whether or not you will have any consumer protection.
If in doubt, stick to manufacturers based in your own country or political region and focus your search efforts on companies that specialize in grow lights rather than ones that produce a whole range of varied electrical goods.
If you are looking for good budget brands (i.e. Chinese brands), Spider Farmer is the most reliable, with Viparspectra, and Mars Hydro also being good options (all three have US service centers and warehouses). Our post comparing Mars Hydro and Spider Farmer has more.
LED Grow Light Flashing: Final Thoughts
An LED grow light flickering is certainly annoying, but it can also have a negative effect on your plants' growth and yield. Luckily, it is usually an easy fix.
The key is figuring out what is causing the blinking light in the first place. Go through the list above to troubleshoot and fix the issue. And again, if your light is still covered under a warranty, it may be easiest to just call the store or brand and have them help you.