LED grow lights can get quite hot.
The may not emit as much heat as other types of grow lights, but they still emit a lot.
And any time you have a lot of heat, there is a risk of fire.
Plus, with any type of electrical device, there is always the risk of an electrical fire.
Are LED grow lights a fire hazard then, or is this not something you need to worry about?
The risk is not huge, but you do need to worry.
More accurately, you need to take steps to minimize the risk of a fire, so that you don't have to worry.
Keep reading to lear how much of a fire hazard these lights can be and what you should do to make sure no fire ever breaks out in your grow space.
Are LED Grow Lights A Fire Hazard?
LED grow lights can be a fire hazard. They are electrical devices that produce a lot of heat, so they do have the potential to cause a fire in your grow space. But reputable brands design their lights to minimize any potential risk.
Nevertheless, it is important to understand the risks. That is the first step to successfully managing the risks and avoiding a catastrophic incident.
The main two ways in which your grow lights could potentially cause a fire are due to faulty wiring or other electrical components or because they are installed too close to a flammable material.
LED grow lights have changed the game when it comes to cannabis cultivation and they are far safer than other types of lighting. But you do still need to ensure your LED grow lights are set up properly, to minimize any risks. Here is how to do that.
How To Minimize The Risk
Because of their reasonably low energy consumption and relatively low heat emission, LED grow lights are a cost-effective way for you to grow healthy and bountiful plants indoors.
However, improper wiring or faulty connections, exposure to moisture or liquids, substandard equipment, and placing them too close to a flammable material, are all factors that can potentially lead to a fire.
If you have set up your grow space at home, you need to address any risk, no matter how small, in order to keep both you and your plants (and your family and neighbors) safe and sound.
Residential areas and homes are often filled with flammable materials, and any fire has the potential to spread. That could lead to a huge financial loss and even a tragic loss of life.
You should take the risk of fire seriously and ensure you do everything you can to manage any risk. LED grow lights may be the safest option, since their heat output is lower than other types of grow lights on the market, but there is still some risk.
Here are some common mistakes to avoid when setting up your LED grow lights for your next batch of buds:
Avoid Low-Quality LED Grow Lights
While saving a few dollars here and there is obviously appealing, you should be aware that if things go wrong, those few dollars saved will probably not be enough to repair the damage caused by a fire.
When shopping around for your grow lights, be sure to check out reviews and read through the product's specs to evaluate the quality of the components used in the build. You can get cheap LED grow lights from reputable brands these days.
There is no need to get the absolute cheapest from some no-name brand. It just isn't worth it. See our article comparing cheap LED grow lights vs expensive ones for more on why the top and bottom price ranges are both bad values.
Make Sure The Electrical Wiring Is Done Correctly
If you need to wire your lights up before using them, unless you are a qualified electrician, it's best to get some help to ensure there are no issues.
Common mistakes that can increase your risk include cutting wires too short, leaving bare wire exposed, and failing to keep power outlets away from moisture.
Often, you will notice other, smaller issues with your grow lights, before something major happens. If, for example, the diodes on your LED grow light start flickering, or if half of the LEDs won't turn on, make sure you determine the cause and fix it.
Hang Lights At The Correct Distance
LED grow lights give off less heat than other types of grow lights, but there is still be a risk of that heat starting a fire, especially with the more powerful fixtures. You need to make sure that your lights are hung at a suitable distance from any flammable materials.
A light left on for an extended period of time will heat up any surface that is close to it. If that surface is flammable, there is a huge risk of a fire breaking out.
Also, be careful to avoid overlapping the beams from your lamps when using multiple grow lights. If there's a small area that is being illuminated by two grow lights, that area will get hotter than the rest of your grow space.
Do Not Overload The Electrical Circuit
You should also make sure your electrical circuitry is capable of running the lights you intend to buy. In the internet age, it's common for people to order items online, and often from overseas.
Be aware that different countries have different standards for electricity and electronic devices. Make sure you know the voltage of your electrical outlets and the voltage requirements of the grow lights, and that they are compatible.
Also, avoid overloading your sockets with too many plugs. Daisy-chaining multiple extension cords so that you end up with several devices running from one wall outlet is never a good idea.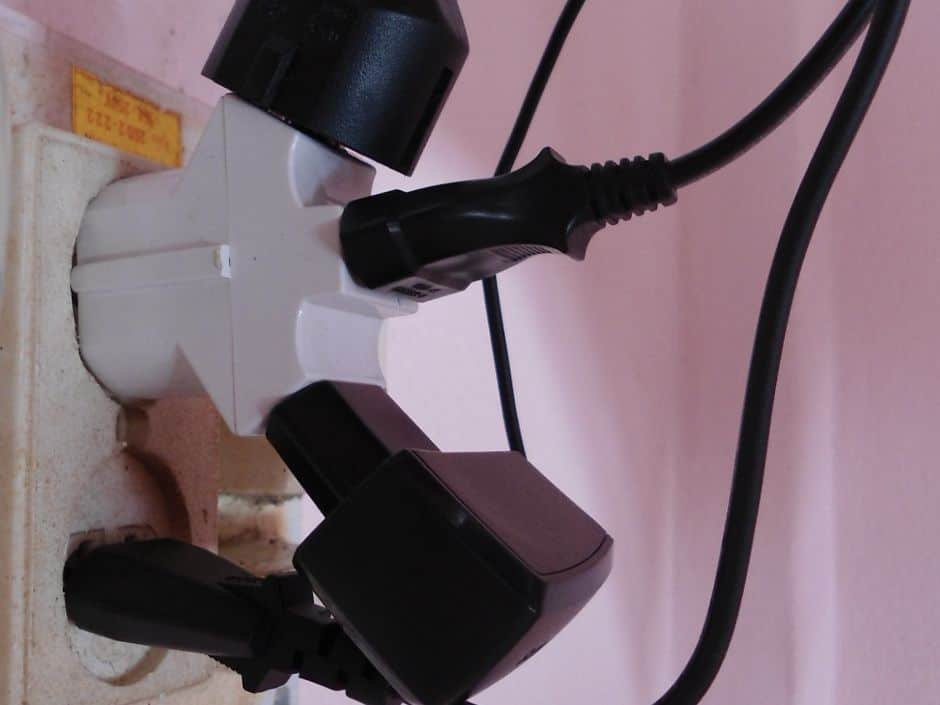 The amperage is what counts here. In the US, most standard home circuits are 15 amps. That means the entire circuit can only support electrical devices up to 15 amps in total. If you have three lights that need 6 amps each, you can only plug two of them into the same circuit.
Overall Environment of Your Grow Space
Conduct a fire risk assessment of your entire grow space. Ensure there are no unnecessary flammable materials left inside it and that everything is at a safe distance from the lights (or other sources of heat). Also, make sure you keep any water or liquids a safe distance from any electrical appliances or outlets.
Fire Risk Of Other Types Of Grow Lights
In recent years, the improvements in LED grow light technology have led to them becoming a firm favorite among growers. They are more powerful than in the past, but they are also more energy efficient than many other types of grow lights.
In addition to being cost-effective, they also give off less heat than many of the older technologies used in different types of grow lights. Other types of grow lights include:
Incandescent
High-Pressure Sodium
Metal Halide
Ceramic Metal Halide
Fluorescent
Mercury Vapor
Each of these types of grow lights gives off more heat than an LED grow light and therefore has a higher potential to cause a fire through improper placement close to a flammable material.
They are all powered by electricity. That means that all are equally capable of starting an electrical fire. In other words, that risk is more or less the same for all types of lights, but the risk of a fire due to the heat output is larger with most other types than with LEDs.
Tips For Managing The Fire Hazard In Your Grow Space
To manage the risk of fire from your LED grow lights, you should keep these safety tips in mind:
Select high-quality LED grow lights from reputable sellers and manufacturers.
Refrain from overloading your electrical sockets and extension cords.
Make sure your electrical connections are secure and kept away from sources of moisture.
Keep LED grow lights at a safe distance from flammable objects and materials.
Ensure that your grow space is well-ventilated to prevent excessive heat build-up.
Have a fire extinguisher and/or fire blankets on hand, just in case.
Are LED Strip Lights A Fire Hazard?
We get a lot of questions about strip lights and their potential to start a fire, so I wanted to address these briefly, even though LED strip lights are not common in grow rooms.
These LED strip lights are not generally hot enough to start a fire, unless you have a lot of them or have them practically touching flammable material. However, they are an electrical device, so you do still have the risk of an electrical fire.
Can LED Grow Lights Catch Fire: Final Thoughts
Yes, LED grow lights can be a fire hazard. As electrical devices, there is always the risk of an electrical fire. And since they generate a lot of heat, there is also the risk of them setting something flammable on fire.
IF you buy from a reputable manufacturer who makes their lights using quality components, you minimize the first type of fire risk. The second one is up to you. Make sure you hang your lights far enough from any flammable materials. Ideally, there should be no flammable materials in your grow space, but at the very least, it should not be anywhere near your grow lights.