I need to admit right off the bat that I am a bit biased.
I had some bad experiences in the past with Mars Hydro.
I will not let that cloud this comparison between Mars Hydro vs Spider Farmer, but it does mean I have a preference.
I want to be upfront about that and I will also incorporate it into this article.
But both brands are good. They are the two best Chinese brands currently on the market and I want to emphasize that.
Which is better for you depends on a few things.
Keep reading for a detailed comparison of Spider Farmer vs Mars Hydro. The two companies are very similar, so it really comes down to the details.
Mars Hydro Vs Spider Farmer
We will begin our comparison of Spider Farmer vs Mars Hydro by looking at each company individually, before comparing them directly. At the end of the article, we will also answer some common questions.
Mars Hydro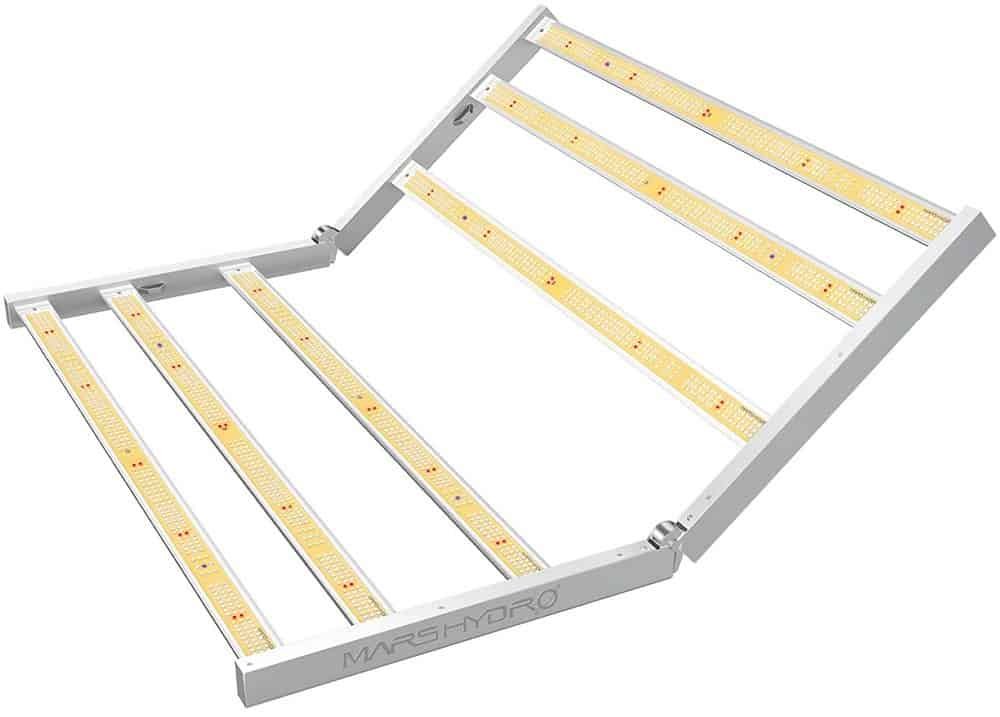 Mars Hydro has been making giant strides in the grow industry since its inception in 2009. They produce a large range of full-spectrum grow lights and tents for indoor growing.
Whether you're a first-time grower or an experienced cannabis cultivator, Mars' well-made designs are worth checking out if you're in the market for equipment upgrades or first-time buys.
The Mars Hydro range of indoor grow lights can cover a range of grow space sizes and can be daisy-chained to cover larger areas.
With pocket-friendly prices and superior-quality products, they are building a solid fan base. And with several warehouses around the world, they can offer an efficient service so you can get your next batch of buds up and running as soon as possible.
You can see our detailed review of Mars Hydro lights here.
Spider Farmer
Spider Farmer also started their journey into the indoor grow market back in 2009. They also began in China, and have now expanded to have an office in California.
With a similar range of products to Mars Hydro, they have also gained a decent reputation for the quality of their products.
The company produces a wide selection of LED lighting fixtures, grow tents, carbon filters, and various accessories to aid your next grow.
Spider Farmer makes LED grow lights in a variety of sizes to cover different-sized grow spaces, and many incorporate Samsung's excellent diodes.
The company promises fast shipping, offers five-year warranties, and is on hand to help your next crop produce healthy yields.
We also have a detailed review of Spider Farmer lights here.
Differences Between Mars Hydro And Spider Farmer
Both companies' main focus is on producing superior-quality LED grow lights. As such, there are a lot of similarities between the two companies, but there are also a few differences, though they are not major.
Reliability
Both of these companies have become much more reliable over the years and are certainly better than most Chinese brands. But they are still Chinese brands and you can expect many of the issues that come along with that: poor communication, dishonesty, and not always the best quality control.
That said, I have not personally had any issues with Spider Farmer. And from what I've heard they definitely do seem to be a bit better overall than Mars Hydro. As for Mars, my personal experience there has not been good.
I've found them dishonest (not strongly so, just saying anything to make the sale, etc.) and inconsistent. By inconsistent, I mean one sales rep will say one thing, while another will tell you the exact opposite.
This is all normal in the Chinese business culture though, and is a big reason Chinese brands have always had a hard time operating in the west. And my dealings with them were several years ago, so perhaps things have improved.
Some of you may remember that back then, they were also very active on several grow forums (maybe they still are, I don't know), even paying one (and maybe more) for the privilege of dominating the conversation.
This meant they would often remove posts critical of their products and spread a lot of half truths, and even outright lies. Again, fairly standard tactics, but something that left a permanent bad taste in my mouth.
They also had a ton of exaggerated specs for their lights in the past, but they seem to have curtailed that practice for the most part. Overall, they seem to be a much better company now, but I imagine you could still be in for a frustrating time if something goes wrong with your order.
Price
Both companies price their LED grow lights more on the cheap side than the expensive. In general, Mars Hydro lights are slightly cheaper than Spider Farmer lights, but it does depend on the line of lights. As I just mentioned, I much prefer Spider Farmer, due to some issues in the past with Mars Hydro, so I am more than happy to pay a bit more. But you'll have to decide for yourself if you prefer the slight cost savings. And this does change, since both change their pricing a lot.
Bulk Discounts
Both companies offer bulk discounts, but Mars Hydro's discounts are more generous. They give you 1% off on two lights, 2% off on 3, 6% off on 5, and 10% off on 10. Spider Farmer only gives a discount on orders of 10 or more and the discount is around 8%.
Efficiency
Both companies boast of the superb efficiency of their products, and both have admirable stats. They both use fan-less designs, and while most grow lights produce between 1.5 and 2.5 micromoles per joule, Spider Farmer's top line produces up to 2.9 micromoles per joule. Mars Hydro's top line of lights can produce a slightly less impressive 2.85 micromoles per joule.
Similarities Between Spider Farmer And Mars Hydro
These companies are incredibly similar, so this could be a huge section. We will focus only on the most important similarities. But basically, they are similar in just about every way that is not listed above in the section on their differences.
Warranty
Both Spider Farmer and Mars Hydro list details of their five-year warranties on their websites. The five-year duration helps give customers peace of mind and shows that both companies have faith in the durability of their grow lights.
Pricing
Yes, I know I mentioned pricing above as a difference. That's because the pricing does differ slightly. But overall, both brands are in the same price range. Their products are priced higher than the cheapest Chinese brands, but less than competing US brands or European brands.
Range of Products
In addition to manufacturing a similar range of LED grow lights that fit a range of grow spaces, both companies also offer similar ranges of grow tents, ventilation systems, and various other accessories to help you get the most from your next crop of plants.
In terms of the lights, both brands offer a line of vegging lights, a line of quantum board style lights, and two lines of bar style lights. One line uses the ever-popular Samsung LM301B chips, while the other uses cheaper components in order to lower the cost.
Why Choose Mars Hydro?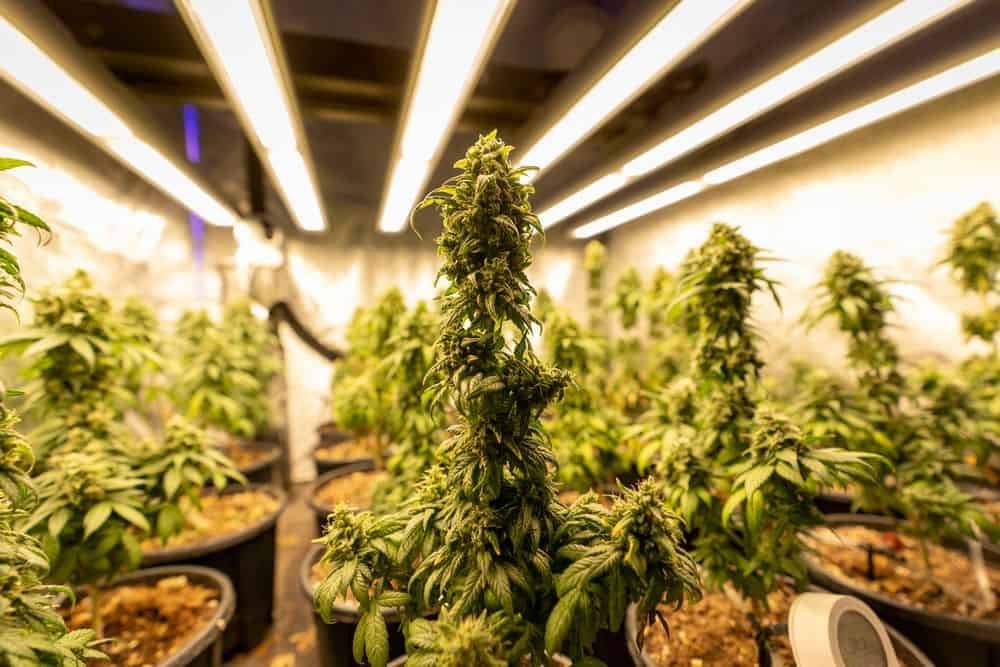 Mars Hydro generally offers slightly lower prices, ad that is the primary reason to choose their lights over Spider Farmer. But always double check, because sometimes, their lights also cost slightly more. It fluctuates a lot.
Why Choose Spider Farmer?
Even though the companies are very similar, I definitely prefer Spider Farmer due to some of my past dealings with Mars Hydro, as well as many of their past business practices. As a result, I would always choose Spider Farmer over Mars Hydro, unless the price difference is huge.
Mars Hydro Or Spider Farmer: Additional Questions
Next, we will answer some common questions people ask about these two companies. If you have any additional questions, please feel free to ask them n the comments below.
How much do Mars Hydro and Spider Farmer lights yield per watt?
Both companies' lighting systems are reported to yield somewhere between 1.8 and 2.5 grams per watt, with experienced, professional growers commonly achieving a little more than this.
How many plants can you grow with the Mars Hydro TS1000?
Mars Hydro's TS1000 is a great grow light for novices or those with a small grow space. It can provide adequate lighting for between one and four plants, depending on the size of your plants.
How many plants can you grow with the Spider Farmer SF1000?
As a similarly sized light system to the TS1000, Spider Farmer's SF1000 is also perfect for growing up to four smaller plants or two medium plants. It is ideal for a 2 by 2 foot grow tent.
Do grow lights work better than sunlight?
While photosynthesis naturally evolved as a reaction to the sun's light, the improvement in the design and technology of indoor grow lights means that they are now better than ever at mimicking natural sunlight conditions. Indoor grow lights can be just as effective as natural sunlight. Even more so, since there are no cloudy days.
Spider Farmer Vs Mars Hydro: Final Thoughts
Our Mars Hydro vs Spider Farmer comparison makes clear just how similar these two brands are. Today. Mars has a bit more of a shady history, which is why I prefer Spider Farmer.
But the truth is, you can't go wrong with either, as long as you know what you are getting. You're paying less that an American brand, because there is a higher risk of receiving a light that does not work and a higher risk of hassle trying to get a malfunctioning product replaced.
You're paying more than you would for the cheapest Chinese brands, because the quality control and customer service is much better than the deep budget brands. With those, the chances of a bad product are very high and the chances of getting it replaced are low.
Wit these brands, you are in much safer hands. Both have distribution centers in the US, so you also don't have to wait forever for your order to arrive, and for replacements to get to you if you need something replaced.