Why not help them?
It's true that most succulents grow just fine if they get enough daylight.
But they will grow better with added light.
So why not give them some?
And if your succulents don't get all that much daylight, you need to provide some additional lighting.
LED light works great for this, at least if you know how to use LED grow lights for succulents.
And that is exactly what we will cover below. Kee reading to learn all about lighting your succulents with LED grow lights.
How To Use LED Grow Lights For Succulents
Using LED grow lights for succulents is fairly easy. The key is making sure your plants get enough light intensity, but not too much. If you get that right, they will do just fine. It begins with the right light fixture.
Step One: Choose Your Grow Lights
The first important step is to choose the most suitable lights for the plants that you are growing. Succulents thrive in bright light. When choosing a grow light to buy, look for ones that have an output of at least 2,000 lumens per square foot.
The color temperature the grow light produces is just as important as the brightness. Color temperature is measured in Kelvin (K), and it indicates how cool or warm your lights are.
Warmer lights emit more red light and cooler lights emit more blue light. Warmer light is better for flowering plants.
If your succulents have flowers and you want them to bloom, it is best to go with a somewhat warmer light. A color temperature of 3000K or 3500K is ideal. If your succulents do not flower, you can go with a cooler light between 5000K and 6500K.
All of the above assumes you are using full spectrum white lights. That is ideal. But you could also go with LED grow lights that have primarily blue and red diodes. These lights once ruled the market, but these days, they are harder to find.
White lights have taken over. They simply do a better job of providing light similar to sunlight. When you compare a red and blue grow light vs sunlight, it is easy to see that the light looks quite different. Not so with white light.
What Light Level Do Succulents Need?
Most succulents enjoy high light levels, meaning they like at least six hours of light per day. During the day time, sun-facing windows help, but during the winter, you may need some extra help from a grow light.
Step Two: Set Up Your Grow Lights
Once you have purchased a suitable grow light, it's time to set it up to start providing light to your succulents. When setting up your lights, the distance you put them above your plants is crucial to getting good results.
If you put your grow lights too close to your succulents, you may scorch them. If you put the lights too far from your plants, they may not receive enough light to truly flourish.
For LED grow lights, the recommended distance tends to be between 18 and 24 inches, but you should always check the manufacturer's guidelines for your specific lights.
Step Three: Keep An Eye On Your Plants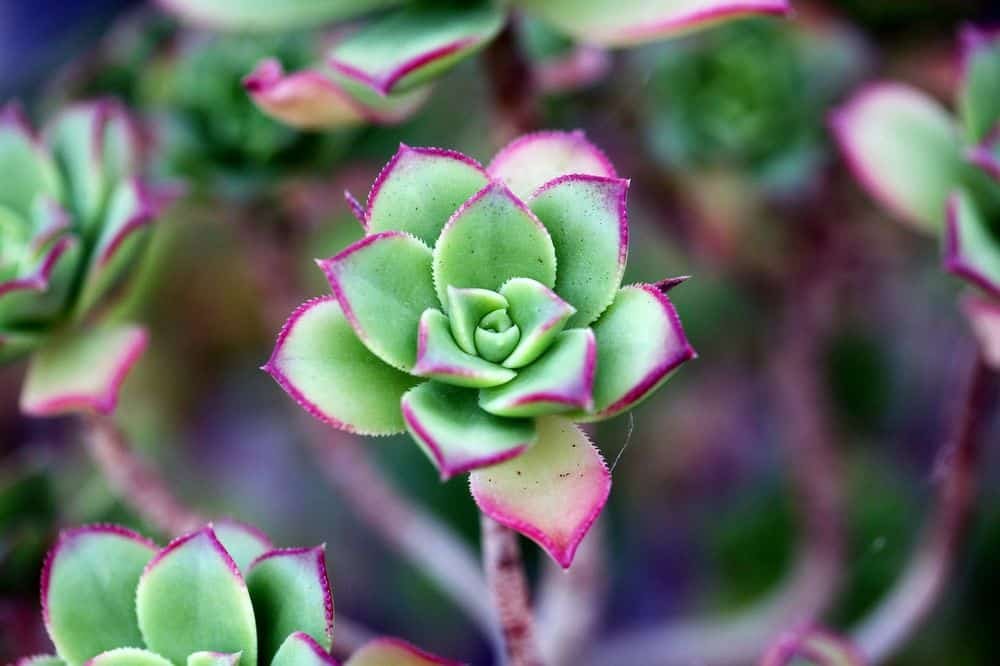 Once you have your new LED grow lights up and running, you should keep an eye on your plants and see how they react to their new light source.
If you notice your succulents showing any negative signs, you can then make the necessary adjustments to your setup, such as altering the distance between your plants and the grow lights.
Also check to see that your lights are providing even light to your plants. If your succulents are leaning towards the light, consider repositioning the lights or the plants, so that the plants receive the light more evenly. Or periodically turn the plants 180 degrees to ensure they are lit evenly.
Step Four: Add Water Directly To The Soil
In addition to plenty of light, your succulents will also need watering. But not too much. That can lead to rotting roots.
When giving your succulents water, you should add the water directly to the soil instead of pouring it onto the actual plant. This can help reduce the risk of rotting. It also helps prevent scorching while your plants are under the intense grow lights.
You should also make sure your plants have adequate drainage. This also helps ward off the dreaded root rot.
Do Succulents Need A Lot Of Water?
Succulents are hardy little plants. They don't need much water to grow. They are native to arid climates, and are capable of storing extra water in their fleshy leaves. They only need occasional help from you and your watering can.
Should You Mist Succulents?
Fully-grown succulents don't actually like to be sprayed with water, or misted. They prefer the arid climates to which they are native, and misting changes the humidity around the plant. This can lead to plant rot as well, which is why most gardeners recommend watering directly onto the surrounding soil.
Step Five: Give Your Succulents Some T.L.C.
While using LED grow lights with your succulents can yield impressive results, the lights are not a magic wand, and your succulents will still need some tender loving care as they grow. In addition to making sure they get the right amount of water, you should also prune and weed them as necessary.
Trimming of unwanted leaves can redirect energy to more important parts of the plants Weeding out any unwanted guests can ensure all the nutrients in the soil go to your succulents, instead of being 'stolen' by any uninvited guests.
How Far Away Should LED Grow Lights Be From Succulents?
I know we answered this above, but putting your lights at a good distance is key. Again, 18 to 24 inches is the standard recommendation, but you'll want to adhere to the specific recommendation given in the instructions for your light.
In the absence of instructions, a good place to start is to place the back of your hand under the light a the same distance as your plants. Keep it there for a minute. If the light gets too hot for your hand, it is also too hot for your plants.
Even if the light feels fine, you should always keep an eye on your plants to see if the lights are causing any burning. If so, back them off.
Can Succulents Grow Under Fluorescent Lights Better Than LED?
Maybe. While life would be much easier if everything were a simple yes or no, very few things are so simple. In terms of the choice between LEDs and fluorescent tubes for your succulents, there are a few things to bear in mind before making your final decision.
One such factor concerns where you will be growing your plants. If you will be growing your plants in your living space and wish for them to be on display for people to admire, then you may prefer the effects of the fluorescent tubes over the LEDs. Of course, there are also LED light tubes that look and work exactly like fluorescent ones.
And this all only applies if you are considering LED lights that emit red and blue light, rather than an all-round white light. With all white LEDs, it no longer matters. And to many even the pinking glow of a red and blue LED does not bother them.
It's purely down to the aesthetics of how your plants will look under the light. They will display better under a white light than under an odd-looking purple glow, at least to most people's taste.
Conversely, if your grow lights are purely to fuel growth and not also for display purposes, an LED grow light with a full spectrum white light ideal for growing will be ideal for your needs.
The other factor to be aware of is the overall cost of each type. LED grow lights tend to be more expensive to buy, but their superior energy efficiency and longevity mean that they end up being more economical in the long run.
Succulents Grow Lights: Final Thoughts
The key to figuring out how to use LED grow lights for succulents is to get the light intensity tha hits your plants right. This means buying a grow light of appropriate strength and placing it at a good distance from the plants.
After reading this article, you should be able to do both now. As mentioned, I recommend a full spectrum white LED grow light. Red and blue ones work too, but white ones work better and look much better.