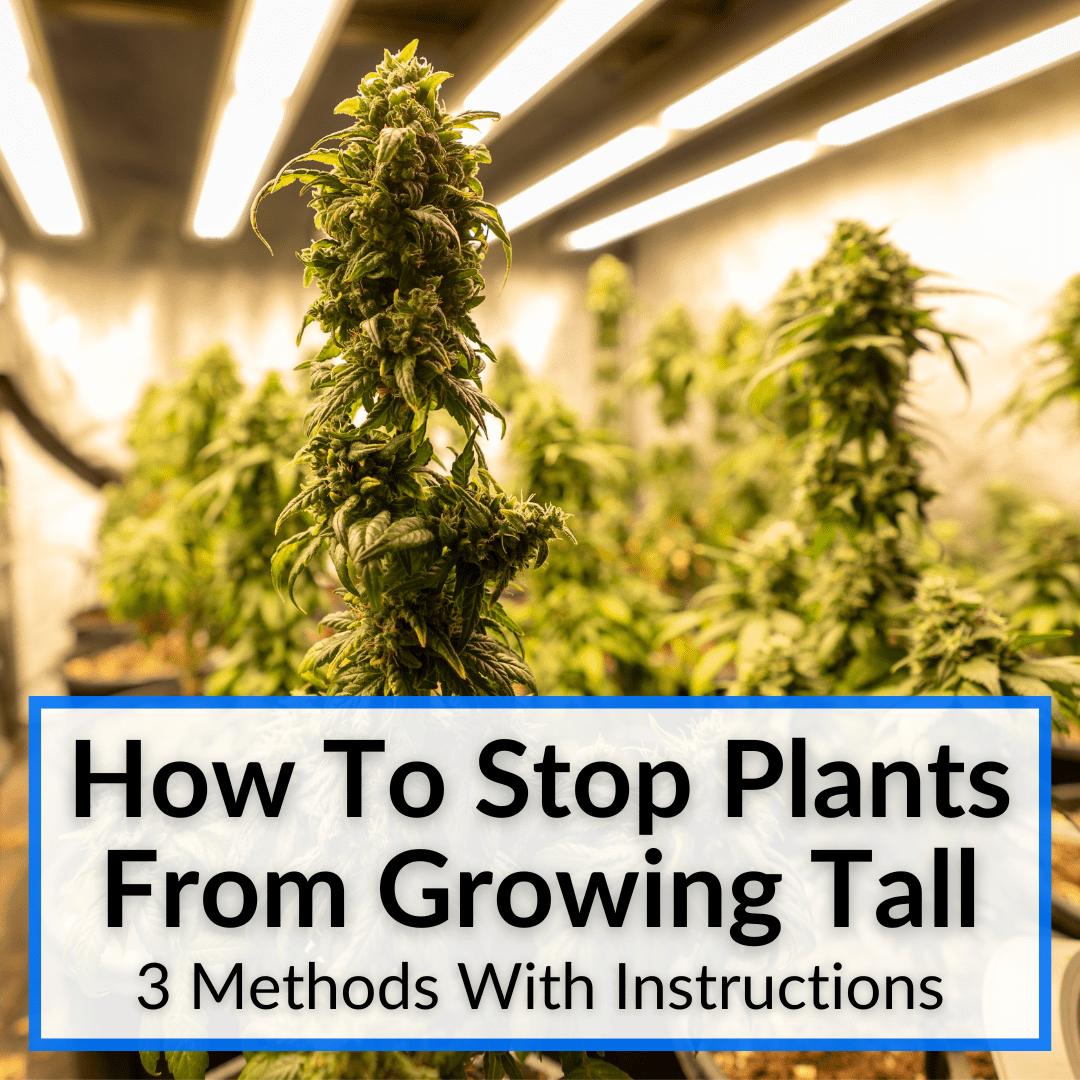 Are your cannabis plants tall and lanky?
They do this when they are trying to reach more sunlight or are competing with other plants for resources.
The solution to this is more light. But lanky plants ae not what we are talking about here
We are talking about keeping your plants from growing too tall for an indoor grow.
Encouraging shorter bushier growth instead of tall think growth can boost yields considerably.
It also makes better use of your grow space.
Keep reading to learn how to stop plants from growing tall. We will cover the three primary methods. For marijuana growers, we definitely recommend the first two over the third.
How To Stop Plants From Growing Tall
There are different ways to manipulate your plants' growth to achieve the desired size and shape. Some use plant growth regulators (PGRs), while others are non-chemical approaches.
Which you prefer is up to you. But if you are growing marijuana indoors, you will need to use one of them. By controlling your cannabis plants' growth, you can help ensure a successful harvest and maximize your yield.
We will now look at the three most popular methods used to keep weed plants from growing tall. We will explain exactly how to use each method, so that you can easily implement the method in your garden right away.
Three Methods For Stopping Your Plants From Growing Tall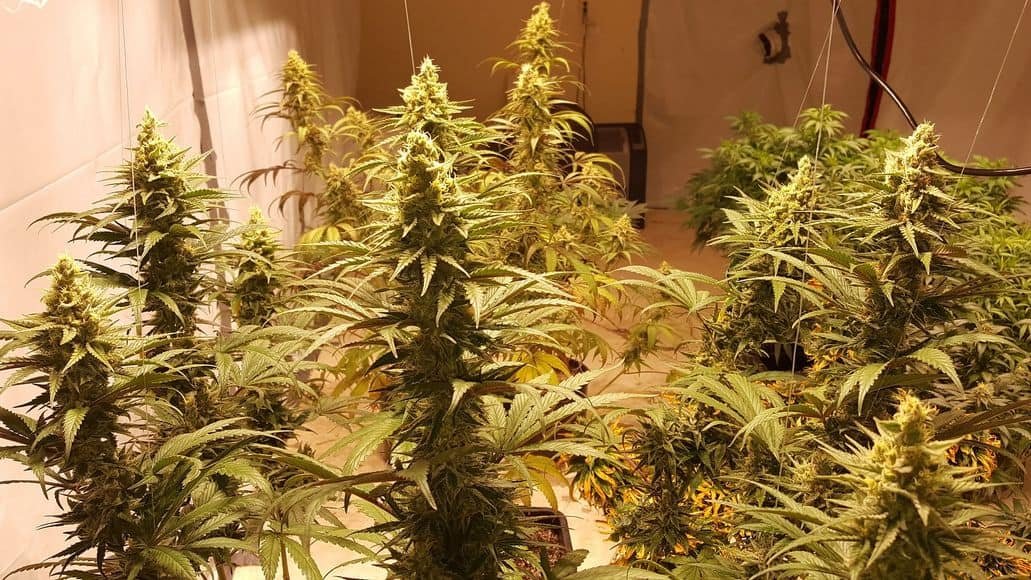 There are three main methods used by growers to manage the size of their crops:
Low-stress training involves manipulating the shape of cannabis plants to create an even canopy with more leaves open to receive light, which can lead to better yields.
Pruning is a non-chemical method that involves removing the very top of your cannabis plants to redirect its energy and promote bushier growth. By removing the top growth, you can control the plant's height and encourage your plant to become bushier.
Chemical methods involve the use of plant growth regulators (PGRs) to inhibit your cannabis plant's growth.
Low-Stress Training
If you want to control the height of your cannabis plant without using chemicals, low-stress training (LST) is a great option. LST is a method of training your plant to grow horizontally rather than vertically by manipulating its branches. Here is how you do it.
Materials Needed
Soft plant ties or wire
Scissors or pruning shears
Step By Step Guide
Start LST when your plant is very young, but with at least three to four nodes on the main stem.
Gently bend the main stem horizontally, being careful not to snap or break it.
Secure the stem to the edge of the pot with a soft plant tie or wire.
As the plant grows, gently bend and secure the side branches in the same way, keeping them at an even height.
Continue LST until your plant has reached your desired height.
LST can help your plants grow more evenly and develop a bushier shape, which can also increase their yields. However, be careful not to overdo it and stress your plant too much, which can cause stunted growth or even death.
We also have a complete guide to low-stress training.
Topping
When you 'top' a cannabis plant, you remove the tip of its main, central stem. This process stops the plant from growing taller and redirects its growth to the lower branches, resulting in a bushier plant.
Topping can also result in the formation of more colas, which are the sites on the plant where the buds grow. Here is how you do it.
Materials Needed
Sharp, clean scissors or pruning shears
Rubbing alcohol
Step By Step Guide
Wait until your plant has at least 4-5 nodes or sets of true leaves (ignore the first set of leaves).
Identify the topmost growth tip of the plant, where the newest growth is occurring.
Sterilize your pruning scissors or shears with rubbing alcohol to prevent the spread of disease.
Using cleaned scissors or pruning shears, cut off the top of the plant just above the newest growth.
Make sure to cut at a 45-degree angle to prevent water from pooling on the newly cut surface, which can lead to disease.
After topping your cannabis plant, the plant will start to develop two new main colas from the nodes just below where the top was removed. These new colas will become the main focus of the plant's growth, resulting in a bushier plant with multiple main colas instead of just one single, tall cola.
The side branches will also start to develop and grow, resulting in more bud sites and potentially higher yields. It's important to note that topping can delay the flowering stage by a few days to a week, but the increased yields and improved structure of the plant make it a fair trade off.
You can top your weed plants several times.
Chemical Methods
Chemical methods for stopping plant growth involve the use of growth regulators. These are chemicals that can alter plant growth by affecting the plant's hormonal balance.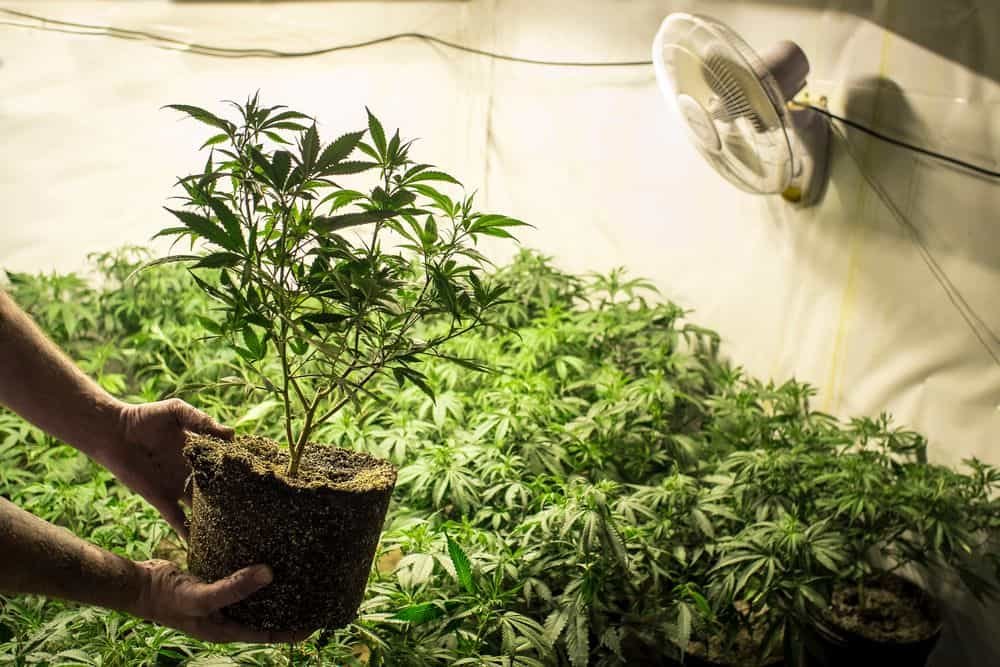 There are two main types of growth regulators: those that inhibit the production of gibberellins, a hormone that promotes stem elongation, and those that promote the production of abscisic acid, the hormone that inhibits stem elongation.
Materials Needed
Gibberellic acid inhibitors or abscisic acid promoters (available at gardening stores or online)
Measuring cups
Spray bottle or watering can
Step By Step Guide
Determine the appropriate stage of plant growth for chemical treatment. Generally, it is recommended to begin treatment during the early stages of growth.
Dilute the growth regulator according to the manufacturer's instructions. It is important to follow the instructions carefully, as overdosing can have serious negative effects on plant growth.
Apply the solution to the plant's foliage or root system using a spray bottle or watering can. Be sure to cover the entire plant evenly.
Monitor the plant's growth regularly and adjust the treatment if necessary. Some growth regulators can have long-lasting effects, so it is important to be patient and observe the plant's response over time.
It is important to note that chemical methods should be used with caution and only when necessary. Overuse or misuse can have negative effects on plant growth and health. In general, the preference is to use cultural and pruning methods before resorting to chemical methods.
Why is my cannabis plant so tall?
When marijuana seedlings are growing tall and lanky, it usually means they are seeking more light. The best way to fix leggy seedlings is give them more light, as soon as possible. Move them to a brighter environment or add a grow light to your grow space. This will keep them from growing so tall.
How To Stop Plants Growing Too Tall: Final Thoughts
When growing marijuana indoors, you want your plants to grow shorter and bushier. This makes better use of your grow space and it results in more flowering sites and, thus, bigger yields.
You have 3 main methods for keeping plants from growing too tall: stress training, pruning and chemical methods. We generally recommend against chemical solutions. Stress training and pruning are both great methods for shaping your plants the way you want them and many growers use both in combination.