Do you want to keep your indoor marijuana grow a secret?
Then you need a carbon filter.
Even if you don't want to keep it a secret, a carbon filter is a good idea.
The big question is: where to put the carbon filter in your grow room.
You have a lot of options. And none are necessarily bad.
But there is one option that is best for most grow rooms.
Keep reading to learn the best place to put the carbon filter for most grow rooms, along with some other good alternative locations.
Where To Put Carbon Filter In Grow Room
It is generally best to install the carbon filter at the beginning of the air circulation system. If you have a duct system it is best to install it where the ductwork begins, near the intake. This usually sits just below the ceiling near the beam or tent pole.
Placing the carbon filter in this location is ideal, because the hot air from the grow tent that contains the strong smell of the plants will have to be processed through the filter, before it goes through the rest of the ductwork.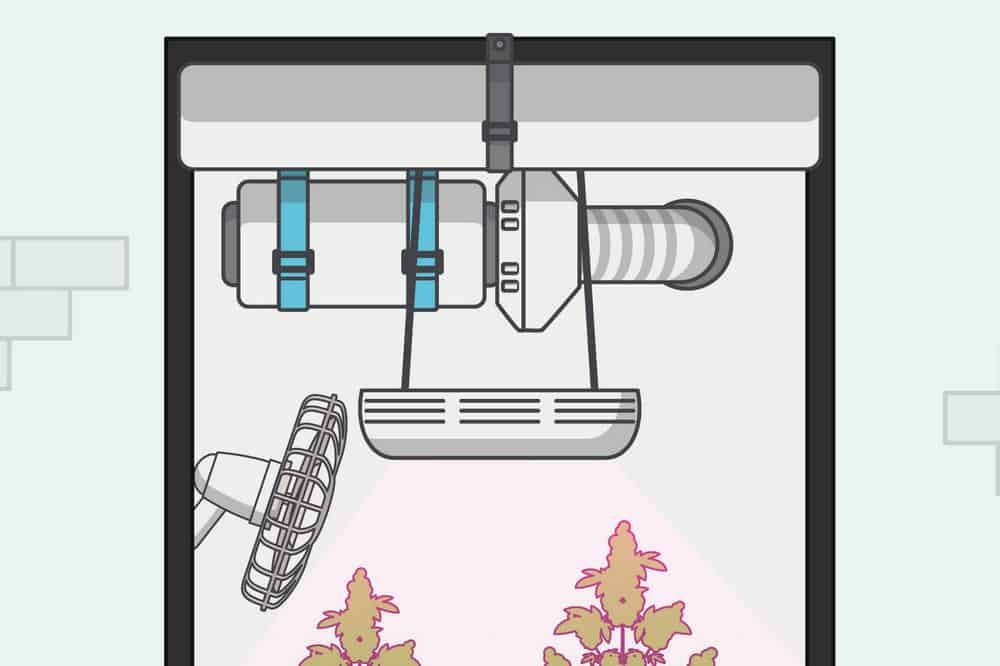 This means the air will not smell nearly as strong, by the time it hits the exhaust, because it will have already been filtered. But this is not the only place to install the carbon filter, of course.
Other Places You Can Install The Filter
You can install a carbon filter anywhere in your ducting system. As long as the air from the room is being pushed through the filter, it is doing its job.
If you are using a grow tent, you can put the carbon filter outside the tent. The end of the line, near the exhaust, is another common placement for the carbon filter.
It makes sense to place it in the middle as well. It is just that there is usually not a place to install it easily in the middle. Since most in-line filters have a spot on the end to attach to a hose end, the middle of the system has no end to attach to.
This means you would essentially be stuffing the hose and trying to secure the seams. Or you would have to cut out a section and replace it with the filter.
How To Install A Carbon Filter
Next, let's look at the process of actually installing the filter. It differs, depending on whether you are installing the carbon filter as part of an in-line ducting system, or on its own.
In-Line With Ducting System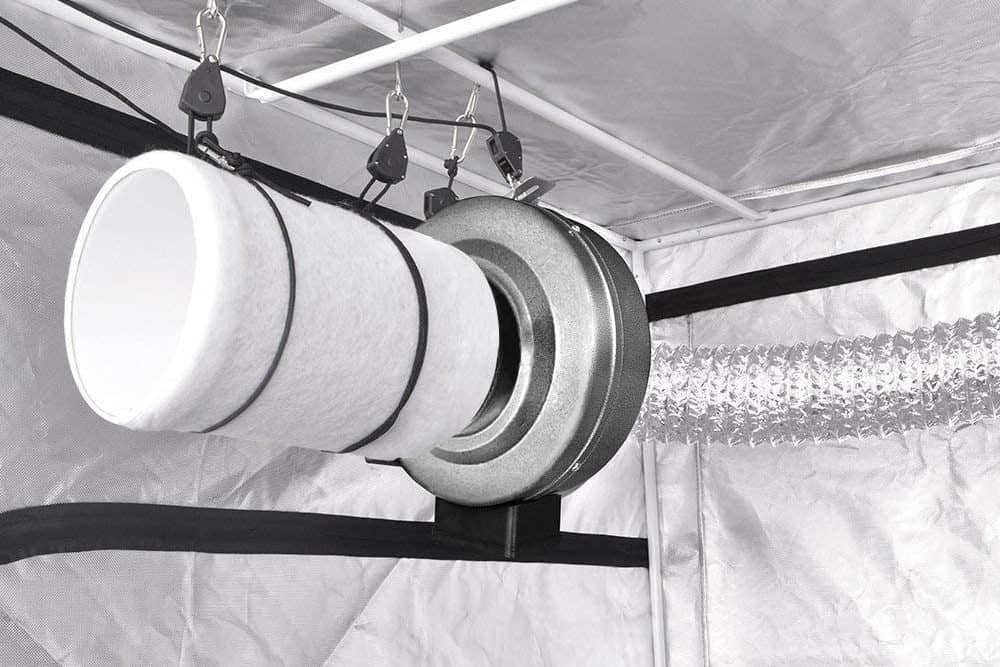 You will need to have a carbon filter that matches the diameter of your ducting system and also a matching CFM (cubic feet per minute). Connect the ducting to the filter and, if necessary, wrap the joint with duct tape.
Check your joint for any air leaks. You can use some soapy water on your finger to smear the seam and look for any bubbles that start to form. If you see bubbles forming, you have an air leak.
Leaks are troublesome because they allow nonfiltered air to escape out of the system, which nullifies the purification process.
Solo Carbon Filter Install
Use rope or metal strapping, or anything similar you have on hand, to secure the filter to your ceiling poles or beams. If you are in a room inside a building that has traditional sheetrock ceilings, you can simply hang some ceiling hooks and use rope or cable to secure the filter to the ceiling. It is best to install the hooks into a stud if possible.
If a stud is not available at the location where you are hanging the filter, you may have to choose a new location. If your carbon filter is smaller and not very heavy, you may be able to get away with using sheetrock anchors.
What Does A Carbon Filter Do Exactly?
Carbon filters are used in the A/C industry as well as the cannabis growing industry. The point of a carbon filter is to remove contaminants, gasses, dust particles and smells from the air.
Carbon filters are also used in face masks that painters and other tradesmen wear to make the air safe to breathe, by removing poisonous gases and fumes from the air.
In the case of cannabis growing, the main benefit of carbon filters is to remove the smell from the air. Many growers are trying to keep their operation under the radar, and the smell of cannabis growing is an unmistakable smell that anyone can identify immediately.
However, there are other reasons that growers like to use carbon filters in their air systems. Some growers use carbon filters to help in the fight against mold, which can ruin a crop.
Although this is a common reason carbon filters are used, they do not actually stop mold spores from spreading. To stop mold spores from spreading you will need to use a HEPA filter.
Carbon Filter Vs HEPA
Carbon filters can remove fumes, chemicals, smells, and small particulates from the air. This is useful in many applications. And the nice thing for us growers is that carbon filters are relatively inexpensive.
HEPA filters are specialized filters used to remove dust, allergens, mold, or other airborne contaminants that you do not want to breathe. If you want to have the best air quality possible in your grow setup, you should have both of these filters installed.
Types Of Carbon Filters
There are many styles of carbon filters across several industries. In the case of cannabis cultivation, there are two types you will come across.
Solid Block Carbon
In a solid block carbon filter, the carbon is ground up into a fine powdery substance and then compressed into a solid form. This results in a very condensed and effective filter system.
Granular Carbon
Granular carbon is exactly what it sounds like: loose grains of carbon or coal. The grains are placed in a tube pressed against one another, forming a wall of carbon grains.
In practice, solid block carbon is more effective at filtering out smells, gasses, or other contaminants, while the granular system provides better airflow and puts much less strain on your exhaust fan.
Alternatives To A Commercial Carbon Filter
Commercial carbon filters are the most commonly used filter in marijuana grow rooms, but they are not the only type of filter you can use when growing weed. Let's look at two other options.
DIY Filter
You can make your carbon filter using materials you can get at a local home improvement store. It will cost you about 15 or 20 dollars and an hour or so of time.
I am not going to go into great detail here, but you ca make a filter using a metal mesh chassis with some fabric and cotton medium inside. You will, of course, need to get some charcoal as well, and place the charcoal at the center of your filter.
HEPA
You can use a HEPA filter instead of a carbon filter, and it will do a similar job. Most widely available HEPA filters today also contain some amount of carbon filtration.
Keep in mind that a HEPA filter, even though it contains some carbon filtration, is not going to work as well as a dedicated carbon filter. Ideally, you would have both carbon and HEPA filters in your grow room.
How To Set Up Carbon Filter In Grow Tent: Final Thoughts
Deciding where to put the carbon filter in your grow room seems like a big decision, but it is actually fairly insignificant, in the grand scheme of things. That's because you can put it just about anywhere you like.
We gave you the location that is generally best. If that works for your setup, go ahead and just put it there. If not, either of the alternatives we provided works well, too.