Cannabis crops can do some funky things at times.
The most confusing is when they produce seeds, with no male plants in sight.
It's also the most frustrating, since it can ruin your entire crop.
So, what's the deal? Immaculate conception?
Not quite.
There are outside forces at play, but they are firmly rooted in science.
Keep reading to learn why female plants sometimes produce seeds without any males around. More importantly, we will also tell you how to minimize the chances of this happening.
Female Plant Producing Seeds Without Male
There are a couple of things we need to get straight before we dive into the possible causes behind this issue.
First, it's important to understand that cannabis is what's called a "dioecious" plant. This means that there are separate male and female plants. The males produce pollen, while the females produce the flowers (or buds) that we ultimately smoke.
In order to produce seeds, the female flowers need to be pollinated by the males. This can happen in a range of ways.
The two most likely forms of cannabis pollination are from the pollen being carried by the wind or pollinating insects, or by human intervention where specific plants are crossbred to produce new strains.
Once pollinated, the flowers will start to produce seeds. For the vast majority of cultivators, flower pollination is among the last things we want to see.
Pollination results in decreased yields and potency, because seed production causes the plant to split its energy between two tasks, instead of focusing solely on flower (and trichome) formation.
The obvious solution is to remove any and all male plants. Which is exactly what growers do. But sometimes, you still end up with seeds.
If there are no males around, how can this happen? Let's take a look at all the possible causes.
Hermaphroditism In Cannabis
The most common cause of seeds appearing on a female weed plant when there are no males about to pollinate her is actually because she ain't no lady. Well not only a lady, anyway.
Hermaphrodites (where a single organism displays both male and female sex organs) arise in a wide range of species throughout the flora and fauna world. And unfortunately, cannabis is no different.
Hermaphroditism in marijuana can be caused by either a genetic disposition to the mutation or by environmental stress. We will dive into how to safeguard against the chances of ending up with a hermy in your crop a little further down.
Cannabis hermaphrodites usually look like regular female plants, at first glance anyway. But on closer inspection, you'll notice that they will also have either small male flowers (pollen sacs)–this is the case with true hermaphrodites–or a slight variation.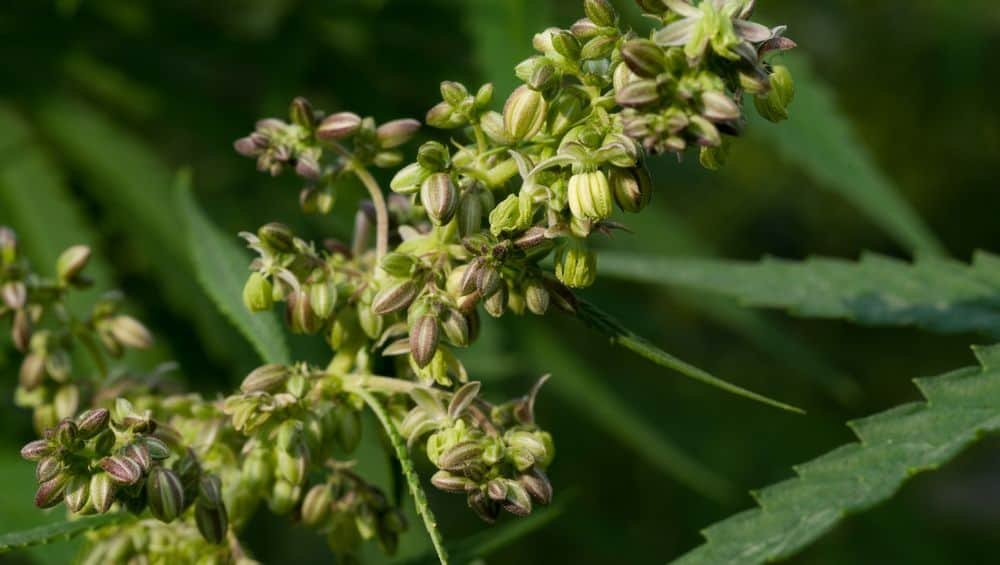 Bananas–or 'Nanners' as they are commonly referred to in the cultivation world–are small, curved, banana-shaped growths that only develop on hermaphrodite plants. These growths usually appear near the midpoint of the flowering growth stage.
True Cannabis Hermaphroditism
True cannabis hermaphrodite plants show both sex organs at the same time. With this type, you will see some flowering sites developing flowers (female), while others will develop pollen sacs (male).
These plants can self-pollinate, meaning they don't need any help from external forces (wind, insects, or humans) to produce seeds.
With true hermaphrodites, the pollen sacs develop just as they would on a fully male plant. This means that there will be a period between the sacs first forming, and breaking open to release the pollen.
If you spot a plant in your grow op that is developing pollen sacs, it's best to remove it as soon as possible. Not only will this save your crop from being seeded, but hermaphrodite plants produce lower quality buds anyway, due to the fact they are splitting their energy requirements between male and female flowers.
Some cultivators like to try and save these plants by removing the pollen sacs as soon as they appear. You can either do this manually, by breaking them off, or–if you're feeling brave–try to reverse the hermaphrodite trait with hormone therapy.
However, we wouldn't recommend this method. Pollen from a single plant can wreck a whole crop and can do so fast. Just cut your losses and remove the plant before it destroys everything.
Banana Plants (Curved Stigma)
Banana plants are female marijuana plants that have started to grow male stigma directly from the flowering sites. The nickname 'nanners' comes from these curved, banana-shaped growths.
These usually also grow in small bunches, just like bananas, and they have a yellow coloring.
This type of hermaphrodite is the riskier of the two, for two main reasons. They are less obvious to spot (especially if you haven't dealt with this issue before), and because as soon as the male stigma shows, it starts to release pollen.
Again, you should remove these plants as soon as you notice any signs of unusual growth. There is no use trying to save these plants, because it's already too late once the growths appear.
How To Avoid Hermaphrodite Plants With Your Ganga Crop
There are two main forces behind the appearance of hermies: genetics and stress. Let's take a look at each of them in turn, to see how you can avoid ending up with a hermaphrodite crop.
Genetics
If you are unlucky enough to have purchased seeds (or clones) from a bad breeder, then the chances you will end up with some hermies are higher than if you buy from a reputable source.
When buying your seeds (or clones), make sure you do some research into the breeder first. Our article on the best places to buy marijuana seeds online is a good place to start.
You can also look for online reviews, and make sure the company has a good reputation. Check out the breeder or seed company's subreddit (if they have one), or other social media platforms to see what people have to say.
There are certain genetic branches that are more likely to show hermaphroditism. In general, sativas are more prone to this trait than indicas.
So, if you are looking to buy seeds of a specific strain, check to see what the parentage is. For example, a 70/30 sativa dominant hybrid is more likely to have hermie tendencies than a 90/10 indica dominant split.
Quality plays a major role too. High quality seeds cost more, but there are more than worth the extra cost. How much are weed seeds if they are good quality and come from a reputable seed bank? They can be up to $30 a seed, but you can usually find some for less than $10.
Stress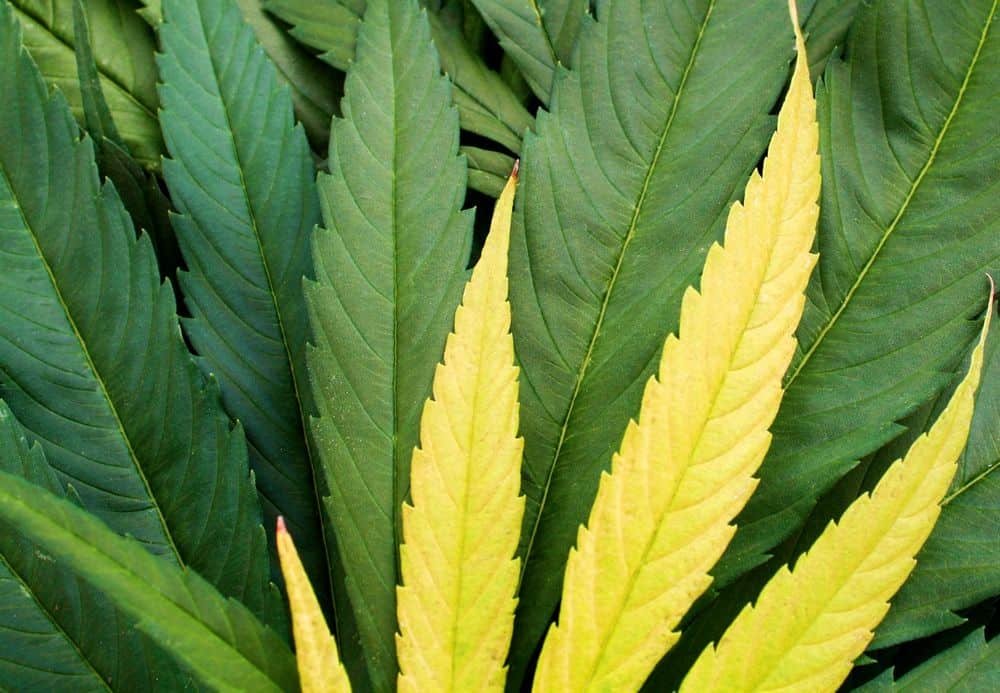 The other main factor in hermaphrodite plants is stress. As we touched on before, when a plant is under stress it will try and reproduce as soon as possible, in order to ensure the survival of its species.
There are a number of things that can cause stress to your plants, so it's important to be aware of them. Here are some of the most common:
Over or under watering
Incorrect pH levels
Lack of nutrients
Extreme temperatures (Will plants recover from heat stress?)
Poor air circulation
Light stress (from either too much or too little light)
Lack of root space
Heavy Stress Training (HST)
The best way to avoid these issues is to learn how to grow cannabis the correct way. We have an article on growing cannabis that can help with this.
Female Cannabis Plant Produces Seeds Without Male: Final Thoughts
If you've ever had a female plant begin to produce seeds without any males around, and you did not catch it in time to remove the plant before it (or she? he? they?) pollinated your regular females, you'll know how frustrating this is.
Luckily, you do have some power over it. You can't eliminate the chance of a hermie forming altogether, but you can certainly reduce the chances.
You now know the two reasons hermies form: genetics and stress. This means you can make sure to buy only quality seeds and to provide your plants the ideal growing conditions to ensure they do not undergo any stress.
Because once a hermaphrodite marijuana plant forms, there is nothing you can do to change it back. We do have an article on how to turn a hermie back into a female, but it comes with a major warning. One method is not overly effective and the other is downright dangerous.