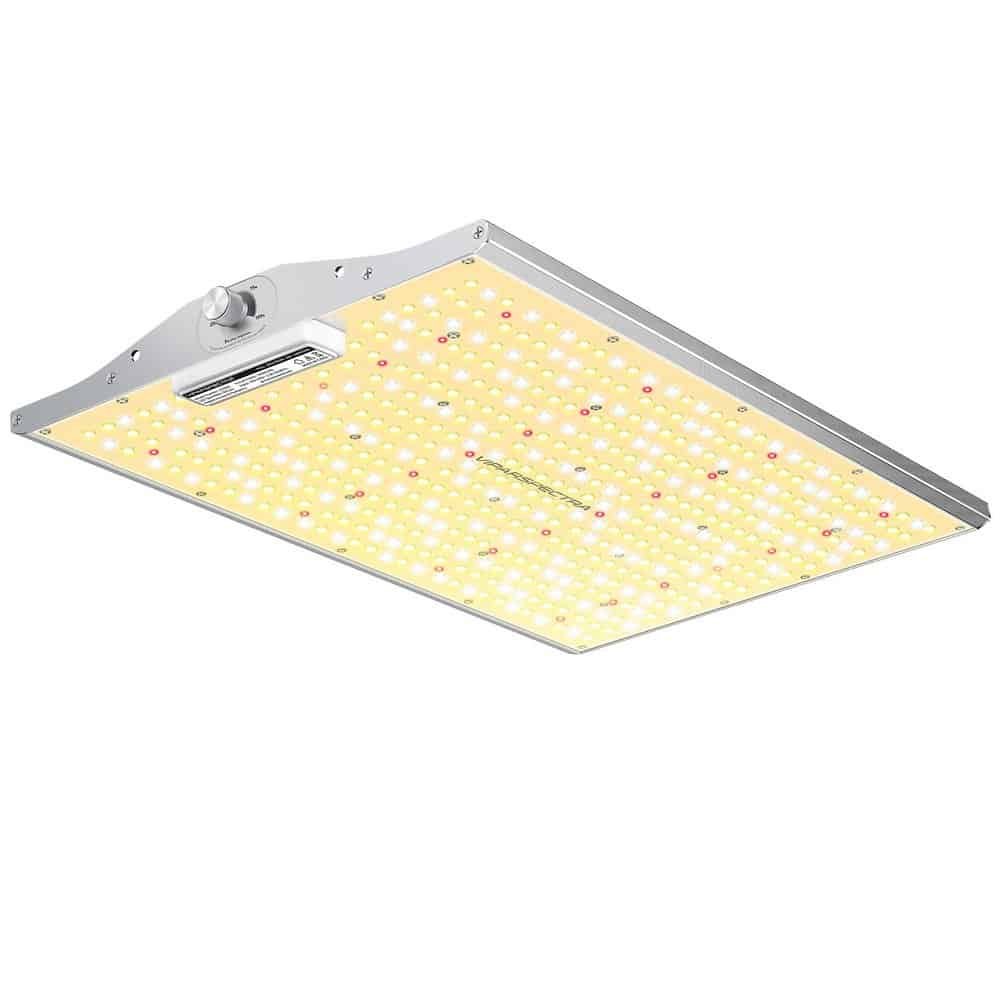 It's insane how many of these quantum board LED grow lights have been flooding the market recently.
It seems like every brand is jumping on the bandwagon and Viparspectra is no exception.
The Viparspectra XS series of grow lights features MeanWell drivers and Samsung chips, just like the top brands, but they sell for a much lower price.
This makes them exactly like so many other budget brands trying to take advantage of the surge in quantum board popularity, by making cheaper versions of HLG lights.
Is there anything to set these lights apart from the rest of the crowded market?
There is. Two things actually. They do a better job with heat dissipation and they have a US service center, meaning their customer service is a bit better than most other budget brands.
Read the rest of this review to learn how the XS series stacks up against the competition in other areas.
Viparspectra XS Series Comparison Table
All of the buttons in the table below head to Amazon, but you can actually get the lights 3% cheaper, if you buy directly from Viparspectra using the following coupon code: growlightinfo
Model
Size
Wattage
Coverage
Bloom PAR
XS1500
Check Price
Weight:
5.62 lbs.

Dimensions:
13.8" x 10.6" x 3.0"

Actual:
150 watts

HID Equiv:
250 watts

2' x 2'
675 umol/m²/s
@ 18 inches
XS2000
Check Price
Weight:
7.94 lbs.

Dimensions:
19.7" x 11.8" x 3.0"

Actual:
240 watts

HID Equiv:
400 watts

3' x 3'
830 umol/m²/s
@ 18 inches
XS4000
Check Price
Weight:
16.43 lbs.

Dimensions:
39.7" x 11.8" x 3.0"

Actual:
480 watts

HID Equiv:
800 watts

4' x 4'
1142 umol/m²/s
@ 18 inches
Viparspectra XS2000 Review
We're going to focus this review on the XS2000, because its 3 x 3 foot coverage area makes it most useful for the average home grower. Everything in this review goes for the XS1000 and XS4000 as well, apart from the specific figures, like output, coverage area, etc. You can find those in the comparison table above.
XS2000 Features
Uses 240 watts — save about 40% on your electric bill over HID lights
Equivalent to a 400 watt HID system — but costs less to buy AND to operate
Great full spectrum white light — works for all stages of growth, and especially strong for flowering
3 by 3 foot core coverage — perfect for a smaller grow tent
Dimmable — dim from 100% down to 5% to save on electricity costs when full power is not needed
Incredibly efficient — 2.7 umol/J makes it one of the most efficient grow lights available
Samsung LM301B diodes — highly efficient with deeper canopy penetration
MeanWell HLG driver — industry leading driver with a lifetime warranty
Includes IR light — promotes flowering and boosts yields
Runs on AC100 to 240V — will work in any country
Rated for 100,000 hours — 10 years with no need to change bulbs
3-year warranty and 30 day money back guarantee — risk-free purchase
Advantages
The biggest advantages of the Viparspectra XS series are the same as those for any other quantum LEDs: efficiency, great light spread, spectrum, and passive cooling. Their passive cooling is actually a step beyond most other brands.
They also sell for a lower price than many other quantum style lights, despite using the same name brand components (from Meanwell and Samsung). But they are far from the lowest cost options. In fact, Viparspectra's own Pro series costs less, because it uses no-name components instead.
Spectrum
When quantum lights first hit the market, they revolutionized the industry. Prior to their introduction, most consumers wanted "blurple" lights, with their mix of red and blue diodes and that all-too-familiar pinkish glow.
And that is exactly what most brands offered. There were a few manufacturers that started using COBs on their fixtures, which emitted all-white light. And COB lights quickly gained popularity (read about COB vs. quantum LEDs here) and got more and more growers to consider all-white LEDs.
Quantum lights pushed that much further. Now, it might even be the case that white light is more popular than "blurple" light. Either way, it is close.
What's the point of all of this? Just that the quantum board spectrum consists of an all-white light, and that the industry as a whole seems to be moving more and more in the direction of white LEDs.
As such, lights like the XS Series offer the spectrum most consumers want these days. It is also a spectrum that is very similar to natural sunlight, with light in every wavelength. This light works exceptionally well to grow and flower plants. It is great in every stage of growth.
The exact makeup of the spectrum does vary a bit from one brand to another. The Viparspectra XS series uses a mix of 3000K and 5000K white diodes, 660 nm red diodes and 730 nm infrared diodes. This gives you a full-spectrum light with a large peak in the red and orange wavelengths and a second peak in the blue wavelengths.
The added infrared and deep red light provides a boost during flowering. It leads to larger flower sites and bigger, and higher quality, yields.
Efficiency
The XS2000 delivers 2.7 umol per joule, making it one of the most efficient grow lights on the market. This efficiency is a result of the LED diodes used. Samsung's LM301B LED chips are well-known to be the most efficient on the market and to achieve a deep canopy penetration. This means larger yields while using less electricity.
And you can save even more on power costs. The MeanWell driver is dimmable down to 5%, so you can dial back on the power usage when you don't need full power, like during vegging or cloning, and save yourself some money.
Light Spread
One of the biggest advantages of a light like the Viparspectra XS2000 is the light spread. When light comes from a single source, it spreads out from that source to cover a larger area. The light that reaches the corners of the area it covers has to travel further and is thus much less intense.
This is a big problem with HID lighting and also with LED fixtures that have fewer, more powerful, diodes on a smaller fixture. Quantum boards solved this problem by using weaker diodes, but far more of them, and spreading them out across a much larger area.
The fixtures are much larger, but they result in light not having to travel as far to reach the corners of the coverage area. This means more intensity there. The wider spread of the diodes across a larger fixture leads to a much more even light spread across the coverage area.
Take a look at the PPFD (often falsely referred to as PAR) footprints of the XS2000.
You can see that the values in the corners are still fairly high. With standard grow lights, you generally see values well under 100 in the corners (you want 100 at an absolute minimum to flower plants with a high light requirement, like cannabis), but sky high numbers in the center. The XS lights give you a much better light distribution across the entire coverage area.
No Fans Needed
Using smaller diodes means less heat per diode. And spreading them out with space between them, means the heat they do generate can more easily dissipate.
As a result, these fixtures do not need noisy fans. Fans also tend to break before other components, so not having them avoids that potential hassle.
Other quantum boards simply affix the diodes to an aluminum panel, which is good enough to passively cool them down. Viparspectra takes it a step further here, by using an actual heat sink with deep grooves on it. This means far more surface area to help dissipate heat. This is perhaps the one thing that really sets them apart.
Quality Components
Given the low price of Viparspectra products in general, it is surprising to see them use the same name brand components as the top quantum board brands: MeanWell drivers and Samsung LED chips. It's even more surprising to see them keep the costs so low.
As you would expect, these lights do have a higher failure rate than the top brands. That should be obvious. But it's not as
high as most deep budget brands and, even better, getting a replacement for a defective fixture is not nearly as hard and time consuming either.
Decent Customer Service
Most Chinese brands have serious customer service issues. Viparspectra has problems, too, but it's not nearly as bad as most of the others. They have a service center in the US, which means a much faster turnaround time if you need a repair or replacement. Customer service is more responsive than most cheap brands, too.
The 3 year warranty and 30 day money back guarantee are pretty much standard among budget brands these days, but not all of them honor their warranties. Viparspectra does.
Disadvantages
There are no huge disadvantages to these lights. The main things are just the customer service and quality control issues when compared to the top brands. But again, if you compare Viparspectra against their direct competition, which is other deep budget brands, then they actually stack up very well.
Our biggest issue is the naming, which is something we've brought up time and again with Chinese brands. At least, Viparspectra is not explicitly calling this a 2000 watt light, but the name XS2000 does suggest that. We obviously understand that they feel they have to do this in order to compete with all of the other brands that also mislabel their lights.
That said, some of the top brands, like HLG and Black Dog give their lights names that reflect their actual wattage, and they do very well. Of course, they are not competing directly against Chinese brands with "3000 watt" lights that sell for $150. Viparspectra are competing against them.
Viparspectra XS Series Review: Final Verdict
The Viparspectra XS2000 LED grow light, as well as the other two XS series lights, is yet another quantum board LED fixture with Samsung chips and a MeanWell driver.
It is a crowded field. The XS series positions itself above lights that use no-name components and below top brands or even top budget brands, like Spider Farmer. Even that smaller niche is quite crowded.
How do these lights stand out? Viparspectra is a better brand than most of its direct competition, so you have a smaller chance of getting a defective light and you'll have less trouble getting a defective light replaced.
Apart from that, you get basically the same thing you get from other brands that make quantum board fixtures with Samsung and MeanWell components: highly efficient fixtures with a great spectrum for plants and a great light spread.
That's why this series gets a Grow Light Info rating of 4.5 out of 5.