Just about any light can flower plants.
But most don't do it well.
And a very select few are optimized for flowering.
The good news is: you can get great results with lights that are not ideal for flowering. Even with lights that are pretty bad at flowering.
If you already have a light that does well, but is not ideal, you can boost yield quality and quantity by adding some red-spectrum supplemental lighting. This article has some great suggestions.
If you are researching what bulb is best for flowering, read on. I will cover that below.
If you're curious, I'll give you the short answer: only CMH and LED provide the ideal light for flowering (but many other bulbs work great, too).
Light Spectrum For Flowering Plants: What Is Ideal?
Unlike what many manufacturers of cheaper LED fixtures will tell you, red light is not the perfect light for flowering plants.
It is true that they want a lot of red-spectrum light while flowering, but they also want light in every other wavelength. This article has more on the ideal lighting for plants.
Basically, plants like a spectrum that is similar to natural sunlight. Imagine that!
I'm sure you've heard that natural sunlight contains a lot of light that plants don't actually use for photosynthesis, like green and yellow light, and that is why LED lights with only red and blue light are ideal.
That is only partially true.
Plants want mostly red light during flowering and they also want a good amount of blue.
But those aren't the only colors they need, which is why the pink/purple lights are falling out of favor.. If you give them a good amount of green, yellow and every other color, they will reward you with bigger and better yields.
The ideal spectrum is one with large amounts of red, a lot of blue, and smaller, but still substantial, amounts of yellow, green and orange. It should also contain some UV and IR light.
That spectrum looks something like this.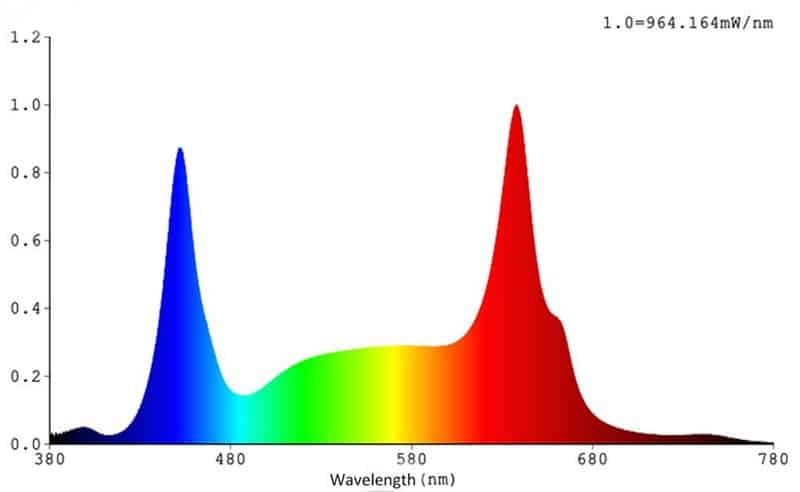 We'll cover the lights that do the best job of providing a spectrum like that below. First a quick word on all-white light.
Full spectrum white light contains every color of light and is thus well suited for flowering (though white light supplemented with additional red and blue works even better).
But white light can come in many different forms, i.e. color temperatures. Those color temperatures are measured in Kelvins. Let's see which type of white light is the best light for flowering.
Best Kelvin For Flowering Growth
The higher the color temperature, the cooler the light. That may not make much sense, but that's how it is.
Color temperatures above 5000K (the K stands for Kelvin) are considered cool light. This means the light contains more blue spectrum light than red. As such, it is not ideal for flowering.
For flowering, you want lower color temperatures, i.e. warmer light that contains more red spectrum light. Color temperatures of 2700K and 3000K are ideal for flowering. 3500K works well, too.
That said, you can flower with cooler lights. In fact, if you are using the light for every stage, you may want a light that is around 3500K to 4000K. Personally, I like 3000K white light with additional blue and red light added in.
What Bulb Is Best For Flowering?
As mentioned above, the best lights for flowering will have light in every wavelength, but with more red than anything else, and a good amount of blue as well.
In other words: full-spectrum white light with a lot of additional red and some additional blue.
Generally, you will have to combine two or more lights to achieve this spectrum. With one exception: LED grow lights. CMH bulbs also come very close.
LED Bloom Grow Lights
With LED grow lights, you can basically get any spectrum you want. And since we want a spectrum that combines full-spectrum white light with additional red and blue, we need LED lights that provide this spectrum.
I wrote a whole article about LED lights for the flowering stage. It details the highest yielding lights and also the best value lights.
CMH Lights For Flowering
Ceramic metal halide bulbs are the only other lights that have a nice full spectrum with good amounts in every wavelength. That makes them the next best bloom grow light after LEDs (the right LEDs, of course).
For flowering, CMH bulbs with a color temperature of 3000K (pictured above) or 2700K are best. If you are also using the lights to veg, you may want to get 4000K bulbs instead.
This post reviews and compares the best CMH kits and bulbs on the market.
HPS For Flowering
High pressure sodium bulbs have been used to flower cannabis for decades. They work great and are highly efficient.
But they are no longer the best options. A look at the color spectrum will immediately illustrate why.
As you can see, they give you a ton of yellow and orange light, a good amount of red, a little green and an even smaller amount of blue. Ideally, you want a lot more red and blue, a little more green and much less orange and yellow. HPS lights work great, but the two sources above work far better.
See a review and comparison of top HPS bulbs here.
Flowering With MH
Metal halide lights are traditionally knows as vegging lights and their color spectrum shows you why.
You can see they have very little red light, a lot of yellow and green and a good amount of blue. The lack of red light makes MH bulbs poorly suited for flowering. When it comes to metal halide vs. HPS for flowering, there is no question that HPS is better.
T5 Flowering Bulbs
T5 fluorescent lights are very good for seeding/cloning and vegging, but are they any good for flowering? They are, actually. Since fluorescent lights come in many different color temperatures, you can get warm white bulbs with a color temperature of 2700K or 3000K.
Those work great as a flowering stage light, but only for a small garden. If you have many plants, you will need many of these lights. Once you get many fluorescent lights, their inefficiencies relative to HID and LED start to make a big difference.
In short: the best T5 bulbs for flowering work great for a smaller grow, but if you have a larger garden, you are much better of with LED or with HID (specifically CMH).
These are the best T5 fixtures on the market.
CFL Bloom Bulbs
Everything said about T5 bulbs above goes for compact fluorescent light bulbs as well. Bulbs with a warm white light (2700K – 3000K) work great as a bloom grow light, but only for a small grow.
I actually prefer them to T5 bulbs, because they are more flexible. You can place them all around your plant and fill in any shadow areas, which is not possible with an overhead T5 fixture.
If you are unsure how many CFL bulbs you need, this article will help.
Bulbs For Flowering: FAQ
The following two questions are ones I get all the time. Both were already answered above, but I wanted to address them in their own section, to make it easier to find the answers.
Can You Use MH For Flowering?
Yes, you can use metal halide bulbs for flowering, but I would not advise it. Red light is most important for flowering and MH bulbs emit very little red spectrum light. If you are flowering with metal halide only, your plants will suffer.
If you are going to use MH blulbs for flowering, make sure you supplement them with a light that contains large amounts of red.
Why Is HPS Better For Flowering?
HPS bulbs emit primarily yellow, orange and red light. The red light, especially, is what plants want when flowering. That said, they also like to get a decent amount of blue and light in every other color, too. HPS bulbs don't give you much blue light, so, while they are great for the flowering stage, they are not ideal.
Best Bulb For Flowering: Final Thoughts
In the past, growers used HPS for flowering. For vegging they either used HPS as well, or the used metal halide. These days, we have far better options.
When it comes to HID lighting, CMH bulbs are better than HPS or MH. They work great for all stages of growth, so there is no need to switch bulbs when going from veg to bloom. They are also more efficient.
But the best option for flowering of all is now LED light. LED grow lights have improved so much, and come down in price so much, that they now easily beat all other types of grow lights.