Most COB grow lights are worthless.
Not the Aglex Cob LED grow lights.
All four lights in the Aglex COB Reflector Series (the 600W, the 1200W, the 2000W and the 3000W) are impressive. They ranked only a tenth of a point behind the Phlizon COB in our ranking of top COB plant lights.
But the Aglex lights cost quite a bit less. That will likely make them the top choice for many.
But Aglex is a typical Chinese brand.
That means exaggerated specs. The listed wattages are the most egregious of their misclaims.
That's always the case with Chinese brands.
If you can ignore that, you are getting one of the best bargains on the market at the moment.
Let's take a closer look at the main specs for the 4 Aglex fixtures.
Aglex COB Lights Comparison Table
Model
Size
Wattage
Coverage
Output
Aglex 600
Check Price
Weight:
4.2 lbs.

Dimensions:
9.4" x 9.4" x 2.2"

Actual:
108 watts

HID Equiv:
150 watts

2' x 2'
643 umol/m²/s
@ 18 inches
Aglex 1200
Check Price
Weight:
6.5 lbs.

Dimensions:
13.8" x 9.8" x 2.2"

Actual:
210 watts

HID Equiv:
300 watts

3' x 3'
1261 umol/m²/s
@ 18 inches
Aglex 2000
Check Price
Weight:
12.8 lbs.

Dimensions:
16.5" x 16.5" x 2.2"

Actual:
408 watts

HID Equiv:
700 watts

4' x 4'
1764 umol/m²/s
@ 18 inches
Aglex 3000
Check Price
Weight:
17.2 lbs.

Dimensions:
21.3" x 17.7" x 2.4"

Actual:
655 watts

HID Equiv:
1000 watts

5' x 5'
1855 umol/m²/s
@ 24 inches
Aglex 2000W COB LED Grow Light Features
This review focuses on the 2000 watt version for the specific numbers, but everything written here goes for the 600 watt, 1200 watt and 3000 watt Aglex COB lights as well. The differences in specs can be seen in the table above.
Uses 408 watts — save about 50% on your electric bill over HID lights
Equivalent to a 700 watt HID system — but costs less to buy AND to operate
Ideal spectrum for plants — the perfect light for all stages of growth, with peaks on red and blue and healthy amounts of all other colors (which is what plants need)
4 by 4 foot core coverage — effective coverage for plants with high light requirements is just a bit less (3.6 by 3.6 feet)
Bridgelux BXCD1734 COBs — high quality 3500K and 7000K COB LEDs provide a m,ix of warm and cool full spectrum white light
Supplemental Diodes — 10w diodes add the perfect amount of red, blue, UV, IR and white light to the cool white COB spectrum
Dual switches — saves money, since you can turn off some of the diodes when you don't need full power
Rated for 50,000 hours — 4-5 years with no bulb changes
>>> Read owner reviews on Amazon
Advantages
The two strongest points of the Aglex COB lights are the deep canopy penetration and the perfect spectrum for plants. The coverage area is also good and I like the daisy chain feature.
Output and Coverage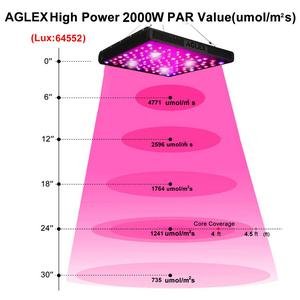 The output on this light is pretty incredible, especially when run at full power. It is about equal to a 700 watt HID system.
That said, it still lags quite a bit behind the stunning output of the Phlizon 2000w and its higher-quality CREE COBs.
The Aglex gives you a  PPFD of 1764 umol/m²s when hanging at 18 inches. That reading was taken dead center below the light.
If you back the light off to 24 inches, the PPFD drops to 1241 umol/m²/s. It achieves that output with a power usage of 408 watts.
The stated coverage area is 4 by 4 feet, but if you are growing marijuana or another plant with a high light requirement, I'd limit the coverage are to slightly less than that.
The effective coverage area for flowering is about 3.6 by 3.6 feet. It only uses 451 watts to provide this coverage and output.
Veg and Bloom Switches
This light has a veg switch and a bloom switch. The veg switch controls the 4 COBs, while the bloom switch controls all the supplemental lights.
This allows you to switch off some of the lights when you don't need full power, saving you a bit of electricity.
For vegging, the 4 COBs work well, so I would just keep the veg switch on and save some money. If you need more power, go ahead and switch all the lights on. For bloom, I would always switch both switches on and run full power to maximize yields.
Spectrum
Just like the top-rated Phlizon, the Aglex lights' have the perfect spectrum for all stages of plant growth. In fact, it is their biggest strength.
The thinking that plants want only red and blue light is outdated.
Plants want mostly those two colors, but they also want light in the green and yellow wavelengths. If they don't get it, they will not grow as fast and strong and yields will suffer as well.
That is why the best lights now combine all white diodes (white light is made up of light in every color) with additional colored diodes.
The white diodes provide all colors and the red and blue additional diodes provide more light in the two wavelengths that are most important. UV and IR diodes usually round out the spectrum.
And that is exactly what the Aglex lights give you.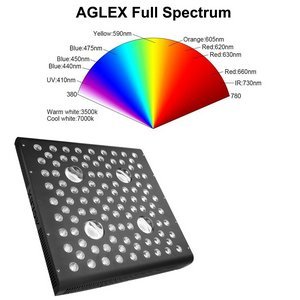 The 4 COBs emit a full-spectrum white light: two with a color temperature of 3500K and two with a temp of 7000K.
7000K is a cool white light that contains high levels of blue wavelengths light, while 3500K is warmer and contains more reddish light.
The combination is perfect for vegging, and works great in every stage.
But they didn't stop there.
The additional diodes, most of them red and blue, add a huge boost of those colors for the flowering stage. Aglex also included a couple of UV and IR diodes, which improve yield size and quality.
Other Pros
Aglex gives you a longer warranty than most Chinese brands, with a full 3 years. The fixture is rated for 50,000 hours, so you will probably never need it.
All 3 of the Aglex lights are daisy chainable, meaning you can connect several lights together and run them from a single outlet. You only want to hook up lights of the same wattage, though.
The included power cord also functions as the daisy chain cord, so you don't need to purchase a separate cord like you do with many lights. In addition to the cord, you also get a hanging kit. Yeah, the extras are not so impressive, but the light is and that's what's important.
Disadvantages
The biggest disadvantage, as always with Chinese brands, is the misleading marketing.
This is not even close to a 2000 watt light.
It uses 408 watts and is roughly equivalent to 700 watts of HID power. Similarly, the other two lights are not a 600 watt or a 1200 watt light.
But Aglex chooses to call them that and I suppose it is somewhat understandable.
Every other Chinese manufacturer does this, so if you don't, it will make your light look worse. Never mind that lower wattage is actually better, since it means it will cost you less to operate the light.
Most consumers are uninformed and have come to believe that a higher wattage means the light is better (i.e. more powerful). They don't understand that wattage is the input and PPFD is the output and you actually want a light that gives you the highest output with the lowest wattage.
And it's not just consumers.
If you've been researching LED lights for a while, you have no doubt come across other review sites like this one. How many of them write things like: "this light puts out X watts"?
A shocking number of them. That's because they have no clue about grow lights and only started a site to try and make money from uninformed consumers.
Rant over.
So Aglex is prone to exaggeration, like every other Chinese brand.
Do their lights have any other disadvantages?
Not really. Nothing major anyway, especially when compared to 99.99% of the market.
But when you compare them to the Phlizon lights, they have a few: most notable are Bridgelux COBs instead if the industry leading CREE COBs, which leads to a lower output (but also a lower price).
One thing that I find a bit disappointing is the lack of a 30 day money back guarantee. Most of the top Chinese brands offer one these days, but I suppose I can also understand why Aglex may not want to. You definitely get some people taking advantage of those.
Still, I think they should offer one and hopefully, they will come around in the near future (perhaps even by the time you read this).
Aglex COB LED Grow Light Review: Final Verdict
The Aglex 2000 Watt COB Reflector Series LED Grow Light (and its 600w, 1200w and 3000W brothers) are some of the best bargains on the market.
I personally prefer the Phlizon lights with their CREE COB chips and would spend a bit more and get those, but if you're trying to save a little money, these lights are a close second.
When you take the much lower cost into consideration, they end up with a Grow Light Info rating of 4.8 out of 5. That is the same rating as the Phlizon lights, but the actual rating is 4.75. That gives Aglex a 9.5 on a scale of ten, while Phlizon has a 9.6. You can see the direct comparison in this post on the best COB lights.
Aglex gets this high score despite being less than honest about their lights' actual capabilities, but that is simply par for the course when it comes to Chinese brands. That is why I always make it a point to mention it, but don't take it into consideration when rating the lights.
I only take their actual capability into consideration. And based on that, this light is pretty amazing, given the price.