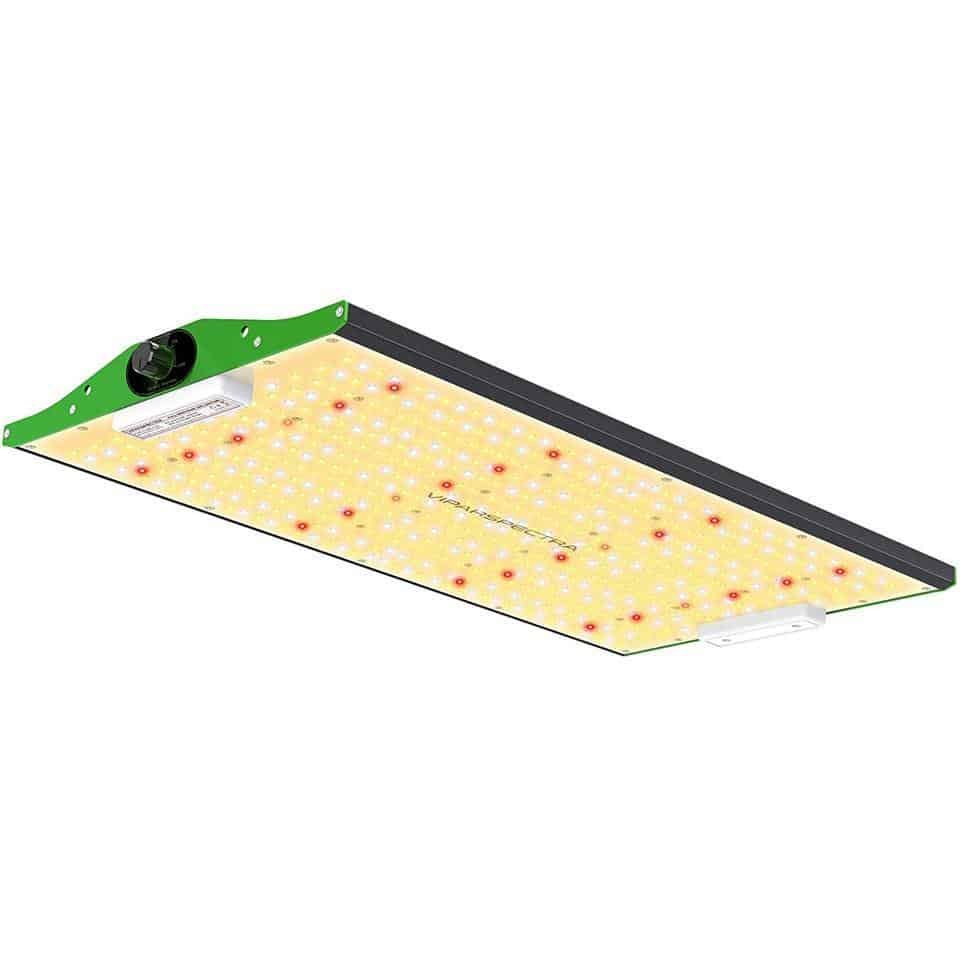 Viparspectra is back with their traditional black and green color scheme.
And this time they've applied it to a line of quantum board style LED grow lights.
The Viparspectra Pro series is a deep budget line of quantum board style lights.
Even though it is called the Pro series, it is actually their XS series that is the more professional quantum board style series, with its use of  Samsung chips and Meanwell drivers.
This one uses no-name components. Does that make it bad?
No, they're great lights. But they're not as great as ones with the brand name parts. Of course, they cost quite a bit less.
Are the cost savings worth it? Read the rest of this review to find out.
Viparspectra Pro Series Comparison Table
All of the buttons in the table below head to Amazon, but you can actually get the lights 3% cheaper, if you buy directly from Viparspectra using the following coupon code: growlightinfo
Model
Size
Wattage
Coverage
Bloom PAR
P600
Check Price
Weight:
2.27 lbs.

Dimensions:
10.8" x 10.8" x 3"

Actual:
95 watts

HID Equiv:
150 watts

2' x 2'
442 umol/m²/s
@ 18 inches
P1000
Check Price
Weight:
2.27 lbs.

Dimensions:
12" x 11" x 2.6"

Actual:
100 watts

HID Equiv:
150 watts

2' x 2'
418 umol/m²/s
@ 18 inches
P1500
Check Price
Weight:
3.27 lbs.

Dimensions:
13.7" x 11" x 2.6"

Actual:
150 watts

HID Equiv:
250 watts

2.5' x 2.5'
506 umol/m²/s
@ 18 inches
P2000
Check Price
Weight:
3.49 lbs.

Dimensions:
19.7" x 11" x 2.6"

Actual:
200 watts

HID Equiv:
400 watts

3.5' x 3'
696 umol/m²/s
@ 18 inches
P2500
Check Price
Weight:
8.99 lbs.

Dimensions:
23.6" x 11" x 2.6"

Actual:
250 watts

HID Equiv:
500 watts

3.5' x 4'
578 umol/m²/s
@ 18 inches
P4000
Check Price
Weight:
20.5 lbs.

Dimensions:
40" x 11.2" x 3.2"

Actual:
400 watts

HID Equiv:
800 watts

4' x 4'
1053 umol/m²/s
@ 18 inches
Viparspectra Pro P2000 Review
I've decided to focus the review on the P2000, which is the 200 watt version, because it is the most useful for the average home grower, since it is ideal for a 3 by 3 foot sized grow tent.
Focusing the review on a single model allows me to give specific figures and compare them to the competition. Everything said about the P2000 goes for the other versions as well, apart from the specific numbers, like wattage, coverage area, output, etc. You can find that information in the comparison table above.
Pro Series P2000 Features
Uses 200 watts — save about 40% on your electric bill over HID lights
Equivalent to a 400 watt HID system — but costs less to buy AND to operate
Great full spectrum white light — works for all stages of growth, though we'd prefer a warmer light (more red)
3 by 3.5 foot core coverage — perfect for a 3 x 3 grow tent
Dimmable — dim from 100% down to 5% to save on electricity costs when full power is not needed
Incredibly efficient — 2.7 umol/J makes it one of the most efficient grow lights available
Includes IR light — promotes flowering and boosts yields
Runs on AC100 to 240V — will work in any country
Rated for 100,000 hours — 10 years with no need to change bulbs
3-year warranty and 30 day money back guarantee — risk-free purchase
Advantages
The biggest advantages of the Viparspectra Pro series are the same as those for any other quantum board type LED grow light: efficiency, great light spread, spectrum, and passive cooling.
The primary advantages of this series over other quantum style lights are a lower price and better quality control and customer service than other deep budget brands. Let's take a close look at each advantage one by one.
Efficiency
The P2000 delivers 2.7 umol per joule, making it one of the most efficient grow lights on the market. This efficiency is the primary reason quantum style lights have become so popular in recent years. They simply give you more output per watt consumed (and thus, per dollar you spend on electricity).
What's more, many quantum fixtures use drivers that are dimmable, and this one is no exception. You can dim it from 100% all the way down to 5%. This allows you to save on power costs, when you do not need the full power of the light (like during vegging, cloning or seeding).
Spectrum
The spectrum has always been a huge advantage of quantum style lights and it has actually been improved on even further. First generation quantum boards had only white LEDs, and they all had the same color temperature, usually 3000K, 4000K or 5000K.
The newest generation now features a mix of warmer and cooler light (3500K and 6500K, in the case of the Pro series), with additional red (660 nm) and infrared (730 nm) diodes.
As you can see, the resulting spectrum has a large peak in the blue wavelengths and another peak in the red and orange wavelengths. If you've seen other quantum board spectral charts, you've probably noticed that they usually contain more red and less blue.
That is because most use warmer white diodes, preferring 3000K to 3500K and 4000K or 5000K to 6500K. We prefer that as well, since more red light is better for flowering. The Pro series spectrum works great, but a warmer spectrum would be better.
The additional red and infrared diodes help during flowering, promoting more and better buds, but a warmer white mix would help even more. That is why we prefer the quantum lights from HLG or Spider Farmer, but obviously, those cost more as well.
Viparspectra's own XS series has a warmer spectrum, too. Those lights also cost more than the Pro series, but not much more. They are still budget lights.
Light Spread
A more even light spread is another huge advantage. Quantum boards have a bunch of smaller diodes spread out over a larger surface area. This obviously makes for a more even coverage than a fixture that is smaller and has fewer, more powerful, diodes packed into that central area.
Light intensity also deteriorates exponentially as the distance from the source increases, so light that has to travel from a central point to the corners of the coverage area is going to arrive at the canopy much less intense than a light that travels more directly from above.
As you can see in the above PPFD (or PAR) footprint charts, the PPFD in the corners is not much smaller than the PPFD in the center of the coverage area. Most traditional grow lights (HID or LED) have a much higher value in the center, but much lower values in the corners.
That's great if your growing a single plant, but not if you want multiple plants, across the entire coverage area, to receive sufficient light.
You can also see from the footprints that this light covers a 2 x 4 foot area exceptionally well. Of course, it also covers the 3.5 by 3 foot area the manufacturer claims very well.
This more even light spread is only one advantage of the larger boards with multiple smaller diodes. Better heat dissipation is another.
Heat Dissipation
Having many smaller diodes spread out over a larger surface naturally spreads out the heat those diodes generate as well. The end result is that this fixture does not need any fans to dissipate the heat. Passive cooling is sufficient, in the form of the thin, black aluminum heat sink you see on the top of the light fixture.
Low Price
The Pro series lights cost less than most other quantum board fixtures, and they even cost less than Viparspectra's XS series, which are also quantum style lights. The reason they cost less is that they use no-name components, instead of Samsung chips and Meanwell drivers.
There are other brands that do the same and also sell for a similar price, but they are not generally reliable. Viparspectra does better quality control and they do a much better job with customer service, but they are definitely not perfect (see the disadvantages section below). They are a deep budget brand, after all.
Good Quality And Service
We're listing quality control and customer service in the advantages section, because it is an advantage that Viparspectra holds over its primary competition, which are other deep budget brands. As big reason for that is that is has a US location, so customer service requests can be handled more quickly.
However, even with the US location, it still lags behind brands like HLG or Spider Farmer in both quality and service, but those are both more expensive brands, especially the US-made HLG lights.
Disadvantages
The Viparspectra Pro Series does not have any major disadvantages, especially when you take the low price into consideration. Most of the negatives are things that could also be seen as positives, depending on your needs. That's why you'll have already seen many of the following points above in the advantages section.
Spectrum
We'll begin with the spectrum, because this is a big advantage of all quantum board lights, but depending on your needs, could be a big disadvantage for these particular lights.
As mentioned above, the Pro series spectrum is much cooler (more blue, less red) than most other quantum lights. That is because it uses cooler white diodes than most of the competition. For example, HLG uses 3000K and 4000K white diodes, while Viparspectra uses 3500K and 6500K. The 3500K are slightly cooler than the 3000K, but the 6500K are much cooler than the 4000K.
The result is that these lights are better at vegging, seeding and cloning than any other quantum lights, but they are worse at flowering. They will still do a great job, but a fixture with warmer light will do a better job.
No-Name Components
As mentioned previously, the Pro Series does not use Samsung chips or MeanWell drivers, both of which have become pretty standard on quantum board type of lights. Using no-name replacements obviously keeps the cost down, but these replacements are not as reliable as the name brand parts. They also don't have a lifetime warranty, like MeanWell drivers do.
Customer Service And Quality Control
We listed both of these under the advantages section. That is because Viparspectra does both better than their direct competition, which are other deep budget brands.
However, they are not nearly as good as the top brands like HLG, so we have to also consider this a disadvantage. In short, if you take the price into consideration, then Viparspectra does well here. If price is no object, they do not.
Viparspectra Pro Series Review: Final Verdict
The Viparspectra Pro P2000 LED grow light is a great addition to the ever more crowded quantum board LED market and the same goes for the rest of the lights in the series.
These fixtures are not nearly as well-made as HLG lights, but they cost far less and definitely outperform their price range. The only real drawback is the blue-heavy spectrum.
And even that is not necessarily a drawback. It is actually an advantage if you need a vegging light and even for flowering, it still works really well. But a light with more red in its spectrum will work better for flowering.
If you want a budget light with more red in the spectrum, check out Viparspectra's other quantum series, or go with a Mars Hydro TS or SP series light. Otherwise, the Pro series give you a lot for a low price. That's why it gets a Grow Light Info rating of 4.4 out of 5.