COB LED grow lights give you the best canopy penetration of any light on the market.
They also have an all-white color spectrum that is great for growing plants.
But quantum board lights have a similar spectrum. And they cost less.
Does it still make sense to get COBs?
And if so, are Timber the ones to get?
The truth is: only a few companies make good COBs. And most of them are not cheap.
That is why many growers have turned to DIY COBs. And Timber grow lights are the biggest name in DIY COBs.
Or they were.
While they used to offer DIY kits, they now sell complete fixtures that are ready to run out of the box. But the prices are still incredibly low, which actually makes them better than a DIY solution.
DIY prices, without the need to actually DIY.
Let's begin with a comparison of the different options they offer, and then take a closer look at their single COB light (upon which all larger fixtures are based) to find out if the Timber COBs are a better fit for your grow room than a quantum board light.
Timber COB LED Grow Lights: Comparison Table
Model
Size
Actual Wattage
Output (PPF)
Max Coverage
Daisy Kit
Check Price
Dimensions:
9" x 9" x 4"

Weight:
1.2 lbs.

100 watts
195 μmol/s
up to 2 ft²
3 Daisy Kit
Check Price
Dimensions:
9" x 9" x 4" ea.

Weight:
1.2 lbs. ea.

285 watts
565 μmol/s
up to 8 ft²
5 Daisy Kit
Check Price
Dimensions:
9" x 9" x 4" ea.

Weight:
1.2 lbs. ea.

475 watts
945 μmol/s
up to 14 ft²
Model 2VL
Check Price
Dimensions:
21" x 8.5" x 4"

Weight:
9.2 lbs.

210 watts
466 μmol/s
2' x 2.5'
Model 3VL
Check Price
Dimensions:
42" x 10" x 4"

Weight:
15.2 lbs.

320 watts
675 μmol/s
2' x 4'
Model 4VL
Check Price
Dimensions:
42" x 10" x 4"

Weight:
18.4 lbs.

425 watts
932 μmol/s
2' x 5'
Model 4VS
Check Price
Dimensions:
21" x 20" x 4"

Weight:
19 lbs.

425 watts
932 μmol/s
3.5' x 3.5'
Redwood VS
Check Price
Dimensions:
42" x 24" x 4"

Weight:
31 lbs.

640 watts
1350 μmol/s
4' x 4'
Fatty VS
Check Price
Dimensions:
43" x 38" x 4"

Weight:
45.8 lbs.

950 watts
2097 μmol/s
5' x 5'
Timber Grow Lights Review
Timber is a US brand that manufactures their lights in southern California. As a result, they are priced a bit higher than Chinese brands. But only a bit, which makes them a great value.
All of their fixtures are based on the single COB light, which they call Daisy. For that reason, this review will focus on the single Daisy.
Everything except for specific numbers like coverage area, output, wattage, etc. is the same for all fixtures. And those specific numbers can be found in the table above.
Timber Daisy Vero29 V7 COB LED Features
Uses 100 watts — save 40 to 50% on your electric bill over HID lights
Ideal spectrum for plants — choose from 3000K, 3500K or 4000K white light
PPF of 195 μmol/s — great output from a low power usage
2 square foot core coverage — with great canopy penetration
Vero29 V7 COB — high quality LED chip from Bridgelux
Meanwell driver — high quality dimmable driver
Passive cooling — heatsink only, no fans needed
Dimmable from 10 to 100% — reduce power usage when full power is not needed
60 day returns — of unused lights
Advantages Of Timber COBs
The primary advantages of the Timber LED COB fixtures are the great color spectrum, the deep canopy penetration and the flexibility. If you get the single, triple or quintuple daisy kits, you can hang them in any configuration you like.
Or get one of the larger fixtures, where the Daisies are already arranged so as to provide the most even coverage.
Flexibility
Let's begin this review with perhaps the greatest strength of the Timber lights: their flexibility. It is the greatest, because the other strengths are not unique to Timber.
The great spectrum is something that all white light fixtures (i.e. any COBs or quantum boards) share. The deep penetration is shared by all COBs.
But only fixtures made up of multiple single COB lights have the same kind of flexibility. That leaves very few. The primary competitor that offers something similar is Rapid LED. We'll do a direct comparison of Rapid and Timber further down in this review.
The most flexible options are obviously the kits that include the drivers and Daisy lights, but no frames. With these, you hang the lights on their own (ratchet hangers are included) or you can mount them to a DIY frame made from wood, metal or PVC.
The complete fixtures are a bit less flexible, since they have the individual Daisies affixed in place, but they ensure that you maximize the full potential, by having them mounted with the ideal amount of spacing between them.
A single daisy covers about 2 square feet. The ready-made fixtures have varying coverage areas: 2 by 2.5 feet, 2 by 4 feet, 2 by 5 feet, 3.5 by 3.5 feet, 4 by 4 feet, and 5 by 5 feet.
If one of the ready-made fixtures fits your grow space, then that is the best way to go. All you have to do is hang the light and plug it in. It couldn't be simpler. Even better, you're still paying DIY prices.
Spectrum
The Vero29 V7 COB LEDs used by Timber have a simple all white spectrum that has a good amount of light at every wavelength. It is very close to natural sunlight and is great for plants during all stages of growth.
You have three color temperature options: 3000K, 3500K, 4000K.
If you are using your light for vegging only, go for the cooler 4000K version, which has more blue light. If you are flowering only, go with the red-heavy 3000K light. If you are growing full-cycle, go with the 3000K or 3500K versions.
Most people choose the 3500K version if they are using the light for all stages of growth. This gives you a good balance of red and blue light.
That said, I think the benefit you get during flowering from the additional red of the 3000K outweighs the benefit you get during vegging from the additional blue of the 3500K. For that reason, I'd choose the 3000K for full-cycle growth as well.
Coverage And Penetration
One of the Daisy fixtures with its Vero29 V7 Bridgelux COB chips covers an area of around 2 square feet, though this varies a bit depending on the application.
Timber does not provide a PPFD map for the Daisy (or for most of their lights). The following footprint shows the PPFD of the Model 4VS across a 3 by 3 foot area at a hanging height of 18 inches. It should still give you a good idea of what to expect from these lights.
As you can see, this fixture gets a great light spread across the entire coverage area. Even in the corners, the PPFD is well over 300 umol/m²/s. The recommended minimum is 100 umol/m²/s, so this light ensures every plant gets more than adequate light, no matter where it is in the coverage area.
One of the big advantages of quantum boards vs. COBs (touted by quantum board manufacturers and quantum fans) is their better light spread. While this is true, you can see that quality COB fixtures get a great light spread too. The difference is not that big.
More importantly, powerful COB LEDs get much better canopy penetration than traditional LEDs. This makes for larger yields, because you get great bud development lower down on the plants.
In the past, the Timber lights came with reflectors (you can still see them in most of the photos), because it was thought that these focus the light downward to get even deeper penetration. It turns out they actually reduce PAR by 8-10%. Without the reflectors, you can also hang the lights closer and you get a more even light spread.
Other Advantages
Another advantage is that Timber LED fixtures do not have any fans. Not only are fans noisy, but they tend to be the first component in an LED grow light that breaks.
The heat sinks Timber uses are designed specifically for COB LEDs and keep them running far below the recommended maximum temperatures, which greatly extends their lifespan.
They are pin cushion type heat sinks fashioned from anodized single piece extruded aluminum. The pin cushion design is a major factor in making them so effective, because it provides more surface area for better cooling.
When you buy the individual Daisy lights, you also get the driver with an external dimmer (much easier to use than having to dim on the driver directly) and all the wires, hangers, etc. you need to get the light running. The ready-made fixtures include all this and the frames.
Finally, Timber LED give you a 3 year warranty on all of their fixtures. In addition to that, the power supplies have a seven year manufacturer warranty (Meanwell) and the COBs a 10 year warranty through the manufacturer (Bridgelux).
Disadvantages
There are a few potential issues with Timber COB lights, but they are only issues in certain cases. Overall, these lights do not have any real weaknesses.
The biggest problem for most is wait time. Timber fixtures are made to order. This is great, but it also means that your light will not be ready to ship immediately. You can generally expect a wait of around 7 to 10 business days before your light ships out.
If your grow room has limited vertical space, COBs might be too powerful. Their greater power means they need to hang further from the canopy, in order to avoid scorching the plants.
For some growers, the spectrum might be an issue, too. Full spectrum white light is great and has been proven to work really well, but if you add in some more red light, it works even better.
It is debatable how much better, but if you prefer to have additional red (and other wavelengths, like UV, IR, etc.), then you would be better off with a quantum board or with a full COB fixture that includes additional diodes, like the Phlizon COB series lights.
Rapid LED Vs. Timber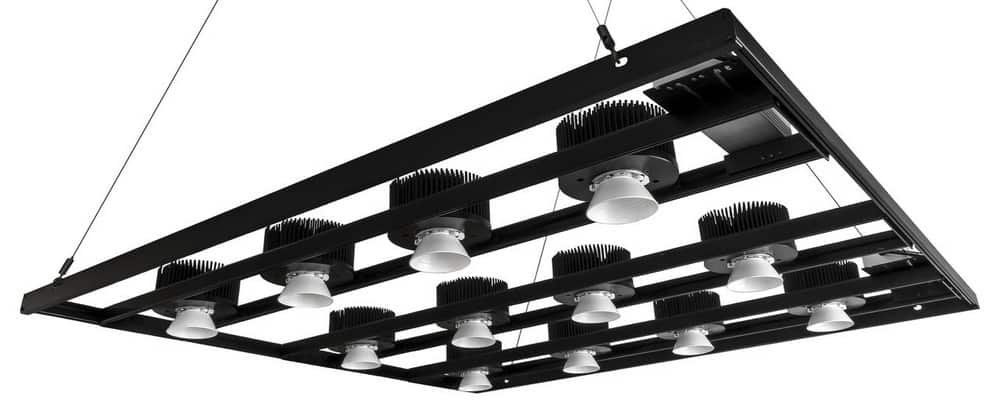 I've mentioned Rapid LED lights a few times throughout this review. That's because they are very similar to the Timber lights. Rapid's fixtures are also based on a single COB light that is combined in arrays to form larger fixtures.
The primary difference between the two is that Rapid uses CREE CXB3590 COBs, while Timber uses Bridgelux Vero29 V7 COBs. The CREE COBs are generally considered better (CREE is seen as the industry standard), but the Vero COBs are actually just as good. In this aspect, both Rapid and Timber are basically equal.
The other big difference is in the price. Rapid fixtures cost a bit less than comparable Timber fixtures. The main reason for the price difference is that Timber makes their lights in the US, while I believe Rapid makes them overseas, probably China (I couldn't find this information, but when a company is not open about where they make their lights, they make them in China).
So which should you get?
If you prefer the CREE COBs or if you are on a stricter budget, go with Rapid LED. They are great lights. You can read our full review of Rapid LED for more.
Otherwise, I'd go with Timber. I just prefer them. Their lights are a bit better made and the company is more open and has a better reputation. The cost difference is not so big that it would be worth it to me.
Timber COB Grow Lights Review: Final Verdict
A Timber LED grow light is a great option for those who want a top-of-the-line COB fixture at a DIY price.
You can choose the single Daisy kits (including kits with 3 or 5 of the Daisies) for maximum flexibility or you can choose a full fixture made of of multiple Daisies all pre-mounted in a frame.
Either way, you get an incredibly powerful light that penetrates deep below the canopy. You also get a full-spectrum white light that is exactly what plants want (in other words: the sun).
Yes, quantum boards offer the same spectrum. And often with added red.
If you're trying to decide between these lights or quantum boards, it comes down to deeper penetration versus a more even coverage. If an even light spread is more important, go with quantum boards. If penetration is more important, go with COBs. For more, read COB vs. quantum board.
If you've decided on a pure COB fixture, Timber LEDs are the best on the market. No question. The primary competitor is Rapid, who offer similar fixtures for slightly less, but they are not made in the US and are not quite as good as Timber fixtures. For that reason, Timber earns the higher Grow Light Info rating of the two: a 4.9 out of 5.