COB LED grow lights are some of the most effective and most popular on the market.
But there's also a problem with them.
Manufacturers tend to add a bunch of standard diodes to the fixtures with the COBs. That is great if you want it, but not if you just want a plain COB.
Then you're just paying for a bunch of add-ons you don't want.
Because not only do you get all the added diodes, but those diodes generate more heat, which means the fixture also needs fans.
So that's another thing you're paying for.
It's no wonder that all of the good COB LED grow lights on the market are expensive.
But they don't have to be.
Rapid LED makes DIY COB kits. These include everything you need to get a COB fixture built and nothing more.
There are no additional diodes and no fans. Because the "fixture" is just an open frame and the COBs have large heat sinks, fans are not required.
This, and the fact that you handle the assembly, keeps costs down. If you don't mind paying a bit more, you can also get the fixtures pre-assembled. Even then, they're still far cheaper than competing lights.
Let's take a closer look at the Rapid LED COB kits and find out if they're the right solution for your grow room.
Rapid LED DIY Grow Light Kits Compared
Rapid LED's basic lights are the 75 watt CREE CXB3590 COB LED and the 100 watt ChilLED Logic Puck, also called the Growmau5 (the first two lights in the table above). Both are available on Amazon.
The DIY kits in the table are made up of multiples of the 75 watt COB lights. The kits are not on Amazon, so I provided links to the biggest LED grow lights store where you can find them.
You can also get them directly from Rapid, but the other store usually has a 5% off sale, so you can save a bit of money there.
You may be wondering how the last two kits are different, because they appear the same. Both feature 12 of the COB lights, but why is one more powerful and covers a 5 by 5 foot area, while the other only covers 4 by 4?
The difference is the driver. The 4 by 4 kit runs at a 1400 mA current, which drives the COBs at 50 watts each, for a total of 600 watts. The 5 by 5 kit runs at 2100 mA, driving the COBs at 75 watts each for a total of 900 watts.
Rapid LED Review
This review focuses on the individual CREE CXB3590 COB LED grow light, because all of the grow light kits make use of several of these fixtures. This light is generally driven at 75 watts, but two of the kits drive them at only 50 watts (the 4×4 and the 100w kits).
Advantages
The primary advantages of the Rapid LED COB fixture are the great color spectrum, the deep canopy penetration and the flexibility. You can hang them in any configuration you like, including any one of the DIY kits.
DIY Kits
Let's start with the primary reason growers end up going with Rapid LED grow lights: the ultimate flexibility the single COB fixture offers, especially when buying them in one of the easy-to-build DIY kits.
The kits come with all the parts you need to build a fixture like this one, which is the largest of the Rapid LED kits: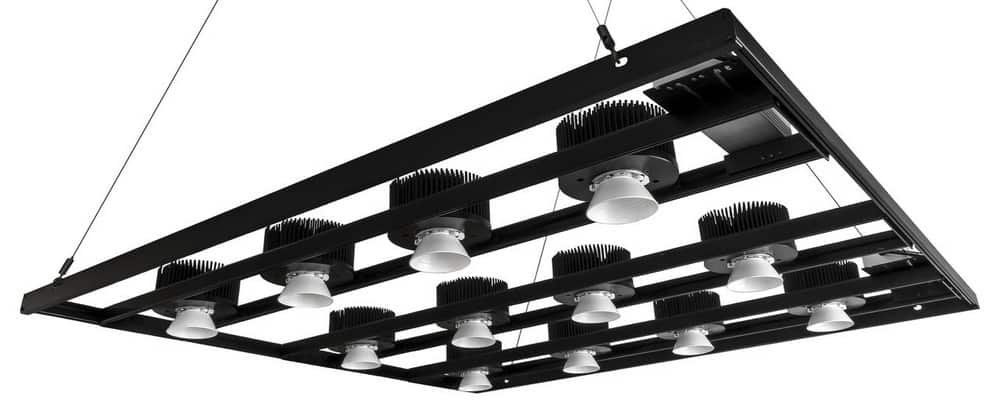 While this is the largest kit on offer, the smaller ones are all constructed in a similar fashion.
Naturally, you can forego the kit altogether and construct your own light using the COBs, drivers (ideally the same Meanwell drivers that come with the kits) and whatever material you want for the frame. Many growers use wood or aluminum or even PVC tubes.
But the kits are the easiest solution and they include all of the following:
CREE CXB3590 COB Arrays
Ideal 50-2303CR COB holders
140mm pin heatsinks
Meanwell HLG drivers
SurSeal Thermal Pads
Cased Potentiometers with knobs
Power cord
WAGO 221-412 lever nuts
Red and black 18 AWG solid core bulk wire
ANGELINA Extra Wide Reflector with holder (optional)
Canopy Substrate with Canopy Rail sets, driver brackets, and hanging kit
Spectrum
These lights use a simple all white spectrum that has a good amount of light at every wavelength. It is very close to natural sunlight and is great for plants during all stages of growth.
You have a number of color temperature options: 2700K, 3000K, 3500K, 4000K, 5000K or 6500K. On Amazon, only the 3000K, 3500K or 5000K versions are available, but that's really all you need.
If you are using your light for vegging only, go for the cooler 5000K version, which has more blue light. If you are flowering only, go with the red-heavy 3000K light. If you are growing full-cycle, go with the 3000K or 35000K versions.
Personally, I would use the 3000K for all stages, because I like having the added red during flowering more than I like the extra blue in the 3500K for vegging. Either light works great for any stage though.
Coverage And Penetration
One of the Rapid LED CREE CXB3590 COB arrays can cover an area of around 2 by 2 feet. The ideal coverage is just slightly less at 22 by 22 inches. Take a look at the PPFD footprint.
This is a great coverage for such a small light and you can see how that potential coverage area really adds up once you start adding more and more of these COBs to your grow space, like one of the DIY kits would do.
More importantly, powerful COB LEDs get much better canopy penetration than traditional LEDs, so they can have a huge positive effect on yields.
The Rapid COBs have a large reflector that further boosts penetration, because it directs all of the light downwards. Competing COBs without the reflector end up losing light as it escapes off to the sides.
Other Advantages
Another advantage is that Rapid LED fixtures do not have any fans. Not only are fans noisy, but they tend to be the first component in an LED grow light that breaks.
Because the individual COB lights are separated by a good amount of space, and they are not enclosed inside a housing, but mounted on an open frame, heat sinks are sufficient to cool them.
Finally, Rapid LED have a 60 day return policy. That means you can return your light, if you are not satisfied.
Disadvantages
Rapid LED grow lights do not have any real disadvantages, but there are several things that could be a problem in certain situations. In other words: these lights are not right for everyone.
If you have limited vertical space in your grow room, COBs are not the way to go. Because they are more powerful, they need more distance from the plants to avoid burning them.
They spectrum may also be a problem for some. Full spectrum white light is great and works really well on its own, but white with added red, blue, UV and IR is better.
Really, this depends on personal preference and you can always add supplemental lighting in whichever color you wish. If you do want additional diodes in the same fixture, check out Phlizon's line of COB lights.
Comparison To Timber LED
Rapid and Timber make very similar fixtures. There are a few other companies that also make lights like this, but these two stand far above the rest.
So which is better?
It depends. I prefer Rapid overall, but it is very close.
Timber uses Vero29 V7 COBs made by Bridgelux, which are almost as good as the CREE COBs, but not quite. Timber lights also cost a bit more.
If you prefer the CREE COBs or you prefer to spend less, go with Rapid. You're getting great lights. If you'd like to check out Timber…note, Timber lights are no longer being sold anywhere and their website has been down for a long time.
Rapid COB LED DIY Kits Review: Final Verdict
A Rapid LED DIY COB Kit is a great option for those who want top-of-the-line COBs at the lowest possible price.
And with everything based on the single COB units, you get maximum flexibility. Choose from a number of different DIY kits that give you multiple mounting options, or just get the COBs and a driver and build you own frame to mount however you like.
If you prefer not to DIY, you also have the option to pay a bit more and have Rapid LED assemble everything for you. That said, assembly with the DIY kits could not be simpler.
Rapid LED are a great option for DIY COB kits, especially since they are one of only two (good) companies that offer them. Update: they are now the only company to sell them. Luckily they make good lights. Rapid earns a rating of 4.6 out of 5.