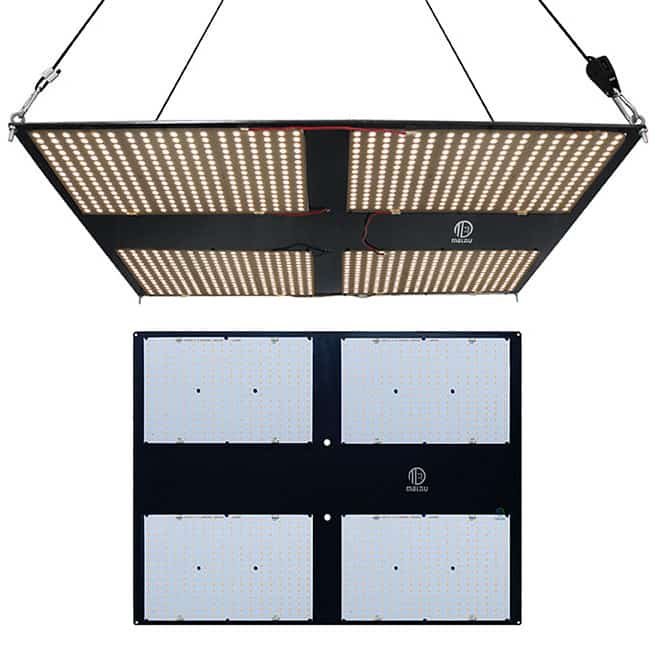 Can you trust them?
That's the big question when it comes to Chinese manufacturers.
And it's an even bigger question with manufacturers who only sell their lights in China, on websites like Alibaba.
Shenzhen Meijiu Lighting Co is one such company.
When it comes to quantum style LED grow lights on Alibaba, two suppliers stand out: Meijiu and Kingbrite.
Both have a track record of delivering quality lights and acceptable customer service.
The two are very similar in their lineup and pricing. Meijiu has a smaller selection and there have been reports of some issues with them.
But those reports all seem to originate from a single source. More on that in the comparison section below.
First, let's take a look at a comparison of some of Meijiu's more popular lights.
Meijiu Quantum Board LED Grow Lights: Comparison Table
Sometimes Alibaba suffers from extremely high user volume and their pages may not load. If you click on one of the buttons below and end up seeing an error message, wait 10 seconds or so and try again. It almost always works after a brief pause.
Description:

Wattage: 120w
Coverage: 2' x 2'
Output: 579 umol/m²/s @ 20 inches

Description:

Wattage: 240w
Coverage: 2' x 3'
Output: 1589 umol/m²/s @ 20 inches




Description:

Wattage: 320w
Coverage: 2' x 5'
Output: 1403 umol/m²/s @ 16 inches

Description:

Wattage: 480w
Coverage: 4' x 4'
Output: 1704 umol/m²/s @ 16 inches

Description:

Wattage: 600w
Coverage: 5' x 5'
Output: 2105 umol/m²/s @ 16 inches

Description:

Wattage: 1000w
Coverage: 5' x 5'
Output: 2800 umol/m²/s @ 16 inches
Meijiu has far too many products to list them all here. To see their entire selection do the following:
Type Meijiu into the search bar and change the dropdown next to the bar from 'products' to 'suppliers'.
The table above contains the most popular Meijiu lights. It includes the different sizes of quantum board lights using the Samsung LM301H LEDs.
They also have versions using other models, like the LM301B. You can choose the color temperature of the white diodes (3000K, 3500K or 4000K).
I decided to also include the Meijiu Majo Octopus light. It is modeled after the Fluance Spyder light and is available in multiple sizes.
This style of light is similar to the quantum boards in terms of coverage area and spectrum. The one included in the table is the largest, using a full 1000 watts of power. It is far more expensive than the quantum boards, though (but much cheaper than the Spyder).
Finally, Meijiu also has kits that contain everything you need for a working light, but you assemble them yourself. They also sell all the spare parts separately, so that you can build your own light without the help of a kit. Obviously, the more you DIY, the more you save.
That said, the cost savings are not worth the extra time and effort to me. I'd just get the ready-made fixtures, which already go for a very low price, even when the shipping charges are added.
Meijiu 480W Samsung LM301H Review
This review focuses on the best-selling Meijiu fixture, which uses the 480W Samsung LM301H and Epistar 660 nm LEDs. It is basically the same as the Horticulture Lighting Group 600 V2 RSpec, but costs less than half as much.
Everything written here about this light goes for all the other Meijiu lights as well, apart from the individual specifications, of course.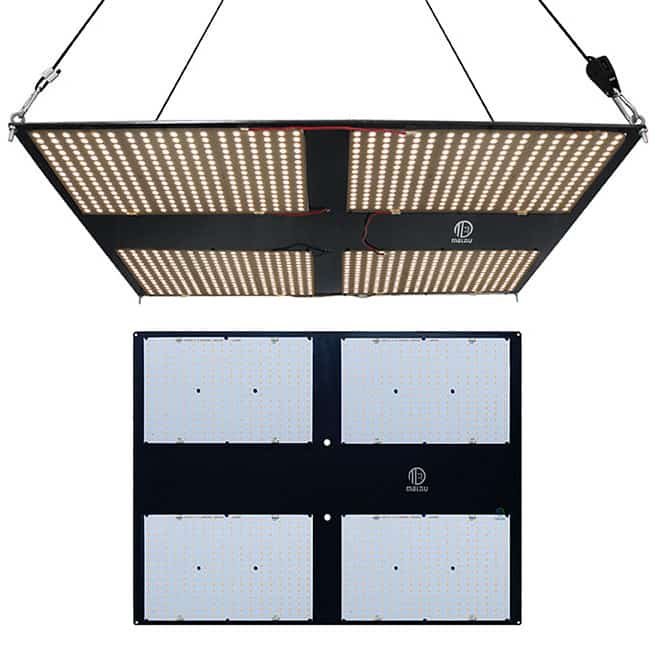 Meijiu 480 Watt LED Grow Light
Uses 480 watts — save 40 to 50% on your electric bill over HID lights
Equivalent to a 800 watt HID system — but costs less to buy AND to operate
Ideal spectrum for plants — 3000K, 3500K or 4000K white light, plus 660 nm deep red; the perfect light for all stages of growth, with peaks on red and blue and a lot of light in every other color
Highly efficient — great output from a low power usage
4 by 4 foot core coverage — 5 by 5 max coverage
Meanwell driver — high quality dimmable driver
Rated for 50,000+ hours — 4+ years with no bulb changes
1 year warranty — on the light; plus a 5 year warranty on the driver
Buy Now
We earn a commission if you make a purchase, at no additional cost to you.
Advantages
The primary advantage of the Meijiu lights is that you get quantum board LED grow lights at a much lower price. Alternatively, you can get one of the Majo Octopus series fixtures and get a Spyder style light, also at a much lower price than the original.
Low Price
Let's face it: the primary reason people buy Meijiu lights is the price. If the cost was the same as the equivalent HLG fixture, no one would even look at Meijiu.
But they don't cost the same. They cost far less. For growers with budget restrictions, buying lights on Alibaba allows you to get far better quality than your budget would allow on Amazon or buying from specialized grow light vendors.
And if you have plenty of free time, but not a lot of free money, buying individual components and putting the light together yourself can save you even more. The IDY kits strike a nice middle ground between the two.
Selection
Meijiu have a larger selection than HLG or a top Chinese brand like Spider Farmer. Their selection is not nearly as large as Kingbrite's, when it comes to quantum lights, but they do have the Majo Octopus series. Kingbrite has nothing like that.
While Kingbrite has fixtures that also include UV and IR, Meijiu only gives you the option of white light or white light plus deep red (660 nm) diodes. You can choose from color temperatures of 3000K, 3500K or 4000K for the white light.
The number of DIY kits and individual components is also more limited than Kingbrite, though that may be a good thing. It is a lot easier to get an overview of Meijiu's offering.
Then there is the bar-style series of lights. These fixtures also feature Samsung diodes, but they supplement them with Osram, diodes, which are much better than the Epistar diodes on the quantum boards. They also have versions that add IR to the white and deep red.
These lights are more powerful and naturally also more expensive. Their biggest advantage is a more even light spread and the fact that the diodes stay cooler due to the air flow between the bars. They still emit the same amount of heat, though. That means you'll need to cool your grow room exactly the same with these lights as wit the quantum lights.
Spectrum
The fixture we're focusing on in this review uses the white Samsung LM301H diodes combined with Epistar 660 nm deep red LEDs. On the Alibaba product page, you have the option of 3000K, 3500K or 4000K white light.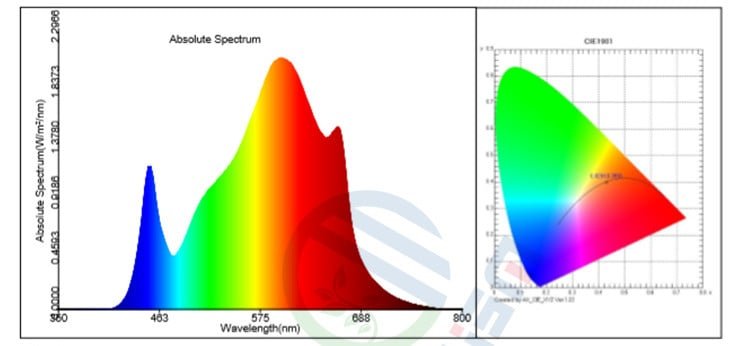 The 4000K version is best for vegging, but if you plan on using the light for bloom as well, you'll want the 3500K or 3000K versions. I would go with the warmer 3000K, because the additional benefit during flowering outweighs the added benefit you get from the cooler 3500K light during vegging.
If you will be using the light for flowering only, then the 3000K is definitely the best choice.
No matter which color temperature you go with, I would highly recommend choosing the version with the added deep red light. It'll get you better results than having only white, which is why every manufacturer is now adding these red diodes to their white lights.
If you also want UV and IR diodes, Meijiu does not offer those options, though I would not be surprised to see that changed soon. For now, check out our Kingbrite review for those, and also if you would like to have options with higher quality CREE red diodes, instead of Epistar.
Coverage And Output
The biggest advantage of the quantum board style fixtures is the coverage. Other types of fixtures have light emanating outward from the fixture hanging in the middle of the coverage area, but because quantum boards are much larger, the light goes more directly downward.
When you have so many smaller diodes spread out over a such a large surface area, the path down to the canopy is always more direct. This means light can reach the canopy more quickly across a larger surface area. The end result is a more even light spread across the entire coverage area.
The PPFD footprints for the Meijiu 480W 3500K with 660 nm red shows this even light spread. Traditional types of fixtures show higher values in the middle, but much lower values around the outside.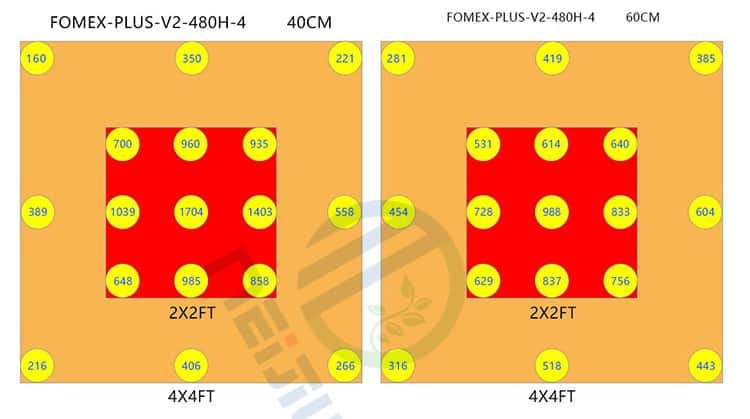 If you're only growing a single plant, having so much intensity in the middle of the coverage area is advantageous. But if you want to grow plants throughout the coverage area of the light, you are much better off with a more even spread, because plants need at least 100 umol/m²/s when they are flowering.
Other Advantages
Despite the much lower price, Meijiu uses the same components as more expensive brands: Samsung white diodes and Meanwell drivers. The deep red LEDs are from Epistar, which is a step below Samsung, but still quite good.
Another advantage is the lower heat output of the smaller diodes, plus the fact that they are spread out over a larger area. Because of this, passive cooling is enough, which means no noisy fans.
That said, these are still powerful lights and they do emit a lot of heat. But they emit less heat than the HID equivalent. Generally, it is about 30% less.
When you buy a Meijiu LED grow light, you also get hangers and hanging cables, a timer, a dimmer and a potentiometer. The light is covered by a one year warranty and the driver is covered for 5 years by Meanwell.
Disadvantages
Meijiu lights have one big disadvantage and it should be obvious. You have to buy them directly from China, specifically from the Alibaba website.
It's not the most user friendly site and most manufacturers, Meijiu included, have multiple listings for the same product. Some products seem to have a hundred listings and I really have no idea why. It's bizarre.
Apart from the less user friendly Alibaba website, buying directly from a Chinese company also entails more risk. If they send you a bad light and decide not to honor the warranty, there is absolutely nothing you can do. You simply lose your money.
That is why I do not recommend buying from any random supplier on Alibaba. Stick to the ones that have a track record of delivering quality products and honoring warranties, etc. The best places to learn which suppliers are good is to check out grow forums.
If you do that, you will see that Meijiu and Kingbrite are the two suppliers that come up over and over, when it comes to quantum board lights. They have proven trustworthy. But, know that things can change.
They may decide to stop honoring their warranties. They may decide to save money and stop doing quality control. They may decide to shut down altogether. The point is: there is always a higher risk when buying from China.
In fact, if you do check out the grow forums for info on Meijiu, you will likely come across some reports of customers receiving a bad light and Meijiu not being willing to help them out. All of these reports actually seem to stem from the same incident, with multiple people re-reporting what they read elsewhere.
It is difficult to tell if it was a case of Meijiu dropping the ball or the customer being unreasonable somehow (having worked for a grow light retailer in the past, I know that some customers are incredibly difficult and will complain no matter what).
Either way, the point is just that you need to be aware of the higher risk.
Most likely, it will not be an issue and you will receive a great light for a fraction of what you would pay to buy basically the same light in the US. But there is always that small chance you will get a bad light and will waste a lot of time and go through a lot of hassle trying to get it replaced.
In addition to the higher risk, you will also have to pay relatively high shipping costs and wait longer for your order to arrive.
Even with the shipping tacked on, the overall price is still much lower than other brands. In terms of shipping, Meijiu has a lead time of 7 days and then you have to wait another 2-4 weeks for your light to arrive.
If you don't want to deal with all of this, you'll need to pay more and get a different brand from Amazon. We have a comparison of the top LED grow lights to help you find the right light among the choices on Amazon. If includes several quantum style lights.
Meijiu Vs. Kingbrite
This will be a brief section, since I have already covered this comparison in various sections above and I just wanted to summarize. Because the quality and prices are similar, you could really buy from either vendor.
Kingbrite has the larger selection, so if Meijiu does not have something you want (like IR or UV light), buy from Kingbrite instead. Our review of the Kingbrite lights has much more on those.
Apart from that, you could check the current pricing of both and see which one is currently selling from less. The prices fluctuate, so they tend to go back and forth on who has the lower prices. Do not forget to include the shipping costs, since they fluctuate as well.
Meijiu Review: Final Verdict
The Meijiu Quantum Board LED Grow Light is a great option for those who want to get the best possible light for the lowest possible price.
You don't have as many options to choose from as you do with Kingbrite, but if Meijiu has the light you want, then go for it.
Both are easily the best quantum board suppliers on Alibaba and you can't go wrong with either. You get basically exactly the same lights as the hugely popular fixtures from HLG, but for a fraction of the price.
The fixtures are made from quality components, they give you a great spectrum for plants and they have the best light spread of any fixture on the market, apart from the bar style lights. But Meijiu sells those too now.
The only real problem is that you need to buy these lights directly from China. "Problem" is probably too strong a word. It's really more of an inconvenience, but there is a somewhat higher risk involved. You have to decide for yourself if the savings are worth it.
Meijiu lost some points because you have to buy directly from China, but overall, their lights get a rating of 4.5 out of 5.