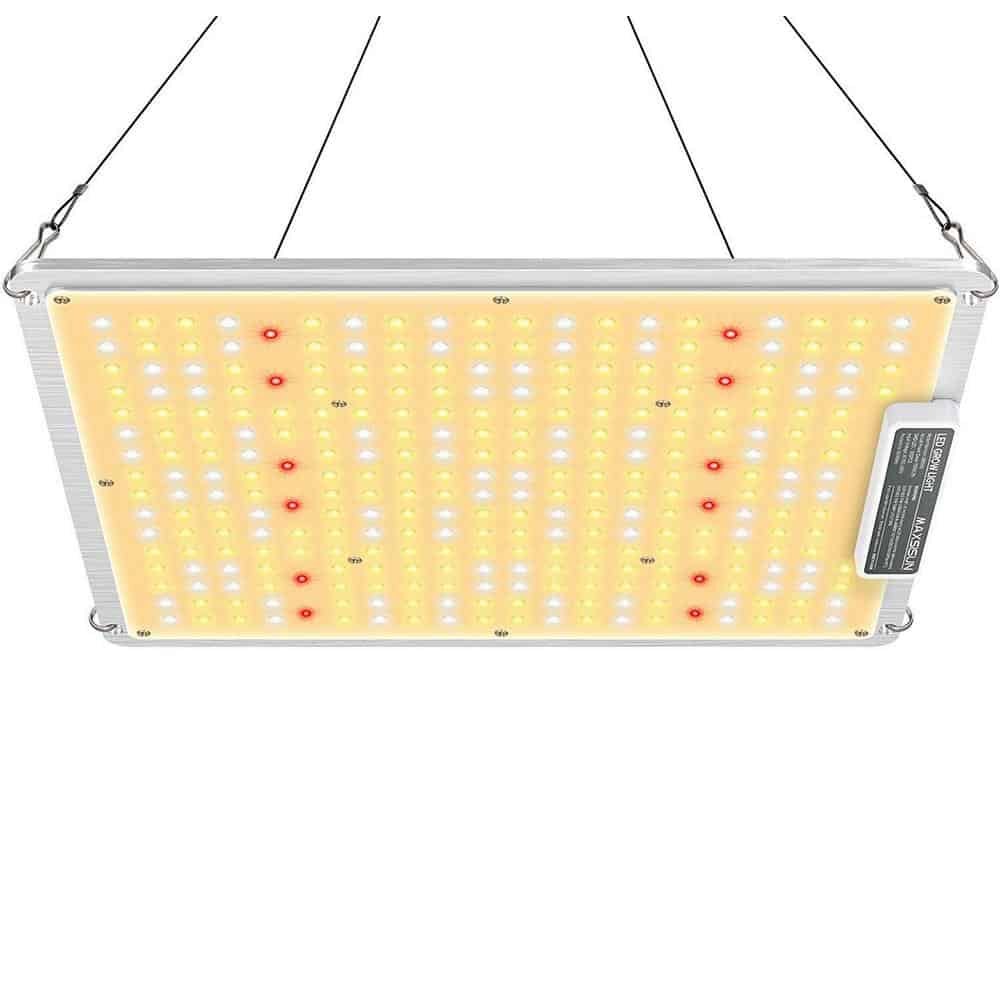 It's a good time to be a grower.
More and more companies are releasing quantum board style lights.
The Maxsisun PB series of LED grow lights is one of the more intriguing options.
HLG started the quantum board craze and their lights still sit on top of the market (review here), but they are also the most expensive.
Among the Chinese brands selling basically the same lights, Spider Farmer stands out.
Their lights are top quality, but considerably less expensive than HLG (review of Spider Farmer).
Maxsisun has dropped the price even more.
How do they do this?
By foregoing brand name parts. They do not use Samsung boards or Meanwell drivers.
What effect does that have on the lights? Are the cost saving worth it?
Let's take a closer look at the Maxsisun PB lights and find out, beginning with a comparison of all 3 fixtures in the series. Then we'll do an in-depth review of the Maxsisun PB2000 LED grow light.
Maxsisun Quantum Board LED Grow Lights: Comparison Table
Model
Size
Wattage
Coverage
Bloom PAR
PB 1000
Check Price
Weight:
4.8 lbs.

Dimensions:
12" x 10.8" x 2.5"

Actual:
100 watts

HID Equiv:
150 watts

2' x 2'
722 umol/m²/s
@ 12 inches
PB 1500
Check Price
Weight:
6.3 lbs.

Dimensions:
15.5" x 10.8" x 2.5"

Actual:
150 watts

HID Equiv:
250 watts

3' x 3'
1003 umol/m²/s
@ 12 inches
PB 2000
Check Price
Weight:
8.8 lbs.

Dimensions:
23.9" x 10.8" x 2.5"

Actual:
200 watts

HID Equiv:
300 watts

4' x 2'
1057 umol/m²/s
@ 12 inches
PB 4000
Check Price
Weight:
27.5 lbs.

Dimensions:
24" x 21.6" x 2.5"

Actual:
400 watts

HID Equiv:
600 watts

4' x 4'
1770 umol/m²/s
@ 12 inches
Maxsisun PB 2000 Review
This review focuses on the PB2000 Maxsisun fixture, but everything written here goes for the PB1000, PB1500 and PB4000 as well, apart from the individual specifications. The table above shows the differences in specs.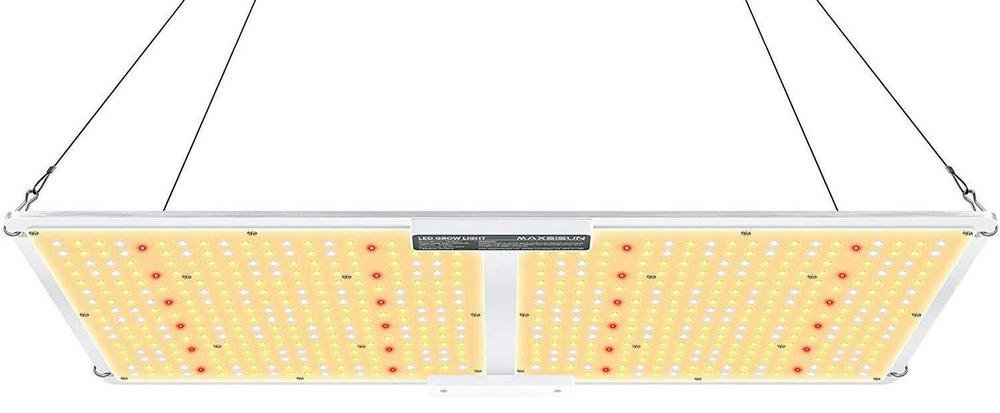 Features Of The Maxsisun PB2000 LED Grow Light
Uses 200 watts — save about 50% on your electric bill over HID lights
Equivalent to a 300 watt HID system — but costs less to buy AND to operate
Ideal spectrum for plants — 3500K and 6500K white light, plus 660 nm red; the perfect light for all stages of growth, with peaks on red and blue and a lot of light in every other color, plus deep red
Highly efficient — great output from a low power usage (2.7 μmol/J)
2 by 4 foot core coverage — the coverage for vegging is a bit larger at 2.5 by 4.5 feet
Smart Driver — the driver will dim down the brightness automatically, to keep plants from getting burned
Rated for 100,000+ hours — 8+ years with no bulb changes
2 year warranty — and a 30 day money back guarantee; plus a 5 year warranty on the driver
Advantages
The strongest point of the Maxsisun PB series is that you get quantum board LED grow lights at a much lower price. These lights have many other strengths as well, but as we'll see, they lag behind HLG or Spider Farmer lights in every aspect except price.
Low Price
As mentioned, the price is the one area where the Maxsisun lights beat their closest competitors. Apart from one. The Mars Hydro TS series of lights are very similar and sell for a similar price.
Which one is better?
Hard to say. If I were choosing between the two, I would first look at the coverage area. Go with whichever lights cover your grow area the best. If that does not narrow it down, look at the price. It fluctuates a lot on Amazon, so just go with whichever brand is currently selling for less.
If you don't mind buying direct from China (on Alibaba), there are even cheaper options. The best among them are Kingbrite. Read our review of Kingbrite quantum board lights for more information.
Spectrum
The Maxsisun PB fixtures feature a mix of 3500K warm white, 6500K cool white and 660 nm deep red diodes. This is a great spectrum for growing plants and it is also very good for flowering. But it's not the best.
Most of the competing lights use a mix of 3000K and 5000K diodes, which means more red spectrum light. This makes them better for bloom, while the Maxsisun lights are better for vegging. That said, the difference is not that big. All lights work well for any stage of growth.
Some of the competing lights also include IR diodes, which these lights don't have at all. The Mars Hydro lights also have UV, which no other lights have. Whether UV and IR has much of an effect is still some matter of discussion.
IR light is said to help during flowering, by speeding up flowering time slightly and also giving a boost to yields. UV light is said to increase resin production. Because UV light is only useful during the final weeks of flowering, it makes more sense to just get a separate UV bulb (this article on UV light and its effect on plants has some suggestions).
Coverage And Output
The biggest advantage of the quantum board style fixtures is the coverage. Where other types of fixtures generally have light emanating outward from the central fixture, quantum boards have light going more directly downward. This is due to their size.
They have a bunch of smaller diodes spread out over a much larger surface area, so the light can reach the canopy more quickly across a larger surface area. When all the diodes are gathered together in a smaller area like with most lights, or a fixture uses fewer, more powerful diodes (like COBs), then the light has to travel further to get to the edges of the coverage area, which means it loses a lot of its intensity.
The end result of the quantum boards' larger surface area is a more even light spread across the entire coverage area. Take a look at the PPFD footprint for the Maxsisun PB 2000 LED grow light at 12 inches and 18 inches from the plants.
Most lights might give you a much higher PPFD in the middle, but it drops off considerably toward the edges. That's great for the plant directly beneath the light, but not so great for any other plants you might have. The more even spread of the quantum board lights ensures that plants in the corners of the coverage area still get enough light to flower.
What these PPFD charts also show you is the high output you get with this light, despite it only consuming 200 watts. It has an average PPFD of 1548 umol per square foot at 18 inches and it is powerful enough to cover a 2 by 4 foot area.
Other Advantages
Another big advantage of the quantum style LED grow lights is their heat output, or lack thereof. Because they use so many smaller diodes, they do not run as hot as lights that use fewer, more powerful LED diodes. As a result, passive cooling is sufficient. They do not require any fans.
This means that they run silent. If you've ever been in a grow room full of LED grow lights with fans, you know how noisy those can get. The complete lack of noise with these lights is a wonderful change of pace.
It should be noted that they do still produce heat, however.
A lot of people mistakenly believe that LED lights do not produce any heat (probably because many of the shadier manufacturers have made such a claim), but they do. They emit less heat than the equivalent HPS light (generally around 30% less), but they are still powerful sources of light, which obviously means heat as well.
Another somewhat-advantage is that Maxsisun gives you a fairly generous 2 year warranty. I say "somewhat", because many of the better Chinese brands now offer 3 year warranties.
The driver has a separate 5 year warranty from the driver manufacturer. In addition to the warranties, these lights also have a 30 day money-back guarantee. If you don't like it, simply return it and get your money back.
Disadvantages
The most obvious disadvantage at first glance is the use of no-name components. Where the top quantum board lights use Samsung boards and Meanwell drivers, Maxsisun uses unnamed Chinese brands.
They work well, but they can't match Samsung and Meanwell in terms of efficiency and reliability. Of course, using Chinese branded components is the reason for the much lower price.
The drivers used have one other disadvantage when compared to Meanwell drivers. They are not dimmable.
This is not a problem for everyone, but some people prefer to dim their lights during vegging, to save on power costs when full power is not needed (plants generally need about half as much power during vegging as flowering).
This is not an issue if you have separate vegging and flowering rooms. In that case, you can simply hang the light higher in the vegging room and have it cover a larger area.
Plus, while you can't dim the driver yourself, it does have a smart dimming feature.
If it detects that the temperature is getting too high and your plants are at risk of being burned, the driver will dim down the lights automatically. I suppose this could be listed as a strength, but the fact that you can't also dim the lights manually makes it a weakness to me.
Another potential disadvantage is one already mentioned above: the cooler light. Using 3500K and 6500K white light, instead of 3000K and 5000K, results in a cooler white light that contains more blue and less red.
This makes Maxsisun fixtures better at vegging, but not quite as good at flowering. They are still great, but not quite as great as the flowering monsters from Spider Farmer and HLG.
The lack of UV and IR may also be a problem for some. As mentioned previously, I prefer to just add supplemental UV in the form of fluorescent tubes, since you only want UV light during the final weeks of flowering anyway.
IR light is harder to supplement. If you want that, go with one of the brands that include IR diodes in their fixtures, like Spider Farmer or Mars Hydro.
When you buy one of these lights, it ships with a hanging kit and a 6 foot power cord.
I mention this here under the disadvantages, because the 6 foot cord is far too short and the hanging kit does not have ratchets, which makes raising and lowering the light a bit more time consuming. It would not be difficult for Maxisun to lengthen the cord and include ratcheting hangers and both would make a huge difference.
Maxsisun PB Quantum LED Grow Light Review: Final Verdict
The Maxsisun PB2000 LED Grow Light, and the PB1000, PB1500 and PB4000 fixtures, are great additions to the quantum board market.
While they have a cooler color spectrum than competing quantum board lights and they do not have any UV or IR, they still have a great spectrum for all stages of growth.
The higher proportion of blue light makes them the best quantum boards for vegging, but they still have tons of red from the white light, plus the additional 660 nm deep red diodes, that they are also great for bloom. Just not as great as some of the competition.
Their biggest strength is the price. It is far lower than Spider Farmer or HLG, but around the same as Mars Hydro. If you don't need Samsung and Meanwell components, then Maxsisun lights are a great way to save money.
Since they are very similar to the smaller offerings from Mars Hydro, your decision will have to come down to those two brands. Which one offers lights with the coverage are you need and which one is currently selling for a lower price?
Either way, you are getting a great quantum board light for an unbelievable price. It is the low price that boosts Maxsisun's score considerably, but the no-name components do drop it below the top competition.
Overall, we give these lights a Grow Light Info rating slightly lower than the Mars TS and SP lights (primarily because some of the Mars lights use a Meanwell driver): a 4.6 out of 5.