Numerous fixtures use the CXB3590 COBs from CREE.
For this review I will focus on CF Grow (AKA Canagrow), because they do it best.
What exactly do I mean by "best"?
I mean they give you the best value for your money.
There are higher quality fixtures with these COB chips, but the cost far more.
The Canagrow CXB3590 fixtures give you the same LED chips at a much lower price.
Naturally, that means a few sacrifices, but they are minimal. We'll cover those in the review below.
First, let's a look at the 4 different CREE CXB3590 COB fixtures on offer and comparing their specs (note that these are often out of stock as of late and thus rarely available).
Canagrow CREE CXB3590 COB Lights Comparison Table
Model
Size
Wattage
Coverage
Output
75W CXB3590
Check Price
Weight:
5.6 lbs.

Dimensions:
8.75" x 8.7" x 3.9"

Actual:
75 watts

HID Equiv:
150 watts

2' x 2'
1201 umol @12"
200W CXB3590
Check Price
Weight:
7.7 lbs.

Dimensions:
21.3" x 7.1" x 3.5"

Actual:
200 watts

HID Equiv:
300 watts

2' x 3'
843 umol @12"
400W CXB3590
Check Price
Weight:
22.1 lbs.

Dimensions:
17.7" x 17.7" x 3.9"

Actual:
320 watts

HID Equiv:
600 watts

3' x 3'
48,000 lumen

128,000 lux @12"

600W CXB3590
Check Price
Weight:
23.1 lbs.

Dimensions:
23.6" x 14.6" x 3.5"

Actual:
520 watts

HID Equiv:
1000 watts

5' x 5'
72,000 lumen

192,000 lux @12"
Canagrow 400 Watt CREE CXB3590 COB Grow Light Features
This review focuses on the 400 watt version for the specific numbers, but everything written here goes for the 600 watt, 200 watt and 100 watt CREE CXB3590 COB LED lights as well. The differences in specs can be seen in the table above.
Uses 320 watts — save about 50% on your electric bill over HID lights
Equivalent to a 600 watt HID system — but costs far less to operate and generates far less heat, too
Great spectrum for plants — very close to actual sunlight
3 by 3 foot core coverage — with an even light spread, due to the 4 COBs being far apart on the fixture
CREE CXB3590 COBs — best LED chips on the market
Meanwell driver — best driver on the market
Dimmer — allows you to dial back the power and save electricity when full power is not needed
Daisy chain — connect several lights together and run them from a single outlet
Rated for 50,000 hours — 4-5 years with no bulb changes
Advantages
The biggest advantage of the Cannagrow lights are the quality components. Chief among them are the CREE CXB3590 LEDs, the Meanwell drivers and the German-made WAGO connectors.
In addition to being better made and thus less prone to failure, the CREE COBs also provide a great spectrum and an intense light. Their configuration on the Canagrow fixture also makes for a more even light spread across the coverage area.
Spectrum
The CBB3590 chip-on-board LEDs emit a full-spectrum white light with a color temperature of 3500K. That is a fairly warm white that is well suited for flowering, but also works great for vegging.
In short: it is a great light for every stage of plant growth.
That said, I prefer fixtures that use full-spectrum white light and add to it with supplemental diodes. The Phlizon COB series, for instance, uses CREE COBs and supplements them with smaller diodes that provide additional red and blue light for an added boost.
They also add UV and IR light, which this CXB3590 fixture completely lacks. This spectrum is great, but lights that use the same, or similar, all-white COBS and supplement them with additional light that plants want, have a better spectrum.
When looking at a graph that depicts the spectrum, you see the difference more clearly. These CXB3590s on their own provide light similar to the sun, but with slight peaks on red and blue.
A light with supplemental diodes has larger peaks on blue and red and slightly less light in between (green and yellow). It also extends further on the sides of the graph, into the UV and IR ranges.
Check out the advantages section of my Aglex COB series review for a spectral graph of such a light.
Output and Coverage
The CXB3590 COBs are rated for 120 watts, but are driven at around 80 watts each. This extends their life. As a whole, the fixture thus consumes around 320 watts of power. It turns that electricity into a pretty impressive output.
For some reason, Canagrow and CF Grow both only provide the output in lumen and in lux. Perhaps it's because these fixtures emit white light that is very similar to sunlight.
Whatever the reason, the Cannagrow 400w emits 48,000 lumen and 128,000 lux at 12 inches from the canopy.
Canagrow do provide one PPFD figure, but only for a 2×2 area (don't ask me why). Over that area, the PPFD is 1120 umol/m²/s.
Moreover, the powerful chip-on-board LEDs penetrate far deeper below the canopy than 3w, 5w or 10w chips. The intense light emanating from a small area simply penetrates deeper. Green light also penetrates deeper, since it is not absorbed by leaves and this fixture emits more green light than most.
One great feature that you do not see on many lights is a dimmer. This allows you to dial back the power of the COBs when you don't need the full output and saves you electricity.
When it comes to coverage, both Canagrow and CF Grow claim the 400w version covers a 4 by 4 foot area. If you are growing a plant with low light requirement, that may be true.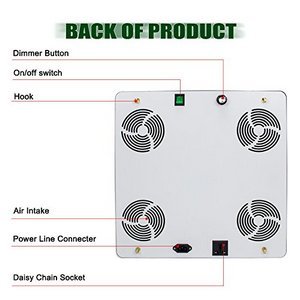 For a plant that needs a lot of light, like cannabis, 4×4 is overly optimistic. The effective coverage during flowering is around 3 by 3 feet.
What I especially like about the coverage is that it is more even than most lights.
Because the light emanates from 4 points that are located on the corners of a large fixture, the spread of light is much more uniform across the coverage area than it would be with a standard smaller fixture, where all the light emanates from the center and spreads out.
With those fixtures, light to the corners of the coverage area has to travel further than light that goes straight down, meaning that light to the corners loses much of its intensity. With this fixture, light emanates from each corner of the fixture itself, so it does not have to travel as far to reach the corners of the coverage area. As a result, it retains most of its intensity.
Other Pros
When you buy a Canagrow light, you get a longer warranty than with most Chinese brands: a full 3 years on the 400w and the 200w and 2 years on the 100w. All three fixtures have a 30-day money back guarantee, so you can return the light if it is not to your liking.
The 200w and 400w versions are daisy-chainable, meaning you can connect several lights together and run them from a single outlet. The included power cord also functions as the daisy chain cord, so you don't need to purchase a separate cord like you do with many lights. The 100w version is not daisy-chainable.
Disadvantages
The naming of the lights is a bit misleading, but far less so than other Chinese brands. The 400w light, for example, uses 320 watts, not 400w. I wish they could just call it a 320, but other
Chinese brands call their lights with a similar wattage draw a 1000w or a 1500w light.
So Canagrow tends to be a bit more honest, which is refreshing. But I still consider the misnaming a disadvantage.
I touched on the spectrum above, though I do not consider it a disadvantage at all, which is why I covered it in the advantage section. But, as mentioned, it could be better.
The 3500K COB spectrum is great, but some supplementary diodes providing additional red and blue light would make it even better. Some UV and IR would not hurt either. Other companies combine CREE COBs with supplemental diodes very successfully, and I think doing so would benefit this light as well.
CREE CXB3590 COB Review: Final Verdict
The Canagrow 400w CREE CXB3590 COB LED Grow Light uses extremely high quality components to give you one of the most reliable lights from any Chinese brand period.
The high-quality and high-powered COBs also give a great spectrum (though it could be improved upon with supplementary diodes), a great output and some of the best canopy penetration you can get from LED light.
Overall, these 3 Canagrow lights get a Grow Light Info rating of 4.6 out of 5. This is only for the 5 CREE COB lights. The other lights on the Canagrow product page do not use the same high quality components. As a result, their rating would be much lower. Naturally they also cost a lot less.
That 4.6 rating (9.2 out of 10) earned them the 3rd spot in my review and comparison of the best COB lights.
If you want a light using the CREE CXB3590 chip-on-board LEDs, then these Canagrow fixtures are by far your best choice. Otherwise, I recommend the two lights that ranked above this one in my comparison post over these lights. Or, if you prefer the DIY route, check out our Rapid LED review or our Timber LED review.