Quantum board style fixtures are now easily the best-selling LED grow lights.
They've better in every way than the traditional boxy fixtures, with their blurple light.
But the famous brands are not cheap. If HLG just isn't in your budget, you'll have to look at the Chinese branded HLG clones.
Doesn't that mean a huge drop in quality and zero customer service?
Not always. There are some pretty good options these days, even in the lowest price ranges.
The Bloom Plus series of quantum lights is one of those good options.
Let's take a closer look in the review below and find out just how these lights stack up.
Bloom Plus Comparison Table
09/28/2022 08:41 pm GMT
Bloom Plus BP-4000 Review
We're going to focus this review on the Bloom Plus BP-4000, because it is the largest and most powerful fixture in the series.
Focusing on one specific model allows us to mention specific figures, like output, wattage, etc., in the review. Everything apart from those specific figures is the same for all lights in this series.
For the individual specifications of the smaller lights in the series, see the comparison table above.
Advantages
Highly efficient
Great light spread
Perfect spectrum for plants
Great heat dissipation
Low price
Quantum board LED grow lights have several distinct advantages over the traditional style of LED fixtures: they are more efficient, they achieve a better light spread, the usually have a better spectrum, they weigh less, they cost less and they deal with heat much better.
Bloom Plus have an additional advantage over top quantum brands, in that they are even less expensive.
Highly Efficient
The Bloom Plus lights give you 2.7 umol/J, which makes them among the most efficient fixtures on the market. That said, this figure is on par with other quantum style fixtures. They are all very efficient.
In terms of actual output, the light achieves a PFFD of 1362 umol/m²/s in the center of the coverage area at 18 inches from the canopy, and still over 300 umol/m²/s in the corners of a 3 by 3 foot area. Take a look at the PPFD footprint charts.
Those charts are for a 3 by 3 foot area, but the light can cover 4 by 4 feet in a grow tent with reflective walls. And it achieves this output with a power usage of just 400 watts. This makes it more or less equivalent to a 600 watt HPS light.
You can also see from the PAR charts that the light spread is more even than traditional fixtures.
Great Light Spread
The larger size of these fixtures, with many smaller diodes spread out over the entire surface, means that you don't have the insane intensity in the middle of the coverage are that is so common with other types of LED grow lights, nor do you have the much lower intensity in the corners.
This better light distribution has a huge impact on yields, since even the plants in the corners of your tent now get sufficient light to produce large buds.
Perfect Spectrum For Plants
Apart from the efficiency and the light spread, the all-white spectrum was another reason quantum lights became so popular.
Previous LEDs used the red and blue mix dubbed "blurple", that made your plants look discolored and was based on the mistaken notion (pushed by LED manufacturers) that plants need only red and blue light.
Quantum boards used full-spectrum white light, because that is what the sun gives off and what always worked well for HPS and MH (though they are not nearly as "full spectrum" as white LEDs).
It turns out that plants do need light in colors other than red or blue. They just need more red or blue. And that is exactly what the quantum, spectrum provides.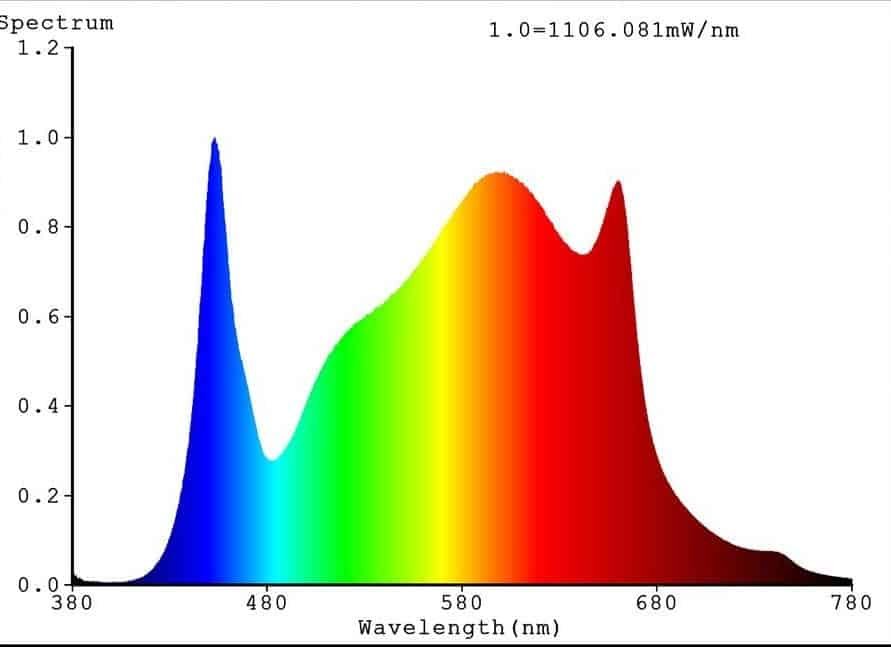 As you can see, the Bloom Plus spectrum has peaks on red and blue and plenty of light in every other color. It even includes additional deep red and infrared light.
This is common among today's quantum boards. While they started out as white only, these days most brands add some deep red and infrared diodes for a bloom boost.
In the case of bloom plus, the specific diodes they use are 3000K warm white, 5000K cool white, 660 nm deep red and 730 nm infrared.
Great Heat Dissipation
The smaller diodes on quantum boards generate less heat and, because they are spread out across the aluminum heat sink that doubles as the fixture, the heat they do generate is more easily dispersed. This means they do not need any fans.
Not only are fans noisy, they also tend to break before other components. Not needing fans is a great thing. That said, you do need to be aware that these fixtures still produce heat. They do not run much cooler than other LED grow lights. They simply deal with the heat more efficiently.
Disadvantages
The biggest disadvantage with Bloom Plus is the same one that plagues just about any Chinese brand: poor quality control and even poorer customer service.
You pay a lot less for a Bloom Plus fixture than one from HLG (or even Spider Farmer), but that comes at the cost of a greater risk of getting a faulty product and a huge hassle trying to get it replaced if that does happen.
Another thing you generally sacrifice with the deep budget brand are brand-name components. Bloom Plus does use Samsung diodes, but they don't use the best Samsung diodes.
Instead they use the mid-power Samsung 2835. They do not use MeanWell drivers, but some Chinese brand called Moso. Note that Bloom Plus has fairly recently released a new series of lights called the XP series that uses the top-of-the-line Samsung LM301B diodes.
Bloom Plus Vs. Maxsisun
This is a great comparison, because these two brands make very similar quantum lights. They target the same customers and they even sell for the exact same price, most of the time (there are occasional price fluctuations).
But there are some small, but important, differences. The first is the spectrum.
The spectra are similar, but the Maxsisun gives you a slightly cooler spectrum overall (a larger peak in the blue wavelengths and a smaller one in the red), due to its use of 3500K and 5500K white diodes. It also has 660 nm red, but no infrared.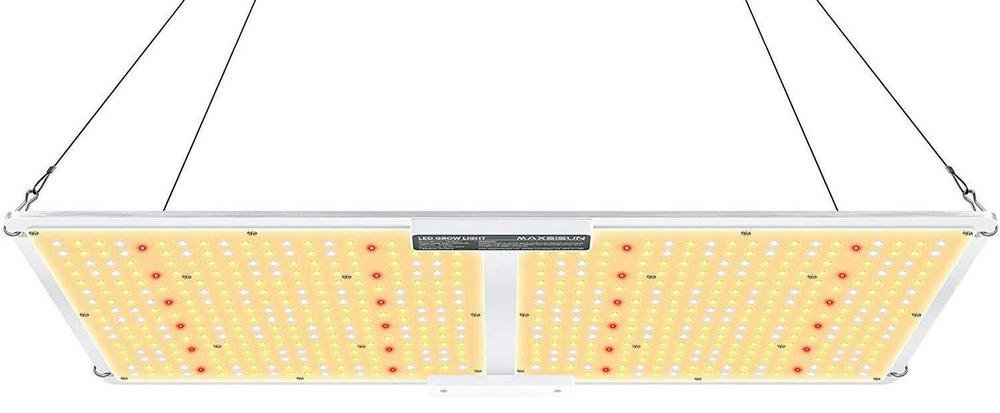 Another difference is in the light spread. The Maxsisun fixtures distribute their light more evenly than the Bloom Plus ones. They have a slightly lower PPFD in the middle of the coverage area and a slightly higher output around the outside. Both cover a 4 x 4 area well.
Maxsisun also uses Samsung diodes. Specifically, they use the LM281B+, which are good, but not the top of the line diodes you find on HLG lights. They are pretty similar to the Samsung 2835 diodes Bloom Plus uses. In terms of drivers, they are both pretty equal, too. Maxsisun uses a brand called Sosen.
For us, it really comes down to the light spread and the spectrum. Is a warmer spectrum (better for bloom) more important? Then go with a Bloom Plus fixture. If a more even light spread is more important than a warmer light, then go with Maxsisun.
The only problem? Maxsisun lights have not been available for a while. They are either a victim of supply chain issues, or a pandemic casualty. We'll keep an eye out and hopefully they will come back someday.
Bloom Plus Quantum Series: Final Verdict
The Bloom Plus BP-4000, and all the other lights in this series, are a great budget alternative to the super popular HLG lights. They cost even less than the most popular budget alternatives: the lights from Spider Farmer.
In exchange for the lower cost, you give up a few things, however. The components in the Bloom Plus lights are not as high quality. There is also a higher chance of getting a faulty light, thanks to lax quality control.
And if you do get a bad fixture, you're in for a huge hassle to get it replaced. Customer service is on par with the average Chinese brand, meaning it is pretty atrocious.
If you can live with those negatives, you get a highly efficient light that delivers a lot of output for only 400 watts and spreads it fairly evenly across the coverage area. The spectrum is great for any stage of growth, especially for flowering.
We obviously have to dock points for the negatives. This light simply isn't as good as the top brands. But because it costs so much less, it gets a rating of 4.3out of 5.