Galaxyhydro 600 Watt LED Grow Light Review
We all want high-quality grow lights, but we don't want to pay high-quality prices.
And luckily, we don't have to.
There are some good LED grow lights out there that don't require a second mortgage. But they're few and far between and it takes some work to find them.
The Galaxyhydro 600w LED grow light reviewed here is one of those bargains. It is not as good as the top-of-the-line models, but it comes pretty close. And those lights cost 10 to 20 times more.
The Galaxyhydro 600 is equivalent to a 600 watt HID light, but only uses around 230 watts of power. This alone saves you a lot in electricity costs, but you save even more thanks to the low heat output. You won't need to air condition your grow room.
This Galaxyhydro fixture emits 9 wavelengths of light. It provides all the colors plants use, including white light, IR an UV. This means you can use this light during any sage of plant growth.
Features
Works on AC85/265V — use it anywhere in the world
230w power draw — about 60% less electricity than HID
Contains UV and IR — for higher quality yields
CE, ROHS, and FCC certified — quality product
Has 50,000-hour lifespan — no more expensive bulb changes
Package includes grow light, power cord, and stainless steel rope hanger — everything you need to start growing immediately
Includes 2-year warranty — if something does go wrong, you're covered
>>> Read owner reviews on Amazon
Advantages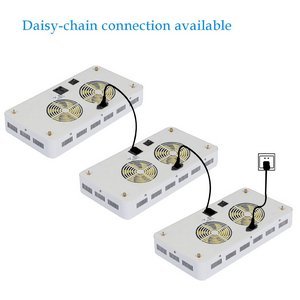 Galaxy Hydro equipped this light with two hundred 3w EpiLED chips. These are not top-bin chips, but they're much better quality than those used in most lower cost LED fixtures. They are rated for 50,000 hours and give you high PAR ratings per watt used.
There are nine different colors of diodes in this light: 430~440nm, 450~460nm, 470nm, 610~615nm, 620~630nm, 650~660nm,  730nm (infrared) , UV 380~400nm (ultraviolet) and white. Those are three red wavelengths, three blue ones, one white one, plus UV and IR. It has all wavelengths plants use for photosynthesis during any stage of growth.
In order to deal with the heat, this fixture has large heat sinks and two large, UL-approved cooling fans. You will not need to purchase an additional air conditioning unit to run one (or several) of these lights.
You can daisy chain up to five of these lights on a single circuit using the power cord that is included with the unit. This is great, since many manufacturers force you to buy a separate daisy chain cord. Also included are hangers, so you won't have to get those separately either.
When you purchase this light, you also get a 2-year warranty. This tells you the manufacturer stands behind their lights and you can expect a higher level of quality than other lights in this price range (most do not come with warranties).
Disadvantages
The main disadvantage is that you have no control over the spectrum. If you want a light you can just plug in and start growing, this is not a problem. But some people like to have control over the spectrum, so they can tailor their light for specific grow stages. For example, they might want to dial back on the red light during vegging. If you want a customizable spectrum, this is not the light for you.
Reading the reviews on amazon, I noticed a few people had problems with the daisy chaining feature. It worked fine for me, but if several people bring up a similar issue, it's worth considering. It looks like Galaxyhydro were listening, too. They have added a paragraph to their product page on Amazon that details how to use the daisy chaining feature.
Galaxyhydro 600 LED Grow Light Review Verdict
Even though the Galaxyhydro 600w lacks the ability to customize the color spectrum, it is still a great value. Customization is a feature found on high-end lights, so you can't really expect it in this price range. When you consider the price, you're getting great value here.
For less money than you'd pay for an equivalent HID system, you get a powerful LED grow light rated for over 50,000 hours of use. It can be used during all stages of plant growth and will save you well over 50% in operating costs over equivalent traditional lighting like HPS, metal halide and fluorescent. If you're looking for an affordable LED plant light that will get you yields in line with an equivalent HPS light, the Galaxy Hydro 600 is a great choice.